One of the most satisfying phenomenon's of Bali's recent modern development has been the birth of an array of art and creative, multi-purpose spaces that serve as platforms for community co-working and engagement. Kulidan Kitchen Space, a new initiative in the rice fields of the Guwung village, Sukawati, fifteen minutes from Denpasar, is one such venue.
Kulidan is the name of the district's subak, the world renowned historical irrigation structure found throughout the island defined by a system of canals directing water into terraced rice fields that was developed on Bali during the 9th century. The Balinese Hindu religion, along with specific temples play a vital role within this agrarian management cooperative. The kitchen is at the heart of the venue's core philosophy, highlighting farming practices and the environment where the local people live, work and grow together in the spirit of community.
A priority of Kulidan Kitchen is to gather people, family, friends and guests, both local and otherwise, to sit and converse while appreciating good food and refreshments – most of which is produced by the local farmers. Of course, they enjoy the scenery, with magnificent rice fields views, sunsets, and the vista of the majestic volcanic peak of Mount Agung to the east. The multi-purpose public space consists of a large pavilion with a second storey loft, an external long table for dining experiences, the kitchen and gardens set out upon a 120 square meter expanse of land, roomy enough for events catering for up to 300 people.

The project is the vision of activist Komang Adiartha, the land upon which Kulidan Kitchen was built in 2017 belongs to his father, a local rice farmer. Adi, as he is known, is supported by a dedicated and enthusiastic team including Martino, Vifick Bolang, Dika Suardika, Agusta IT, along with family, friends, local residents, and members of the Bali art and creative communities. A glance at Adi's social media portals reveals an energetic and inspiring character committed to cultural and environmental preservation. He shares his relevant opinions on critical and diverse subjects such as fair trade, conscious business, clean energy, and child labour issues.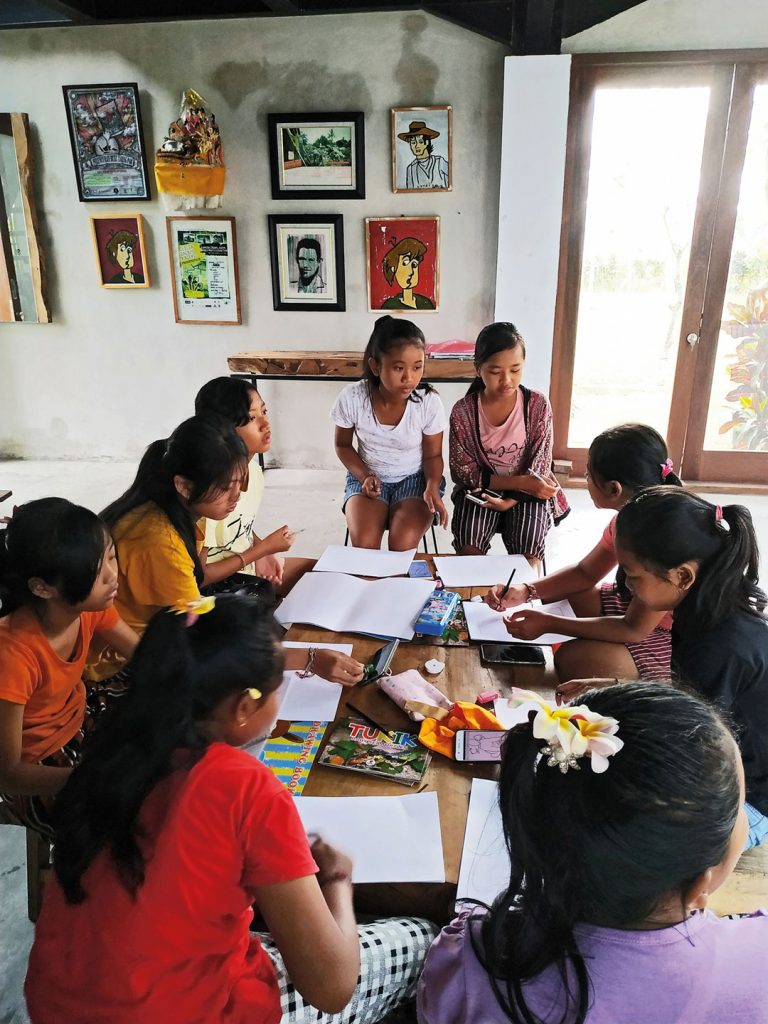 "Building community through children's art and education is just one of our primary directives," says Adi. "Our art programs often have an emphasis upon activism, creating art to raise the local youth's awareness of the areas farming practices in order to stimulate appreciation and respect for these time-honoured traditions." Painting large colourful murals depicting environmental and cultural themes on wall spaces on the outside of, and opposite the venue, are ongoing creative projects led by Bali street artists, with the help of the children.
One of their well attended ongoing events "Meet the Creator", is an inspirational sharing program where the public can meet, hear stories and engage directly with artists, musicians, designers and other creative activists. "We believe in this program as an alternative reference for young people," Adi says. "To find or further strengthen their choices about possible professions or hobbies they may wish to pursue."
During August, Nele Gruender, a German art therapy student from the HKS Ottersburg University of Fine Art, Theatre, Performance and Art Therapy conducted weekly art workshops for children as a part of an academic research project involving children's drawings. A regular visitor to Bali she has witnessed the rapid transformation of the landscape and pondered how such transformation impacts upon the living environments of young children, and how they may respond in their pictures.
"The home is the theme of my workshops," says Gruender. "A home is a special place for growing children to develop their identity and individuality. Through my freely structured workshops I will gather photographs of the children's artworks which I will later research in order to discover reoccurring symbols and patterns that arise in the drawings." Building a model of transcultural research, she plans to repeat this with German children to reveal similarities and differences in their drawings of what home means to them. "At the moment I am not sure of the outcomes," she says. "Yet what is important is to grant these children opportunities to express their creativity while building more resources."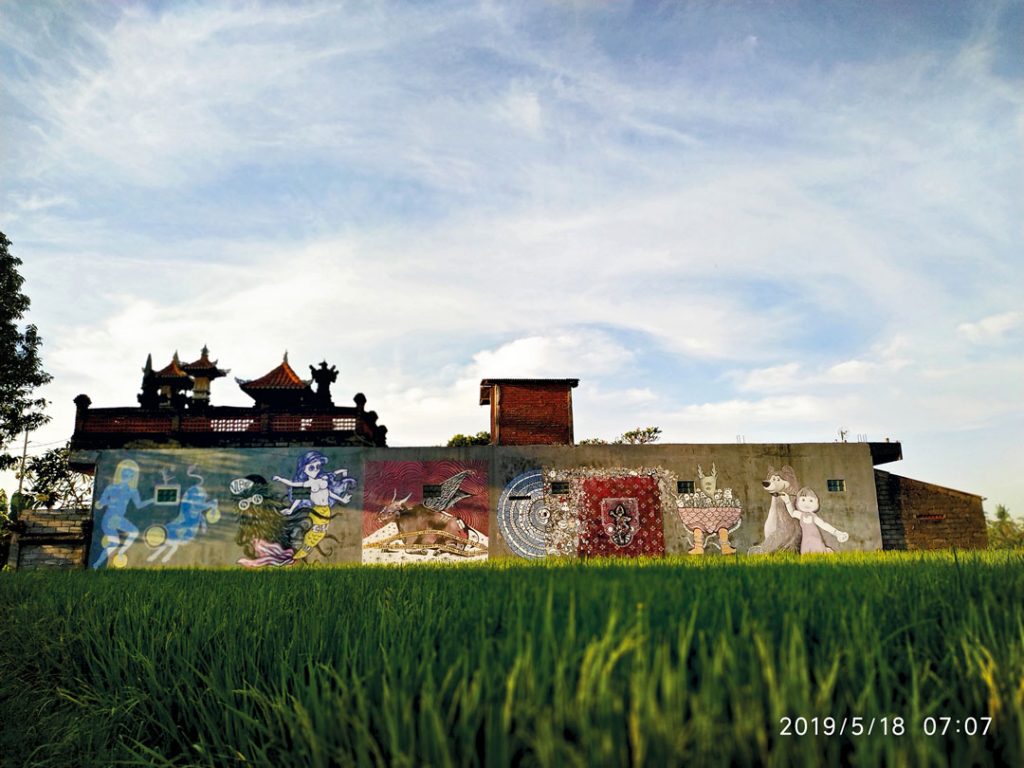 A recent Kulidan event included live music, and DJ performances, along with food, art and creative product stalls providing opportunities for creatives to display their products, demonstrate their creative processes, and then facilitate forums giving explanations on developing concepts with marketing plans and building business models.
"The diversity of happenings we can host is limited only to people's imaginations, we welcome everyone, and new ideas," Adi says. "Kulidan can be used as a public space for events according to your needs, such as: meetings, performances, exhibitions, seminars, collaborations and presentations. People may hire the space and help contribute to the venues running expenses."
Kulidan Kitchen & Space
Banjar Wangbung, Jalan Salya, Guwang, Gianyar, Bali
+62 813-3866-5862
Follow @kulidan.kitchen on Instagram