Please understand that working long hours without food is the same as having no energy to function properly. Skipping this meal will only lead to the falls of work efficiency. Some say that lunch should be the heavier meal compared to dinner, and some say vice versa. Whatever you finally decide, you need a lunch break during work. Well… everyone does. It can be for the sake of the body or simply just for refreshment.
---
CASCADES RESTAURANT
Offering jaw-dropping views of a tropical valley, Cascades Restaurant at Viceroy Ubud place a high standard for luxury Ubud lunchbreaks. The scenery over the Petanu River Valley is truly wondrous, making it as one of the world's most beautiful restaurants. Carrying a vision to always keep up quality to the highest level, the restaurant has become one of the most essential fine dining establishment in Ubud. On the menu, the creative hands of its culinary team are highly dedicated in developing the uniqueness of the food. The menu has a modern European base with a bit of Asian twists involving influences from Japanese, Thai and Indonesian cuisine.
CasCades Restaurant
A : Viceroy Bali, Jalan Lanyahan, Banjar Nagi, Ubud
T : +62 361 971 777
W : www.viceroybali.com
---
STANDING STONES
Driving to the east, Standing Stones treats you with a unique semi-alfresco dining experience with fresh home-style cooking in the middle of an ensemble of towering megalithic stones, viewing the exotic black sands of the eastern Bali's coastline. Remains unseen inside At The Royal Purnama Art Suites and Villas, you can savour the delights on the menu presented rich in taste and flavour at the restaurant's infinity pool, focusing on Indonesian cuisine, as well as Asian and Continental, wrapped it up using Western cooking methods. As for the food ingredients, the restaurant keeps it fresh from their own backyard garden.
Down in the south, there has been a real explosion of top quality boutique restaurants, and all of them are in competition to be the best in the region. They offer a great range of cuisine in terms of region and sophistication, from Western to Eastern, fast food style, right through to contemporary Indonesian cuisine. Some of the restaurants feature unique locations with awe-inspiring views and artistic interiors.
Standing Stones
A : The Royal Purnama Art Suites and Villas, Jalan Pantai Purnama, Sukawati, Gianyar
T : +62 361 8493706
W : www.theroyalpurnama.com
---
KAUM
Let's start with the one that receives plenty of spotlights from eyes of the world, including recognitions from the international foodies. Potato Head Beach Club without a doubt remains to be one of the most happening hotspots in the busiest street of Seminyak. This place is a 'must-do' on any visitor's itinerary. Famous for its 'old teak wood window shutters' trademark, the club is perfect for chilling and partying on its lawn beachfront. However, apart from the lively crowds that gather over the central lawn or around the main pool, you can go to Kaum on the first floor of the club to have a fancy lunch. Catering the authentic flavours of Indonesia, be amazed by the unusual local ingredients that will be serve right before your eyes.
Kaum
A : Potato Head Beach Club, Jalan Petitenget 51B, Seminyak
T : +62 361 4737979
W : www.ptthead.com
---
STARFISH BLOO
Slightly different but quite similar to Kaum, that also brings the taste of Indonesia to the table, Starfish Bloo at W Bali is presenting Slipper Lobster Rujak for lunch. It is the seas finest paired with the archipelago's exotic Rujak seasoning, topped with tamarind, jicama, and pineapple for a tropical taste. Best to enjoy it by the beachfront on a bean bag or dreamy daybed, facing to the calmest waves on a coast of Seminyak Beach. Since the raining season has gone by now, you can embrace the gentle ocean breeze tinkling your face as your knife and fork dip into The Lobster Rujak.
Starfish Bloo
A : W Bali, Jalan Petitenget, Seminyak
T : +62 361 3000106
W : www.wretreatbali.com
---
THE BUTCHERS CLUB STEAKHOUSE
Moving on from Indonesian delights, The Butchers Club Steakhouse offers high quality steaks prepared in a variety way. Steaks for lunch do sound yummy for your tummy, indeed! This is a casual restaurant with high quality tastes. The entryway is marked by a butchery working on his steaks, seafood and charcuterie. The reason being, this area is multifunctional as a full retail butcher's shop that sells branded sausages, steaks, chickens, fish and homemade condiments. In the restaurant, the décor of the dining room is industrial-chic themed with repurposed items, steel tables and vintage chairs. As for the lunch menu, you can start up with Kale Caesar and go for BBQ chicken with side dish grill corn for the main.
The Butchers Club
A : Jalan Petitenget Gang Cendrawasih 1, Kerobokan, North Kuta
T : +62 361 8974004
W : www.thebutchers.club/burger-bali
---
SUNDARA
Travelling around 30 minutes to Jimbaran, lunch at Sundara reflects Jimbaran's heritage as a hundred-years-old fishing village. Meaning 'beautiful' in Sanskrit word, this restaurant is one of the most exclusive dining destinations in the area with a panoramic view of the exotic curve of Jimbaran Bay. This area is very famous for its nightly ritual of fresh seafood dinners with coconut husk BBQs along the beach. If you are here for lunch, you may want to order Grilled King Prawns completed with Balinese spice, papaya salad, peanuts and nuac cham dressing.
Sundara
A : Jimbaran Bay, Jimbaran
T : +62 361 708333
W : www.sundarabali.com
---
TAMARIND RESTAURANT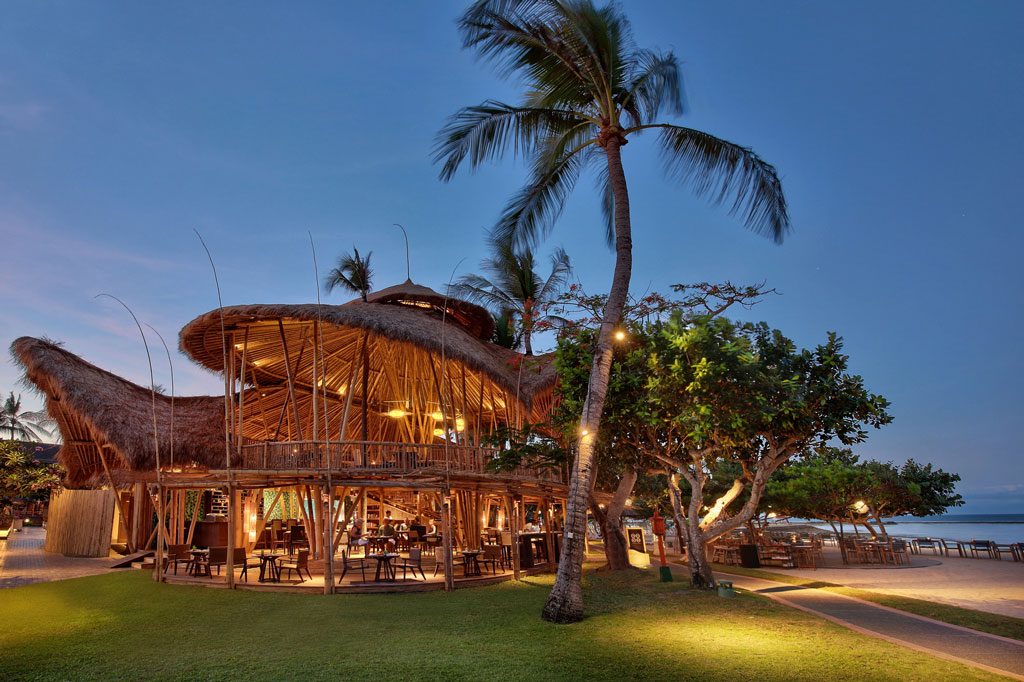 Another alternative to go for lunch is Tamarind Restaurant in ITDC Nusa Dua. With all encompassing perspectives of the Lombok Straits and the Indian Ocean, this signature restaurant of Nusa Dua Beach Hotel & Spa permits you to appreciate a world class stretch of white sandy shoreline in a rich setting outlined in impeccable concordance with nature. It additionally offers a delightful mix of culinary joys and wellbeing cognisant to guarantee the prosperity of their guests. The place has a provincial vibe and you will get an impression that you are about to eat in a tent-like shelter, to some degree exceptionally 'back-to-nature-ish'.
Go sit upstairs to enjoy the ocean view while having lunch. Going through the menu, there is something for everyone, from light, crisp and heavenly plates of mixed greens to new grilled fish and delectable side dishes. You can try Lamb Souvlaky Brochette, consisting of Greek marinated lamb loin, tomatoes, onion, tzatziki sauce, served with mixed salad and French fries. Or go for something solid like 250g Australian Beef Tenderloin. Either way, both dishes are a pure bliss that one can't resist!
Tamarind Restaurant
A : ITDC Nusa Dua Lot 4, Nusa Dua
T : +62 361 771210
W : www.tamarindrestaurantbali.com