Lost in the hills of Bangli is one of Bali's most magical situations. People from all over Bali go to this beautiful spot, hidden behind verdant rice fields to cleanse their souls and bodies and maybe even heal their hearts.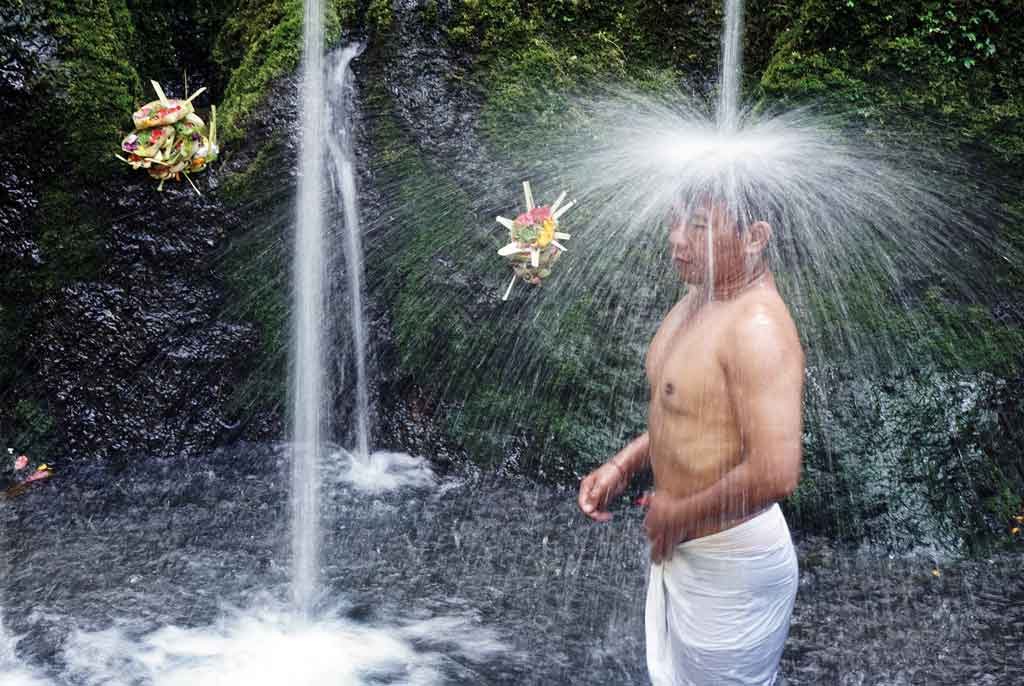 Melukat is just one of Bali's magical rituals which involves using water as a ritual cleanser. The aim is to cleanse both body and mind, to refresh the spirit and dissolve away any negative influences. It is also believed to cure non medical diseases and sickness of the spirit and whether it does or not, a session bathing in holy waters will certainly make you feel good.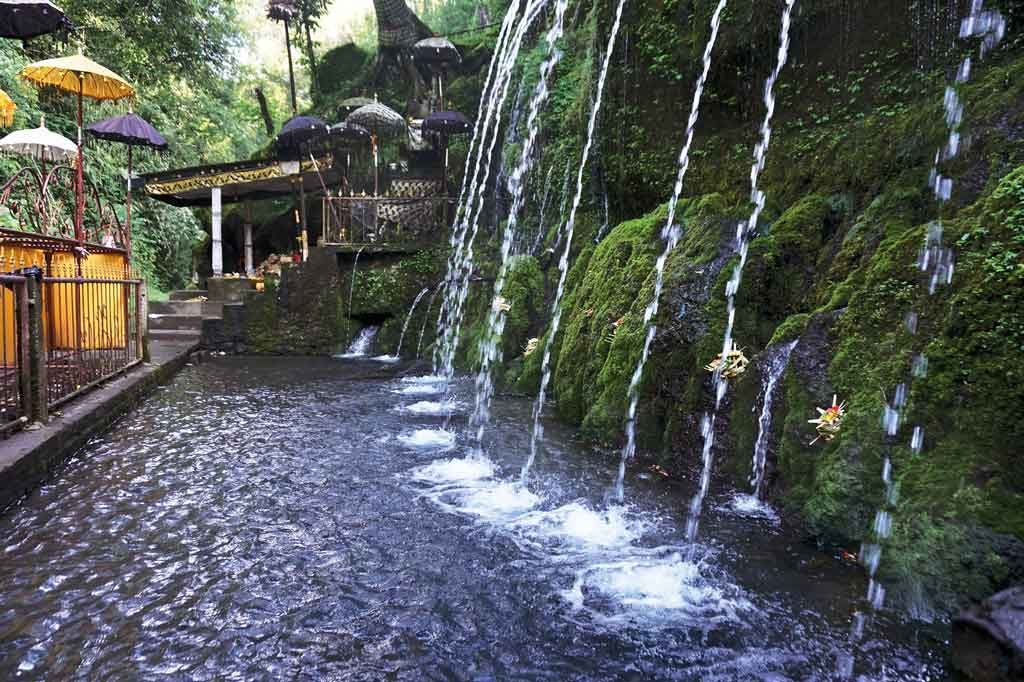 Many of these places exist in Bali, with the best known and most visited ones are hidden around the Tirtha Empul area. Yet, Tirtha Sudamala Temple remains surprisingly unvisited, and delightfully pristine. Descending the steep road and carved granite steps, you get the feeling that you are discovering something really special. Something unknown.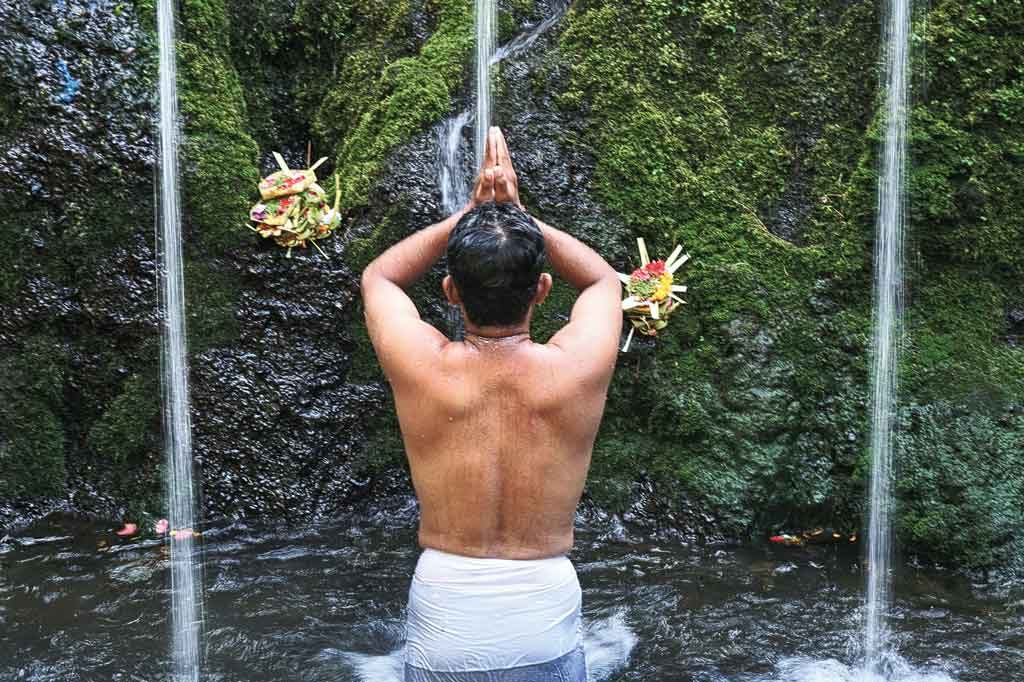 A small river runs through the site and after praying and standing under the 9 water spouts, and getting a pounding from the heavy water flow, devotees can receive a blessing from an attendant priest, before walking into the cool river waters to reach several more prayer spots a little way upstream.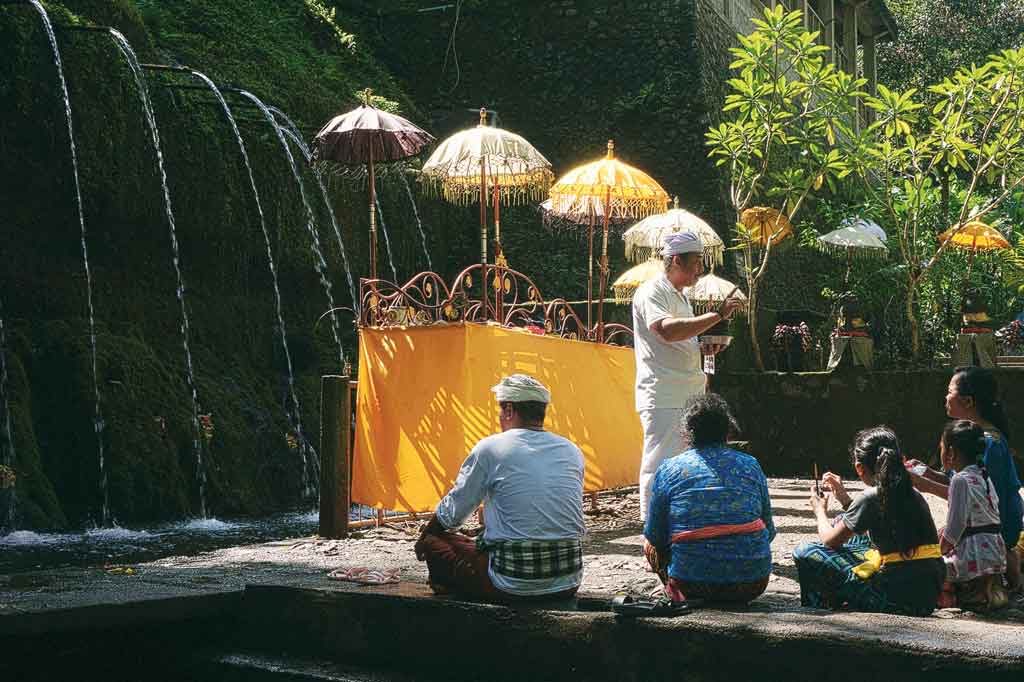 Early morning is the best time to visit, while the air is cool and fresh. Sometimes Bali's youngest Perdanda – ( high Priestess) is in attendance, although the day we went, she was busy elsewhere. She is said to arrive around 8am and will stay for some time to give blessings to her devoted followers.
In technical terms, Melukat derives from the old Javanese word "lukat" which means to "cleanse" or "purify" while the Indonesian meaning is "to let go" or release something within us. Self purification is sought by many Hindus and in India, the devoted throng to the banks of the holy Ganges River with a similar purpose. It is a ritual that can be performed many times, in fact the more, the merrier as it can only lead to good things.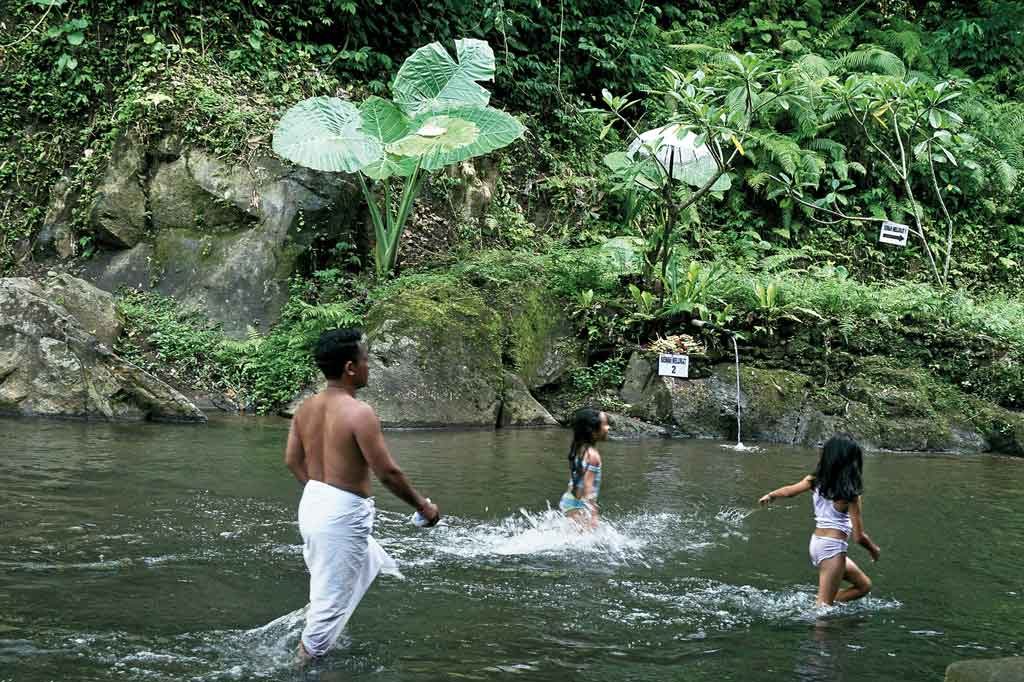 After the ritual bathing is done, it is a steep walk up the hill, but the Balinese, being service oriented, have motorbikes awaiting the lazy. What a great invention! So a quick and painless ride back to the top of the hill brings us to several warungs serving a host of local delights. Coffee, a cold coke, a ketupat concoction with vegetables and steamed rice, and several other culinary treats are there to be enjoyed. You can just choose what you will. A few local people sell fruit from their own gardens as well as sweet potatoes and if you are lucky, the especially delicious Bangle avocados, the best on the island. It is all a really wonderful way to start the day, or the week, or even the rest of your life!