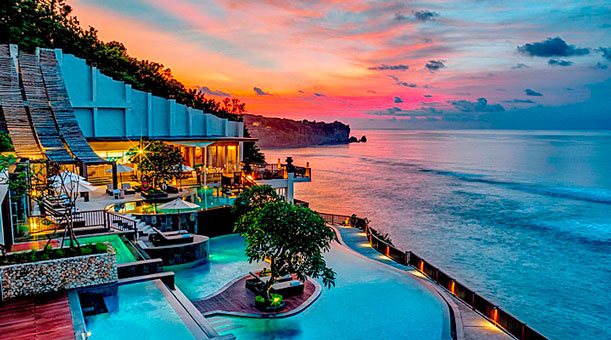 Anantara Bali Uluwatu, proudly presents an exquisite 5 courses chef degustation menu specially crafted by Anantara Uluwatu Master Chef Adi Wijaya, a talented young chef as Executive Chef. The dishes are going to be elegantly paired with Michele Chiarlo, which is consistently well-known for the high quality wine ranges since 1956 among the most renowned expressions of wines.
Chef Adi Wijaya is a passionate Balinese Chef who has over 18 years of cooking experiences, creates a great creative culinary mind over stunning worldwide dishes. Chef Adi raises his level of unique cooking styles and passion into an elegant fine dining dishes. He turns the local dishes, Japanese, Balinese, Indonesian, Italian and Mediterranean into an inspired modern fusion cuisine. He would turn a simple Balinese "Pork Basa Genep" to "Slow cooked pork belly in basa gede oil with infused ginger and star anise carrot puree". A well extended creation of "Not" just boring dishes.
Experience Chef Adi Wijaya's cooking creativity in this wine dinner.