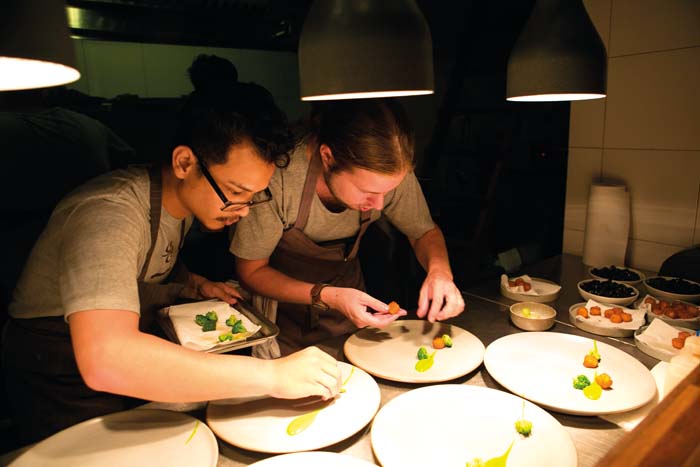 Seldom has the opening of a new restaurant in Bali received such attention on social media. Since opening in 2014, stories quickly began to circulate about the "must experience" excellence of Chef Eelke Plasmeijer and Ray Adriansyah's unique cuisine.
The growing reputation of Locavore was already so rampant that it soon required 2-3 weeks' notice being needed to secure a table at one of Ubud's newest "Uber Fashionable" eateries.
It was with great anticipation and excitement then that many of the 33 members and their guests (many of whom had not yet experienced Locavore) eagerly booked a place at the Chaine de Rotisseurs Locavore Luncheon. So many and so quickly in fact that the event was oversold within hours of being announced! The stage was set for a very special lunch.
The name "Locavore" stems from the global "locavore" culinary movement originating on the West Coast of the USA, which in essence relates to eating food that's sourced locally. Ray and Eelke aim to achieve between 95-98% success in achieving local "Field (or Sea) to table" content.
Carefully selected producers from Bali, Lombok and other parts of Indonesia have to meet the discriminating eye of the two young chefs and also the demanding and educated taste of Locavore diners.
In the pre-event publicity, Chaine members were promised "contrasting textures and flavours resulting in a tactile assault on the taste buds with a sly contemporary twist on the norm and some highly innovative combinations" – and to that end the majority of members and their guests agreed that Locavore delivered.
It has been said that Locavore's concept is almost "too progressive" for traditional Ubud and is more suitable for Petitenget or Seminyak. Again most of those in attendance agreed that the Locavore team were definitely pushing the envelope and challenging a number of conventions with the seven course meal Chefs Eelke, Ray and their team had prepared.
The onslaught to our palettes began with local beef short ribs served raw, accompanied by wasabi leaf mayonnaise, served with a herbed brioche crouton, bawang goreng, pickled shallots and shaved radishes. All in all a very enjoyable twist on a simple steak tartare, but beautifully garnished and cleverly prepared.
As our wine glasses were charged with the first paired wine of the luncheon, Shaw and Smith Sauvignon Blanc, (an old favourite of this Chaine member), we were served an enticing plate of slow cooked tiger prawns, cold smoked with dehydrated lemon balm leaves, a cream of lemon balm, bisque crustaces vinaigrette, bitter baby lettuce leaves, sour dough and raw cucamelon.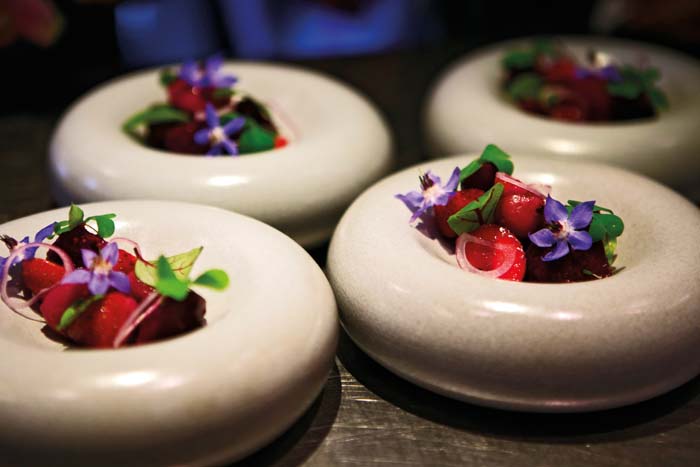 Staying with a sea theme, we were then treated to thinly sliced squid, served raw, which was to be "cooked at the table by immersing the squid into warm fennel consommé. This dish was served with a Sumbawa oyster, fresh Lombok seaweed and fennel.
The sea continued to give up its surprises as we received a dish of Parrot Fish a la Meuniere, accompanied by braised & glazed octopus, fresh chorizo, bread and butter courgette, slightly bitter red bell pepper sauce and crispy oregano leaves from the Locavore herb garden.
Our second paired wine of the day was also served – an intriguing Chateau Roubin Cru Classe Rose.
At the end of the Parrot fish course, one of the most "creative" surprises of the day was presented. An imaginative twist on a Bloody Mary. A cherry/tomato sorbet floating in a warm tomato consommé.
Then proudly, the kitchen team looked out at the two-tier restaurant as their "Piece de Resistance" was brought to the table. Locally reared, organically fed pork served four ways – with a green peppercorn sauce, pommes dauphine, shaved broccoli stems in shallot vinaigrette, broccoli cream and roasted Malang apple with nasturtium leaves.
The third paired wine of the day, an enjoyable, albeit perhaps over-powering, Neyen Cabernet Sauvignon Merlot accompanied this dish.
Finally, what many diners felt was another of the highlights of the luncheon, a Sorrel and Chocolate with the clever (but not overwhelmingly popular) presence of beetroot meringue and beetroot reduction. A glass of bright and nicely perfumed Thomas Barton Sauternes Reserves set this dish off.
So, did Locavore live up to the hype?
Unquestionably, Ray and Eelke are two very talented, creative, daring and, to some extent, challenging chefs. That is to be admired and encouraged. Equally unquestionably is the general belief that as they gain more experience over the forthcoming years, that they will further refine and orchestrate the experience they give to discerning diners.
Locavore may not be to everyone's taste – but it certainly a name to look out for and undoubtedly makes a welcome contribution to the ever growing choice of restaurants in Bali, some of which lack the confidence and imagination of Chef/Owners – Eelke Plasmeijer and Ray Adriansyah.