Despite its sought after location, this tropical hideaway upholds its reputation as one of Jimbaran's best kept secrets. The beachfront dining destination serves grilled flavours of the sea, as well as peace and privacy against a glimmering gold and cerulean backdrop.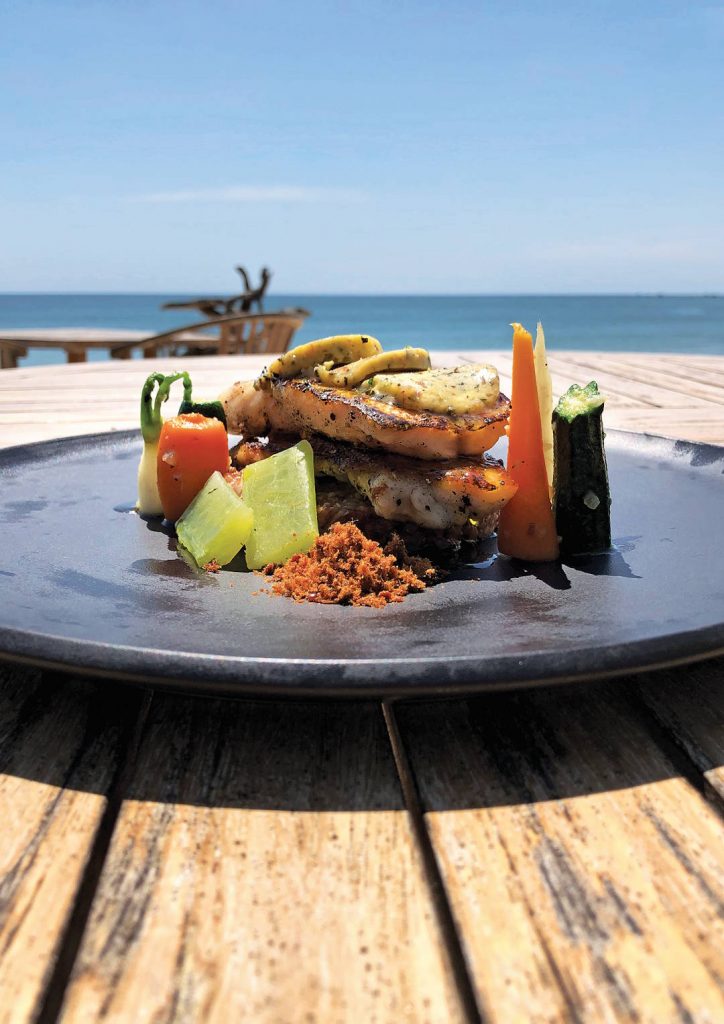 When you enter Belmond Puri Jimbaran, it's like stepping into a secret garden, peppered with thatched-roof buildings akin to a Bali of yesterday. The series of cottages and villas present a quaint and peaceful atmosphere, and are adorned with a stunning centrepiece – an infinity pool made from Javanese stone that shimmers emerald in the sunlight.
Passed this secret garden and out towards the ocean you'll find the beachfront Nelayan Restaurant, where the smells of fresh seafood and aromatic Asian herbs and spices flirt with the sea air. This Belmond dining experience weaves together Indonesian and Mediterranean, paying homage to the popular Jimbaran Bay.
Presenting a down-to-earth atmosphere, Nelayan Restaurant is a humble dining getaway. The restaurant invites you to dine under the sun or beneath the moonlight with the sand between your toes, whilst in the distance, dramatic cliffs decorate the skyline. The lapping of waves from the Indian Ocean washes out the soft exchanges and murmurs of other diners, creating an atmosphere of seclusion and intimacy.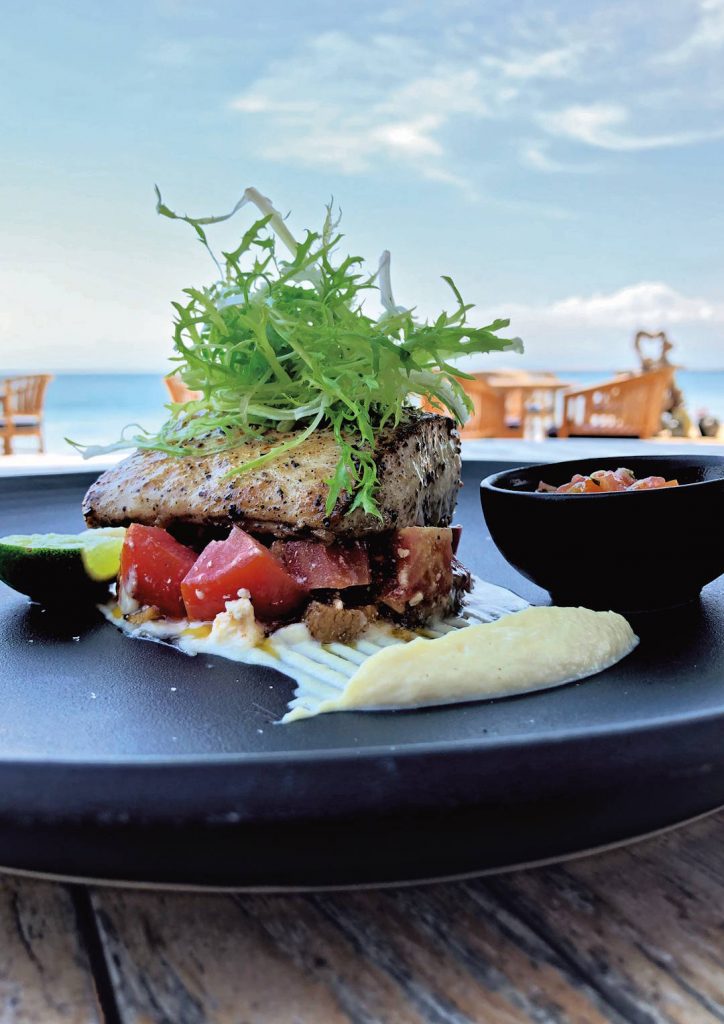 Beyond the setting, the line up of grilled items on the menu is equally as alluring. From classic bamboo lobsters to baby white snappers, red rice risotto and beef floss, Executive Chef Adi Wijaya employs an innovative cooking approach with a strong emphasis on locally sourced ingredients; freshly caught seafood from Jimbaran Bay fishermen, organic local produce grown at Bedugul farms, as well as Indonesian spices that he incorporates into dishes using classic French techniques. It's a dining spirit that celebrates the best of many worlds.
Chef Adi has a 4-course dégustation menu on offer, featuring the likes of tuna, lobster, and wagyu. Nelayan's menus are also conscious of your dietary restrictions. Each dish is labelled with Bean (B), Dairy (D), Egg (E), to Garlic (G), Nuts (N), Gluten (GL) and so on.
We started the afternoon with prosciutto & melone, black pepper tuna rolls from the lunch menu, and smoked duck breast from the dinner menu.
The rock melon wrapped in smoke prosciutto is a refreshing appetiser complemented with a bed of grilled halloumi cheese, cherry tomatoes, sunflower seeds, and balsamic pesto. Chef Adi's smoked duck breast is a surprise to lovers of duck and even to those less inclined to dig into a duck dish. This item is presented lukewarm, with the duck still pink, garnished with crushed spiced local peanuts, roasted garlic puree, shimeji mushrooms and Tamarillo reduction. The unique preparation removes the gaminess of the duck.
For the main course, Chef Adi prepared one dish each from the lunch and dinner menu. Keep an eye out for daily catches! In our case, we were served Barramundi and Baby Red Snapper.
Chef Adi charcoal grills the fish after marinating it in Balinese spices. The red snapper is creamy and herby, almost Italian. The sides also deserve a spotlight. Accompanying the snapper was risotto-style red rice garnished with abon (beef floss) – locals would be reminded of a staple home cooked meal. To wrap up, we sampled the Singarajan creme brûlée: creamy, rich, deep; mango strawberry babarua, and chocolate fondant – all delightfully indulgent!
Nelayan Restaurant
Belmond Jimbaran Puri Jalan Uluwatu, Yoga Perkanthi Lane, Jimbaran
+62 361 701605
www.belmond.com