Tamarind Kitchen & Lounge is a brand new addition to the various dining experiences offered by the Nusa Dua Beach Hotel & Spa. Located right at the renowned panoramic beachfront, this spectacular thatched roof Bamboo structure pavilion is a masterpiece of sustainable architecture.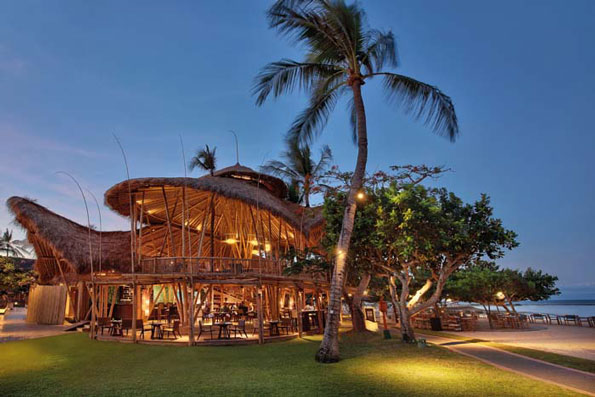 The iconic design allows for over 150 guests to be seated comfortably and is talked about as one of the next eatery landmarks in the Bali hospitality industry. Lunch and dinner menus feature a creative selection of international and Indonesian flavours at their best. Tamarind provides an intimate atmosphere and casual elegant dining experience of home-made favourites, freshly prepared on the old style wood fire oven and seasoned with hand-picked local herbs.
The restaurant is set over two levels. The upper and lower floors are adorned with sophisticated furnishings along with lounges for you to enjoy the ocean breeze and panoramic views under our majestic thatched roof. The beach deck seating area is another exclusive setting, surrounded by stunning beach trees along the idyllic sea shore.
Tamarind Kitchen & Lounge at Nusa Dua Beach Hotel & Spa
Kawasan Pariwisata Nusa Dua
Lot North 4, Nusa Dua
Phone: 0361 771 210