Be it midnight drinks in breezy beach bars, party hard in dance clubs or rock the night out in live music venues, there is something in Kuta – Legian that is meant for you. The vibe is very casual, making it easy for you to unwind and make new friends. As for the dress code, no need to drees up for the night. Stay in your shorts and t-shirt, or even walk around showing off your abs for some guys, no one would care!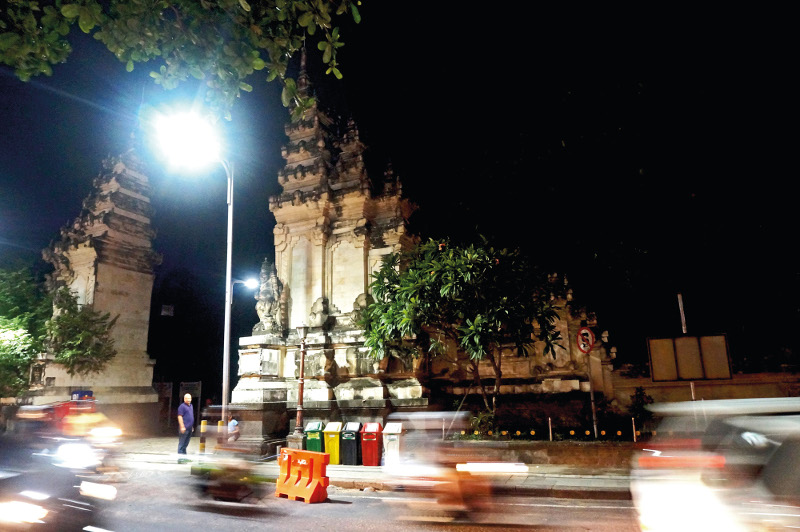 It is quite easy to hop from one venue to another all night long because everything is within a walking distance. At Jalan Kartika, most of the bars or pubs play live music until around midnight. Right at the beginning after the trijunction, Stark Craft Beer Garden has a nice and cosy meeting spot while you can try a various taste of Stark Craft Beer (Premium Craft Beer made in Bali). Decorated in rustic wooden theme, live music starts from 9 PM onward on Thursdays and Saturdays. Around 10 minutes' walk to the north, The ANVAYA Beach Resort has just announced their regular weekly night performances. Carrying different themes in different venues, you will be spoilt with live acoustic and jazz performances at Sands Restaurant every Tuesday starting at 6 PM. Those who are into culture can witness spectacular Balinese Dance performances at Kunyit Restaurant every Wednesday. On Saturdays, the beautiful Balinese girls and Kuta's local community will perform the marvellous Barong and Legong starting at 7 PM.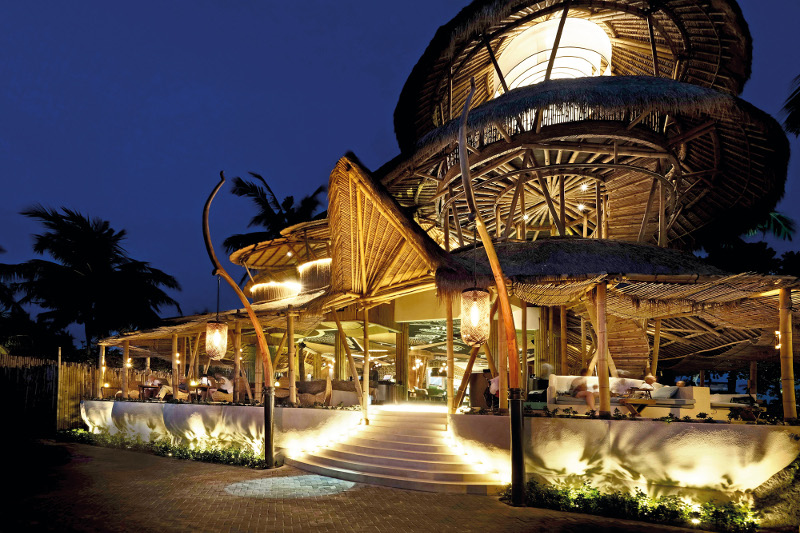 Next to it, Gracie Kelly's is named as the first Irish pub on the island, offering an authentic Irish touch with dark wood panelling and beer on tap. Nightly entertainment starting from 8 PM featuring Irish band performing every night and a fun family quiz night is available every Tuesday and Thursday. The billiard fanatics can join 8 or 9 ball competition every Monday and Friday, while ladies can get free selected cocktails on Saturdays between 9 to 11 PM. Passing through Discovery Kartika Plaza Mall and before Waterbom Park, Bamboo Bar and Grill opens until midnight with live music playing top 40 selections and flat screen TV's showing sporting games live to air. You may want to check on the schedule of AFL, NRL, Supercars, NRL, UFC, MMA, Cricket and Sky Racing. All is playing here!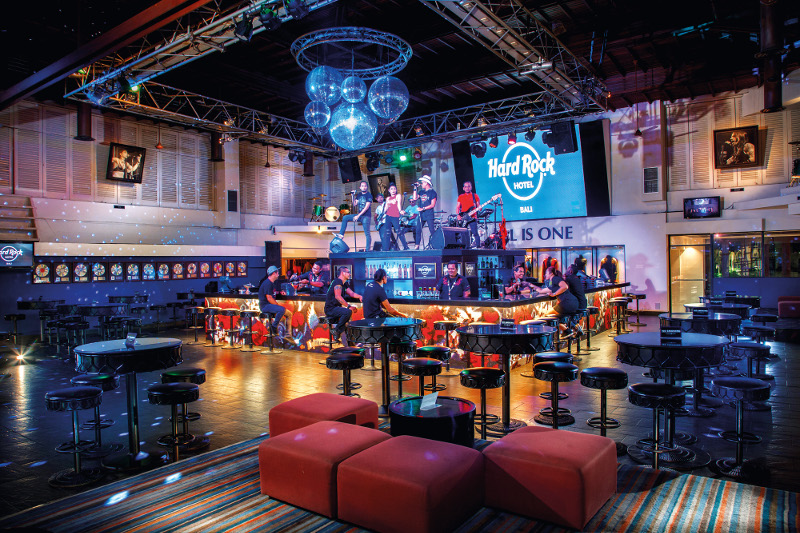 Continue walking all the way until end of Jalan Kartika will take you to the famous Jalan Pantai Kuta. This area is quite popular among the first-time visitors of the island. You will easily find Youngblood carrying backpack heading to the backpacker district of Poppies Lane. Put aside the fact how narrow the lane is, both of Poppies I and Poppies II have the most interesting area for pub crawlers. They are literally wall to wall pubs for a quick and quiet drink, which some of them stay open 24/7.
Back to Jalan Pantai Kuta, before starting to stroll along Kuta Beach, you may want to make a quick stop at Jamie's Italian. Rustic with a Jamie twist, the lively open kitchen will trigger an appetite for a late dinner. Have some pizzas or pastas and fulfil your Italian appetito inside of you. Buon appetito! Just across the road, right on the beachside, HQ Beach Club is a beachfront venue with a neat pool and direct access to Kuta Beach. Providing alfresco settings, this venue is a nice retreat after sunset while enjoying the last sips of your cocktails by the beach.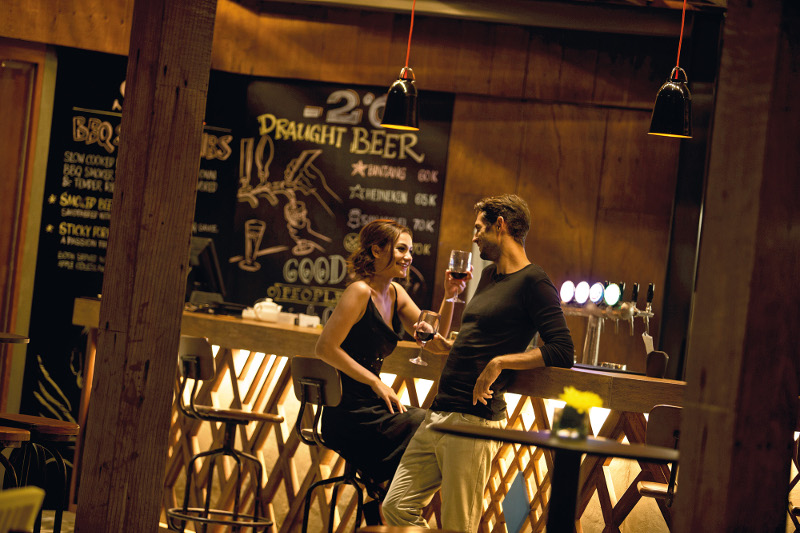 Spending more time at the beach is an option. Some prefer to go to the beach at night instead of during the day. The reason is pretty simple, no crowd for more intimacy with the special ones. This means no kids running around kicking sand at you, but this also means no shirtless men and women in bikini! Anyway, Kuta Beach doesn't sleep at all. You will find people sitting in pairs, cuddling up or holding hands in the dark. So, you better mind your step all the way. Looking at the moon, staring deep into the horizon and listen to the waves… ah romantic!
Let's get the romance back to the street! Across the sand, Hard Rock Café gains its fame as the best live music venue on the island. Start jamming at 10 PM until 2 AM, you can bring your all-time favourite songs and sing along. Just next to it, inside of Hard Rock Hotel Bali, Sunset Point is an animated and trendy lounge to kick back and relax until 9 PM. Then you can continue your rocking night at Centerstage. Acting back-to-back as a hotel lobby and a live entertainment venue, this place hosts regular live bands performing nightly until midnight, presenting retro 70s rock, 80s dance and to the latest Top 40 selections. The combination of a 100,000-watt charge, the lighting system and rock memorabilia lines the walls creates a sense of being at a rock concert.
Fridays at Sheraton Bali Kuta Resort will showcase Bene's trademark talent for nostalgic Italian dining with a modern twist. This Seafood Martini Friday sets up in a warm atmosphere by the pool facing directly at the Indian Ocean. An extensive drinks menu is available, including refreshing flavours of martini cocktails, thirst-quenching mocktails and free flow beer draught. Live band under the moonlight will take care the rest of the evening until 10 PM. Not far behind this building, at Jalan Benesari via Poppies Lane II, The Best Brew offers choices of local and imported beer options to be enjoyed on a sandy floor, complete with live acoustic music. Go for their 'Buy 1 Get 1 Free' all beers every day from 5 to 6 PM.
Back to the main road of Jalan Pantai Kuta, on the rooftop of Beachwalk Mall, Velvet Rooftop Bar & Hypnotized Club sets the benchmark by delivering high quality events every Wednesday to Sunday from 11 PM onward. The combination of elegant gothic interior design with a first class sets of sound system, LED screen multimedia system and lighting system makes this spot a class of its own. About 5 minutes' walk outside the mall, on your halfway down Jalan Pantai Kuta's footpath, Rosso Vivo provides an elegantly cosy interior decorated in bright red furnishings with airy area for your intimate evening. Open until 2 AM, you can stop for a bit here, catching your breath with a few sips of cocktail and some bites of Italian snacks.
At the end of Jalan Pantai Kuta, you can go straight on the sand of Legian Beach. Azul Beach Club will be the first at your sight. Their solid concept on the architecture with ocean blue on the interior, it is not easy to look away and you wouldn't miss it. You can chill in a lounge while DJs setting up your mood for the rest of the day. Sitting next to it, S.K.A.I. offers the same treats with the colourful chilling spot on the cosy lounge chairs, in the cabanas or next to the infinity swimming pool. DJs spinning all night creating upbeat environment around the laid-back ambience.
Jalan Legian is all about dance clubs and noisiest live music venues. People coming here with one aim in mind: "Party Real Hard!" Indeed, it is very easy and tempting to get wild here, but make sure to keep your common sense running. Most clubs and discos start their engine after 9 PM with 'friendly girls' attract people to come. Most of the venues are basically free entrance, but sadly, it only applies to the foreigners, or at least those who look like ones. Those clubs stay open until past midnight and close the curtain at around 2 AM, leaving Jalan Legian full of stoned Aussies hailing cabs and singing loudly. Now, let's walk down that road, and check them out.
When most places along Jalan Legian close around 3 AM, the night owls who want to continue drinking go to MAMA'S until sunrise. This German restaurant has become a friend of travellers from all over the world since the 80's by serving cold draft beer and mix of German/Indonesian meals. A 5-minute walk will take you to Eikon Bar & Club. In compare to other clubs in the neighbourhood, this one is more civilised and less chance you will dance around sweaty, shirtless men. To add the fun, they throw regular themed parties, including beer bong, sexy dancer, bikini shows, cayote girls and many more. Late happy hour starts at 9 PM to midnight.
At the intersection of Bali Bombing Memorial, Vi Ai Pi offers a 3-level of glamorous option in different vibe. On the ground floor, you can watch your favourite sports team playing with DJs setting up the best tunes. If you keen for a bit of fancy dinner viewing the chaotic street of Legian, go to second floor. Daily live music performing until after midnight will create a perfect late-night appetite for you. The third floor is the club, where party never stops. Sitting next to it, Sky Garden comes in 4 levels of lounging and dancing. The first 3 floors feature a sports bar, Irish pub and urban dance club, while on the rooftop you can chill out with lighter tunes. There is a bit of everything for everyone.
For reggae fans, Apache offers positive energy of love and good time with the slow rhythm of music, setting the place at the other end of the spectrum. Further down, Bounty is all about party hard and drink even harder! Almost half of men coming here are shirtless and sweaty, creating an irrepressible party vibe. It gets even wilder after midnight. Paddy's Pub attracts calmer crowds until 3 AM with regular themed parties and cheap beers. On a different side of the road, Engine Room is presenting 4 different bars under 1 roof. Professional DJs pump the beat of RnB, hip hop, dub-step, tech house, progressive and more. The club guarantees your safety with CCTV cameras attached around the ceilings to give you a carefree party experience.