If you haven't heard of Potato Head Beach Club, you've probably been living under a rock for too long! This is one of Bali's most happening spots, from when it opens at 11am to its early morning closure at 2am, this beach club is buzzing with good people and great vibes.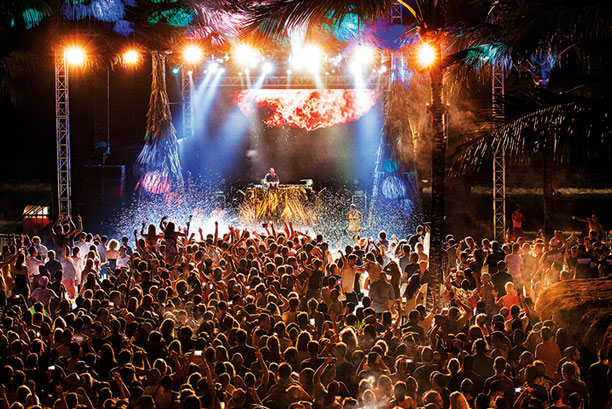 As you walk into their two-storey building, surrounded by the hugely impressive façade of 18th century window shutters, now so iconic on the Bali skyline, a wave of music and excitement hits you. The glow of the sun, the waves crashing behind the infinity pool and the myriad sun worshippers sprawled out on daybeds or on towels spread over the central lawn. The atmosphere alone is enough to draw in Bali's boldest and most beautiful, but it's the awesome food creations of Lilin and Potato Head restaurants and the wacky-yet-delicious concoctions of their bar that keep people coming.
At night, the beach club takes a new form, as if the starry sky and the shining moon brings out a second personality. This can really be seen during one of Potato Head's parties or events, which bring an array of international musicians to the island. All they care about is good music, whether it's the next big DJ, a rap group, or a hit band, Potato Head brings it all to the table. This was shown by their events in 2015 which saw legendary DJ Fatboy Slim and old school classic hip hop group De La Soul taking stage.
If that wasn't enough to get excited about, Potato Head has started a series of parties called Sun Down Circle, a truly unique underground monthly music event. As the name suggests, it takes place as the sun sets but they continue well into the night. Eclectic music, both electronic and live are featured, bringing a brand new sound and flavour to Bali's nightlife scene. Their Sun Down Circle Easter Carnival in April was a true spectacle of music, art, food and culture, in true carnival style – it was an all day party that saw patrons grooving and jiving 'til nightfall!
So if you're looking for a quality day of lounging, eating, drinking and dancing both day and night, party on at Potato Head Beach Club! Be sure to check for their Sun Down Circle event this May, as they hold at least one every month.
Jl Petitenget 51B, Seminyak
0361 473 7979
www.ptthead.com
Text By Edward Speirs