Celebrating the festive season wouldn't be complete without a delicious bottle of wine (or more) stocked up in your cabinet, ready to be opened at any given moment! Plaga Wines' 'Nine Wine Wine' promotion is back to make sure your year-end festivities won't see a shortage of wine in your household!
2020 is coming to an end and the festive season is just right around the corner. It might be a good idea to check up on your wine stock and be sure that you have enough bottles to get you through the Christmas festivities and New Year celebrations. If you're running low on vino, worry not, you know what to do: dial Nine Wine Wine and Plaga Wine will be there to save the day!
From 15-23 December 2020, take advantage of this 'Buy 1 Get 1' promo and get a free bottle of wine with every purchase of Plaga's Chardonnay and Rosé. The 750ml wine is priced at IDR 199,000 per bottle. Think of it this way, you can get 10 bottles of wine for the price of 5! How good of a deal is that? Don't miss out on this amazing promo and order yours now so you'll be all set 'til the end of the year.
Plaga Wine delivers all around Indonesia for the Nine Wine Wine promo or you can purchase them directly during their big warehouse sale on 21-22 December 2020, where there will also be imported wines and spirits up to 50% OFF. For more info on this, please email orders@indowines.com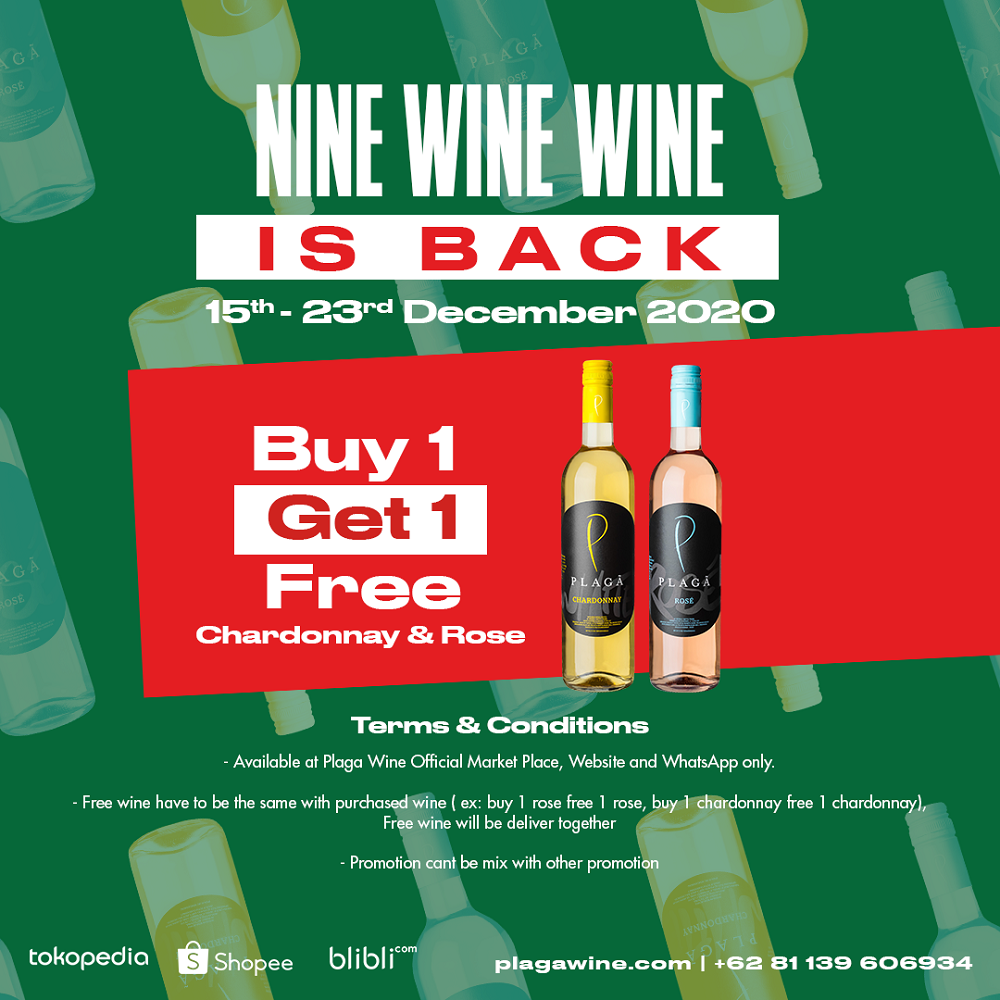 Plaga's Chardonnay
Chardonnay is one of the world's most beloved wine varieties because of its versatility, you can have it during lunch, dinner or any time, really. It's great when paired with seafood, baked white meat, and vegetarian dishes. The flavour of Plaga's Chardonnay is pure and simple, yet it has a taste that is elevated with a hint of oak. It's a refreshing and easy to drink modern Chardonnay with a nice body. It has a light gold colour with spicy and smoky notes from the American oak that marries perfectly with tropical fruits.
Plaga's Rosé
Rosé is always best served when chilled. This pale pink wine has a sweet fragrance, just like candy. It's intense, delicious, and extremely pleasant. It's best when paired with both red and white meat, and is ideally paired with canapés and starters. Plaga's Rosé has a light aroma with hints of red berries and slightly cut grass. It has a naturally sweet taste, with an elegant full-mouth palate as a result of the French untoasted oak used in its fermentation. It is soft and fruity with invigorating acidity.
Terms & Conditions:
• Available at Plaga Wine Official Market Place, Website and WhatsApp only.
• Free wine has to be of the same type of wine purchased. Free wine will be delivered together.
• This promotion cannot be combined with any other promotions.
Order through their website: plagawine.com
Order via WhatsApp: +62 811 3960 6934
Shop Online:
Plaga Wine Website
Tokopedia
Shopee
Blibli.com