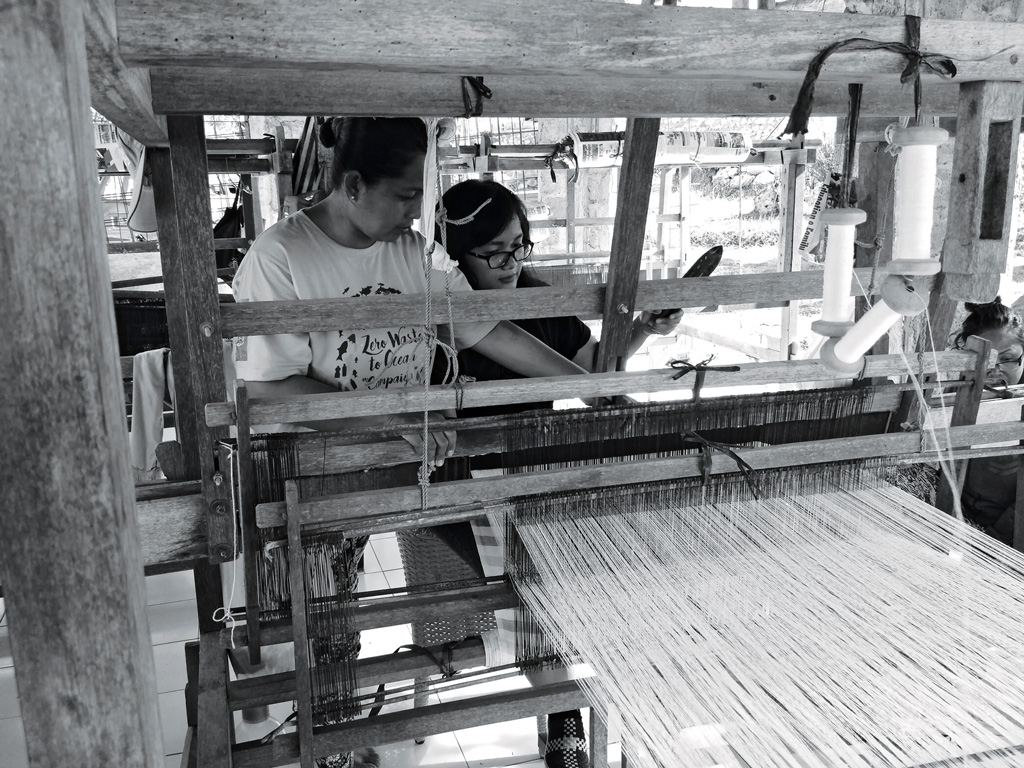 According to the Central Bureau of Statistics of Bali, there is up to 5% of the population on this island classified as poor. It is such a sad fact that despite the tourism industry is growing, we can easily find children asking for money at stop lights or sleeping in the street. Many of these children hail from rural areas of the island, and most of the times, their mums are accompanying them to collect money from both locals and tourists.
For them, begging is the only way to survive due to no employment opportunities available back in their villages. They are willing to travel far from home just to beg in Bali's tourism hotspots. As if this situation isn't bad enough, sometimes tourists make it even worse by giving compassionate handouts to these beggars, which, unfortunately, encourage more beggars to join and consider 'begging' as a full-time job to make some quick money.
The living conditions in some remote areas of Bali are extremely harsh with no jobs available and no income to its people. Take Muntigunung for an example. Located high on the rugged north-eastern slopes of Mount Batur on the northeast of Bali, people here are struggling to survive in a dry and desolate landscape. The nearest source of fresh water is at the lake by Mount Batur, which takes 5 hours walk to reach there and back. Without good water supply, an estimated 5,000 people living in that area suffer from poor nutrition and health ailments.
The villagers struggle to grow enough crops to survive, and many of the women chose to go begging with their children in Ubud or go further down to the south. To provide a more sustainable and brighter future for the Muntigunung community, an effort was made in 2004 by Daniel Elber with his first project 'Future of Children'. Together with Yayasan Dian Desa, he then established Muntigunung Community Social Enterprise to initiate a Muntigunung Development and Livelihoods Programme. This programme has successfully constructed 20 buildings to harvest and store rainwater in specially designed tanks to provide a year-round water supply, securing clean and sustainable water for every household, every day.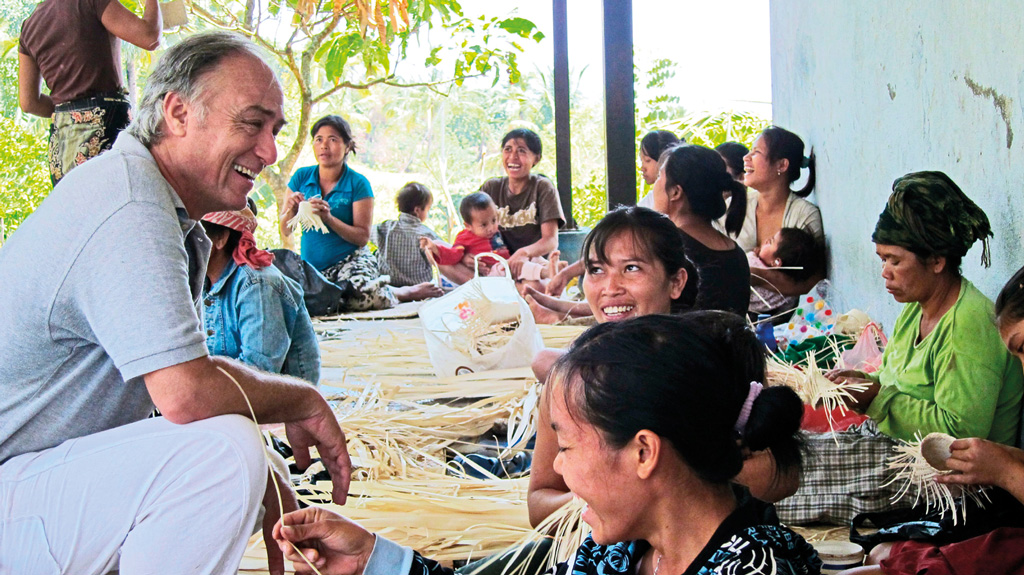 Today, these buildings also provide a place for the community to produce a number of high-quality handmade products, including handcrafted hammocks, handmade bags, handmade purses and hand-woven lontar baskets. The community also produces food products, like cashew nuts, Lontar palm sugar, rosella tea, rosella sweets, rosella salt and dried mango. These activities are creating employment opportunities and brighter economic prospects for the local people, while at the same time boosting their self-esteem and reducing a key poverty cause in the area. Purchasing the products from this village can brighten their future in the long run. You can purchase these products online at www.muntigunung.com/our-products.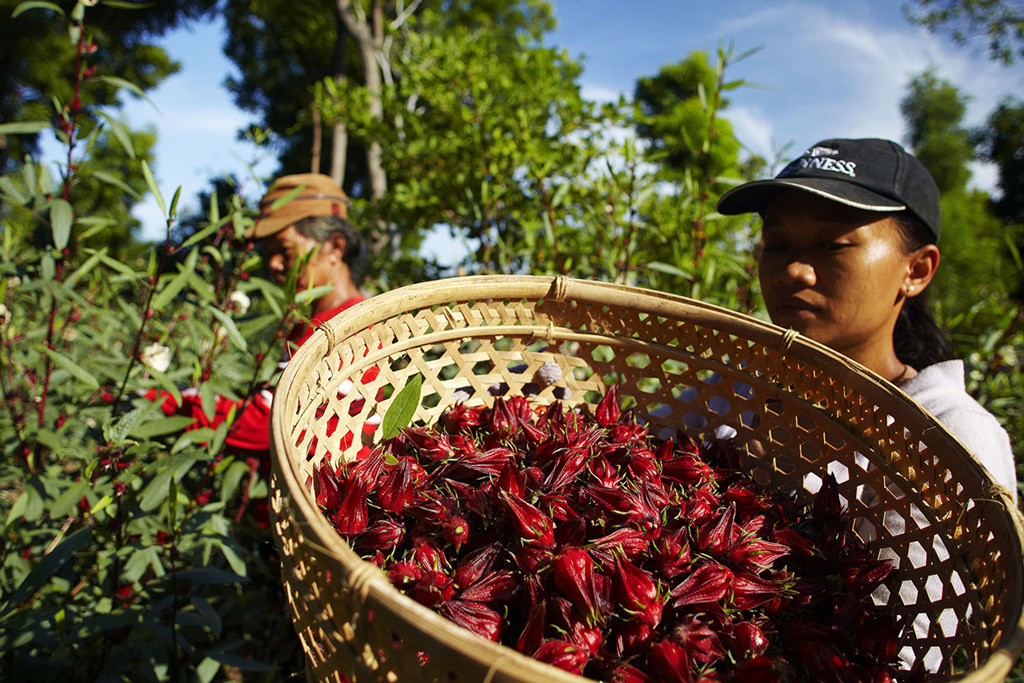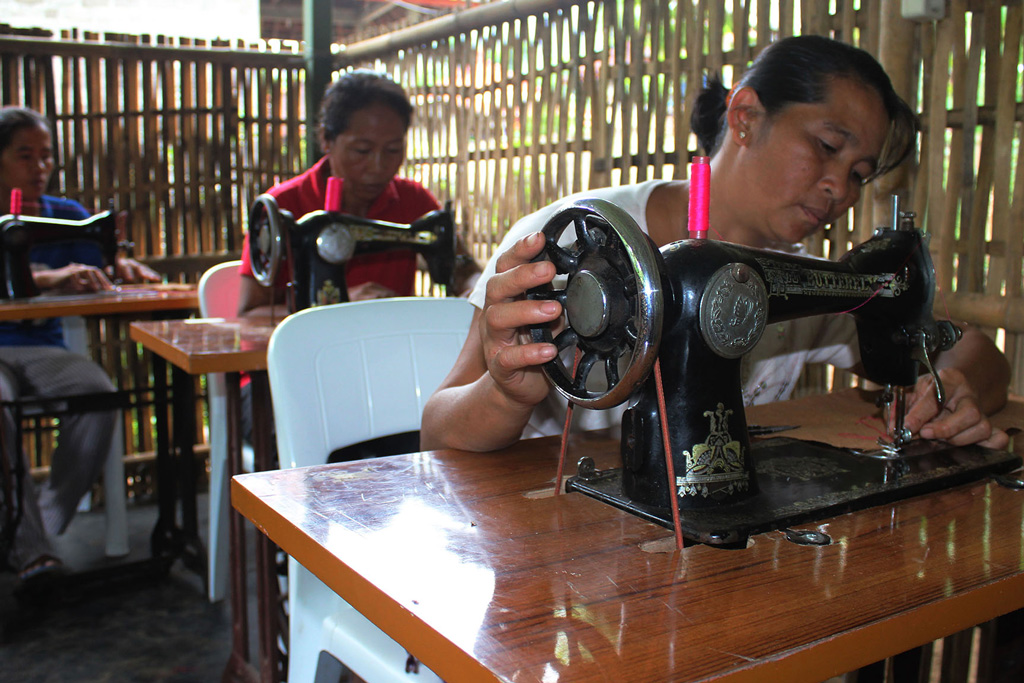 Going south to Nusa Dua area, with a vision to develop educational training to increase skills, environmental sustainability and reduce poverty, Mike O'Leary founded R.O.L.E. Foundation in 2007 to support the creation of sustainable jobs for underprivileged people living in coastal communities. To help these people gain independence and stand on their own, R.O.L.E. educates them to create products that can be sold, resulting in a better future and wellbeing for their community.
It is quite challenging for this foundation to create sustainable job opportunities without affecting the environment. However, their 'Weaving Futures' project follows the model of a sustainable business by breaking the cycle of poverty and supporting women. It helps them access small-business education and employs them. This programme promotes and preserves Bali's cultural heritage through the revival of traditional natural dye and weaving techniques. The products were made by disadvantaged and at-risk women and girls, who do not have access to formal education.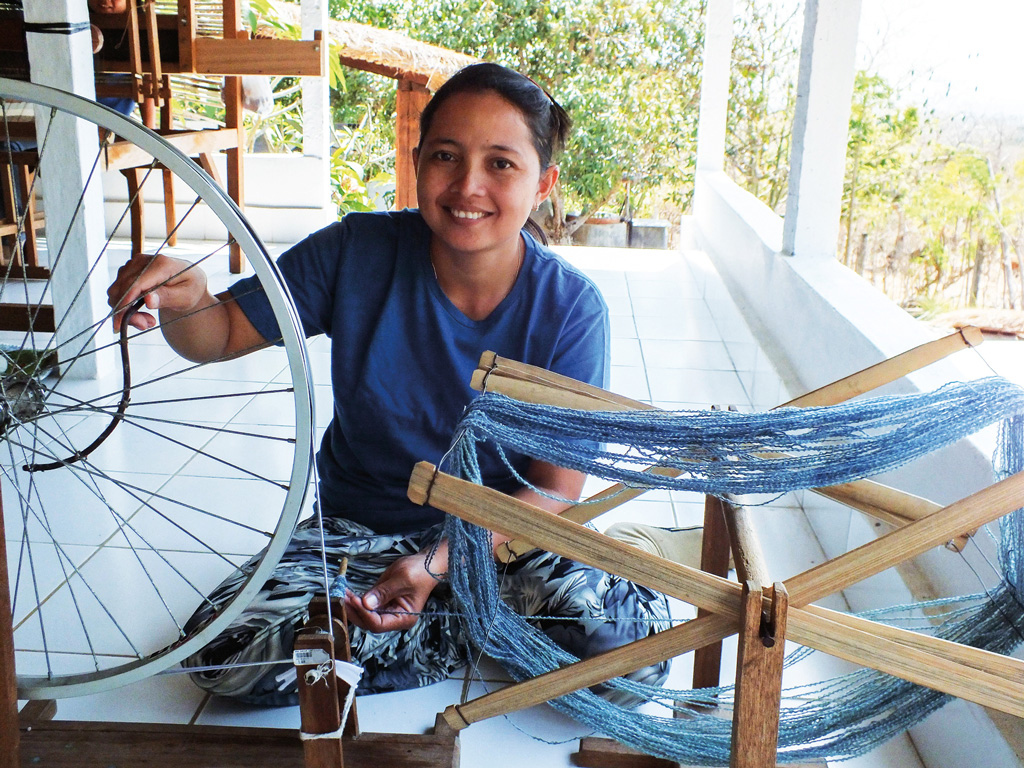 In addition to the products that this foundation produces, R.O.L.E. built their own Community Environment and Skills Centre to have a suitable surrounding for its educational programmes, plant nursery, soap recycling and beach clean-up training. Not only helping the underprivileged people, they also help in keeping Bali clean and green. Their eco-friendly initiatives promote the eco-tourism sector and help to sustain the future of this island. Recently, locals and over 30 like-minded organisations in Bali were invited to take part in the second-annual 'Zero Waste to Oceans Conference' to discuss the environmental emergency of plastic waste flooding the ocean and find solutions.
How to Support
To keep the vision alive, these non-profit organisations are supported by partnering hotels, companies, locals and volunteers. However, they also rely on outside donations. Your financial support will go directly towards their programmes, this includes building personal assets and facilitating sustained transitions out of homelessness and poverty. Your donations, no matter the size, will help deliver their powerful programmes on this island.
Muntigunung Community Social Enterprise
You can go to www.gardenof.life/payment for online donations
Address: Munti Gunung, Tianyar Barat Village, Kubu, Karangasem
Phone: +62 361 424619
Website: www.muntigunung.com
R.O.L.E. Foundation 
Direct Payment donation
Bank: Permata Bank
Account Number: 5801231804 (IDR)
Beneficiary: Yayasan Role Bali
More detail on how you can support, please visit www.rolefoundation.org/make-a-donation
Weaving Future's scarves can be found in these shops:
Batubulan: DSW Jewellery Bali
Canggu: The Jungle Trader, It Was All A Dream, Bomba
Jimbaran: Sereh Gourmet, Carga
Kuta: World Brand Factory
Nusa Dua: The St. Regis Bali Resort, Grand Mirage Resort Thalasso Bali, ROLE Foundation
Sanur: A-Krea Sanur, Fairmont Sanur Beach Bali, Segara Village Hotel, Ganesha Bookshop Sanur
Seminyak: TS Store Seminyak, Lucy's Batik, Drama Gallery – Baggary
Ubud: A-Krea Ubud, Nusa Surfwear Ubud, Earth Café & Market Ubud
Uluwatu: Alila Villas Uluwatu, Bulgari Resort Bali
Ungasan: Nusa Surfwear, Banyan Tree Ungasan Resort, BGS Bali
Address: Jalan Siligita No.22
Nusa Dua
Phone: +62 361 4771657
Website: www.rolefoundation.org