I took a closer look at the W Bali's FIRE last month, and sank my teeth into the restaurant's mouthwatering meats.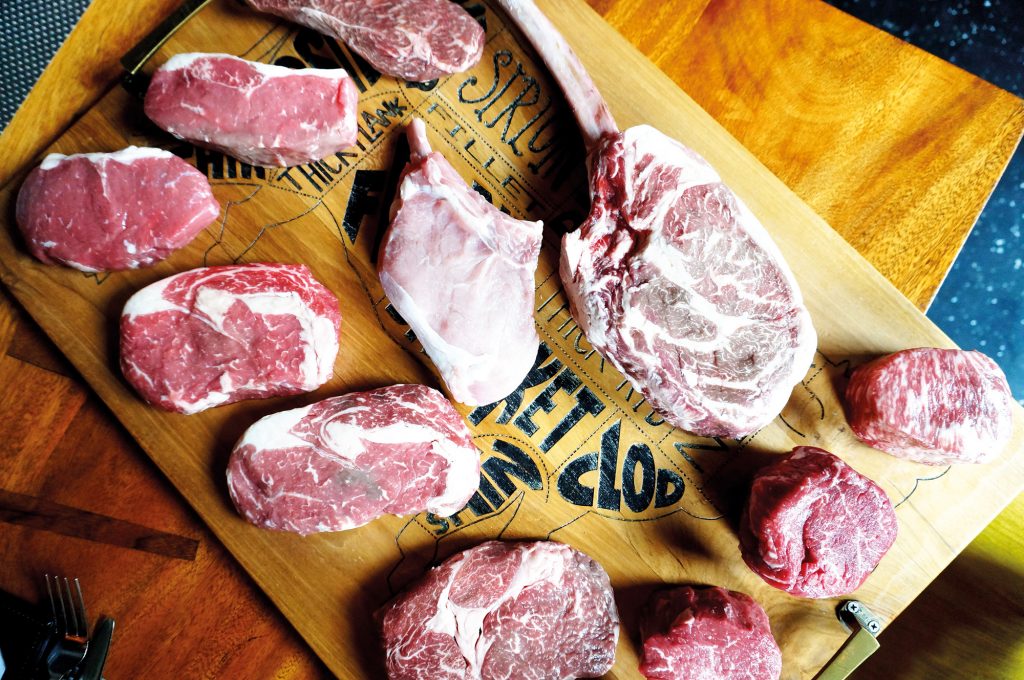 Currently in our beloved South Bali, barely a day passes without news of an exciting new restaurant opening, or a groundbreaking, must-try dish. Yet despite the big gun chains and more storming into town, and creating traffic jams and seating areas that overlook the gridlocked road, FIRE seems to keep on going north.
Talk about bravado. Or maybe they just knew that the strength of their menu, their hospitality and the quality of their food would find a local following quickly. And that's already happened. It's just hard not to love FIRE, especially for a meat lover like me. For me, it's the restaurant's unconditional love for meat that drives the menu – both the chef and his team have done a stellar job fashioning their meat offerings.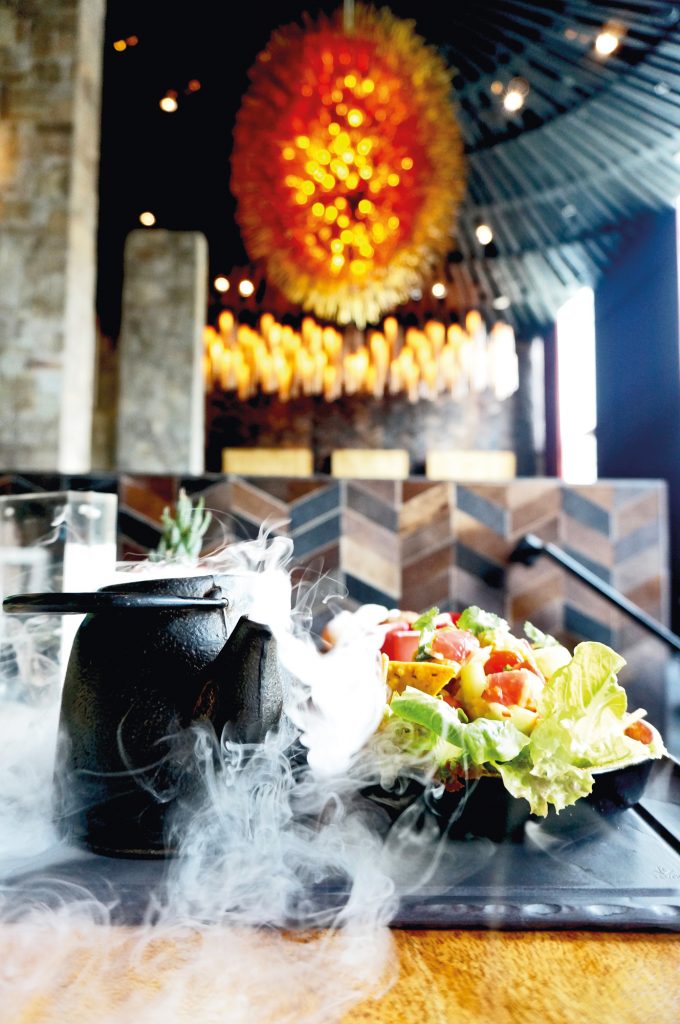 Walking in, I found the atmosphere at the restaurant instantly lively and, well, fiery of course. That's right, fire matters in this restaurant, it matters a lot. In fact, fire is unapologetically part of the decor here – from the colour theme to the restaurant's piece de resistance, a fire chandelier. And their grillers aren't dressed up to be anything else. But the view of the restaurant's open kitchen lets you know that the kitchen takes centre stage here. Even with the striking decor, the artistry that's taking place there grabs your attention. It is a well-orchestrated flurry of activity as the kitchen wizards go about, preparing your dish, from gourmet pizzas to freshly sourced fine meats and seafood to stir-frys in the wok.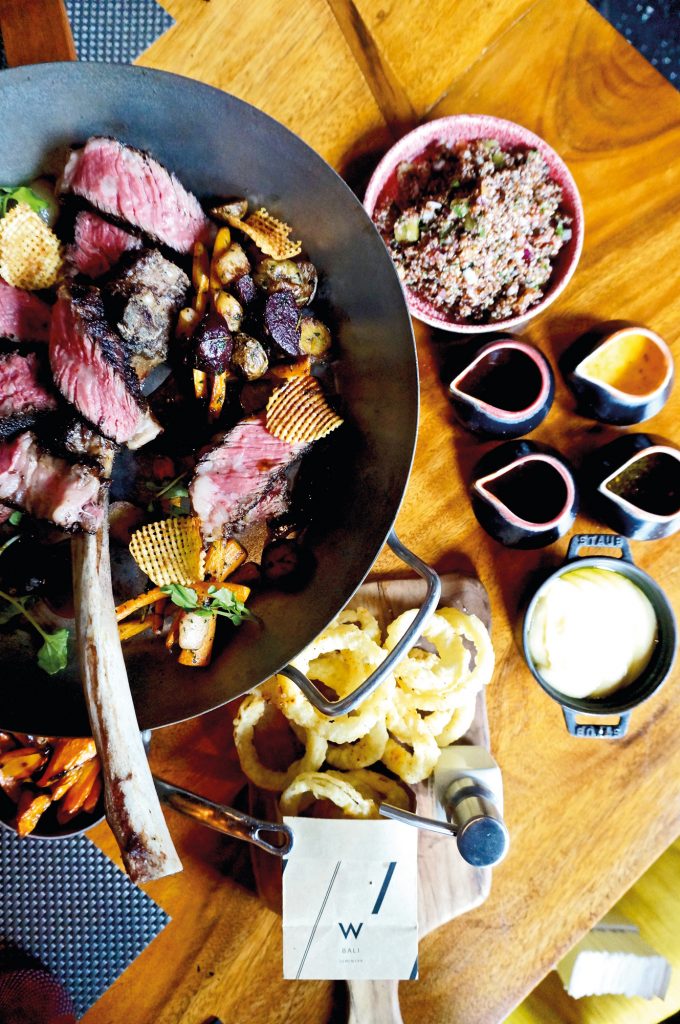 But the one item from the menu that is guaranteed to make an impression is the Stockyard 200-Day Grain Fed Black Angus Tomahawk. The long-bone rib steak is presented tableside, and served with truffle potato puree, forest mushrooms, confit garlic, roasted root vegetables, and red wine jus. This one is seriously, deliciously juicy ladies and gentlemen – and it's enough to feed two to three people!
For those who also love to sink their teeth into great meats like I do, FIRE offers an array of different cuts that feature the distinctive, buttery taste, and melt-in-your-mouth tender texture which characterises the prime beef experience. From the restaurant's "FIRE Signature Aged Steak", you'd be pleased to find the Tomahawk along with Kimberly Red Grass-Fed 100 Days, Stockyard Gold Wagyu 7+ Top Sirloin, Kiwami 9+ Wagyu Pure Bred Beef Striploin, John Stones 45 Days Dry Aged Irish Beef, Dutch Milk Fed Veal Chop, Sher Wagyu Beef Gold Label 5+ Marbling, and more! A plethora of sides with lots of kick will keep your main attractions in good company.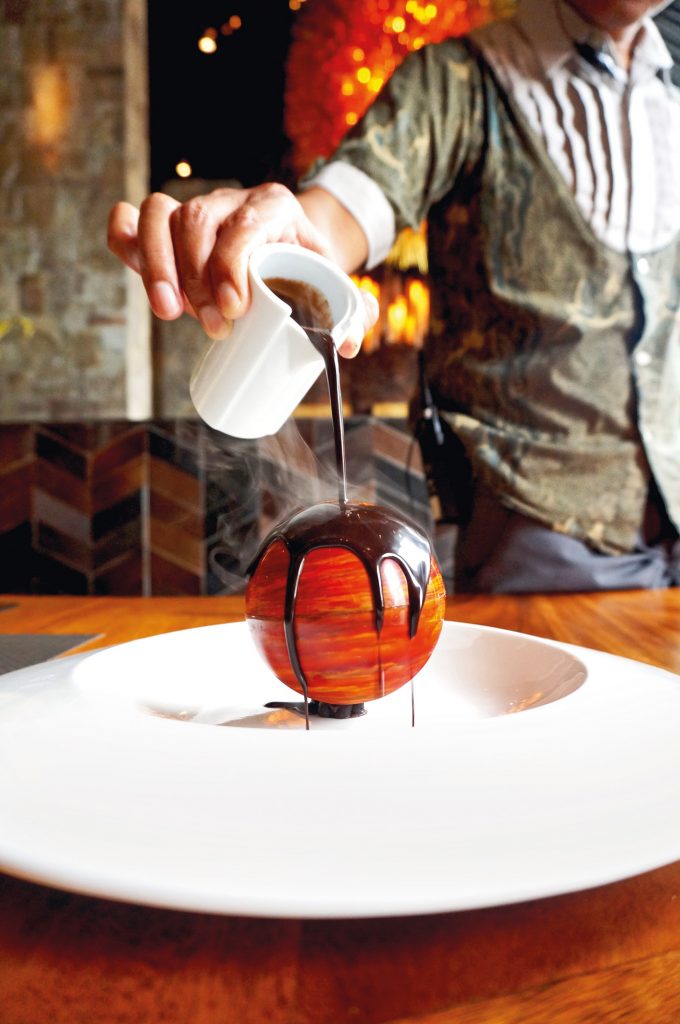 Of course, there's more to FIRE than the meats. The restaurant's sumptuous Freshly Shucked Lombok Oysters, Smoked Duck & Medjool Date Salad, and Grade A+ Tuna Ceviche are some items to give your dining experience a delicious kick-start before you go to your tempting mains. For the sweet finale, you should really try the restaurant's Pod 64% Chocolate Melting Sphere (white chocolate mousse, passion fruit jelly, lemon popping candy, almond streusel) that can be crafted for an ultra pairing by W's mixologist with the Spiced Espresso Macchiato Martini cocktail.
FIRE at W Retreat & Spa Bali – Seminyak
Jalan Petitenget, Seminyak
+62 361 3000 106
www.wretreatbali.com