We travel to experience something different, to go places our friends haven't been and regale them with our tales when we get back. In Bali, while well-known spots like Kuta, Seminyak, and Ubud bring in millions of visitors each year, some of the lesser-known ones have minimal visitors, plenty to do, and much-needed peace and quiet. So leave the crowded trails and busy areas behind when you visit one of these places.
1. Angel's Billabong
Believed by the locals to be a site where angels and nymphs used to bathe, Angel's Billabong in Nusa Penida is a nature-made infinity swimming pool overlooking the vast Indian Ocean.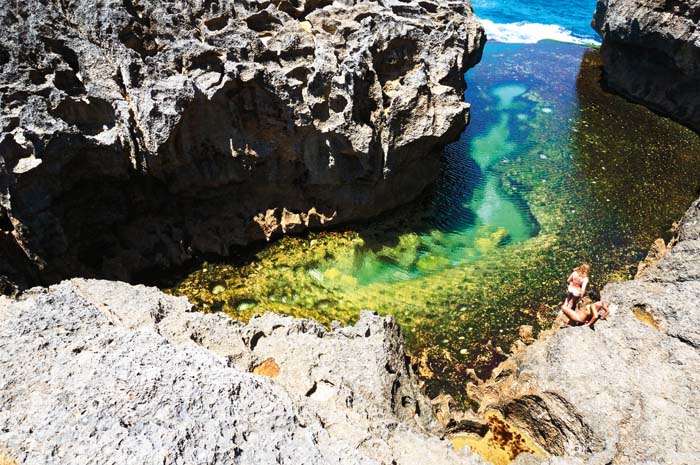 The road to reach this beautiful sanctuary is quite challenging; and it doesn't get easier either once you've arrived at the spot, for you have to climb down the rugged, sharp coral reef after you've parked your vehicle. But once the crystal-clear water of the pool is within sight, you'll feel like you're in paradise and that all those bumpy roads leading to this place were worth it.
Angel's Billabong is located in an area called Pasih Uwug, meaning "broken beach", and it is a brilliant geological phenomenon. Upon arriving in the area, you'll be presented with a spectacular natural arch created by the rock cliffs that go down into the sea. Now this is something broken we don't want to get fixed!
---
2. Holy Tree of Bunut Bolong
Bunut Bolong means "a tree with a hole" and is a sacred tree with a big hole in its base, so big that even a truck can go through it!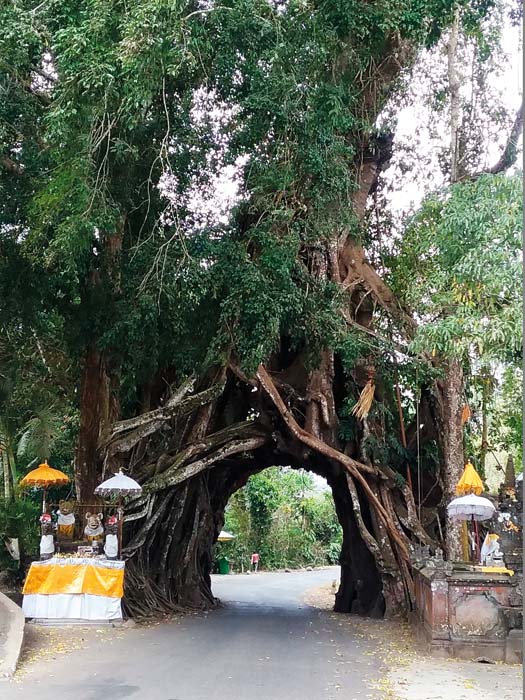 It is situated on the ridge of a hill flanked in the east by a clove plantation and on the west a gorge bordered by a lush green tropical forest. The road is constructed through the tree as the tree is too big to allow a road to be built around it.
Moreover, in Bali, cutting down a sacred tree is out of the question – especially since it is believed that there are two tiger spirits residing in every tree. Two shrines are built on the south side of the tree to honour the great sage Dang Hyang Sidhi Mantra who happened to pass this area hundreds of years ago.
Bunut Bolong is located in Manggisari village in Jembrana regency, some 86km from Denpasar or 11km to the north from the main Denpasar-Gilimanuk road.
---
3. Bukit Asah Bugbug
If you love sleeping under the stars and waking up to a stunning sunrise, or if you simply enjoy camping (with a view!), then this place is for you.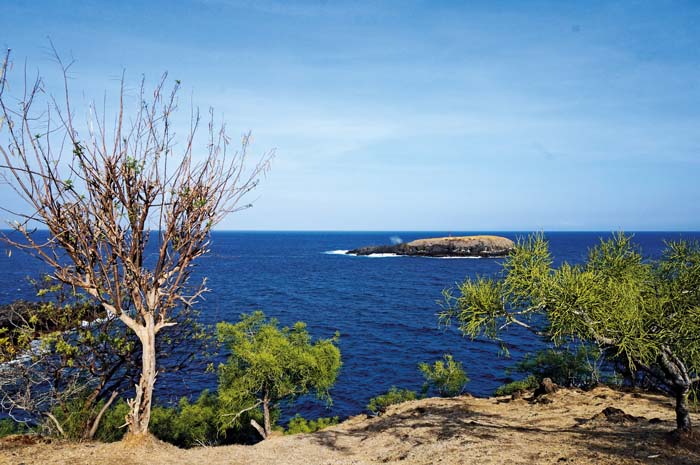 This place is just so gorgeous that many of those lucky enough to have visited this place normally couldn't describe Bukit Asah Bugbug in words – this is why it's so important that you bring your camera here and let the photos do the job.
The green, slanty hill with the breathtaking views of the ocean, cliff walls, and crashing waves on the bottom is a favourite spot for locals to go camping or a romantic picnic for two.
Peacefulness surrounds this place, and its remote location makes Bukit Asah Bugbug a perfect place to get away from South Bali's hustle and bustle, giving you a chance to recharge.
---
4. Budhakeling
Bali is well-known as a hub for the Hindu religion, culture and teachings. Yet here in this remote Brahmin hamlet in Karangasem, in the shadow of Mount Agung, the island's holiest mountain, Budhakeling is home to the island's devout Buddhists.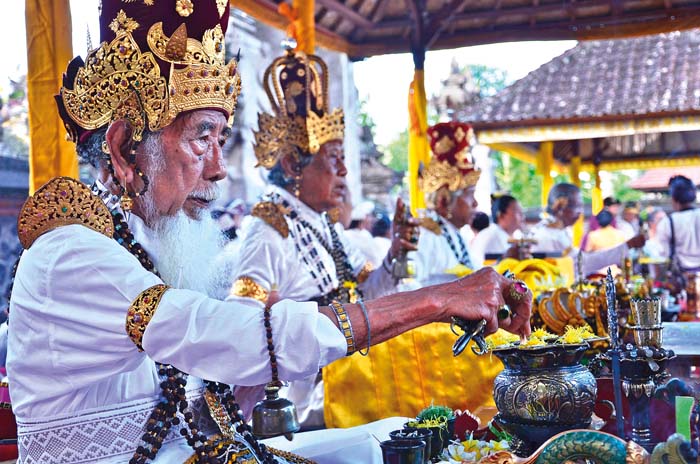 Surrounded by verdant paddy fields, the people live in peaceful harmony. Their high priests are sought after across the island, and are afforded the privilege of sitting with the Siwa (Shivaite) priests to officiate at important ceremonies.
Here, Buddhism and Shiva-Hinduism co-exist in harmony – two sides of the same coin. It is a village of peace, where it seems never a harsh word is spoken.
By a long and untold route, Brahmans gravitated to this holy spot and today the Budhakeling is populated with rice farmers, silver and goldsmiths and the Buddhist priests. It's the only Brahma Buddha village in Bali.
---
5. Goa Giri Putri
A meditation site, a Balinese Hindu temple and a Buddhist worshipping place rolled into one, the cave temple Goa Giri Putri in Nusa Penida is a delight to discover.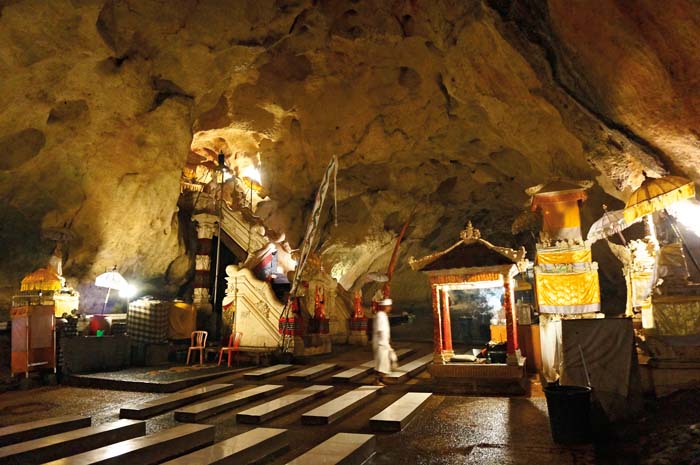 Loosely translated to "the cave of the daughter of the hill", this temple is crowded by pilgrims especially from outside Nusa Penida during the weekend.
Getting into this temple one must crawl and kneel through a small hole before finally stepping on to a path that leads to a huge, natural, cathedral-like area where shrines and labyrinths for meditation are located. Occasionally, water drips from the walls of the cave. Near the exit, an altar is dedicated to the Buddhist goddess Dewi Kwan Im, the goddess of mercy and compassion.
Non-worshippers are allowed entrance given that they wear praying attire. Lights have been installed inside the cave, and this allows adequate lighting if you wish to snap some photos.
---
6. Pura Gaduh
It is said that Bali once had a robust, manly, powerful yet compassionate giant named Kebo Iwa. He was known to be a hero, for he defended the island from the attack of the powerful Javanese kingdom Majapahit.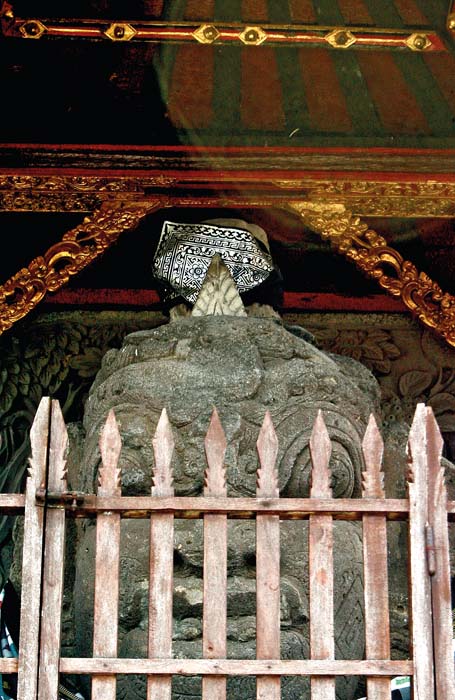 Anyway, when Iwa renovated the ancient temple Pura Gaduh, the people pleaded with him to erect there a statue of himself.
His humility wouldn't permit such a thing, but the people insisted. It was a source of tension between the priest and his people until, ultimately, a Solomon-like compromise, was revealed to Iwa that allowed both parties to prevail.
While discussing the relative merits of the proposed statue, Iwa suddenly fell into a trance, stood up, put one hand on either side of the statue's head and lifted it up high above his body. The solution was clear and Iwa acted on it, much to the delight of his followers.
The solution: Iwa did erect a statue of himself, but his humility forced him to limit it to only his head. Both sides were placated. This statue of Iwa's head is still on display in this temple and, because of this statue, this temple is commonly known as Pura Kebo Iwa.
---
7. Sidemen
Sultry Sidemen lies about twenty minutes north of the old royal town of Klungkung, whose market and historic accoutrements make it a perfect stop along the way, before turning into one of Bali's most beautiful areas.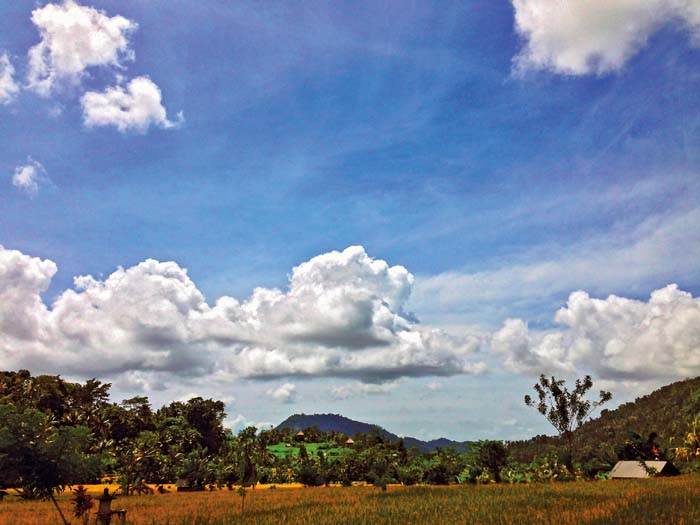 Sidemen is best known as a weaving area as well as a place of great beauty. Villagers weave in their homes before taking it down to Klungkung Market or to one of the tourist shops that have sprung up in the area.
The island's best songket comes from the Sidemen area which was developed in the 17th century. This luscious, richly decorated cloth is woven with silks and gold or silver thread, and is much sought after by collectors, especially the finely made older pieces.
Until about thirty years ago, the cloth was worn only by the higher castes, who used it in performances and ceremonial displays of wealth, but now it is popular wedding apparel for anyone who can afford to buy it.
---
8. Trunyan
Hidden in the depths of Lake Batur, in the Kintamani district, Trunyan is a village from earlier times. The village dates back almost 1000 years, long before the influx of the Majahpahit people, who fled here from Java. This is a village of original people, the Bali Aga, who have settlements scattered across the hills of Kintamani and much of eastern Bali.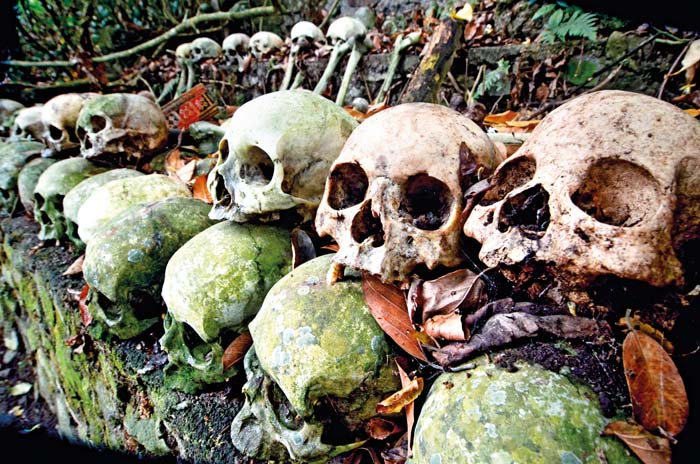 Trunyan's people retain a social order that follows ancient traditions unchanged from earlier times. The people are secretive and protective of their customs, which stay exclusive to their community. The Caste system, said to have been imported from India, is not known here, and neither are cremations, as found in the rest of Hindu Bali.
Instead, bodies are left on the ground to decompose naturally. Getting there has been simplified with a new road, which makes it possible to drive right to the village, a great improvement on the older boat system, which led to much competition for the tourist dollar.
Due to an ancient ancestral tradition, the people of Trunyan don't bury their dead, so scattered around the village are several sites, where the bodies are left in great ceremony. The most famous one, the one we all go to see which has become a somewhat macabre tourist attraction for the curious, is called Kuban, only accessible by a short boat ride from the village.
---
9. Sekumpul Waterfalls
Deep in the jungles of the Bangli Regency, North-East Bali, is a group of waterfalls by the name of Sekumpul. Sekumpul, meaning a group, is used to describe the complex of 7 waterfalls you'll find here.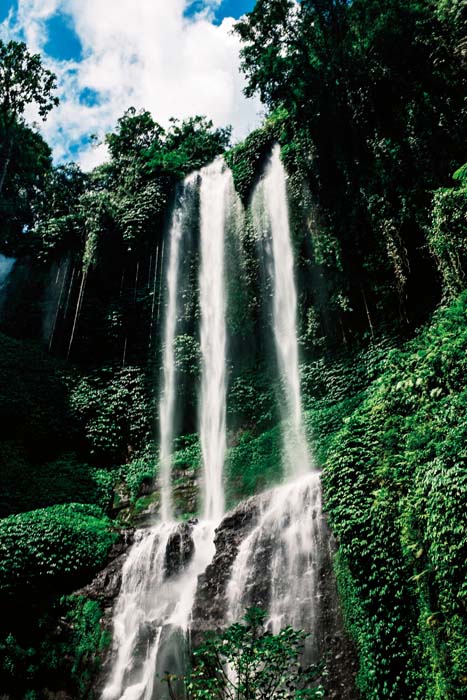 They are hidden within a vast world of thick vegetation, with ancient vines clinging to the cliffs or drooping from the trees and Jurassic Park-like forest ferns lining the sides of the rivers. It is a different side of Bali that many are used to.
Adventurers and explorers, you will absolutely love it here. Trekking through rice padi that terrace the higher ground, down into the jungles that finally lead to the riverbed.
Once here, you must use your ears and follow the sounds of the crashing waters. Small and large waterfalls are dotted around the area; most of them have fresh plunge pools you can swim in as well. Of course the best spot here is the Sekumpul waterfall itself, the largest one where waters cascade from 80m high.
---
10. Merita
Also hidden away in the Karengasem hills between Amed and Tulamben, the little hamlet of Merita is better known for its fine quality, first grade Arak, produced from the high standing ental palms that grow there.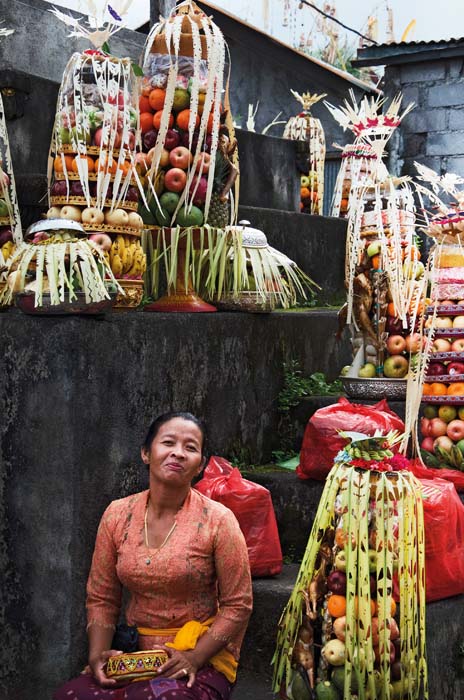 This tradition which dates back around three hundred years, has shaped the lives of the residents and their views of the world. The village traditions and history are somewhat unique, growing maybe from Arak dreams and possibly hallucinations. Each year for their temple Odalan celebrations they retell ancient tales whose origins are lost in time.
They involve Muslim sailors, and big Islamic drums, rituals and trance dancers. Strange processions involve decorated men carrying boxes covered with sacred cloth filled with mysterious relics. Super tall offerings are carried to the temple by the women of the village.
Some are as high as a man and all are heavily decorated. It is a wonderful time and the celebrations last for several days with dances all night and a wonderfully festive atmosphere. The legends are so many and varied, it is difficult to put them all together, but suffice to say, it makes for a visual spectacle that is quite miraculous to witness.
---
11. Bebandem Cattle Market
This is a great way to start the day: Visiting Bebandem Cattle Market in Karangasem. The market operates every three days on a cyclical basis, and one needs to be in the know to catch the right day.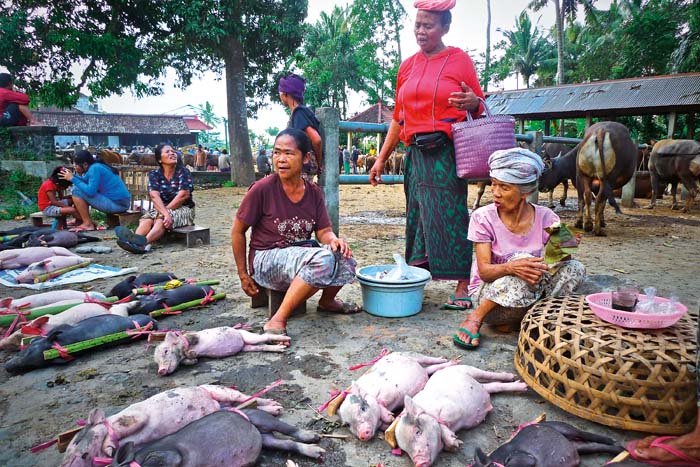 The first trucks normally arrive at 5am, driving through the cool misty darkness, transporting cows that are often dressed in sarongs and udeng headpieces. The pigs are tied with a stick along their back, rendering them immobile and making them easy to carry.
Slowly when it becomes brighter and more people arrive, reaching a peak at around 7am. By 9am most of the activity is already over, and trucks start to load up and move up. By 10am, only the hopeful and desperate are left, hoping against hope for a late sale.