While Bali's holy mountain Gunung Agung rumbles threateningly, keeping everyone on their toes, life in the villages continues unabated. Here in a tiny hamlet, within shouting distance of Gunung Agung, the villagers celebrate their temple celebration or Odalan without turning a hair.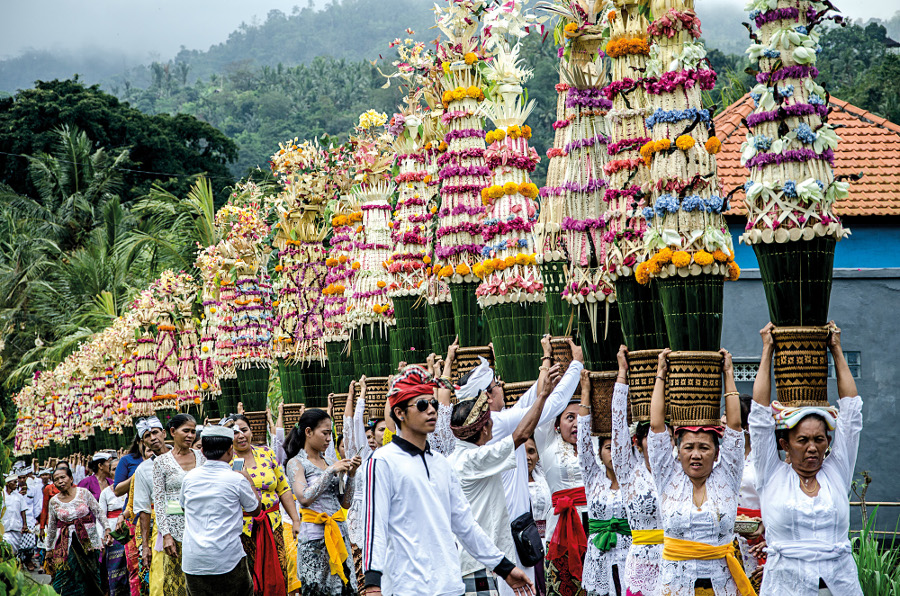 Even though this little village of Yeh Poh – water of the heavenly mango – is close to Mt Agung, as fate would have it, it has been classified as a safe district. This means that evacuation is not needed. It is so safe, in fact, that they are even harbouring others less fortunate from other surrounding villages known to be less safe, giving them food and protection from the impending threat which is keeping everyone in a state of suspended anticipation.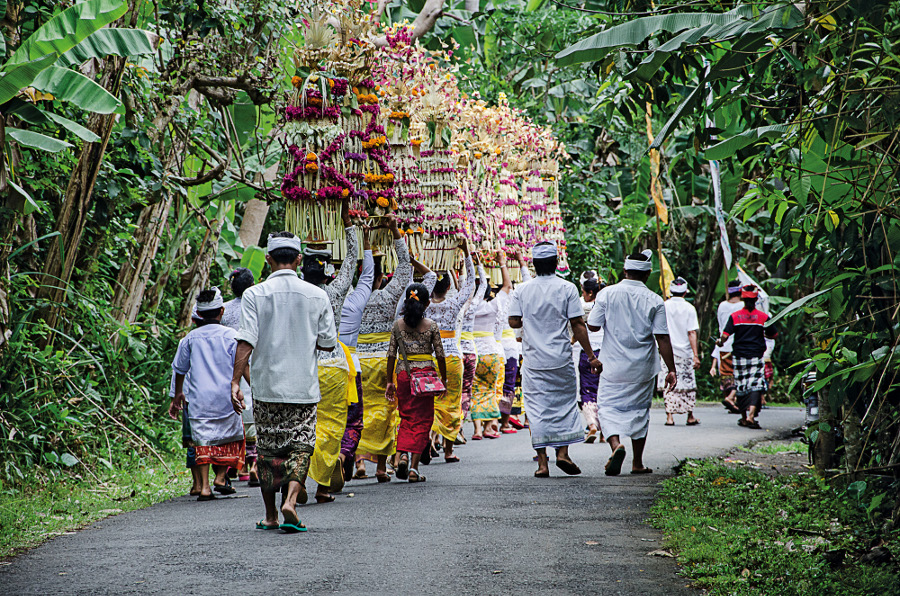 Every 210 days, each temple in Bali celebrates its birthday which often occur at the time of the full moon, known to be an especially powerful time. Offerings are made, to be carried to the temple. Priests come and officiate and everything is prepared for the descent of the gods who come to stay for the duration.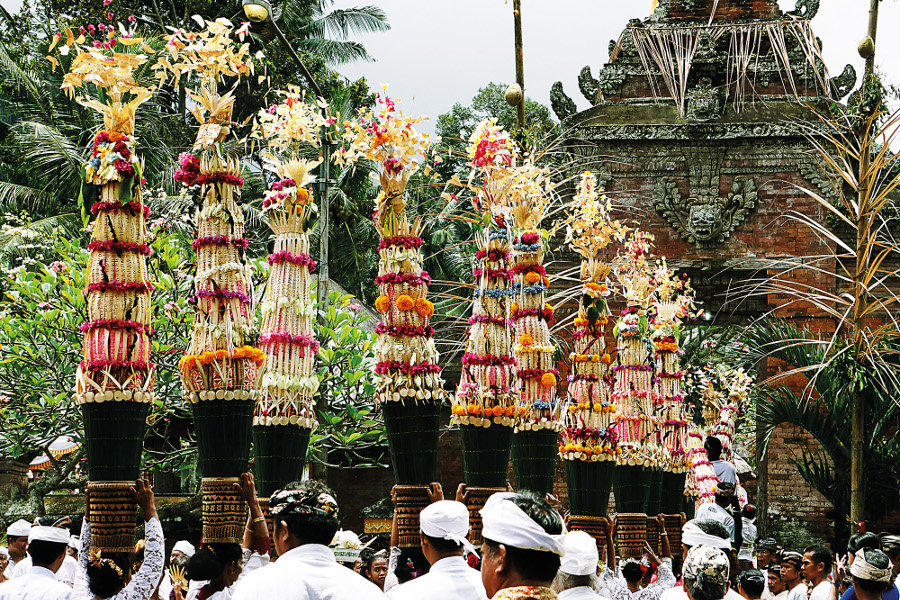 At this time, it is particularly poignant because all of Bali has been a little preoccupied with the imminent eruption of Gunung Agung, the holy mountain. And this little village – stands nearby.
Life is simple and the focus on the ceremony is taken very seriously. Yeh Poh, while it is known better for the "adventure sport" events nearby is also home to ceremonies that feature particularly interesting banten or offerings. We went especially to see the procession or mapeed as the towering offerings are taken to the southern temple through still verdant rice fields and jungle, for blessings and prayers. On the long walk to the temple, the offerings are kept covered with wrappings of banana leaves, keeping them fresh for the temple. It is a little like Buddha statues, whose faces are covered until they receive their full blessing and are consecrated.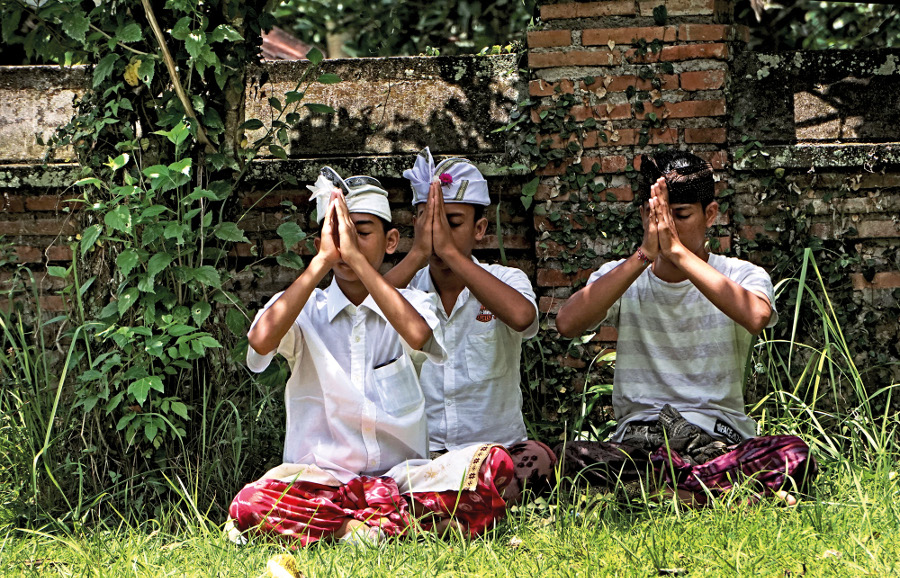 Yeh Poh is a very traditional and charming village living in almost pristine conditions, although no doubt the proceeds from the adventurers has added to the coffers of some of the village's key personnel. But from the outside, it seems to be almost perfect.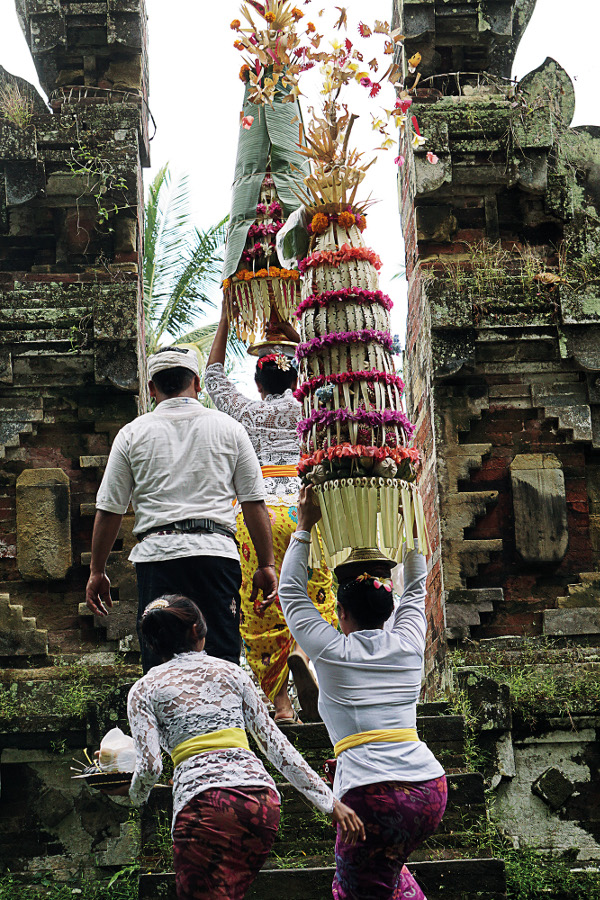 While no one in this area seems remotely worried about the possible effects of the impending volcanic eruption, the prayers were especially fervent with everyone from juniors up paying close attention. I think that Balinese attitude of living in the moment instead of worrying about what may or may not happen later is a good example for a lot of us foreigners to follow. Maybe it will help us all to enjoy each day to its fullest. In the meantime, a spot of prayer from each and everyone of us can only do good, and maybe even help to calm the simmering mountain.