Lombok, for a number of reasons, has failed to lift its tourism off the ground like its popular neighbour. Even with the majesty of Mount Rinjani, or the cultural lures of the local Sasak culture, it seems that mainstream tourists are still attracted, like flies, to the bright lights of Bali. However, it seems that the island's inability to pull in the masses has meant it has retained its natural charm, for which the more cultured traveller can appreciate. It also means that resorts meant for escapes can stay just that – escapes. One such escape is the Sudamala Suites and Villas Senggigi.
Located on the west coast of the island, on the northern tip of the slightly more developed hub of Senggigi, Sudamala spreads its wings across a quiet Lombok beachfront. Here, an array of suites and villas styled with ethnic Sasak finishings blend seamlessly into the pervading nature; light browns and soft greens shift from building to grounds. The design is rustic but by no means does this island getaway belong in the past. Sophisticated villas with private pools, sunken baths, plush beds and the necessary modern amenities, Sudamala has successfully brought sophistication into a land perhaps not yet accustomed to it. Comfort is ensured.
Perhaps the most alluring part of the property is its large central swimming pool, which boasts open views straight out onto the blue straits that separate Bali and Lombok. And, because it is a West-facing beach, you can only imagine how spectacular the sunsets are here. With direct beach access, a dip in the pool to a splash in the sea then heading back in for a bite in Olah Olah Restaurant is too easy. It is after all, a holiday, when nothing should be made too difficult.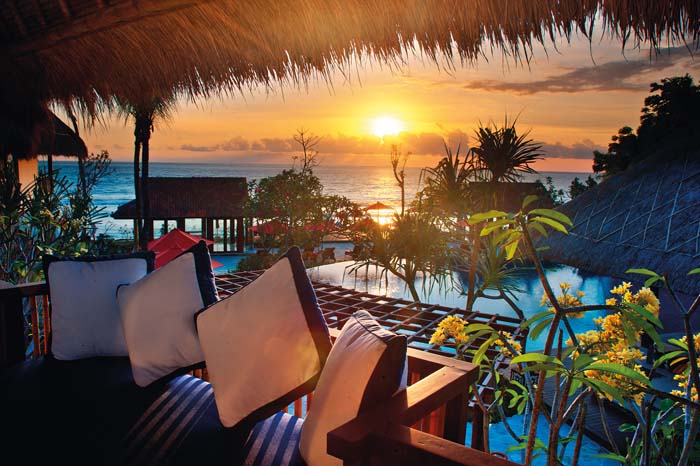 And if you're after an extra dose of relaxation, their Mango Tree Spa will surely take care of that. Yet, Sudamala is not only about the luxurious, like in their sister property in Sanur, Bali, the resort also offers opportunities to experience the island properly; from adventure, culture and even a special 'sunset-chasing' excursion, trips are made available for guests keen to learn and discover.
Even though Lombok can still be considered a land lost in time, we should be grateful that hidden gems like Sudamala allow us to explore and experience the untamed lands in comfort and luxury. When you look across the straits from your peaceful villa to the bright lights of Bali, it is doubtful there will be much envy there.
Sudamala Suites and Villas
Jalan Raya Mangsit, Senggigi, Lombok
0370 693 111