Five years ago, the Bali born and bred sisters started a revolution on the island, now they are transforming businesses in Bali and have appeared live on CNN before Anderson Cooper and Kelly Ripa. Melati Wijsen, one of two Wijsen sisters from Bye-Bye Plastic Bag fame, arrived at the semi-vacant restaurant in Pererenan with a cardboard cutout of their newest KOMITMEN project, the Indonesian word for commitment. She brought her charm and knowledge with her too.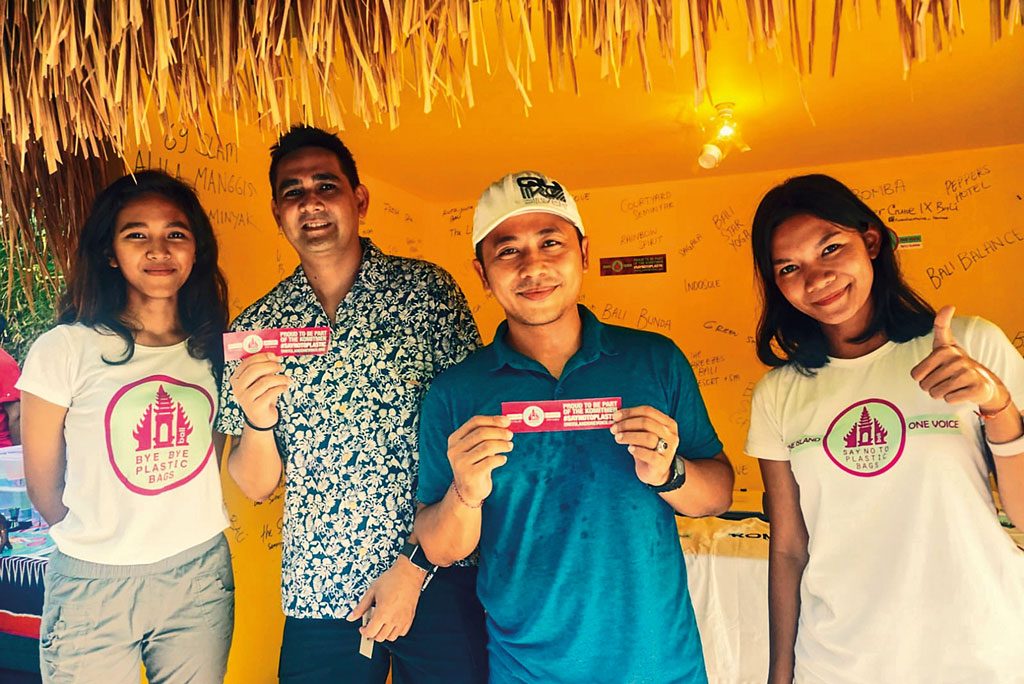 "Thanks for being so flexible with us," she said though both of us knew she was the one with the rather eventful schedule; the teenage sisters have New York and Europe penned into their agenda to conclude a spectacular year.
Bye Bye Plastic Bags was formed when Isabel and Melati Wijsen were 10 and 12 years old respectively. They have been campaigning against the use of plastic in Bali and around the world since then.
Indonesia is the second largest plastic polluter in the world after China. A 2015 report found Indonesia's plastic waste accounted for a whopping 10 percent of marine plastic pollution. Due to the colossal amount of trash accumulated in the world's waters, welcoming the wet season in Bali means inevitably welcoming an annual trash season too. Pearly beaches turn into scenes of discarded packaging and plastic ruins.
Seeing pivotal world leaders such as Nelson Mandela and Martin Luther King as inspirations, the Wijsen sisters sparked an idea for young people like them to create change. Little did they know, two voices from an island could forever change the narrative of this global phenomenon, especially for the younger generation.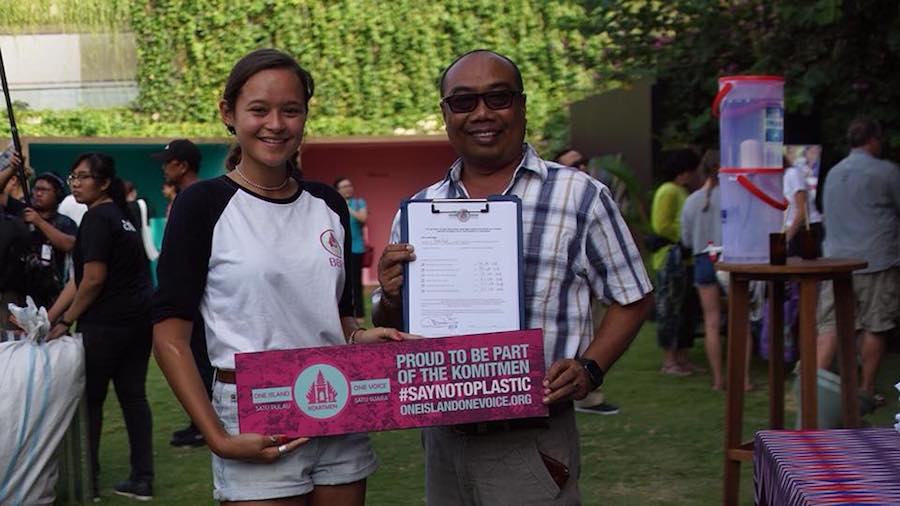 Bye Bye Plastic Bags encouraged not just the youth but every single person on the island to say no to single-use plastic bags in Bali. Should it stop here? No, Melati affirmed. The movement saw so much potential that it eventually initiated 'One Island One Voice' (OIOV) in 2015, which now serves as an umbrella platform for all like-minded organisations, NGOs, companies to adjoin and reach towards a cleaner and greener world.
Melati and Isabel have an orbit of achievements to colour their resume with only over a dozen years of life experience. Their journey started on the paradise island of Bali, then to London where they delivered a TED talk, to New York where they appeared at the United Nations, and recently (9 December 2018) on CNN Heroes to receive the 'Young Wonders Award' hosted by CNN's Anderson Cooper and ABC's Kelly Ripa. Yet despite their achievements, they recognise they still have a long way to go.
One of their latest campaigns is the KOMITMEN. Whilst over the years, the voices of youth, students and increasingly eco-conscious adults have risen, people were asking, "But where are the businesses in the conversation? Are we missing them in the picture?"
This is where KOMITMEN's role comes into action. KOMITMEN is OIOV's approach for Bali-based businesses to start saying no to single-use plastic bags, coincidentally complementing Denpasar's ban on plastic bags this 2019.
How it works
It comes in the form of a pledge. Businesses are asked to commit to one, a combination or all 6 options presented to them, which include: eliminating single-use plastic straws, water bottles, plastic retail bags, plastic cups, plastic up lids or separating their organic and inorganic waste. Each business can set its own timeframe or goals. The campaign will also offer services of waste separation at the source.
Similar to TripAdvisor's recognisable owl you see on store windows, if a business joins the KOMITMEN they will receive a plaque or sticker to display their noble participation towards a healthier environment. If you walk in as a consumer or a customer in a shop or a restaurant, you will recognise their label to indicate that you're entering a plastic-free zone, or at least plastic-reduced! This is not a case of naming-and-shaming but certainly naming and giving those businesses a sense of pride that they are helping to create a plastic-free Bali.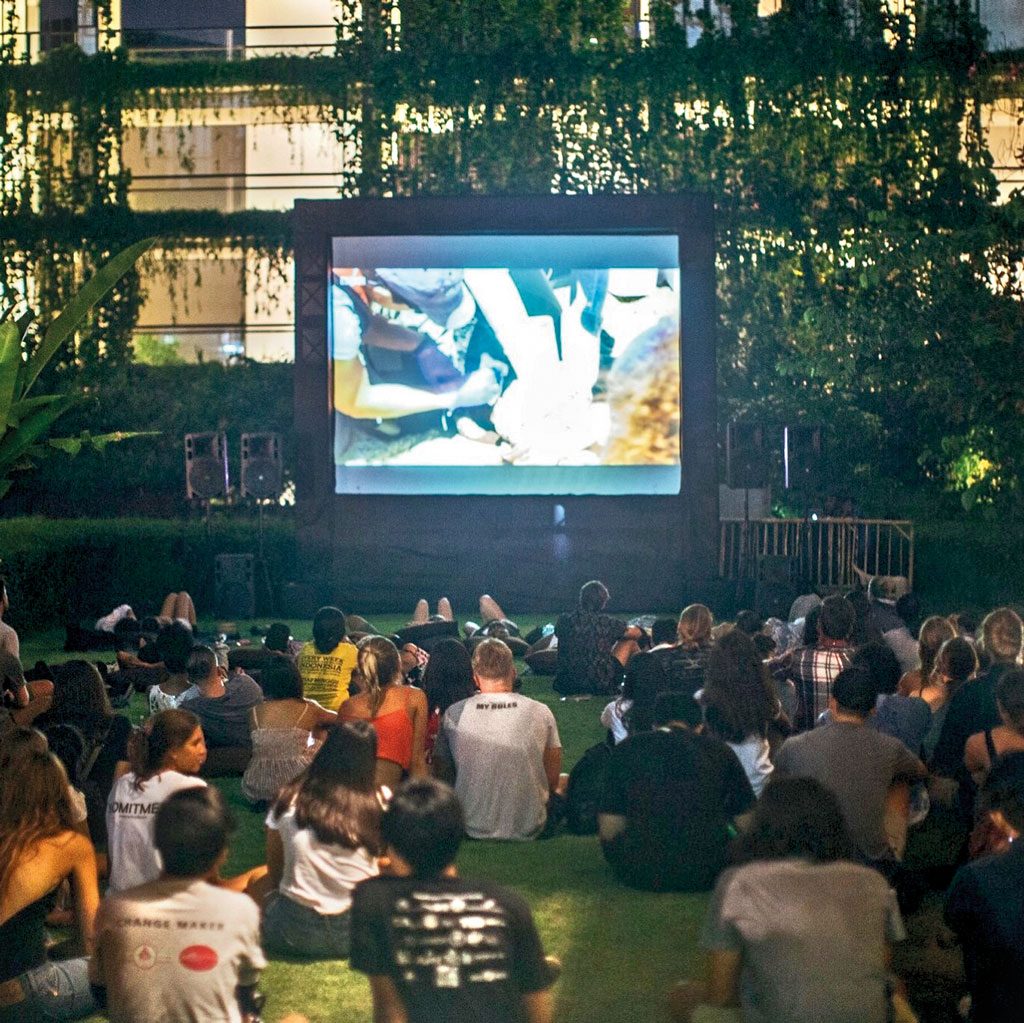 OIOV may not be creating solutions, but what they are doing is empowering businesses island-wide to take eco-concscious decisions for the future as well as creating a consumer market that is aware of these changes.
Bye Bye Plastic Bags is now a global organisation with growing affiliates across the globe. It has active members in 30 different locations and 26 countries all led by young people; kids in middle school, high school, and universities.
Melati and Isabel's TEDtalk has been shown in classrooms around the world, in assignments, even exams! Kids, after being exposed to the issue, have reached out to them to participate.
"When we started the message, it was all about saying no to plastic bags. Now we've literally embodied the message that young people can do anything. BBPB has become this international platform for kids to stand on and feel like their voices are being heard," Melati told NOW! Bali.
KOMITMEN by One Island One Voice now has businesses in 400 locations signed up around the island, after launching the campaign in July 2018.
Saying no to plastic bags was the warm up, the long-term solution and the real game changer will be waste management, waste separation, and waste collection systems that will enable us to see the impact and the difference between plastic ending up in our environment.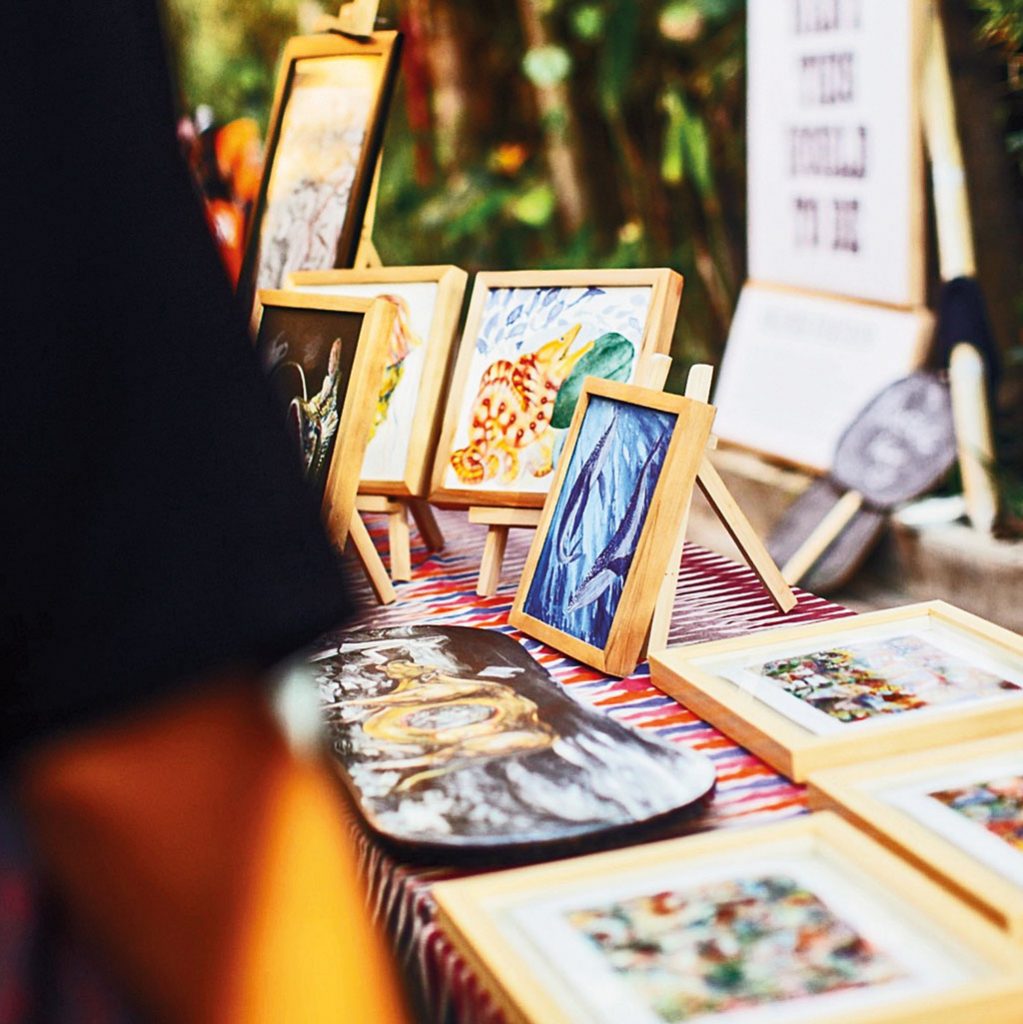 The team organised a KOMITMEN event at Potato Head Beach Club where they invited partners as well as potential businesses who could join in the movement. They successfully showcased a variety of solutions available on Bali, which acted as a great space to feel where KOMITMEN can take us all.
Bali-based businesses who have said YES to a plastic-free Bali: Potato Head Beach Club, Hilton Hotels, Elite Haven, 69 Slam, The Body Shop, and many, many more (full list below).
OIOV and BBPB doesn't stop there. Bali's biggest annual clean up is taking place on February 16th, 2019. Don't just join the movement but be the movement. Start small; start with your local beach! For businesses, if you would like to become a member of KOMITMEN, contact communications@oneislandonevoice.org.
One Island One Voice would like to recognise and thank the following businesses for joining The Komtimen in 2018, their decision to reduce single-use plastic in their business helps make Bali a better place. Here we present all the businesses:
Aura Leather, Kerobokan & Seminyak • Bali Balance, Batu Belig • Bali Blue, Canggu • Bali Bunda, Munggu • Bali Eco Stay, Tabanan • Bali Mandira, Legian • Bali Star Coffee, Ubud • Bali Yoga, Ubud • Bamboo Blonde, Ubud • Bangkok Hustle, Berawa • Barbacoa, Petitenget • Bar Cawang, Ubud • Beach Garden ITR, Canggu • Bintang Bali Resort, Kuta • Blue Stone Botanicals, Ubud • Bomba, Echo Beach • Boot Strap Coffee, Tabanan • Buda, Ubud • Bungalow, Berawa • Canggu Shop, Canggu • Canteen, Canggu • Calalyze, Sanur • Cocona Care, Seminyak • CONRAD Hilton Hotel, Nusa Dua • Courtyard Seminyak, Seminyak • Da Maria, Seminyak • Dandelion, Canggu • Dari Rumah, Denpasar • Destination Asia, Sanur • Dias Collection, Canggu • Double Six Luxury Hotels, Seminyak • Downtown Villas, Seminyak • Ducatus Café, Denpasar • Earth Café, Seminyak • Eco Bali, Tibubeneng • Elite Havens, Kerobokan • Erica Pena, Canggu • Finns Bali, Berawa • Fresh Spa, Ubud • Frockk, Ubud • Funtime, Berawa • Gabah, Kuta •  Grand Bali Nusa Dua, Nusa Dua • Green Shop, Ubud • Hard Rock Hotel, Kuta • Happy Kombucha, Canggu • Hilton Bali Resort, Nusa Dua •Hilton Garden Inn Bali, Denpasar • Holiday Inn Benoa, Nusa Dua • Hotel Indigo, Seminyak • Inaya Putri Bali, Nusa Dua • Indigo, Berawa • Indosole, Echo Beach • Jambuluwuk, Seminyak • Java Mountain Coffee, Bali • Kampung Sari Gallery, Ubud • Katamama Hotel, Seminyak • Khiri Travel, Denpasar • Kiosk Collective, Seminyak • Komune Resort Bali, Keramas • Kou Cuisines, Ubud • Kura Kura Bali, Bali • La Baracca Seminyak, Uluwatu, Canggu •  Lacalita, Canggu • Lotus Bungalows and Gangga Divers, Karangasem • Luigi's Hot Pizza, Canggu • Mad Sparrow, Petitenget • Maison Restaurant, Sanur • Makassi, Ubud • Mantra Indonesia, Ubud • Marsa Gallery, Ubud • Melia Bali Hotel, Nusa Dua • Mexicola, Seminyak • Milano Spa, Ubud • Milk & Madu, Berawa • My Cup of Love, Seminyak • Nostimo, Petitenget • Novotel, Nusa Dua • Odyssey Mvmt, Canggu • One Love, Canggu • Pandawa Compact Disc Center, Canggu • Parachute, Berawa • Pepper's Hotel, Seminyak • Periplus, Ubud • Plant Cartel, Canggu • Pondok Sunari Hotel, Ubud • Positive Impact Forever, Bali • Potato Head Beach Club, Petitengent • Prama Sanur Beach, Sanur • Prime Plaza Hotel and Suites, Sanur • PT Global Camp, Dalung • Pundi Pundi, Ubud • Radisson Blu Bali, Uluwatu • Rainbow Spirit, Ubud • Ramada by Wyndham Bali Sunset Road, Kuta • Revolv, Umalas • Sadara Boutique Beach Hotel, Nusa Dua • Sagala, Canggu • Sakala Resort Bali, Nusa Dua • Samadi, Canggu • Saraswati Papers, Ubud • Sejuk Estates, Seseh • Shmurger Burger, Berawa • SOA, Ubud • Soleman, Sanur • Soori Bali, Kerambitan • Sri Sedana Sari, Ubud • Starter Lab, Canggu • Sura Jewellery, Seminyak • Tajba, Denpasar • Taman Nauli, Canggu • Tango, Ubud • Taum Resort Bali, Petitenget • Thank me later Sunscreen, Bali • The Body Shop Indonesia, Kuta • The Breezes Bali Resort and Spa, Seminyak • The Common, Canggu • The Legian Bali, Seminyak • The Luxe Nomad, Canggu • The Oberoi Bali, Seminyak • The Offering, Canggu • The Onion Co, Ubud • The Pavillions Bali, Sanur I•The Pondi Pools Club, Ubud • The Samaya Seminyak, Seminyak • The Seminyak Beach Resort and Spa, Seminyak • The Tanjung Benoa Beach Resort, Nusa Dua • Ticket to the Moon Kerobokan, Seminyak, Ubud • Tijili Benoa Hotel, Nusa Dua • Toko Lingsir, Ubud • U Paasha Seminyak, Seminyak • Ulekan, Berawa • Watercress, Batu Belig • WE AR, Canggu • W Bali, Seminyak • Wyndham Kuta, Dreamland • Zero Waste Store, Kerobokan • Zinagur, Bali • Zula, Seminyak
___