Bali is filed with exotic happenings. Rituals and ceremonies happen almost every day of the year with concentrations happening around the culmination of the full moon or Purnama and certain important days on the Balinese calendar. The primary purpose of ritual is to cleanse. Both objects and people can be cleared of negative aspect, while the soul, it is believed, needs to be cleansed of impurities accumulated during this life or even previous lives. This can be accomplished with holy water, fire and ash and also by rubbing or touching with
TEXT & PHOTOS BY AYU SEKAR
Bali is filed with exotic happenings. Rituals and ceremonies happen almost every day of the year with concentrations happening around the culmination of the full moon or Purnama and certain important days on the Balinese calendar. The primary purpose of ritual is to cleanse. Both objects and people can be cleared of negative aspect, while the soul, it is believed, needs to be cleansed of impurities accumulated during this life or even previous lives. This can be accomplished with holy water, fire and ash and also by rubbing or touching with symbolically clean objects – eggs, ducks, geese, and certain kinds of special leaves.
Five major classifications of rituals divide them into those for the gods, such as Odalan or temple ceremony, and those for the higher spirits such as a cremation. Consecration ceremonies for priests, or a new barong or other ritual object are very holy, hidden and very esoteric. Then, there are the rituals for humans, many of which mark rites of passage and are community based and enjoyable. Tooth filings, weddings, baby ceremonies (of which there are many) all come under this banner. Evil spirits and demons are placated in another series of ceremonies – all a part of this complex world of the Balinese.
Some rituals like cockfights, tooth filings or cremations can be organized relatively quickly, others need to be held on special days of the Balinese calendar, and others still, are long range projects that may happen once in a hundred years.
Here we look at 7 of the most beguiling rituals
MELASTI – every year, every banjar (village) has at least one Melasti which involves bringing precious ritual objects to the sea or a water source for blessings and cleansings. Bigger melasti involve dancers, blessings, and huge numbers of gorgeous offerings, all of which need to be blessed. It is one of the most dramatic and beautiful ceremonies on the Balinese calendar.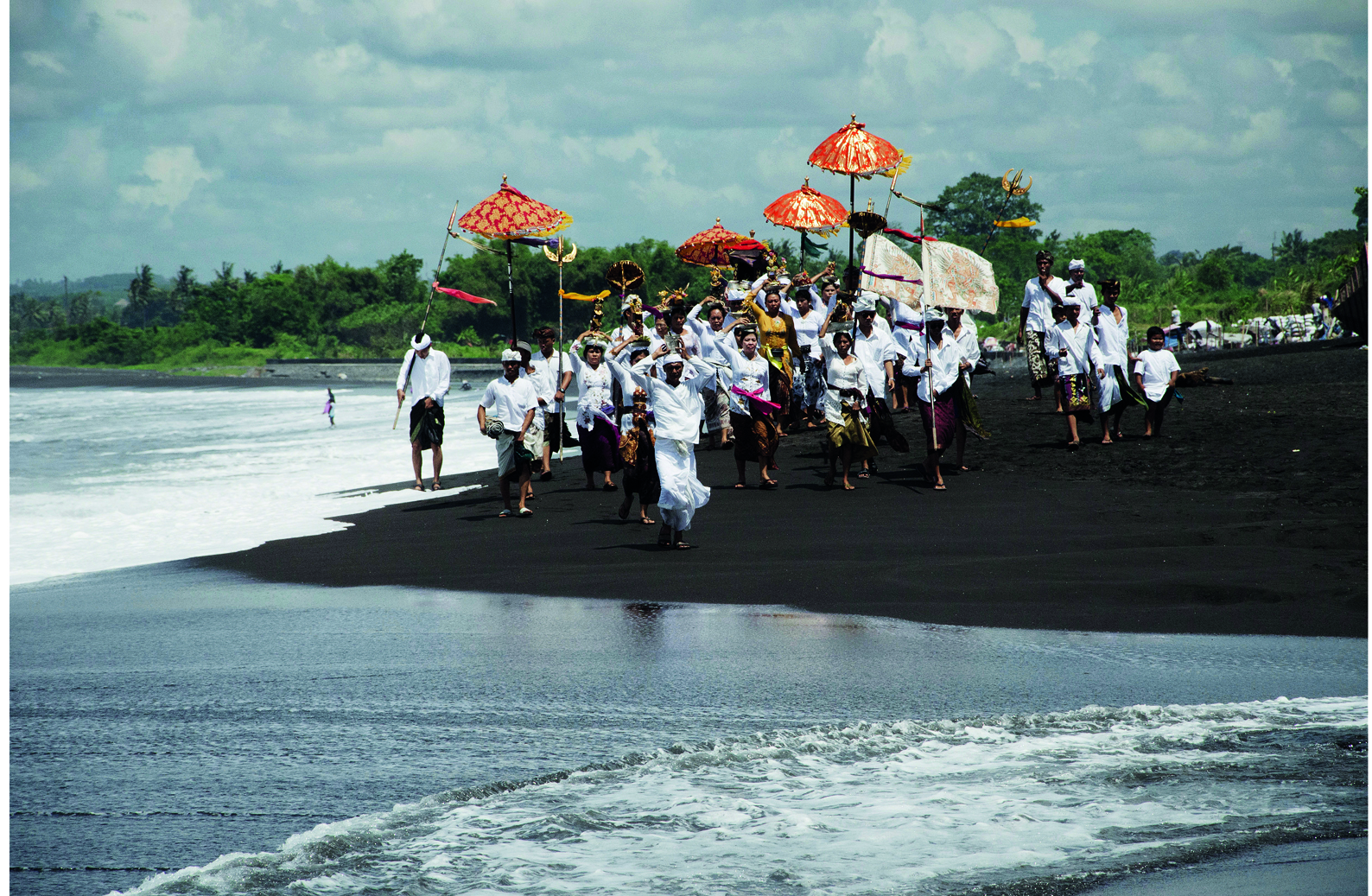 TAJIN OR COCKFIGHTS – the ritual of blood spilling is one of the important aspects of any temple ceremony and one of the most popular methods is through a cockfight. A ceremonial cockfight is a little more austere than the one you may come across in one of Bali's remote areas. Yet the system is the same.
NGABEN OR CREMATION
Cremations come in all shapes and sizes and are the biggest event in a Balinese life. No matter whether it is a huge royal affair or a simple, village ceremony, they are always dramatic and a happy time as the soul (or souls) are released and made ready for their next reincarnation. They will always be carried out on an auspicious day and are one of the more visible ceremonies that we visitors are able to attend.
GALUNGAN – is the most visible of all ceremonies in Bali when the whole island is dressed up in its best finery. Each village and each house raises a tall and elegant penjor with attached decorations, at the front of their house. Some villages take special pride and make sure that their entire area is decorated to the hilt. Galungan lasts eleven days until Kuningan – a time filled with ceremonies and happiness. People take time off from work to spend at home with friends and family, and of course, visits to the temple. It's a little akin to the western Christmas. In Ubud, teams of little boys circulate with mini barongs, visiting shops and houses, performing dances and generally collecting money for their respective banjars. It's a beautiful time to be in Bali
HOUSE BLESSING CEREMONY – MELASPAS
A house blessing ceremony is almost mandatory before moving in. The priest and the myriad offerings cleanse every corner of the house and compound, which brings harmony and prosperity to the inhabitants. The constant battle between good and evil needs to be won and a new house, factory, restaurant, and even schools all need to be consecrated before they are inhabited. The ceremony re-incarnates al the inanimate objects that have been cut down, mined, and forged, in the house, bringing them back to life. The wood, stone, tiles and thatch are symbolically unified to become a whole, living entity. The work is all done by the priests and his helpers, and if we are lucky enough to be invited, we can just sit back, relax and watch the show, taking advantage of the great energy that is generated.
TOOTH FILING – one of the rites of passage rituals is the tooth filing ceremony when teeth are evened off to eradicate any "wild" nature. The upper canines are very important and the aim is to have even, straight teeth. Check a Balinese person's smile – you will see immediately if they have undergone their ceremony. Generally the filing is held at the girl's first menstruation and for a boy, when his voice changes. But as the cost of ceremonies continues to rise, more events become group affairs.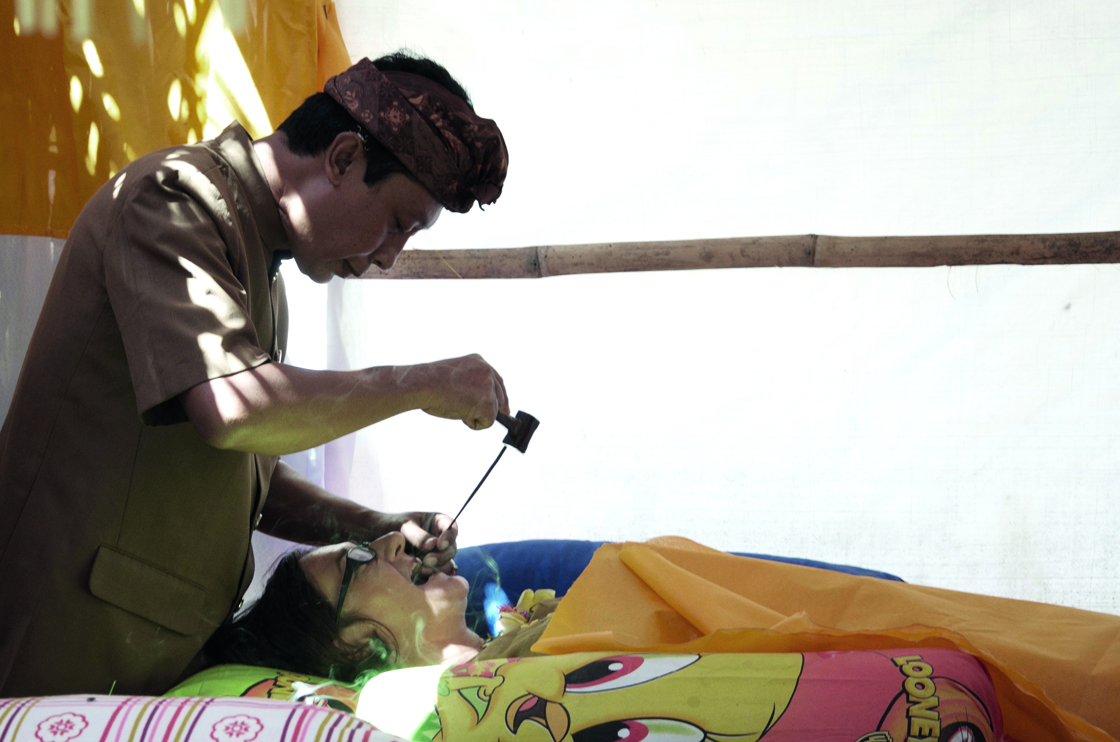 WATER BLESSINGS – All Balinese make pilgrimages to at least one of the holy water temples. Pura Tirta Empul is a very popular point and during every holy day, the temple will be filled with folk bathing in the clear cold waters and taking blessings from a priest. The cleansing and purification rituals are an important part of life and there are small and beautiful holy places hidden all over the island.