Our Ubud food contributor Ayu Sekar slips into Moksa Ubud to discover the healthy kitchen concoctions the town is raving about…
Ubud's hottest healthy food ticket has to be Moksa Ubud, a new plant based food eatery that is causing a minor sensation amongst the Ubud foodies. Run by two Balinese men with an impressive list of credentials, Moksa offers almost all food cooked at less than 42 degree Celsius, which dehydrates rather than bakes. This garden restaurant is located close to the Mansion, lying somewhere between Penestenan and Sayan and once you know how, it is quite easy to find.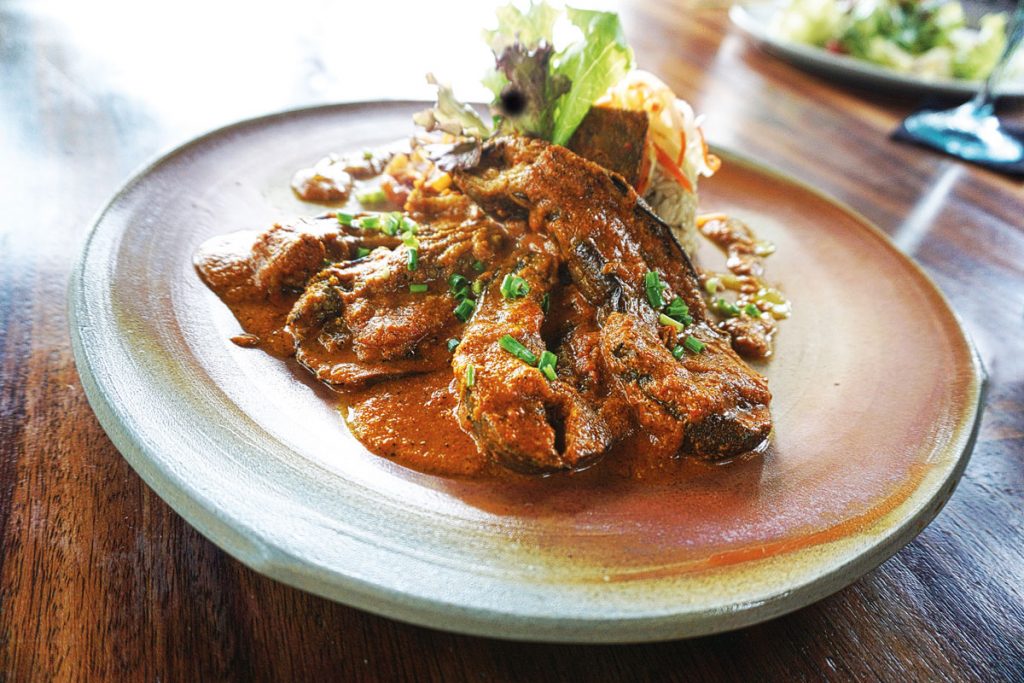 Junor handles the business and gardening side of the operation and spends some of his time growing fresh permaculture vegetables in their spacious grounds. Pumpkins, aubergines, carrots, ten varieties of lettuce, chillies and passionfruit grow happily within the confines. Other vegetables are sourced from genuinely sustainable gardeners, mostly from the Baturiti area in the mountains.
Junor sees the restaurant more as lifestyle, than simply a business. While they wish to make money, it is not the foremost condition. Their four main aims are learning, sharing, earning and fun – four worthy aims indeed! A sharing of ideas and learning is very important to their operation as they believe that exchanges of knowledge and information with knowledgeable guests leads to an ever increasing degree of expertise.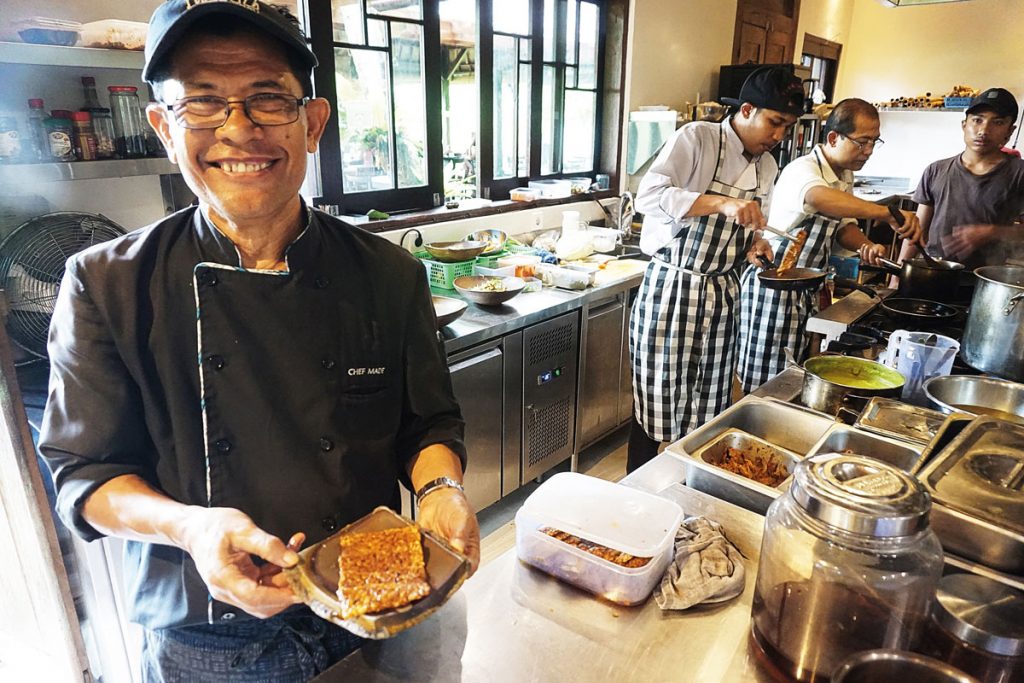 Chef Made has had years of experience in the kitchen and after starting with the Sheraton and Holiday Inn, and living in various foreign countries, he discovered the Raw Food Movement, which as he says, changed his life.
After a very successful stint as the Chef at Five Elements, he teamed up with Junor and they decided to open their own restaurant. Created with love and care, Moksa Ubud is more than just a restaurant, which is probably one of the reasons for its popularity.
It is a hands on operation and both guys spend a lot of their time cooking, talking to their guests, gardening and generally seeing that everything runs smoothly. It is a definite lifestyle rather than just a business.
The staff are well cared for with similar benefits to those of a five star hotel with good salaries, health and insurance benefits and an equal sharing of tips and service.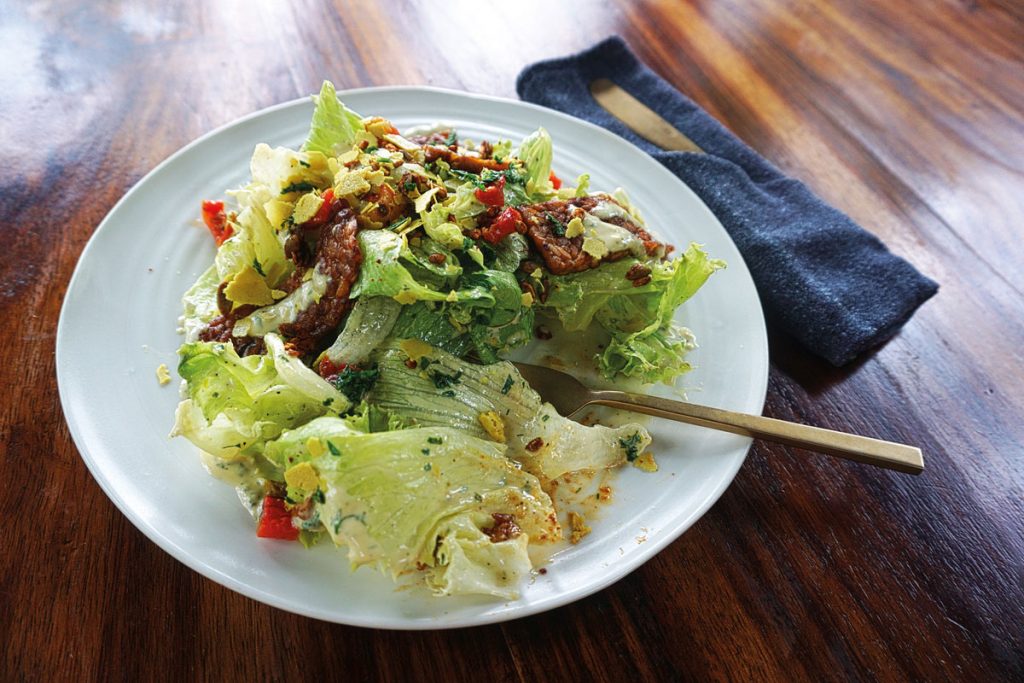 The food is interesting. After one gets over the idea of a meatless meal, it becomes quite intriguing. Made believes that this kind of food is healing and he is a living example of how it has changed his own life. He believes that raw food increases empathy and creativity. He finds that the whole raw food scenario offers many creative solutions and food combinations that are not found in the traditional chef's arena.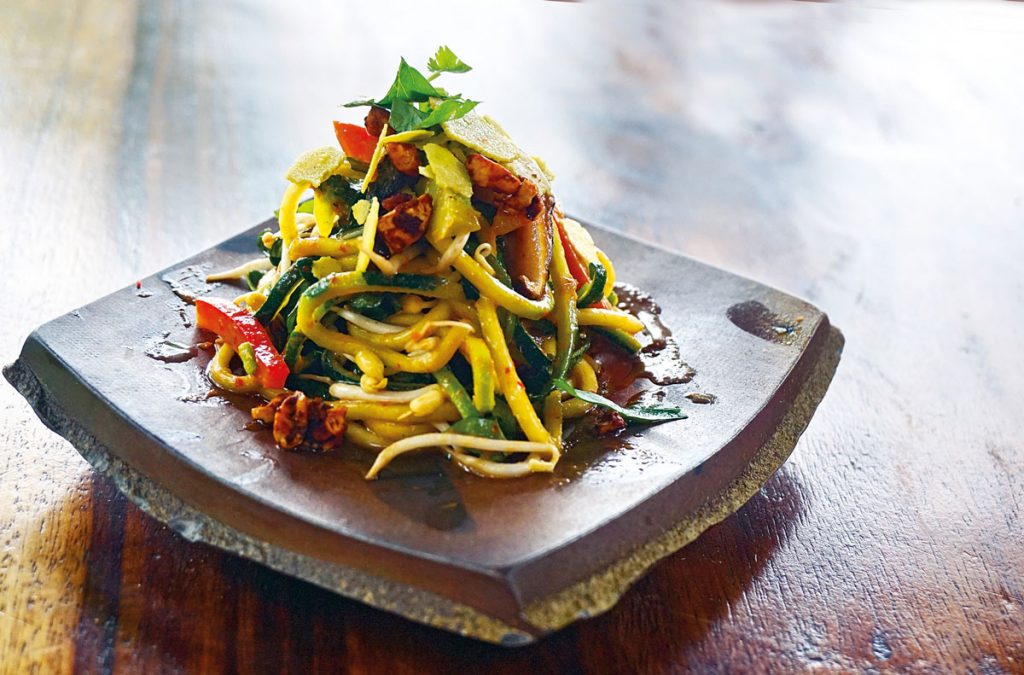 As a soft rain fell onto the quiet garden area, we dined on some of his favourites – a Caesar Salad with gently grilled tempe and iceberg lettuce enlivened with an interesting dressing and pieces of sundried tomato and spiced pumpkin seeds. While I was very happy to be eating lots of salad, my interest was quickly distracted when a huge plate of AuberginesRendang appeared. Adorned with irresistible looking gravy with a subtle use of coconut oil and Rendang spices, the combination of the soft grilled aubergine and the sauce was simply irresistible. As an accompaniment, there is a small serving of red rice and a very good kimci – not a combination that one would instantly think of. The whole plate just disappeared before my eyes.
He also brought out a spiced noodle salad, redolent with sesame oil and intriguing flavours, so much so that you barely noticed that the "noodles" were actually long slivers of raw zucchini. I almost became a convert!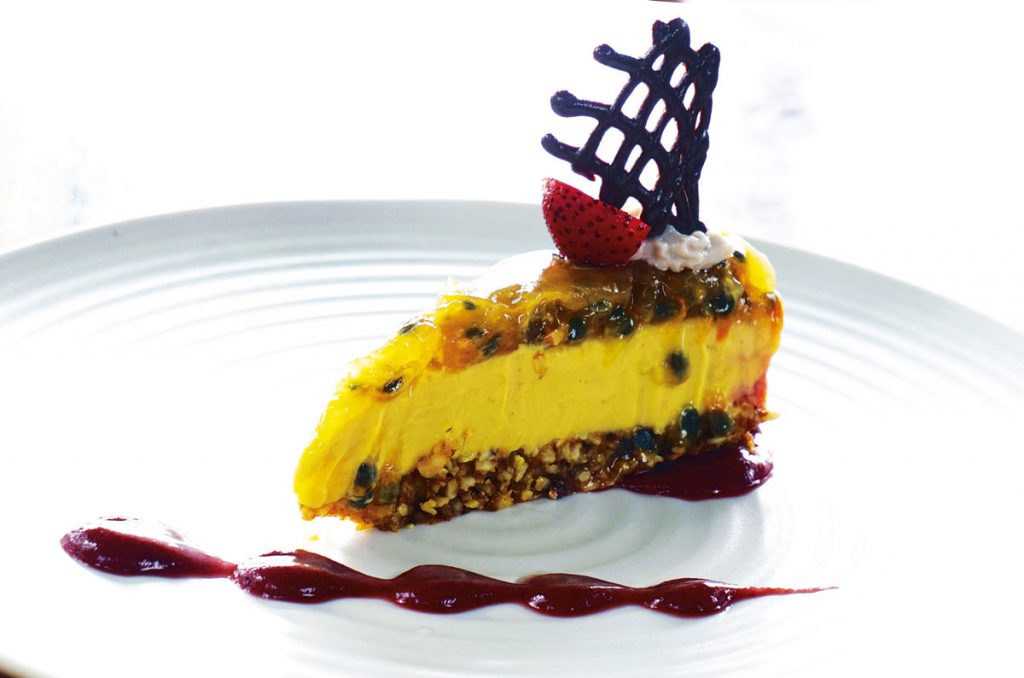 For dessert, although we were almost full to the brim, Chef Made appeared proudly bearing a mango passionfruit "cheesecake". With a crunchy base of grilled coconut and dates with a creamy cheese mixture created from fermented cashews and mangoes, you barely noticed that it was not a New York special, even though it was raw. Creativity certainly gets utilized at every turn.
One of the questions I asked the guys was – how is this food accepted with your regular meat-eating carnivore. The answer was 'well, read Trip Advisor!'. As many of us lean towards a more healthy diet with less meat, we can embrace a more generous use of plant based foods and enjoy the myriad of advantages. For Chef Made, he told me that not only has his digestion improved out of sight, but his sleep quality, that used to average three hours a night has improved so much that he can now enjoy a restful eight hours, and even work from 9-12 hours each day without getting overtired. This all sounds so good that perhaps it is worth a shot, as least occasionally.
Moksa Ubud
A : Puskesmas Ubud II, Gang Damai, Sayan, Kabupaten Gianyar, Bali
T : +62 361 479 2479
W : www.moksaubud.com