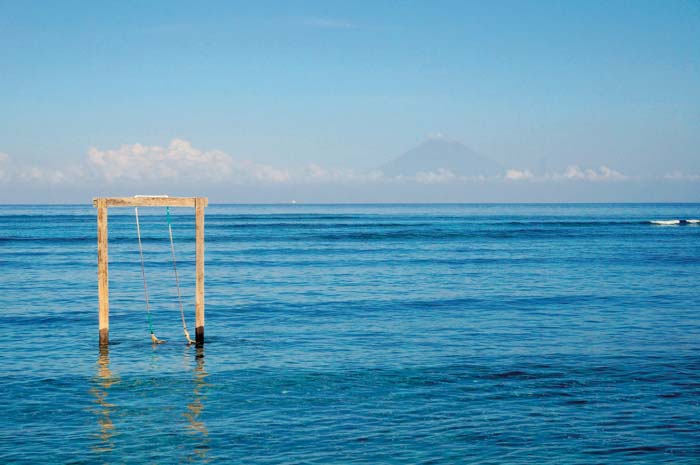 If escaping to an exotic island has been one of those things that you've dreamed about, here's some good news: It's easy to do. Let's embark on an unforgettable tropical escape to a tiny island called Gili Trawangan.
That's right, immerse yourself in the beauty of Trawangan; watching the sun rise and set, and listening to the sound of crashing waves as all of your cares melt away. A journey to Gili Trawangan is a perfect island escape. Relaxation, romance, fun and adventure… you can have it all in this tropical paradise.
Everywhere the scenery is spectacular.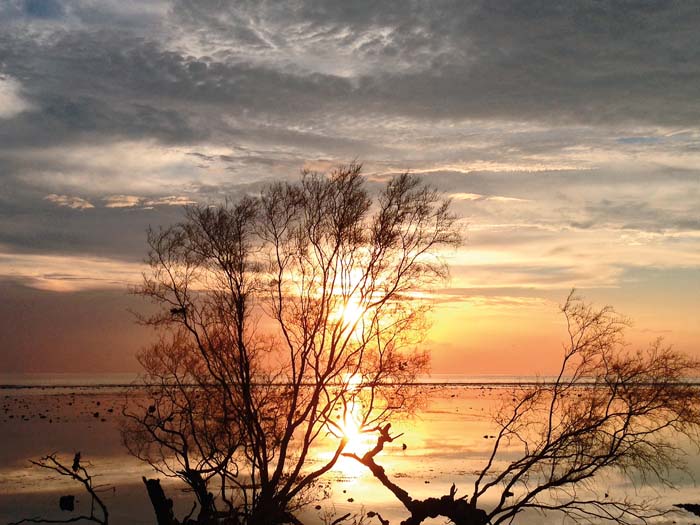 Gili Trawangan is all about that tropical dream: gentle breezes, deserted beaches, tranquility, starry nights. You'll immediately know you're in paradise once you step foot on the island's sandy shores. You can waste a sunny afternoon on a hammock before proceeding to your romantic table for two on a wooden jetty for dinner.
Romance can simply be at its best here… and so can the nightly, lively parties. Also known as a party Mecca that really lives up to its reputation, Trawangan is home to plenty of bars and nightspots, and they all aim to provide ample opportunities for you to just let your hair down and party every night of the week.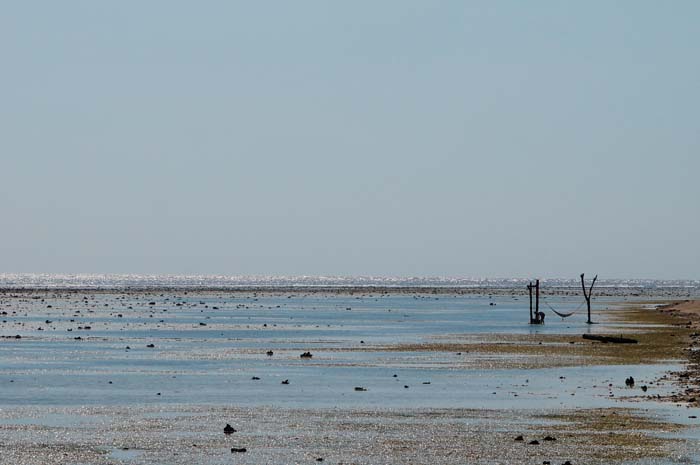 No matter the season, the hedonistic mindset on this tiny island seems undeterred. The variety of music should suit most tastes, with DJs from Bali and even Europe rounding out the nightly offerings especially during the island's popular full moon parties.
During the high season the island is crammed with revellers. Party nights rotate around some of the most popular venues such as the Blue Marlin for its rave party, the 'Tir na Nog' Irish Bar with its mix of funky house music, Rudy's Bar simply because it's so much fun, and the Sama Sama Bar.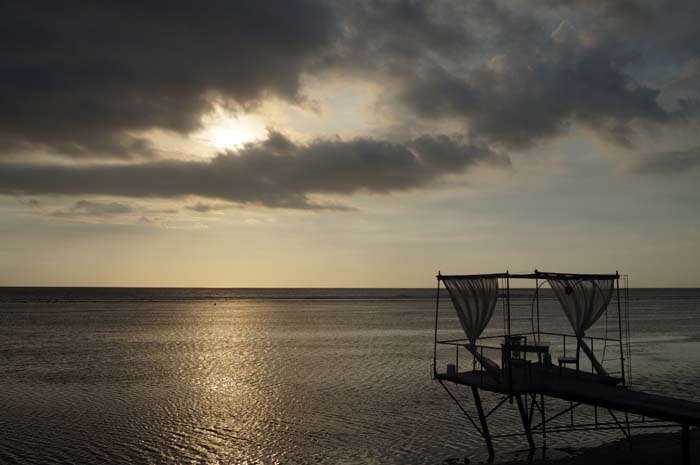 Currently making a buzz is the island's sunset area, especially with the Aston Sunset Beach Resort Gili Trawangan's "Night Market Party by the Beach", an evening affair which goes on until (very) late and really captures the true essence of the indulgent lifestyle of a tropical island: Pristine beaches, exotic cocktails, sunsets, the unforgettable smell of the ocean blown by summer breezes, scrumptious barbecues, and Reggae – all packaged in that polished, starred resort way.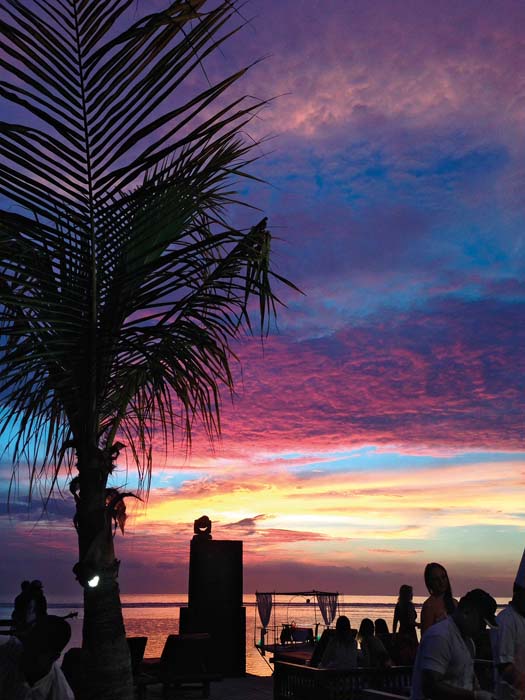 But just like every paradise island, Trawangan comes complete with a whole host of things to keep you busy, yet retain a nice relaxing bit of downtime. From hiring stand up paddle boards to snorkelling the many reefs which are a mere stone's throw away from the shore, spear fishing to cycling around the island and relaxing at the beachfront bars, you will definitely have a good time here.
The main draw of the island is the diving though, and with a whole heap of dive schools and dive sites to choose from, you're pretty spoilt for choice. So whether you want to simply get a taste of scuba diving, do a fun dive or go all out and complete a dive course or dive master programme, this island has it all.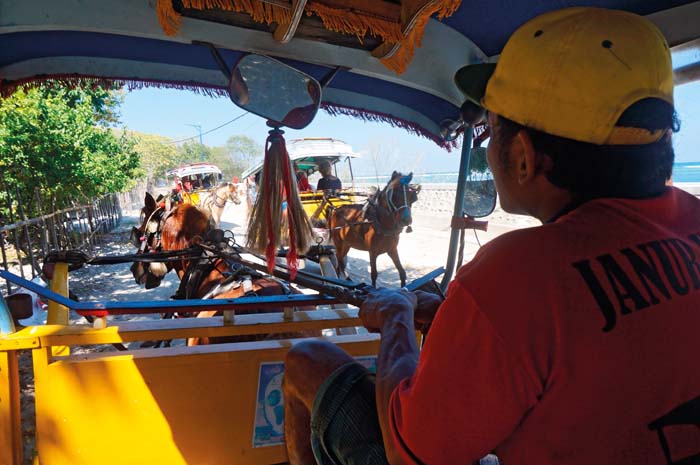 The absence of motorised land vehicles on the island makes the Trawangan experience unique. You can always walk your way around Trawangan, especially since the 'tourist hub' is centered on one side of island. In fact, circling around the island's coast on foot will only take around 90 minutes. Alternatively you can rent a bicycle or the horse-drawn carts or known as cidomo. The whole island is pretty postcard perfect.
It's so easy to taking it easy here. So ditch your phone, forward all those work emails and just relax.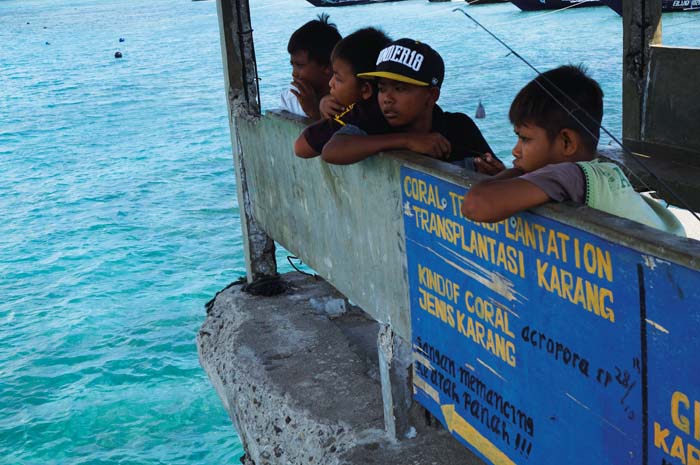 HOW TO GET THERE
A convenient fast boat service is offered by Blue Water Express. Well-situated in Serangan, those travelling from South Bali can easily reach this departure point, especially since Blue Water provides pickup/transfer to and from your hotel. If you're staying in the Candidasa area, BlueWater transits at the Padangbai seaport.
Blue Water Express
Jalan Tukad Punggawa, Br. Ponjok, Serangan, Denpasar
Phone: 0361 895 1111
WHERE TO SLEEP
Aston Sunset Beach Resort Gili Trawangan
The Aston Sunset Beach Resort Gili Trawangan is a retreat for leisure travellers with a taste for style and substance offering comfort, intuitive service, and relaxation interweaved with respect and admiration for local traditions. With its excellent facilities and services, this resort is perfect for a short break or an extended family vacation.
The resort's beachfront location with stunning sunset views offers 114 spacious and well-appointed rooms, all of which have private terraces, and 10 one-bedroom pool villa and 1 royal pool suite. It has the largest outdoor pool in the area. Connect with the vibe, beauty and laid back charm of Gili Trawangan.
Phone: +62 370 633 686/+62 828 9781 6249
email: gilitrawanganinfo@astonhotelsasia.com