From humble beginnings in Surabaya, East Java, Coffee TGC opens its first venue in Bali, presenting their specialty, 'manual brewed' coffee to the island.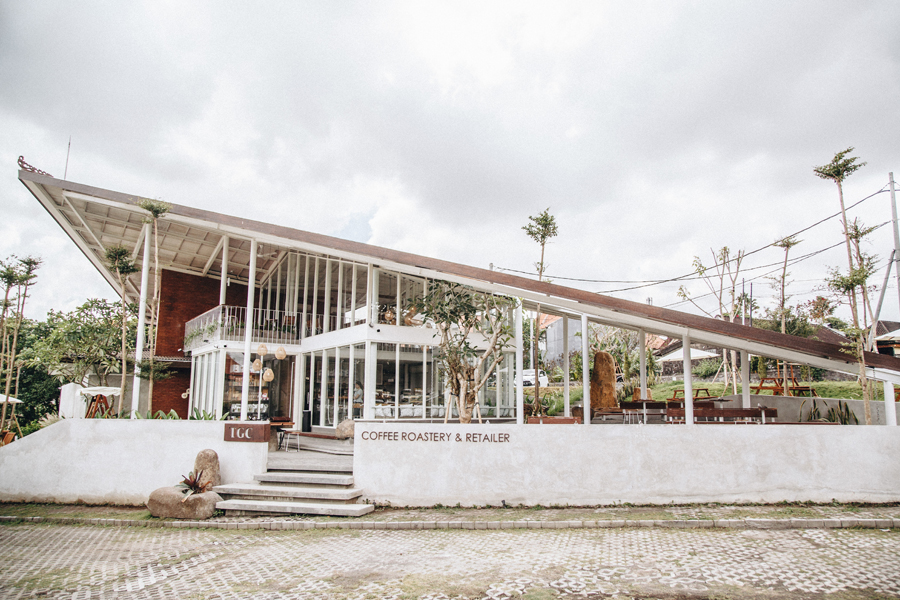 Born in a small 'trading house' in Mall PTC in Surabaya, Coffee TGC started by selling coffee beans that have been processed (roasted) together with a manual coffee brewing tool. TGC, an abbreviation of The Grinder Coffee, offers a diverse range of coffee beans in all of their coffee shops, ranging from local to imported beans.
Their recent expansion takes them to a beautiful new location in Bumbak Dauh in the quaint Umalas neighbourhood. Coffee TGC Bali enjoys a wide-open space boasting rice field views from their stylish, contemporary venue. Offering several spaces, from alfresco picnic tables to comfortable indoor seating, the coffee shop makes the most of their Bali surroundings.
Each branch of TGC has its own theme, in Bali, it takes on the theme of 'Greek Goddess', inspired by natural influences. In Graha Family Loop in Surabaya, you'll find a unique British Explorer theme, and in Jalan Basuki Rahmat in Surabaya, a Japanese Sumo theme.
Daniel Ko, the owner of Coffee TGC, set a goal when he started the company, "From the beginning, TGC has always focused on offering manually brewed coffee. Whilst our new coffee shop in Bali is distinct from its Surabaya counterparts – with a new food menu and open, outdoor settings – manual brewing is still the main focus and offering of Coffee TGC Bali." Also, a very interesting aspect to Coffee TGC Bali is that they have employed an all-female barista team, who are highly-trained in the manual coffee brewing process.
Daniel and his team have put a lot of thought into the food menu to present their guests with healthy and interesting variety, such as offering keto-friendly options.
"I adapt to market conditions, and everyone knows that patrons in Bali are big on eating healthy. In addition to serving quality coffee, I also hope to provide familiar and sought-after dishes for guests, so that people can come to enjoy a meal as well as our special TGC brews."
The Grand Opening event was held on Saturday, 10 August 2019, and had a variety of activities, ranging from Coffee Cupping, exciting promotions for Sumatran Bolon and Luwak coffee beans, to a Sunset Dinner Pairing, a special event held exclusively for media and influencers to provide a pairing experience between the coffees and food offered at Coffee TGC Bali.
Head over to Coffee TGC Bali in Umalas to enjoy a special manual brew and rice field views!
Coffee TGC Bali is open daily from 7am – 10pm. For more information please call +62 823 3302 7070 or visit coffeetgc.com. Get updates by following their official Instagram account @tgcbali.
Coffee TGC Bali
Jalan Bumbak Dauh, Kerobokan
+62 823 3302 7070
coffeetgc.com