Tucked away in a back street on the outskirts of Denpasar is a strange and wondrous sight. Every few days this wide, open shed is populated with beautifully wrought animals. Fine looking bulls are the main production although sometimes you might see a pig, a dog or even a lion.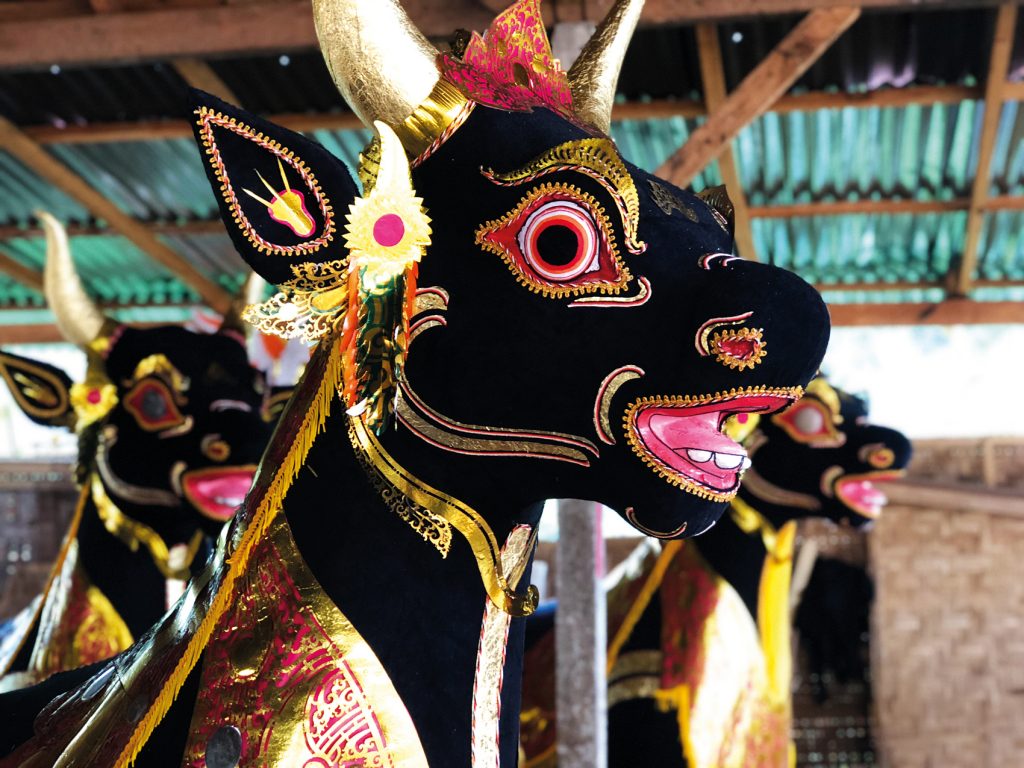 They are bade, effigies used in every cremation in Bali. Not all are made in this simple workshop of course, but they make fine specimens that are exported to important ceremonies all across the island.
Making these beautiful creatures is a complex process that require fine skills, although you would never guess it from the demeanour of the humble craftsmen who wrought them. The work is complex and time consuming as only hand wrought things can be. Luckily because of the huge demand, this tradition holds fast.
The animal heads are cast in a kind of resin and attached to the main frame. Later, they are sanded and smoothed before being painted and covered with layers of fibrous substance to refine their outlines before a final covering of furry cloth completes the picture!
Photos by Ayu Sekar
The bodies are made with a strong wood base then given shape with strips of pliable bamboo. Front and backs are covered with polystyrene, which is easily shaped to form the legs and breast and the rear end. The central part is covered with layers of paper to add body. After a layer of light foam is added, the piece is completed with a covering of faux fur, which gives a beautiful fine finish.
Decorative elements of gold foil for the toenails and headpiece are added and important details like the eyes are painted in, all in all creating beautiful specimens fancy enough to grace any nobleman's burning pyre. Bali never ceases to amaze!