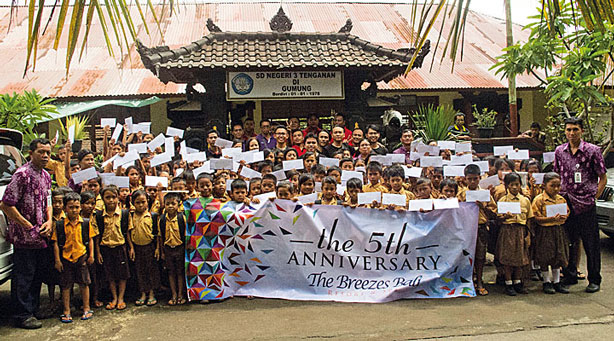 Never one to rest on its laurels, The Breezes Bali Resort & Spa continues to build on each successful year, celebrating the beginning of its 5th year with a notable Emerald Award bestowed by Tri Hita Karana.
Winning coveted awards is nothing new for the Seminyak-based resort, known for sprawling tropical grounds, innovative culinary venues, the holistic Spa at Breezes, and one of the friendliest teams on the island. To achieve Emerald Award status, a resort must work diligently to maintain Tri Hita Karana's Gold Award for three continuous years. The Emerald Award was first bestowed upon the 4-star resort in its third year of operation. 2014 was a strong year of recognition for The Breezes Bali, with additional achievements that include 1st Runner Up in Tri Hata Karana's PR Simpatik category, an award that recognizes remarkable public relations representatives.
To celebrate the resort's 5th anniversary, every staff member was treated to a variety of activities revolving around community improvement, personal recognition and good, old-fashioned fun. Seminyak beach benefitted from a clean up day thanks to The Breezes Bali staff, while underprivileged children in KarangAsem enjoyed a visit and donated items.
On the actual day of the anniversary, which fell on a weekday, The Breezes Bali General Manager, along with his department heads, gathered together to cut the traditional Indonesian NasiTumpeng to symbolize the celebration. The next day, the entire team dined together at The Beach Restaurant, as live entertainment played and valuable door prizes were drawn for lucky staff members. A few winners walked away with Beat and Scoopy scooters. Culminating on a high note, Executive Assistant Manager Ms. DayuBasmiari thanked the team for their efforts and promoted a few key members based on their outstanding achievements.