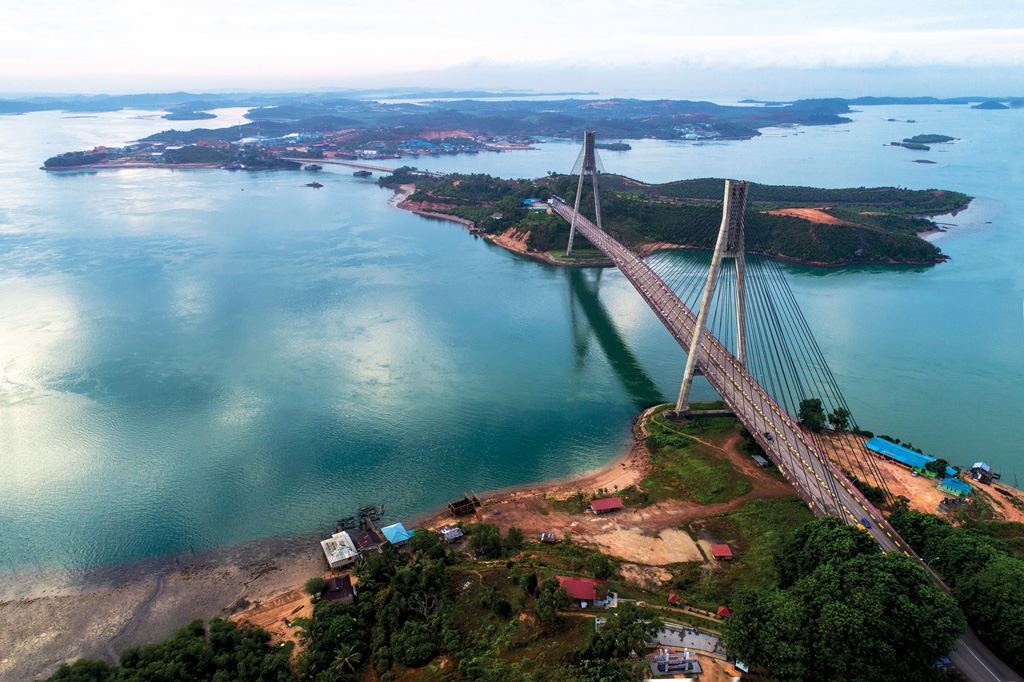 The Riau Islands is home to what is decidedly one of Indonesia's favoured destinations – Batam and Bintan. Bridging the heart of Singapore with the lush scenery of Indonesia, the islands have seen growth in both business and tourism.
The main islands are Batam, Rempang, Galang, Bintan, Bintan, Kundur, and Karimun.
Batam and Bintan are among its most visited, while the other islands, Rempang, Galang, Combol, Kundur and Karimun, are rural fishing villages. Batam for its part has been developed in recent years and is now considered a Special Economic Zone. The island is an industrial hub with electronics factories, a large and growing ship repair industry and an even larger oil service sector. With a number of expatriates heading there for work lately, golf courses and entertainment establishments have sprung up to capitalise on the recent growth.
Batam is one of the islands' most visited place with arrivals from Indonesia, Singapore, and Europe. Visitors head to its excellent golf courses, splendid sailing experiences, duty free shopping, rejuvenating spas, relaxing beach resorts, fresh seafood restaurants, or just for various family fun activities.
Things to do
Among the seven golf courses are Palm Springs Golf & Beach Resort, Tering Bay Golf & Country Club, Southlinks Country Club, Batam Hills Golf Resort, Padang Golf Sukajadi, Indah Puri Golf Resort, and Tamarin Santana Golf Club. Batam›s own Nongsa Point Marina also has berthing facilities for yachts, sailing, as well as diving facilities for those wishing to explore other islands in the province.
The Bareland Bridge is a chain of 6 bridges of various types that connect the islands of Batam, Rempang, and Galang, Riau Islands built in 1997
Golden City: A one-stop entertainment space it features a park with miniature homes in traditional Indonesian style from the various regions of the country. It also has activities like paint ball, go-kart, ATV are and a range of outlet stores which is great for those who enjoy shopping. There's also a food court where one can enjoy seafood meals.
Ocarina Park was opened in 2008 and offers rides for children and adults.
For those who want to travel to the beach but are looking for something closer to the city, there's Ocarina Mega Tour located in Batam Center which has a beach and also a children's playground.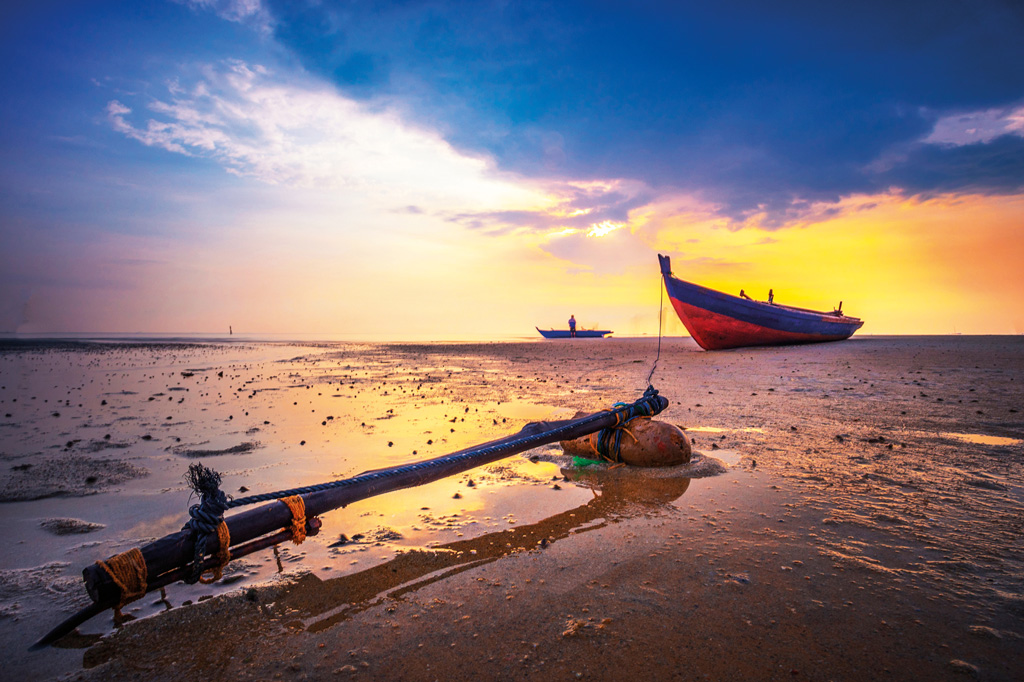 Tua pek kong Temple
Inaugurated in September 1986, the Tua Pek Kong Temple located in Nagoya is the oldest Taoist temple in Batam. Also known as the Vihara Budhi Bhakti Temple, the popular religious site features an open-air prayer hall with two seven-tiered pagodas near the entrance.
Where to stay:
Nongsa Point Marina & Resort is designed with a Mediterranean touch and built around a natural cove at Nongsa The resort offers variety of recreational facilities including a Golf Course, a Spa, a selection of water sports and boat charters for fishing , diving snorkelling and Island hopping.
Getting there:
Batam's Hang Nadim's International Airport, located in the eastern part of the island, connects the island with major cities across the country with domestic flights direct from Jakarta.
BINTAN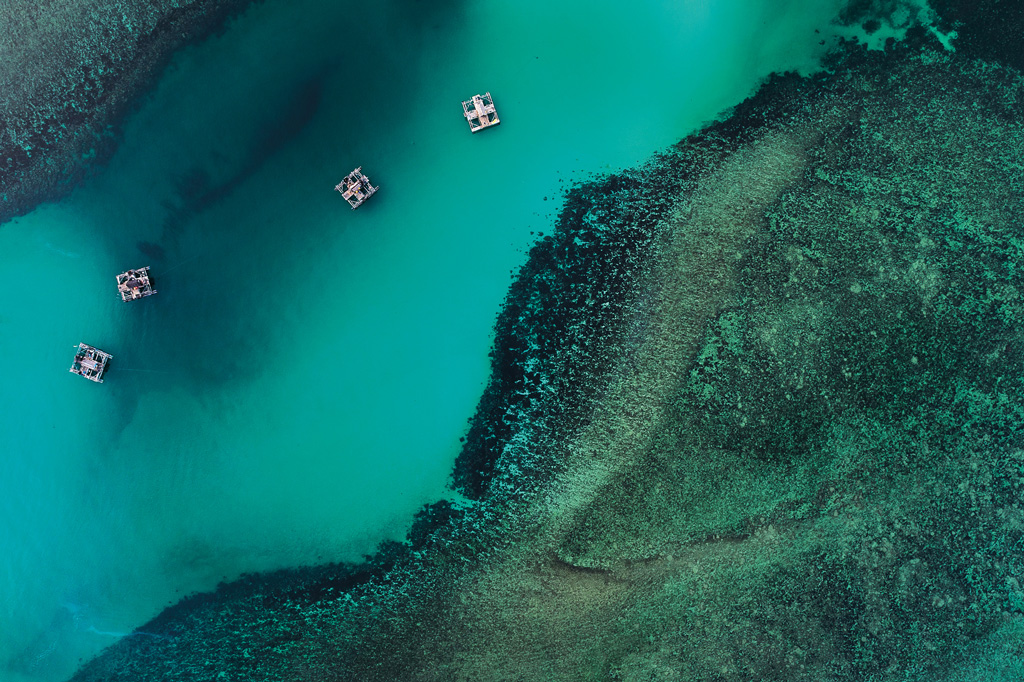 The largest island in Riau Province, Bintan is considered a unique paradise with its beautiful beaches and simple living.
Bintan's chief tourist attraction is Bintan Resorts, a spectacular beach holiday destination in the north of the island, covering 23,000 hectares along the entire sandy white coast facing the South China Sea. Bintan has now become a world class Sport-Tourism destination attracting thousands around the world to compete in its marathons, triathlons, extreme sports and golf challenges.
There are currently ten independent beach resorts, four designer golf courses, as well as a range of recreational facilities and attractions located within the fully integrated Bintan Resorts.
Located south west of the extensive Bintan Resorts tourism area, just at its very border, are pristine mangrove forests bisected by the meandering, clear river of Sungei Sebung. Visitors can take a boat ride almost right to the source of the river, and experience a thrilling trip into the world of tropical mangroves: watch monkeys, kingfishers, otters, tree snakes and even thousands of fireflies create glowing lights at night, sparkling up the bushes like Christmas trees. At the same time visitors assist in preserving this precious pristine environment from destruction.
On the eastern side of the island, is a long stretch of white beach, scattered with picturesque huge boulders, Trikora Beach. A little more to the south is an island called Nikoi, where an upmarket, secluded boutique eco-resort has been developed for those who want to be in the midst of nature.
Things to do:
Bodyboarding, like surfing, is popular here.
Enjoy the amazing views of pristine white beaches and the crystal clear ocean from an open cockpit seaplane with a qualified flight instructor! Air Adventures Flying Club offers visitors an experience on their Challenger Ultralight planes.
If you get tired of sun tanning and all the other beach-y activities at Lagoi Beach, take a kayak out and row yourselves along the rich mangroves and the Sebong River.
Visit Masjid Raya Sultan Riau built in 1818, is an exquisitely kept yellow mosque, also called the sulfur-coloured mosque. It has many domes and minarets.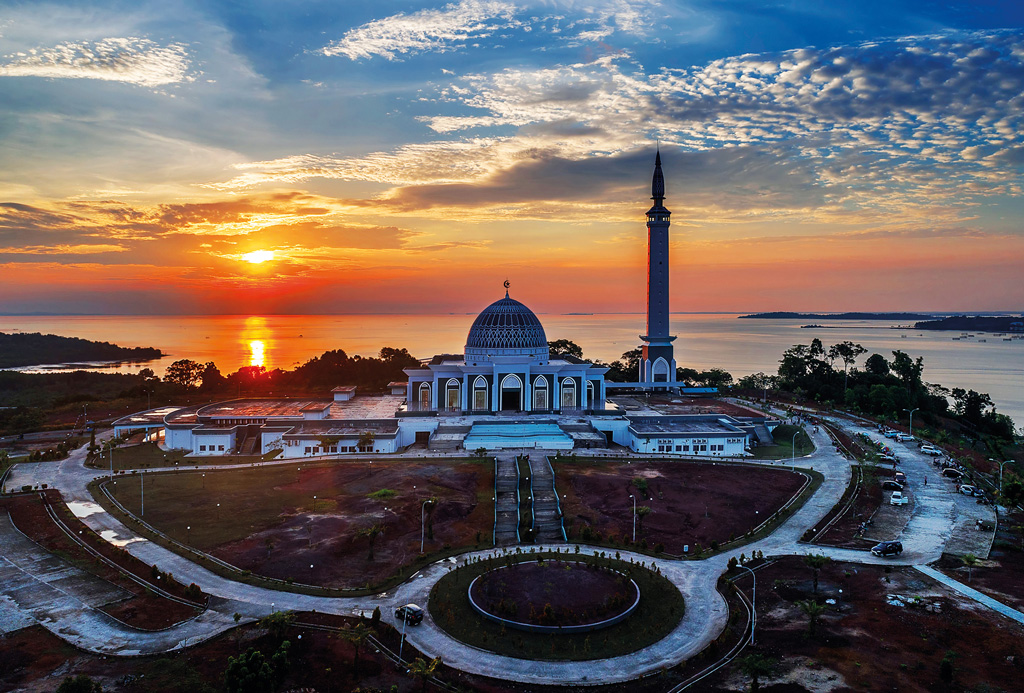 Getting there:
Flight from Jakarta (Soekarno Hatta) – Tanjung Pinang (Kijang) by Sriwijaya Airlines , Lion Air, Garuda Airlines
Where to stay:
A huge mand-made lagoon has been added at Lagoi surrounded by  new four-star  and other luxury hotels. Including Bintan Lagoon Resort, Lagoi Bay Villas, Angsana Bintan, Banyan Tree Bintan, The Canopi, The Sanchaya,  Swiss-Bel Hotel, Ria Golf Lodge, Nirwana Gardens, and more.