A unique, relatively new, landmark in Ubud, Titik Dua, is sited back from the Mas village thoroughfare, behind two buildings distinguished by Balinese architecture. An extraordinary aspect of this boutique hotel is the "runway" suspended fifteen meters above the ground, seemingly to capture the rays of the morning sun. The hotel lobby entry is one of many striking features of Titik Dua.
Distinct architectural qualities throughout the four-storey complex fuse the elements of water, wind, earth and space. Red bricks, iconic to Balinese temples, create a marked sense of place, evergreen gardens harmonise with pools of water. The industrial aesthetics of iron structures and angular black surfaces represent Ubud as an urban landscape.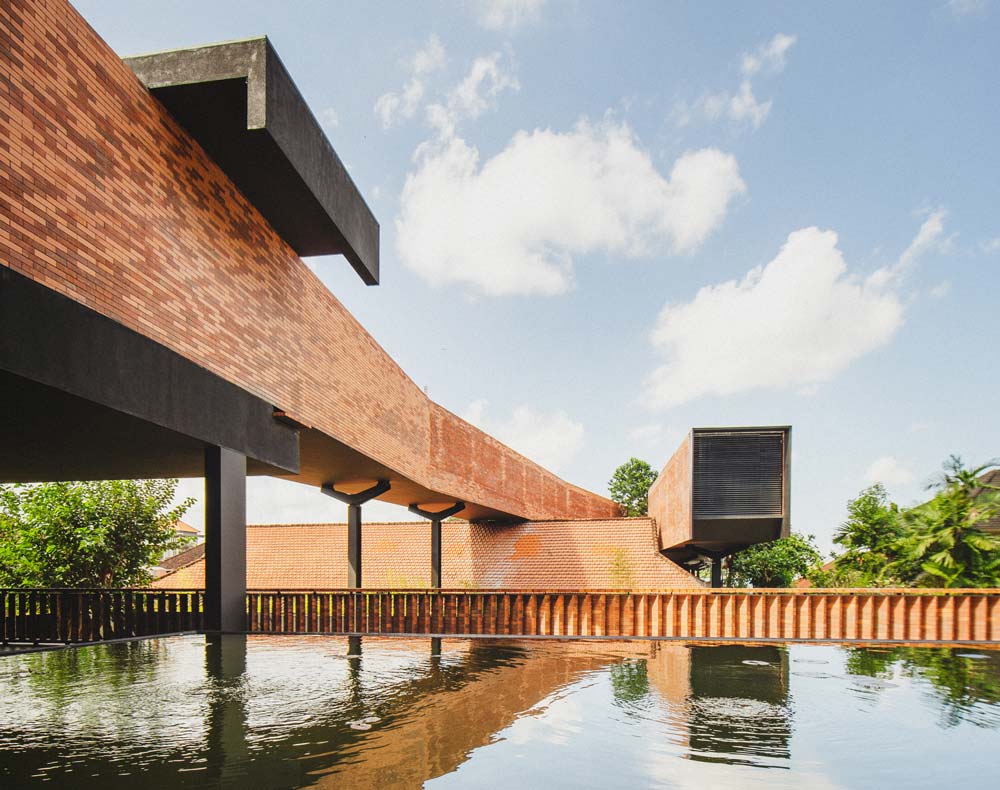 A visit to Titik Dua, designed by one of Indonesia's leading architects Andra Matin, will not disappoint. Its business model, however, is most noteworthy. The objective is to set a new benchmark of what may become a future Ubud norm. Titik Dua General Manager, Saraswati Hamid, reveals more.
"The three pillars of Titik Dua are art & culture, design and lifestyle. Our objectives are to nurture our guests through new experiences, from the stay experience to the dining and learning experiences. Our vision is of a hospitality compound that connects and enables creative leaders to manifest their visions to impact the Indonesian and international community. Bringing local creative talent to the global stage, we are an open space for all local talents, individuals and collectives, to explore their full potential."
"We aim to be the leading creative boutique hotel with an all-in-one open and inspiring creative space. An intercultural bridge between the leaders and talents, bringing 'Brand Indonesia' to the world. We were inspired to open Titik Dua in Ubud as it is the most suitable area to blend art, design, and hospitality," said Sara. Born in Bandung, West Java, in 1986, Sara studied Industrial Product Design at Institute Teknologi Bandung. Then a Masters Degree at Istituto Marangoni, Paris, graduating with 'Master of Fashion & Luxury Brand Management' in 2012.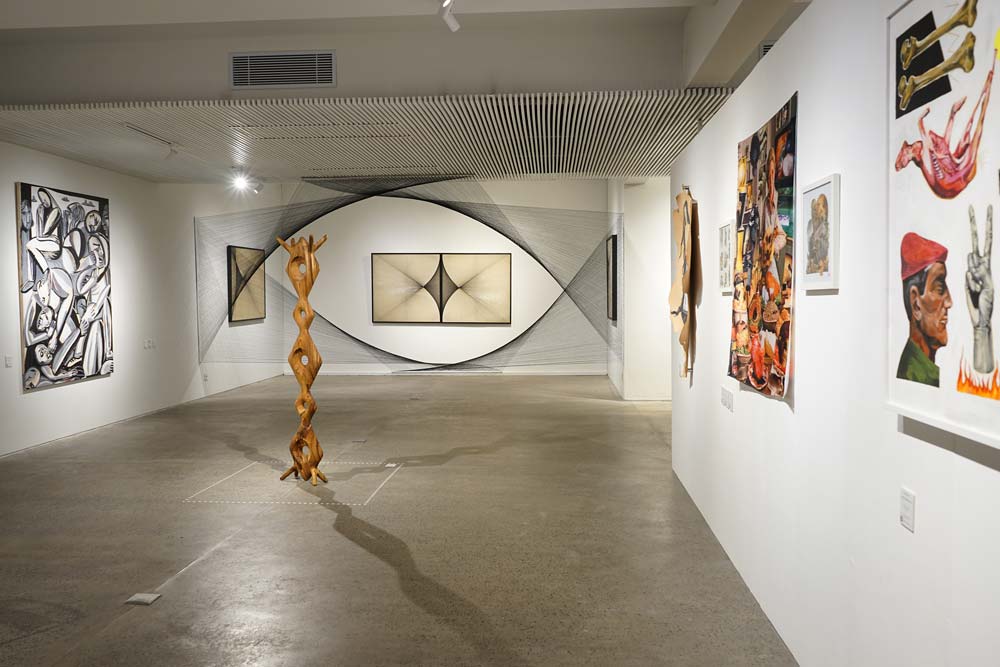 Titik Dua features twenty-two rooms, a roof-top restaurant and a co-working space. Six multi-purpose spaces and an open-air theatre to host corporate events, wellness retreats, and intimate events. There is a Coffee and Cocktail Bar and a stunning pool, all showcasing contemporary Indonesian design, art, and culture within delightful tropical surroundings,  a ten-minute drive from the centre of Ubud.
Since its inaugural happening in August 2020, Titik Dua has set the new standard, being a leading light in Ubud during the pandemic with its regular exhibitions and events, while other galleries went into hibernation. Importantly, these events have injected fresh spirit into the Ubud art and creative landscape. Moreover, the events attract new faces, attended by the younger generations from Denpasar, Kerobokan and Canggu.
Events are as diverse as group and solo art exhibitions by Rio Saren, Pesona, Wild Skids, Kanoko Takaya & Sharon Angelina. Investigations into Balinese music with composer Dewa Alit and Gamelan Salukat, an experimental audiovisual performance by Fraktal and Artivak and the Garatuba Short Residential experimental sound lab with Rolfast, all organized by Persona. A few of the collaborators include Titian Artspace and Lingkaran Surasavati. 'Colors of Bali', a collaborative project between Titik Dua and The Green School Foundation, is a landmark with its vast-ranging objectives.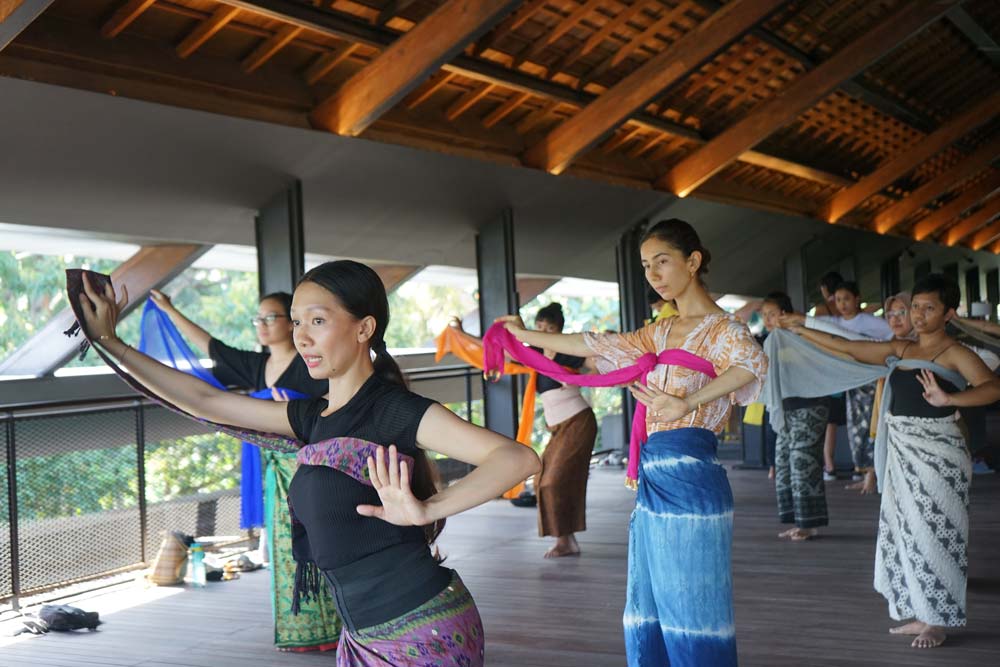 "Titik Dua is a platform to showcase all aspects of life across the island. From the beautiful natural environment to its rich culture. With the deeply rooted art style, sense of community, and flavourful [cuisine], Bali has it all, Sara explained. "'Colors of Bali' presents the idea of how we can highlight these aspects and discuss how each part can positively empower communities. To support sustainable development while diversifying the economy from its dependence on tourism, to further enrich Bali during the uncertain circumstances of the pandemic."
Some of the 'Colors of Bali' talk series, which began in May 2021 and include experts in their fields are, 'Water- the flowing Source of Life'. As an essential source of life, materially and spiritually, the modernization of Bali has made many people forget water's sacred philosophy. Too often, take this valuable element is taken for granted. 'Community – Empowering to Sustain', where panellists from varying backgrounds shared their thoughts and vision on how we can achieve sustainability by listening, empowering, and working together with Bali's communities.
"As a new player on the island, we understand Bali tourism, its branding and identity, need refreshing. In the past, Bali was famous for its art and creativity. Titik Dua wishes to help reinstate this," Sara said. "One of the objectives is to help shift the mindset into new approaches and solution-oriented thinking. This is especially emphasised through the pandemic. The idea is empowering activities with local creative communities/talents to create further collaborations, raising positive spirit and awareness. Essential during challenging and distressing circumstances, people require solutions and a new sense of hope."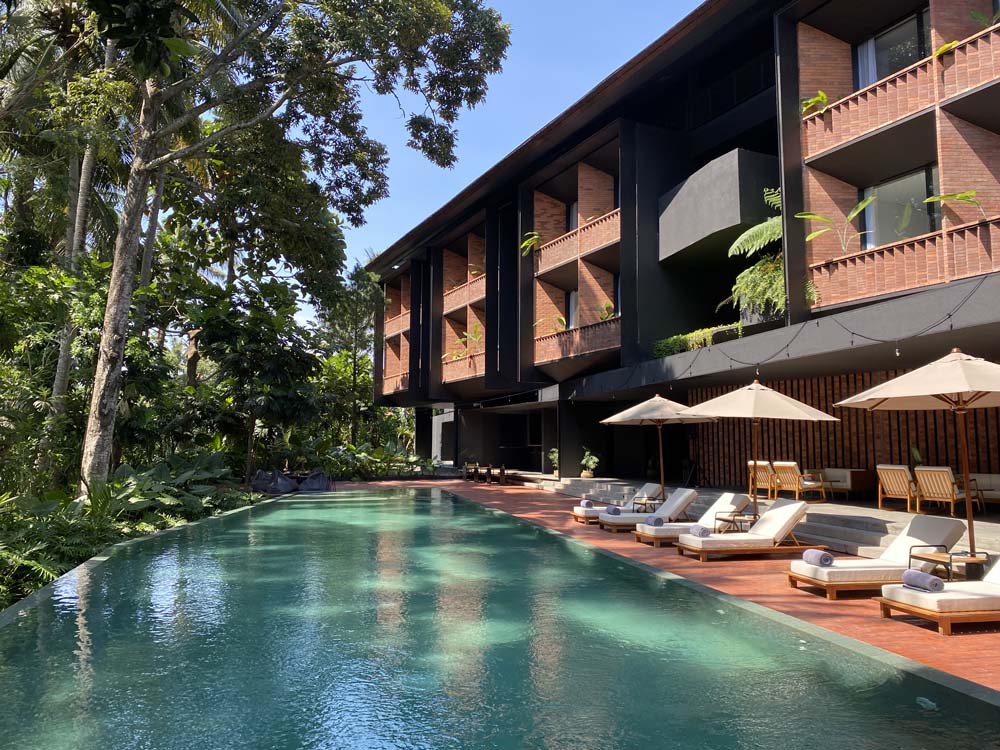 Titik Dua is refining a new model while distinguishing Ubud as a world leader and hub of learning and transformational development. The model is an innovation, redefining the future of how hotels can function beyond the flawed old-paradigm competitive model of selling rooms yet evolving into centres of excellence.
"Enriching life through art, creative and cultural activities, exhibitions, performances, workshops, retreats and residency programs. These values define Titik Dua's pillar of the learning experience," stated Sara. "We believe the tourists will perceive this value as much as we do. Visitors stay with us then return home renewed by life-changing experiences that become lasting memories and foundations of inspiring knowledge to impact their future."
Titik Dua
Jl. Cok Rai Pudak No. 48, Peliatan, Ubud
+62 361 975 139
info@titikdua.id
titikdua.id