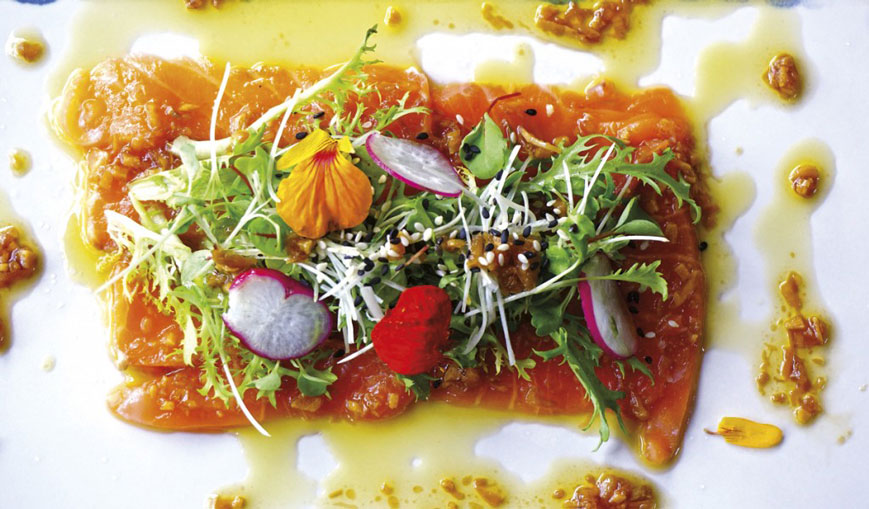 Salmon Carpaccio
Looking out over Ubud's luscious, almost untouched, Sayan Valley, where sweeping views of tropical jungle fall down to the Ayung River far below, Sayan House is an almost perfect place to enjoy a beautiful meal.
Created in a colonial style house, the restaurant occupies many nooks and crannies, so that each separate area has an intimacy that other restaurants that seat around 70 just don't achieve.
We went to try lunch and arrived to see several tables of "ladies who lunch" were already tucking in, enjoying the special "prix fixe" lunch menu. Seated at a table overlooking the valley, we surveyed the menu – an eclectic fusion of Italian and Japanese cuisine.
With so many tempting offerings, making a choice was not easy, but we settled on a Salmon Carpaccio – with über fresh salmon covered with a luscious oil, slightly exotic salad ingredients and coloured flower petals – superb. My companion pronounced his Italian influenced clam and seaweed risotto to be "perfect"! The main dishes were even more difficult to choose but I settled on the Australian Wagyu Sirloin beef with tempura vegetables, superb mashed potato and – wait for it – fresh grated wasabi! To anyone who has not tried freshly grated wasabi, well, you have to! The usual bright green goo from the tube you might have tried is just not in the same class; the subtle divinity of this fresh creation with the wagyu beef is a marriage made in heaven.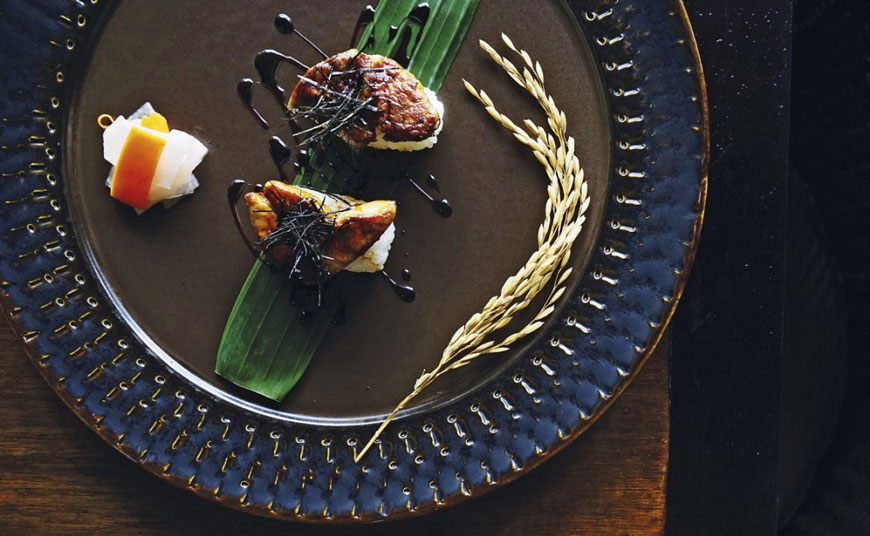 Sautéed Foie Gras Nigiri

While we were eating, a rain shower swept in, obliterating the view and shrouding the jungle in a heavy mist. It was a romantic glimpse of nature at her finest and it quickly passed on, leaving everything refreshed and beautiful.
My companion's grilled salmon was also fabulous, although I had eyes only for the wagyu. To top it off, as a little extra, before dessert, we sampled the Sautéed Foie Gras Nigiri – a sushi dish with seared foie gras (made from happy ducks, I would like to mention). Small, cute with a generous serve of Foie Gras, yet another sumptuous dish.
Desserts, although not as glamorous as the mains, were homey and hit the spot – an excellent apple pie with home made gelato and a light fruit salad with mango gelato. Coffee and liqueurs we declined, but the excellent and specially selected wine list has something for even the fussiest diner. Selected from France, Australia, Chile, New Zealand California and South Africa the wine list is small but special.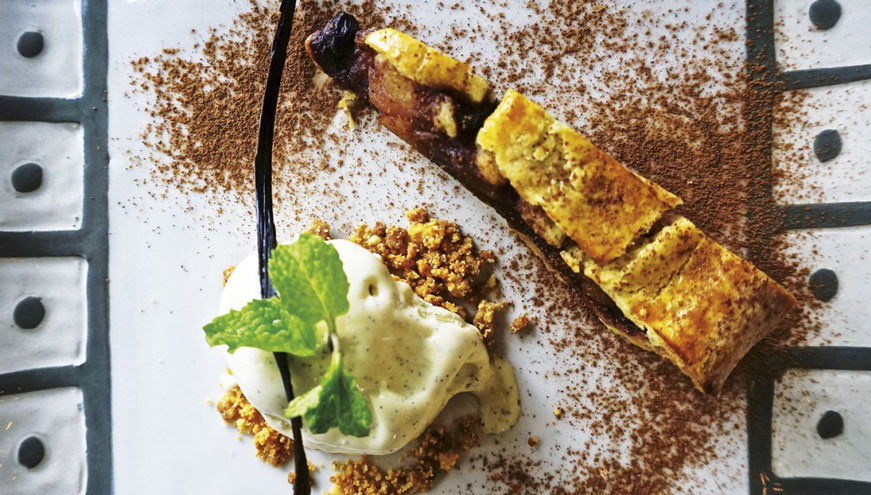 Highlighting the Japanese side of the menu is a comfortable Teppanyaki Grill with its own delicious specialties, in which we were not able to indulge after our large meal.
There are plenty more exciting dishes to try on the menu, and my advice is of course to go and try for yourself. If a full meal is not an option, an afternoon soiree, with drinks and light snacks and a sunset is another delightful choice, or perhaps try the coffee and cigar bar upstairs for a leisurely post prandial stop.
Sayan House is also a perfect venue for a special event. With its spacious grounds and calm atmosphere, it invites a feel good time!
Jalan Raya Sayan No.70, Ubud
Phone: 0361 479 2592 | www.thesayanhouse.com
Text by Ayu Sekar