Over the years, Ubud has become a hub for those seeking exploration and adventure. No longer does Ubud sleep in the shadows as tourists and locals flock to the little 'Town of the Artists' hoping to surround themselves with the greenery of the surrounding area. Trekking trips, through rice fields or deeper still into dense forests, are perhaps one of the best ways to get stuck into the serene experiences Ubud's natural environment has to offer.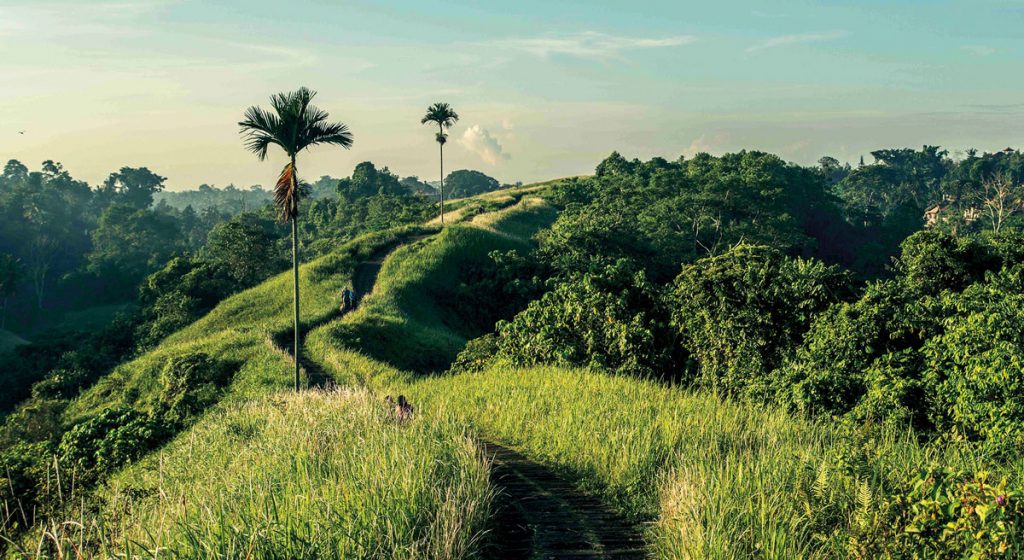 One famous trekking spot is the Campuhan Hill Ridge, popularly known as "Lover's Ridge" by locals. This easily accessible path is perfect for early morning or late afternoon walks. Find your way to the Gunung Lebah Temple near the Warwick Ibah Hotel (Jalan Raya Campuhan) to begin your stroll. The trail sits along an open ridgeline of between the Campuhan gorge with unobstructed views both left and right. To the left, popular restaurants, villas and houses perch themselves on the steep embankments; to the right, a line of palm trees clinging to the valley lip. The walk runs for about 2 kilometres before leading to a wide, broken road where you'll find small art galleries, little workshops and finally open rice fields. If you fancy a walk you can continue following the road that eventually leads to the outskirts of Ubud, or you can double back for round 2 of the ridge from the opposite direction.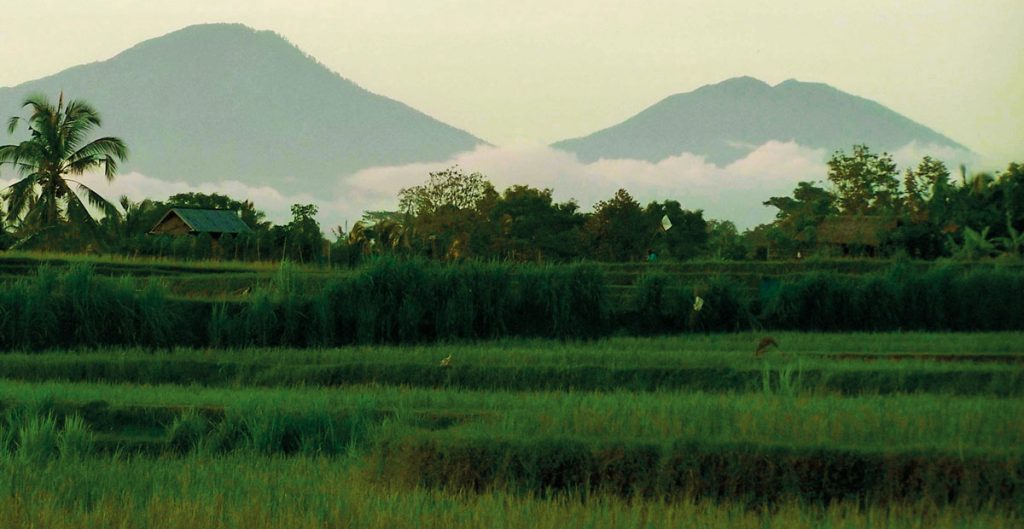 If you're a nature lover but don't want to do the walking, Elephant treks can also be found north of Ubud in the village of Taro. Like an ancient king, you can trample through the tropical jungles atop these gentle giants. Here, with a higher view you can sit, relax and simply enjoy the sights, sounds and smells of nature. You can get off the elephants near the streams, lakes and take a quick dip. The same trek can also be experienced at night. This is a completely enchanted elephant experience through the dimly lit forest.
Taman Sari Temple is another trekking spot you may want to consider if you are after rice field views. Go for a short walk in the lush, green, terraced rice paddies to see villagers planting and harvesting rice as well as the traditional Balinese irrigation system, subak, in action. Continue your walk through the forested areas and plantations full of Balinese staples and cash crops like cloves, coffee, cocoa, vanilla, tapioca, taro, local vegetables and exotic tropical fruits. You will even come across some traditional craftsmen at work producing exquisite craft items, focusing on their tedious works of art.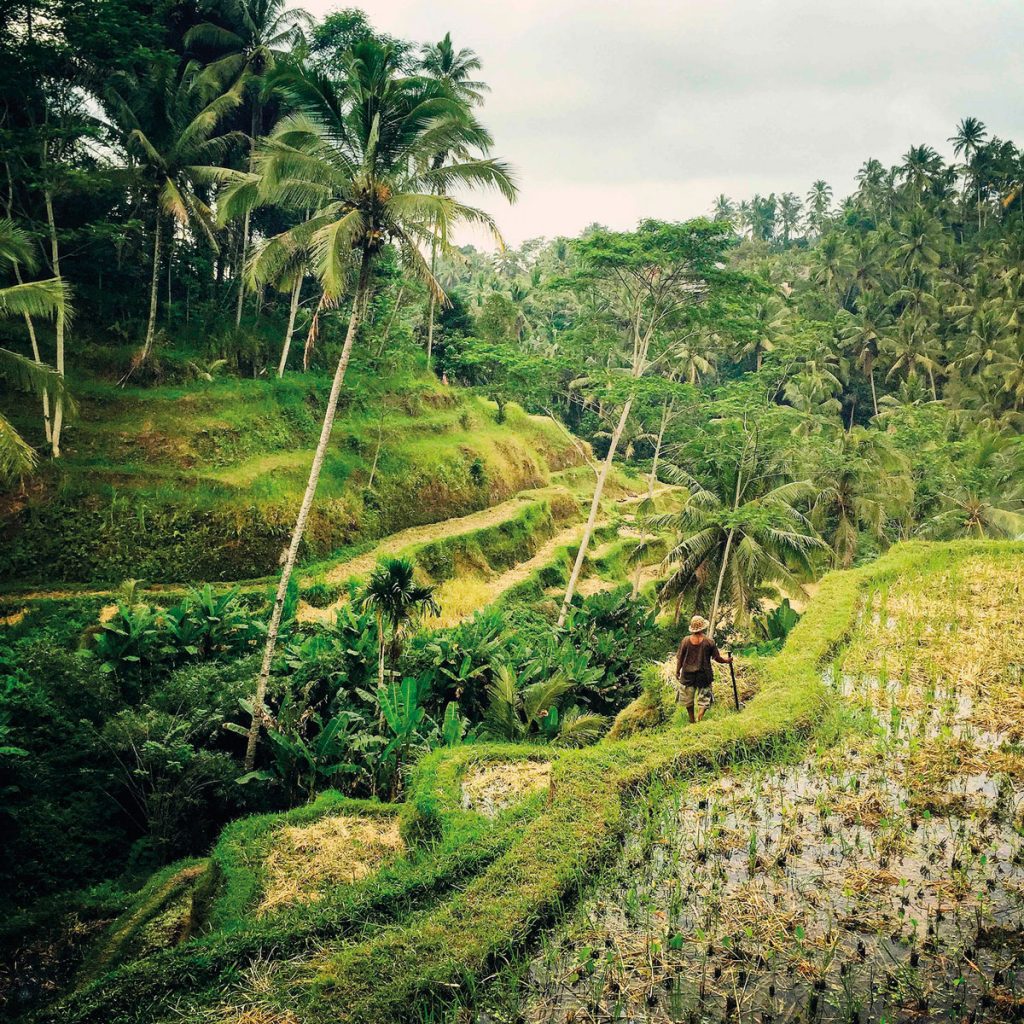 Tegallalang Rice Terraces is another popular spot for trekkers. Internationally known for its beautiful scenes of steep cascading rice paddies, again showcasing the traditional Balinese irrigation system, Tegallalang is one of the most splendid terraced landscapes in the Ubud region. Along the road that faces towards the valley you'll find plenty of local cafés serving up cool drinks and gorgeous views, perfect after your climb up and down the terraces. However, if you are looking for peace and quiet then perhaps this isn't you number one choice, as with its beauty comes its popularity. Visitors flock here for that picture perfect moment – perhaps you're after this as well?
The best time to trek in Ubud is the dry season of course, preferably in the early morning or late afternoon to capture the classic Bali scenes in that perfect 'golden light'. Ensure that you stay hydrated at all times, especially if you're venturing out around midday, or perhaps treat yourself with some sweet coconut, you're in the tropics after all!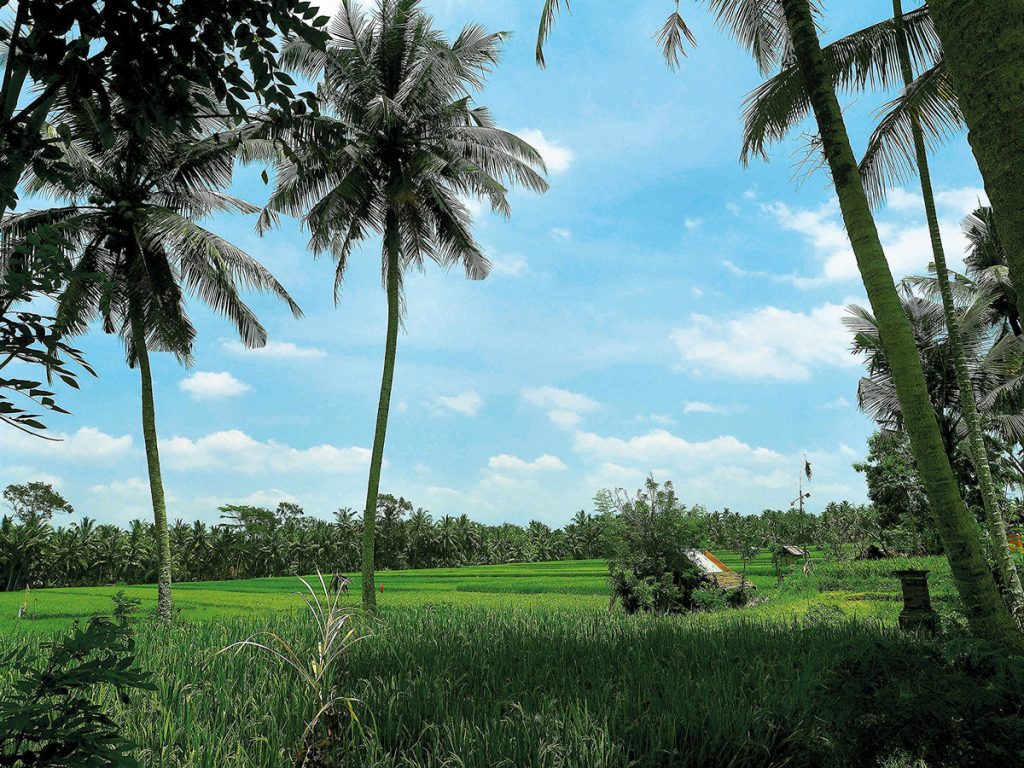 Now, whilst we've suggested a few spots for you, you can always create your own trekking spot of course. Simply walk out that door and start exploring the area. As J. R. R Tolkien says, "Not all those who wander are lost". The idea of walking around Ubud is to immerse yourself in the local milieu; meet some villagers, farmers or craftsmen who are bound to be very friendly and ready to interact with you. This way you can explore the Balinese lifestyle and culture for yourself. At the end of the day, trekking is all about discovering places. So, be a real traveller, slip on your walking shoes and see where they take you.