Last month, at a Bongkasa high priest's cremation, I saw a contemporary-cum-ceremonial dance performance staged around the funeral pyre. It resembled a chorus line from a very classy Balinese production of CATS.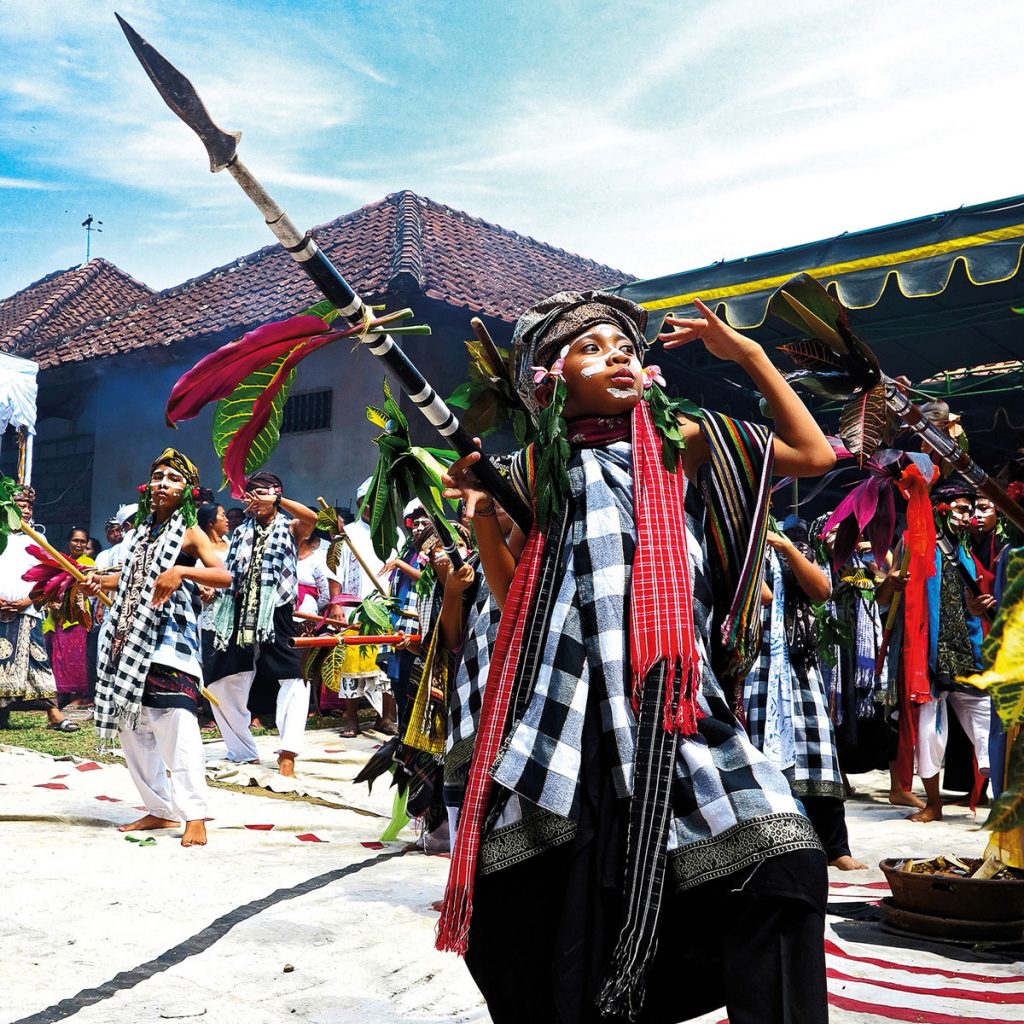 In a 1940s ditty, legendary songster and wit Noel Coward wrote, rather snidely, that the Balinese suffered from far too much creative endeavour.
There can be no doubt, of course, that the Balinese culture is amongst the most dynamic in the world — continually reviving, inventing and enhancing rituals, dances, and its own traditional arts.
Lately, the new community leaders are looking for distinctly new ways to do things. This is nowhere more pronounced than in the performance arts, where old classics — costumes, make-up, even the dances themselves — are being given startling makeovers.
Last month, at a Bongkasa high priest's cremation, I saw a contemporary-cum-ceremonial dance performance staged around the funeral pyre. It resembled a chorus line from a very classy Balinese production of Cats.
In Kintamani, Christmas baubles appeared as eyeballs on a series of spirit effigies (see photo this page); and, in Gianyar, battalions of drag queens were marching on the streets during the annual lead-up to Independence Day parades.
Kwai-Hai!!
Simultaneously, at one of my favourite South Bali temples, I witnessed a Telek dance — one of Bali's most ancient — that had been restyled as a touristic dance of welcome, ending, oddly, in a mass trance.
While I am both alarmed, as a chronicler of the classical, by the continuing loss of beloved classical norms, I am delighted by the Balinese ability to amaze with creativity and originality.
This cultural appropriation is nothing new: whiskey canister stops were first introduced on high priests' crowns over 100 years ago; white socks and epaulettes were added to North Coast Janger dance costumes during the Dutch colonial eras, and filter-tip cigarettes on long wires were added to temple offerings some time after that. For years, classic Coca-Cola bottles were the holy water vessel of choice for many of the island's temple priests.
The Balinese don't really draw lines when it comes to creativity: 'Let it flow' is the creed. Even the island's famously humble high priests are now dressing up like Indian Maharajas.
August 2016: To Griya Gede Bongkasa for the cremation of a high priest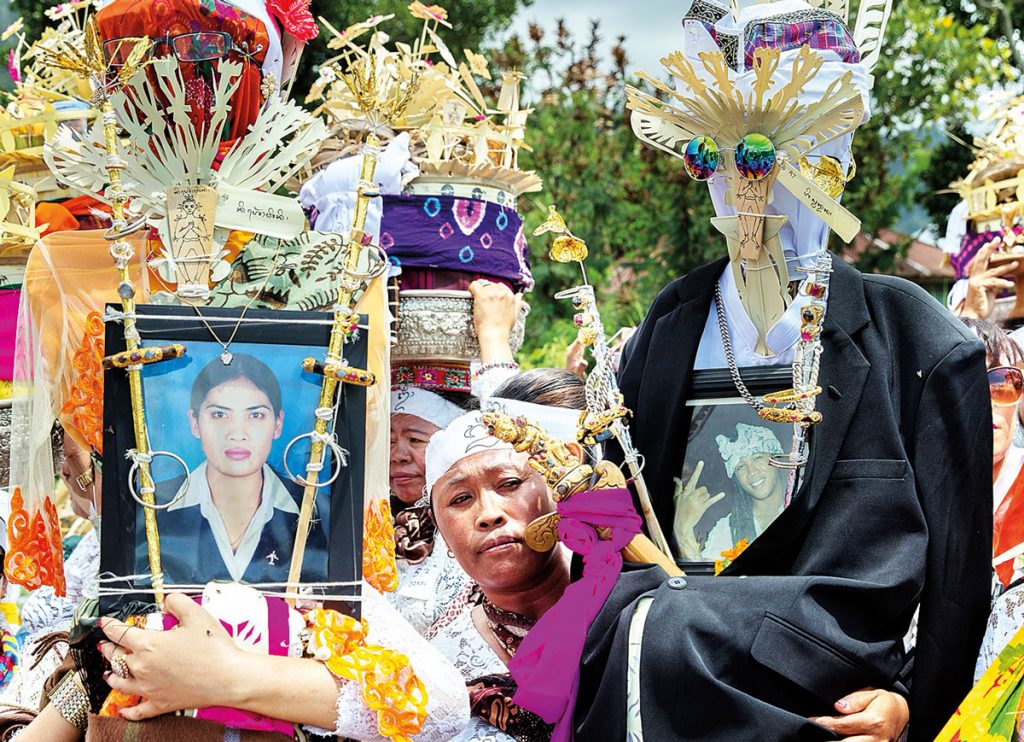 During the 1970s I worked at the Dance Academy in Bali as an English teacher. I became close to Ida Bagus Raka, the Baris dance instructor, and his family, in a rural village in the Mengwi regency across the Ayung River valley from Amandari.
Through the ages the brahmana house of Bongkasa has been renowned for its dancers and puppet masters.
During the 1950s, Pak Raka had travelled around the world dancing with the famous Peliatan dance troupe. His sons were great dancers too: one, Ida Bagus Karang, married the Dance Academy's legong dance teacher, A.A. Susilawati, from a neighbouring palace. Pak Raka's brother was a dalang (puppet-master) who became a high priest.
Today is the cremation of Pak Raka's cousin, also a high priest, who was much loved in the village. The family has called in theatrical artist Ida Wayan Granoka to design special both dance sequences and costumes to be staged as part of the cremation rituals.
The results are staggering.
In a first for a Balinese royal cremation (pelebon) — or at least for the first time that I am aware of — a large white tarpaulin has been laid in the field adjacent the funeral pyre, painted in red and black hieroglyphics and ancient Balinese symbols.
After a morning of elaborate rituals — all conventional — the body is conveyed out of the Brahman house's gates and down a high flight of steps, preceded by an honour guard of a dozen tiny-tot Baris dancers in costumes created especially for the day.
The procession heads its way through the village towards a virgin field (high priests are only rarely cremated at their village's cremation ground) where it is met by a very moving unique dance ritual. The coffin is then placed high inside a white bull sarcophagus, and, after the last rites, performed by a group of high priests, set alight.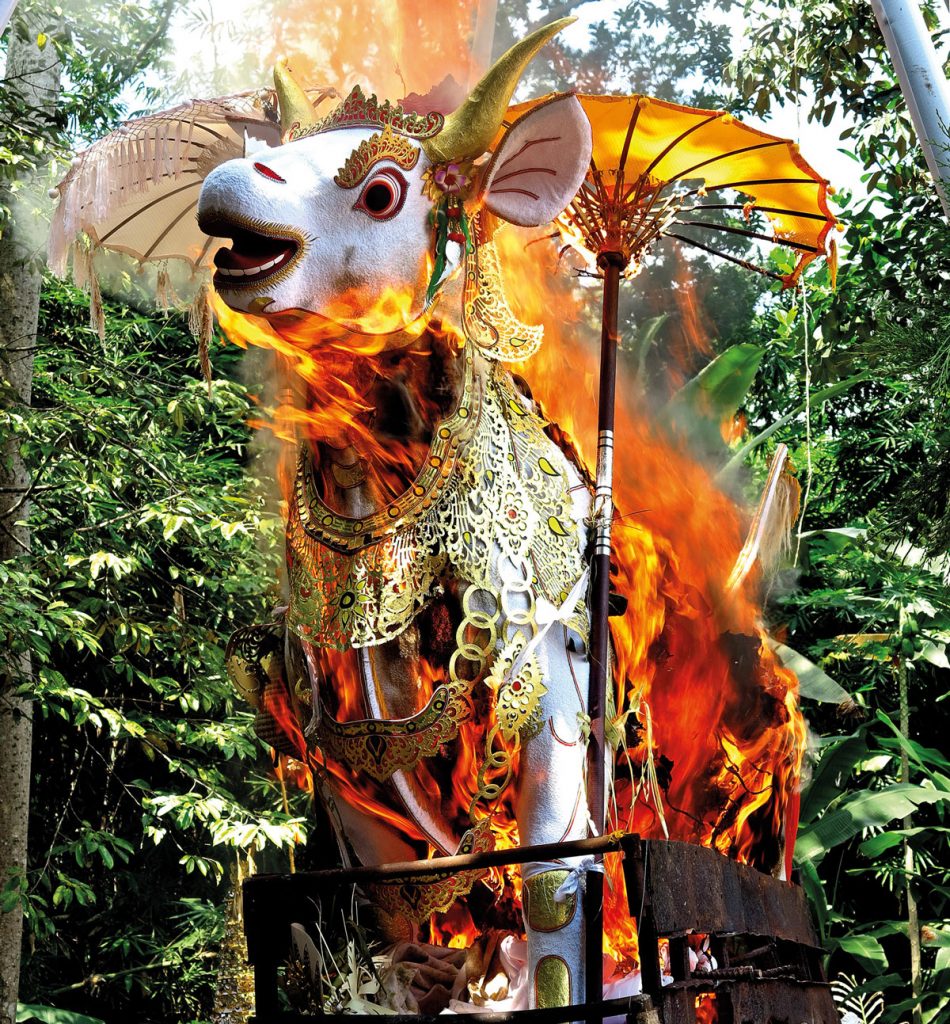 As the flames rise, a chorus of exquisitely-dressed dancers files on to the arena. Some sport long gold nail-covers, in the Burmese tradition; others wear exotic crimson floral headdresses. Young men sporting traditional Baris Jangkang make-up, but wearing costumes inspired by Baris warrior costumes, commence a dance around the burning pyre, a dance that lasts hours. All the musicians playing the gamelan nearby are in exotic dance costumes too. Occasionally they grab their instruments and join in the dance. It is a supremely artistic show of respect that has the waiting family members highly entertained.
In a way, it is similar to the performances put on around the burning pyre of high priest Ida Pedanda Gede Made Gunung two months ago, choreographed by the talented artist A.A. Rahma Putra, also from Mengwi.
Something is in the air in Mengwi — an area famous, during the classical era, for its picturesque temples and exotic temple carvings.
12 August 2016: To Nusa Penida to see the jostling of the funeral bier rituals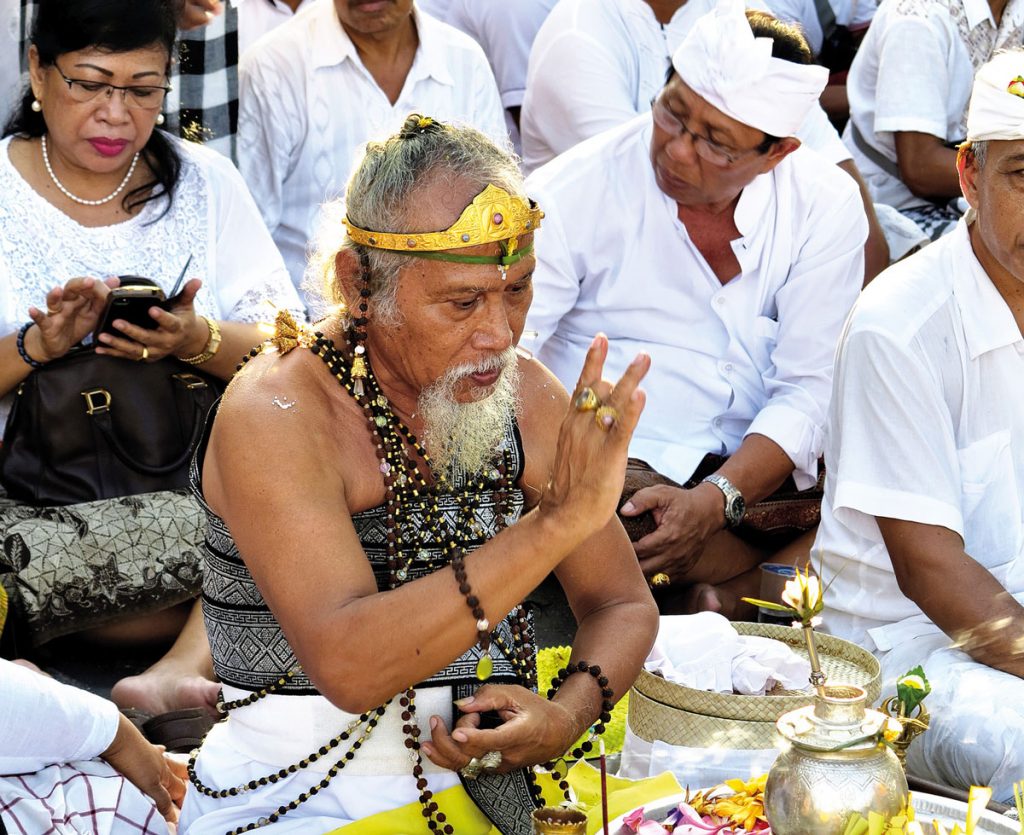 The big island of Nusa Penida (Nusa Lembongan's big brother) has a unique Hindu Balinese culture that is not short of eccentric decorative tendencies.
Sadly, much of its unique, exotic (even by Balinese standards) architecture has disappeared, but the rituals and dances remain.
Today, my friend, local tourism promoter Dewa Sentana, has invited me and my assistant Mustakim to record the unique jostling of the colourful funeral floats in the sea ritual unique to Sampalan, the capital of Nusa Penida.
Ceremonies are always wild and woolly in Nusa Penida, and today is no exception.
We arrive to find two giant white tigers — rather primitive-naive in form — parked on a beachside ramp normally used for large motor-boats. An exquisitely designed badé (funeral float) was parked on the foreshore nearby, replete with an inverted red demon (fierce fanged face facing forward) and a miniature temple wall on the float to contain the gender musicians.
At low tide, before the climax of the ritual — and this is the only village in Bali that parades floats in the seawater — 69 bundles of bones, recently exhumed and wrapped in white kasa cloth, were piled onto the top golden pavilion portion of the bade float (see photos). Then the giant white lion sarcophagus and the float, borne aloft by hundreds of men, moved slowly down the beach before heading off into the shallows.
The combination of the boisterousness — which throughout Bali always accompanies processions to the graveyard — and the simulated mediaeval aquatic jousting accompanied by riotous gamelan is quite spectacular.
See Mustakim's other excellent video:
https://www.youtube.com/channel/UCwWwiI_UtuLDgPfSMhKXL8w