NOW! Bali, a Bali-based magazine under the Phoenix Communications company, has published 4 books about Bali , called the Cultural Book Series. Each book captures a different aspect of the island's complex and beautiful culture and the people's way of life:
Over NOW! Bali's 10 years in printed publications, with now 120 editions of the monthly magazine, we have had hundreds and hundreds of unique stories about the island of the gods. NOW! Bali has had special contributors since starting, all of whom share the same love and appreciation for the island's culture and traditions. This our contributors have shown through their regular monthly columns in NOW! Bali.
However, every month when the magazine was replaced, it seemed a shame that their timeless stories were lost to the past, enjoyed and then forgotten. This was one of the reasons that our Founder, Alistair Speirs, thought it best to preserve their stories into collections, each column strung together and presented as very special books about Bali focusing on specific themes.
So, since 2012, NOW! Bali – under Phoenix Communications – has published 4 Bali-centric cultural books focusing specifically about a certain subject or theme. Each are the collection of our contributor's writings over the years:-
---
Dances of Bali
By Kartika Dewi Suardana. 
Do you know how many dances there are in Bali? It's a trick question, because really the number keeps changing. For over 10 years, Kartika Dewi has been documenting the many different Balinese dances she has come across on the island. From the sacred trance dances to classic stage dances and of course the new, more modern choreographies taking form in the performing art. Dewi captures the colours and movements through her photography of each dance, as well as explaining the stories, costumes and traditions of each dance. As she says herself in her book, a dance is more enjoyable to the audience when they know its story, when they can follow the motives of each character and understand each movement.
Preview on Google Books .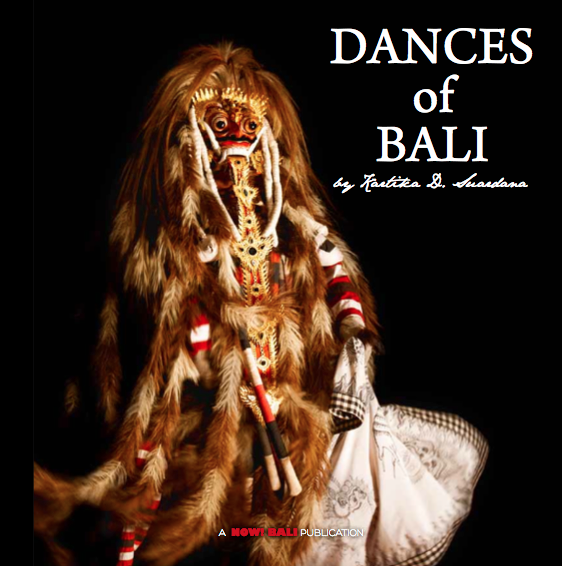 ---
Secret Bali
By Jill Gocher, with stories by Jean Couteau
Of course Bali is no secret, but there are part of Bali that remain so. Jill Gocher shares through this books what she calls "life behind the tourist façade", the things that an everyday tourist does not and perhaps cannot see. These are the tooth filing ceremonies, the Balinese weddings, the local 'arak' makers, the mapeed rituals of women lining up going to temple. Secret Bali is a vibrant collection of ceremonies, rituals, destinations and experiences captured by Jill Gocher, with her expert eye and insider perspective. This is not just 'one of those' books about Bali , this a window into a Bali you may never see.
Preview on Google Books .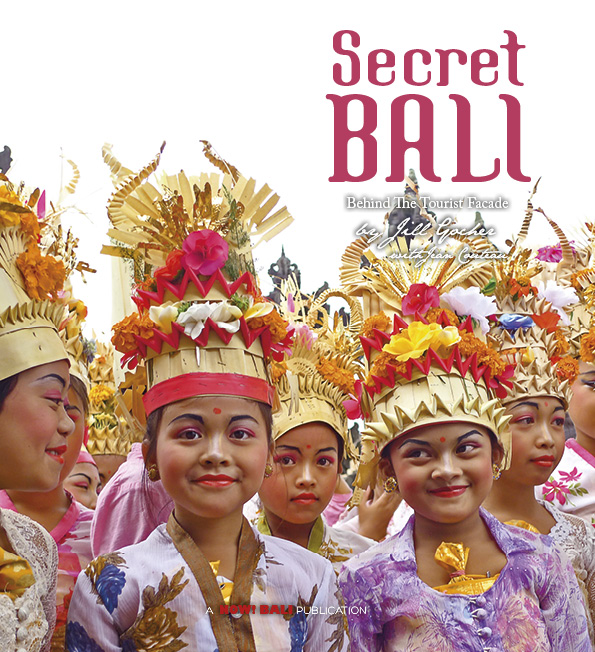 ---
Real Bali
By Kartika Dewi Suardana
Bali has hundreds of attractions that beckon international tourists year-on-year. Why do they come? For many different reasons. However why they should come is what we call 'Real Bali', the places and sights that could be nowhere else in the world but Bali. In her book Real Bali, Kartika Dewi's wanderings around the island are collected and displayed; these are her many journeys to places that really showcase the character of the island, the palaces, the temples, the museums and places of natural wonder. Here she shares them with you as a guide, as a historical reference and a preservation of the past.
Preview on Google Books .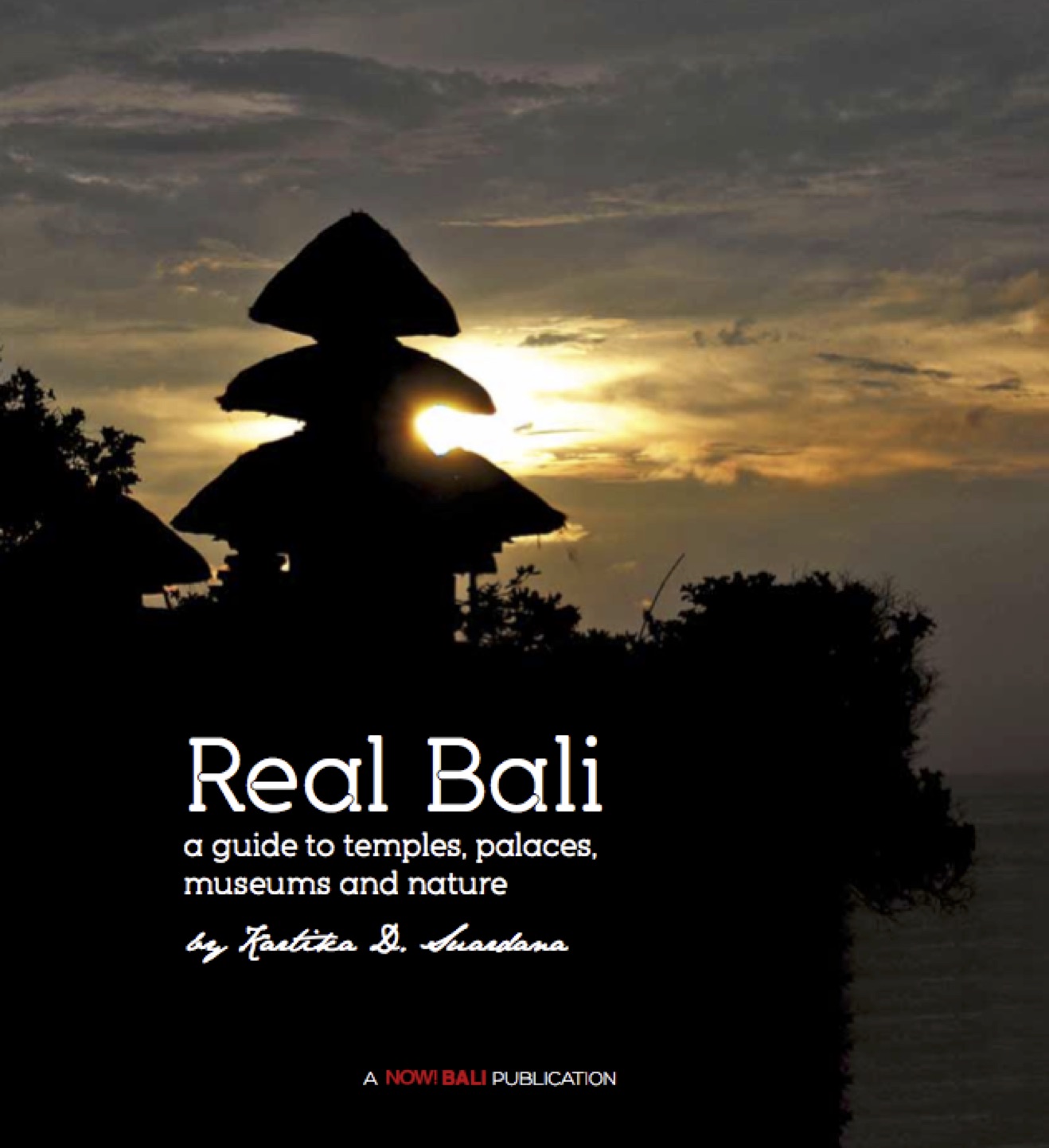 ---
Myth, Magic and Mystery in Bali
By Dr. Jean Couteau
In their own way, each story in Myth Magic and Mystery provides unique insight into the lives, beliefs and even psyche of the Balinese people – at times presented with great humour. The stories in this unique Bali book are grouped into 4 special chapters: Myth, Magic, Mystery and "Love, Life and Laughs", focusing on a particular nuance or aspect of Balinese life and culture. 
Dr.Jean Couteau, an expert in Balinese art history and iconography, takes us deep into local culture, through village myths and religious folklore, mystic rites and eye-opening first hand accounts. Whilst each story stands alone, the book as a whole tells us a full and complete story – the story of who and what Bali is all about. 
Why is Bali called the island of the gods? Where does the sinful Balinese soul go after the body dies? And, can the Balinese really talk to spirits? Questions we have all wanted the answers to, finally answered.
The stories are accompanied by an amazing range of visuals, including masterful photographs by Ida Bagus Putra Adnyana; original illustrations by Balinese artists Ketut Budiana, Dewa Putu Kantor and Wayan Sadha; and original paintings from the Agung Rai Museum of Art. Writings and imagery together create perhaps one of the most interest books about Bali there are on the market today.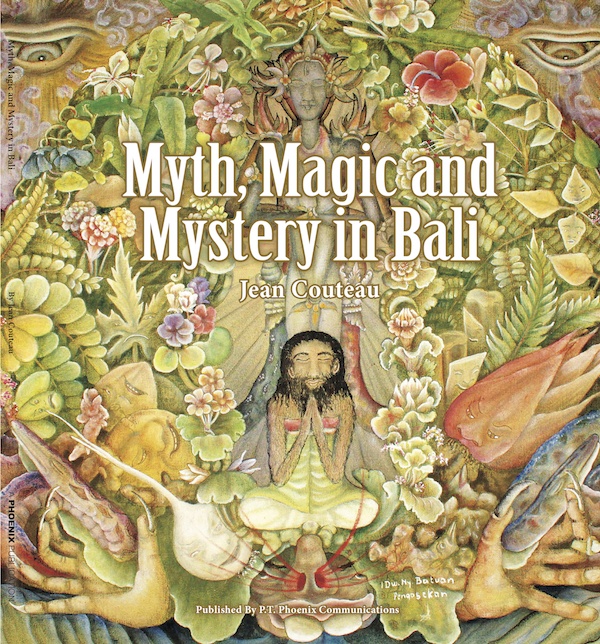 ---
For sales enquiries please email to nowbali@phoenix.co.id
or call: +62 811 380 859