Whilst it may be customary to buy souvenirs for friends and family, perhaps a painting or maybe a little trinket, there is nothing as special as bringing something that you yourself made!
On an island of art and culture there are plenty of opportunities to make yourself, or someone else a little, a little gift. From hand-made jewellery, to pottery, to traditional textiles, create something special with these hands-on Bali workshops.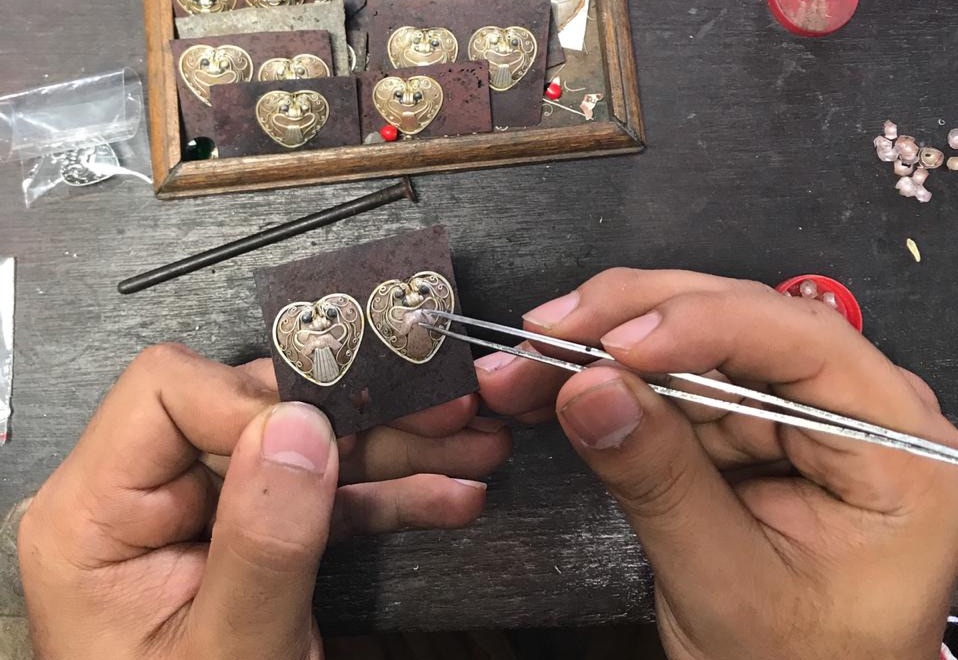 Jewellery
Being true to your unique self is the philosophy at Dewi Sitha Jewelry. This jewellery class in Celuk Village, the home of Balinese gold and silver industry, gives you the chance to amplify your personality through jewellery creation. Every design, from pendants to earrings, is created in hopes that it will reflect the wearer's personality.
Dewi Sitha Jewelry has been in Bali's jewellery scene since the 1970's. Its aims, upon conception, were to raise the standard of living of the silver and gold artisans in villages by giving them the ability to create and sell their products to the local, national, and world markets. They have been doing so for decades now. They also work to preserve and protect Balinese gold and silver art heritage by having authentic, traditional family designs copyrighted officially.
You can opt for a half-day course (3 hours) or a full-day course (7 hours including 1 hour lunch break). A class typically consists of one to three people, however group arrangements up to 20 people are also welcome.
The techniques covered in the class are basic silver jewellery making, including how to utilise each tool, from sawing, stamping, to polishing. You'll learn how to safely work with silver as you go, with guidance from expert tutors.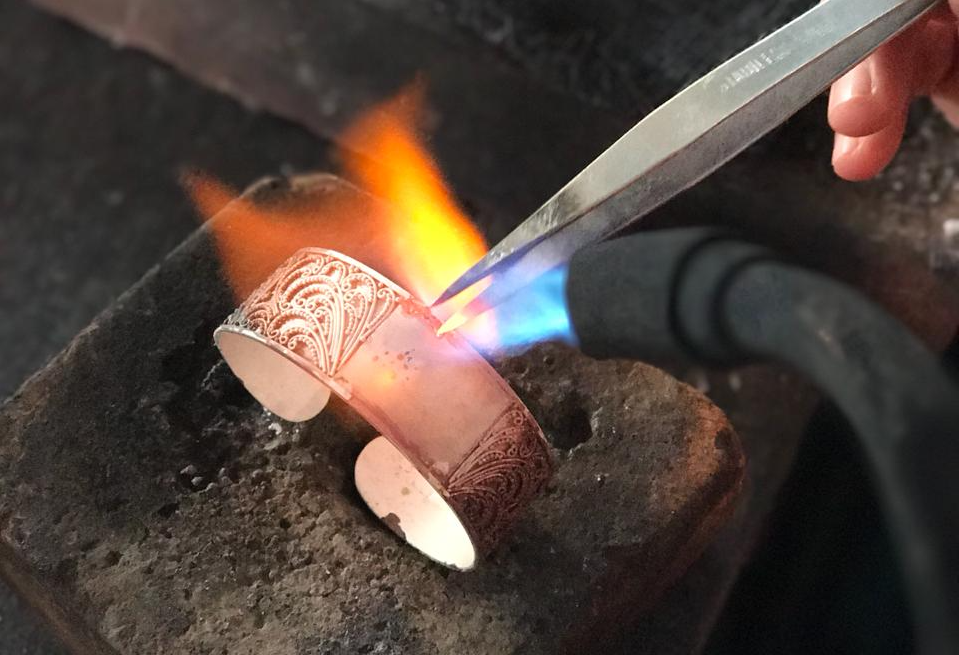 Use your creative freedom to customise your piece from scratch, perhaps based on a jewellery collection at home or a gemstone that resonates with you. You can choose the most suitable design for you via the examples provided or you may have a stroll around their immense jewellery display for inspiration. Your creativity and sense of adventure is all you need to bring to the table before a class.
Whether it's a ring or a bracelet, you will leave with a piece of yourself in jewellery form!
Dewi Sitha Jewelry
Jalan Raya Celuk No. 45x, Sukawati
+62 361 298 093
www.dewisithajewelry.com
---
Sunsri House of Jewelry have helped flocks of visitors bring their creative visions of jewellery to life – with a modern twist.
Sunsri's speciality is combining modern tools with ancestral expertise from Celuk's skilled artisans – the perfect blend between classic and contemporary. Since 1979, Sunsri has offered a state-of-the-art, one-stop jewellery experience, from workshops to factory tours. Their new concept is an homage to modern, ethnic, bohemian, minimalist styles, and more, available at competitive prices. The scope of jewellery material they focus on are silver, gold, copper, brass, and bronze.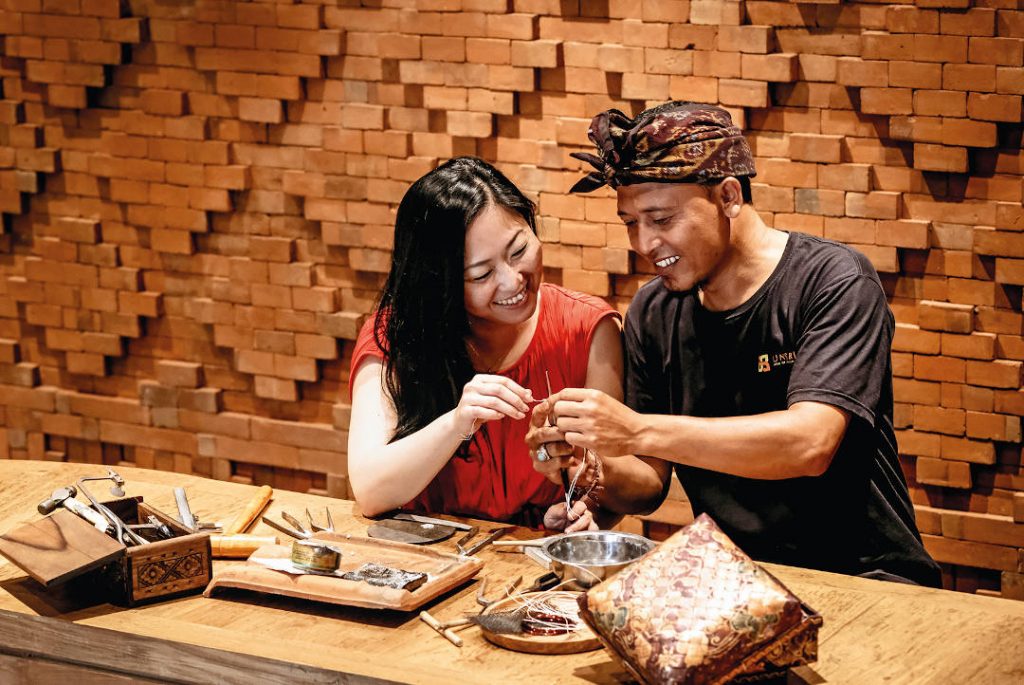 The jewellery house was designed for visitors to indulge in fine Balinese jewellery. You can exclusively peek into what's behind closed doors through the daily factory tour and discover the different stages of designing, crafting, assembling, and finalising.
Sunsri's extensive silver jewellery making programmes are tailored for various levels of jewellery-enthusiasts under the direct one-on-one guidance of expert artisans. They'll show you how the Celuk artisans have been practising the art, using the latest tools in the industry. It comes with a certificate to show you're a trained silversmith!
Sunsri House of Jewelry
Jalan Raya Celuk, Celuk
+62 361 298275
www.sunsrijewelry.com
Pottery
Appreciation for ceramics and tablewares takes centre stage at Clay Craft. The art and craft inspired restaurant, located in Renaissance Bali Uluwatu & Spa, doubles as a hub for pottery production. Adjacent to their open kitchen that hosts cooking classes, the pottery studio offers programmes available for in-house and outside guests.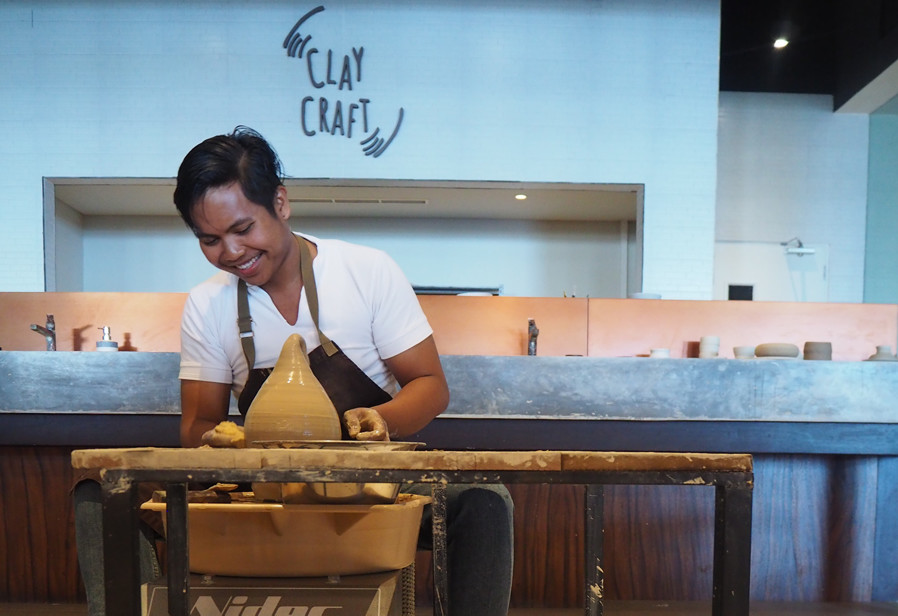 The clay craftsmen hold a pottery demo every Tuesday and Saturday from 11 AM to 12 PM (complimentary for in-house guests) in which you can learn how to form clay into your desired object.
In a more in-depth setting, Clay Craft has two classes on offer; one that teaches you the forming process, as well as a painting class. However, you can request to take on the full experience from start to finish (forming, heating, trimming, glazing, painting) within a suitable timeframe. There is also a kids class available on request.
Opting for the forming class will get you a standard 500 grams of clay, which is equivalent to a medium-sized plate or mug. Scan around the studio adorned with a variety of finished products for inspiration, or use you own creative liberty to your advantage!
On the other hand, the painting class lets you put finishing touches on a piece of pottery in your own design, whilst learning new techniques from the in-house clay artists. You can take home your masterpieces, but the finalising process takes up to 7 days to finish. If you are based outside of Bali, you can arrange a shipment with a member of staff. Pottery making has an element of happenstance – you could end up with something vaguely vase-like or a completely flawless chalice.
Clay Craft
Renaissance Bali Uluwatu & Spa, Jalan Pantai Balangan I No.1, Ungasan
+62 361 2003 588
www.renaissancebali.com
Textiles
Amidst the healthy cafes and surf breaks in Canggu nestles a young gallery made by and for the Indonesian youth. Galeri Wastraku exhibits a private collection of Indonesian textiles and accessories, focusing to educate people, mainly the younger generation, about the craftsmanship of textiles and accessories from various cultures in Indonesia.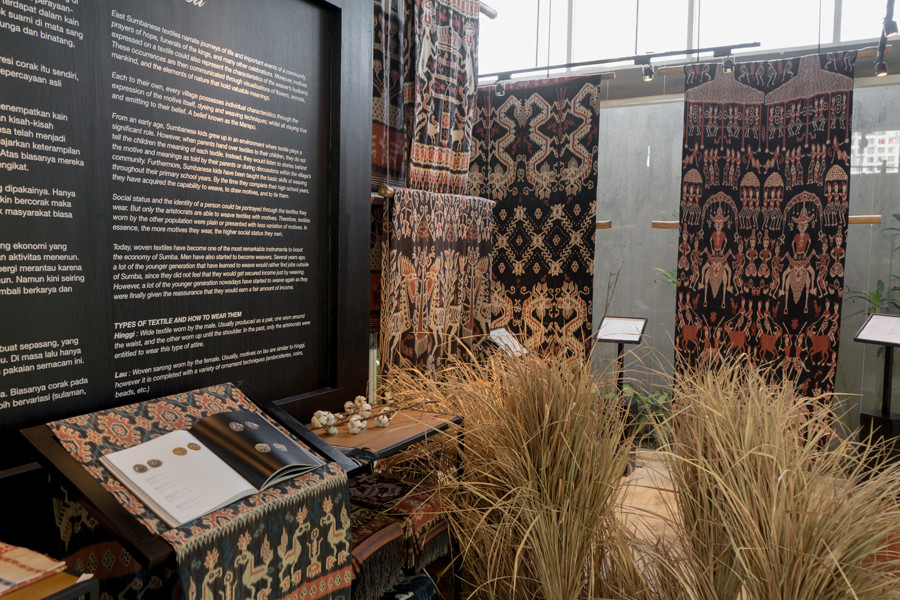 Galeri Wastraku also gracefully stands to give appreciation and exposure to the artisans of Sumba and surrounding areas. The gallery's first theme titled 'La Tana Humba' is an ode to East Sumba's culture. To celebrate its theme and East Sumba, Galeri Wastraku hosts a Natural Dyeing Workshop, Sumbanese Motive Seminar, and a Live Weaving Demonstration.
Understanding motives on a textile is important as they hold meanings, stories, or prayers of the piece itself. Textiles in Sumba are woven by women for their husbands, to give prayers, to portray their husband's characteristics, and to tell a story.
Some motives and its meaning include: the elephant is the symbol of strength, whilst the deer symbolises the preservation of nature and a person with a high social status. After the explanation of motives, participants are given quiz questions and to those who could answer these questions, are given a small Sumbanese souvenir.
The live demonstration exhibits the Pahudu weaving technique that utilises mathematics and sticks to create motives, also using an embroidery technique instead of tying (ikat). After the demonstration, participants are given the chance to try the weaving process.
Galeri Wastraku
@galeriwastraku
Jalan Babakan Kubu No. 26, Canggu
+62 361 8445449