While exploring Bali, one of the important components that define an enjoyable trip is having good food with excellent views. From the appetising menus served in spectacular settings with striking interiors and brilliant architecture, to the warm friendly Balinese hospitality that spoils you, we've highlighted several dining establishments that takes your dining experience to the next level. Be sure to satisfy your palates at these restaurants while you tour the island for something far from just the ordinary.
AYUNG VALLEY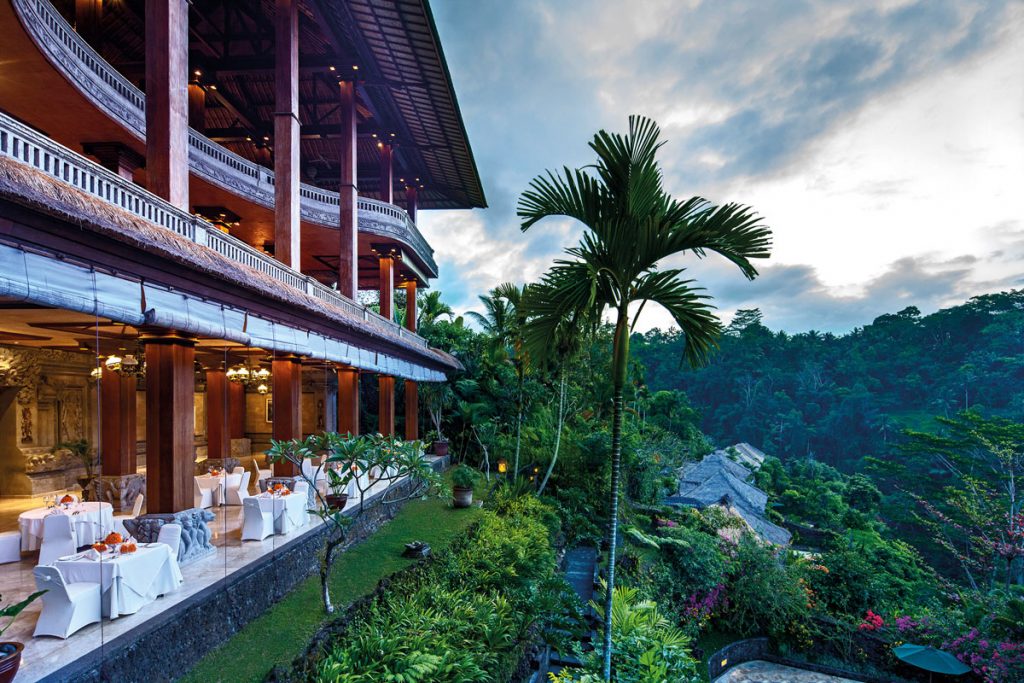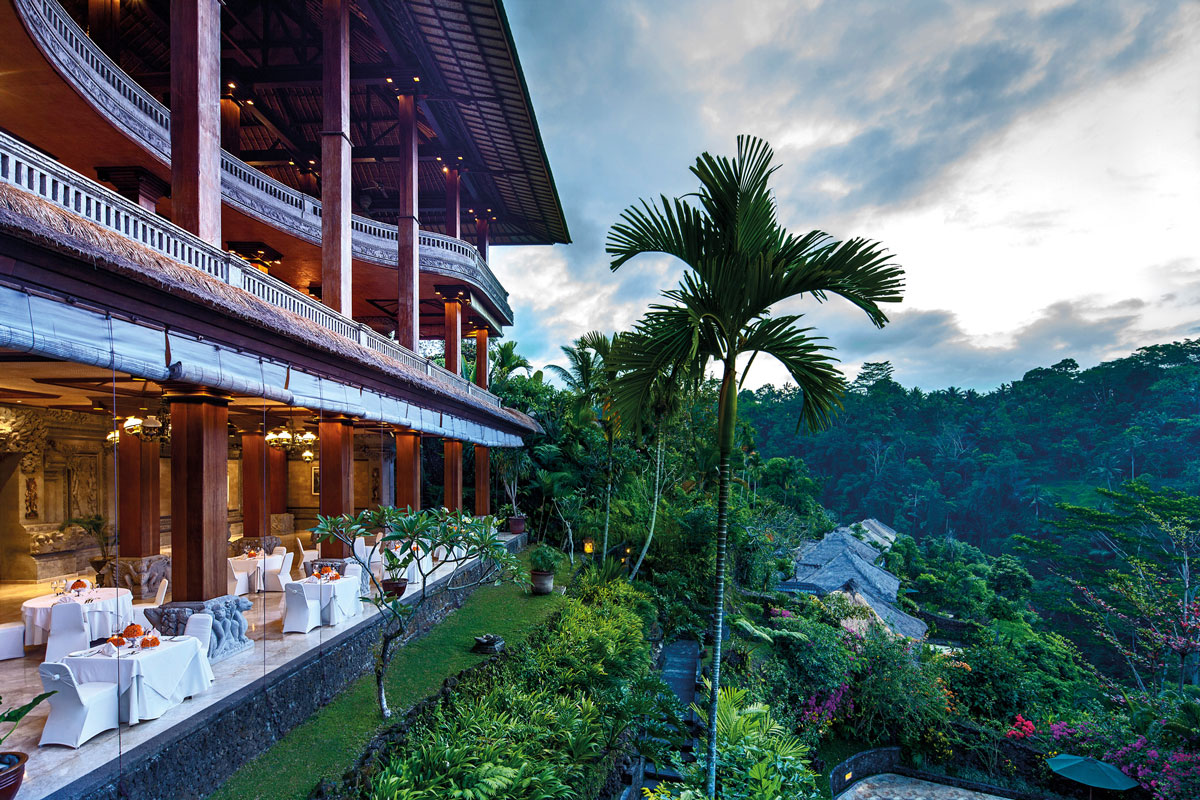 Nestled high above the Ayung River, with majestically sweeping vistas of the valley and river with stunning views of lush greenery all around, Ayung Valley Restaurant is one of the luxurious restaurants in rural Ubud. Due to its bucolic ambience, the place is popular for wedding dinners. Nature enthusiasts are sure to enjoy a delectable meal amidst this breathtaking landscape. For those who come from highly urbanised cities, feasting on superb dining in such an unspoiled terrain is a perfect opportunity to sit back and unwind.
With nature literally at your doorstep and the beauty of the views purportedly unparalleled, Ayung Valley Restaurant epitomises a serene Ubud setting. International dishes are served at Ayung Valley Restaurant, meaning those from all walks of life can come and enjoy the food and views. Using only the best ingredients and cooked by professional chefs, the quality of the food is guaranteed, ensuring that your meal will be a satisfying one.
Ayung Valley Restaurant
at The Royal Pita Maha Kedewatan Village, Ubud
+62 361 980 022
www.royalpitamaha-bali.com
BALI TOWER RESTO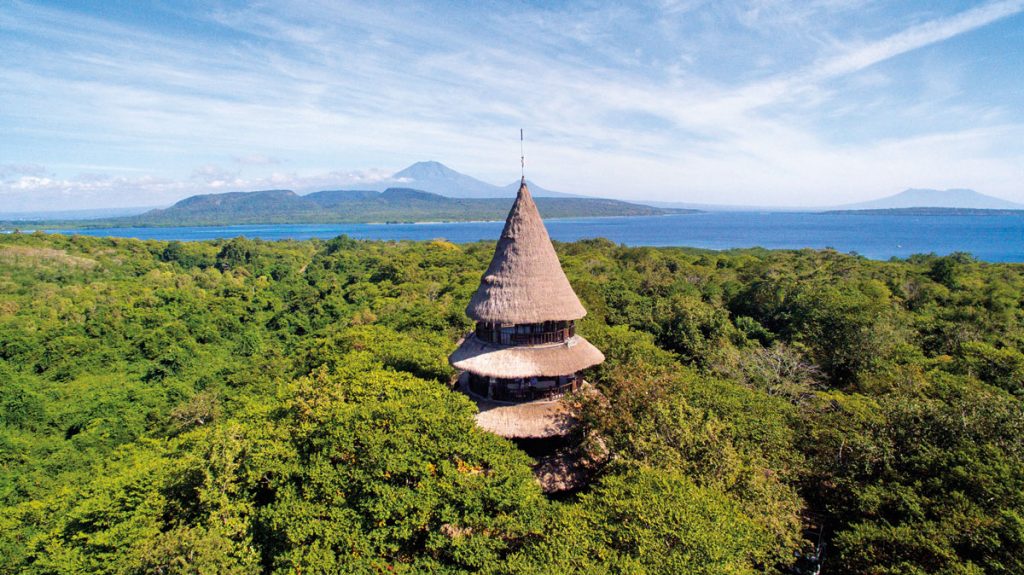 Located in West Bali National Park, Bali Tower Resto provides a rare opportunity to have a fancy dinner high above the ground, with 360-degree views of bountiful nature. The restaurant has an extraordinary and unique structure made from five huge logs, each 33 meters long and 80 centimetres in diameter. Perched on the second and third floor of tower logs, Bali Tower Resto offers sweeping views of the verdant valleys and the blue ocean surrounding it. The top-floor viewing platform reaches over 30 metres in height, which make it the best restaurant to bear witness to the magnificent Bali sunrises and sunsets.
Specialising in Mediterranean and Indonesian cuisine, with vegetarian options available, Bali Tower Resto does not have a very large variety of appetisers and main courses to choose from, but it is primarily the atmosphere that wins the hearts of the diners. The venue accentuates the importance of having a natural and relaxed getaway as a respite from the stresses of urban dwellers, while working in harmony with nature. While tucking into dishes, gaze out of the window for the finest view of lush vegetation for a little daydream. You may watch the deer on the move in the woods and hear the occasional chirping of birds in the forest. You will luxuriate in the pleasant surroundings of the national park, which truly is a natural paradise. A photo opportunity, especially at sunset, would also make the trip to this restaurant worth it. Clear your mind at Bali Tower Resto.
Bali Tower Resto at The Menjangan Resort
Jalan Raya GilimanukSingaraja, Pajarakan Village, West Bali National Park
+62 362 94700
www.themenjangan.com
TSAVO LION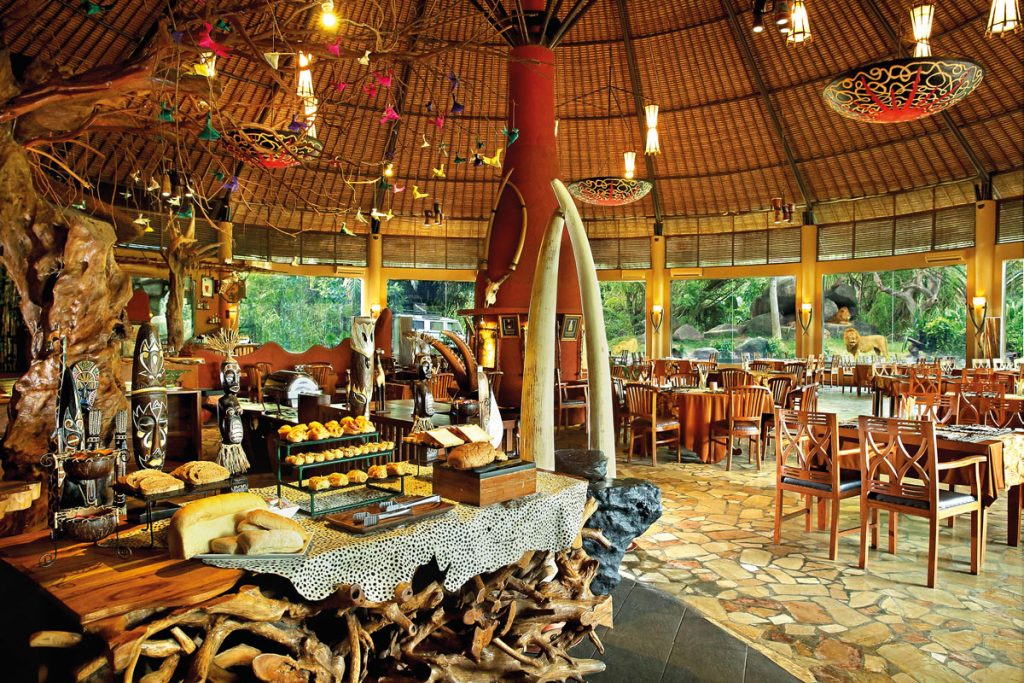 Imagine dining just metres away from the king of the jungle. Tsavo Lion offers a very unique, adventure dining experience, which allows you to have such a close encounter with real wildlife. Situated in Bali Safari & Marine Park in Gianyar, this first African-themed restaurant on the island surrounds you with lions as you feast on your meal, with only a pane of glass separating you from their den. Lying beneath a thatched roof top with Mount Agung visible in the distance, the restaurant's architecture imitates that from a Kenyan lodge. With African-style interior design and music, plus brilliant lighting effects, you will feel like dining amongst the African savanna. The lions are fed not far away from the glass wall, allowing diners to see these majestic beasts tear into their dinner, offering a rare photo opportunity.
The restaurant serves a variety of cuisine from around the globe, cooked by the experienced Chef Mahadi, who has a wealth of experience from his years of work in luxury hotels in Bali and Dubai. If you opt for the standard set menu, you will enjoy roasted Foie Gras, Tasmanian salmon and lamb, accompanied with pumpkin soup and a dessert known as Sake PasuPanacotta. However, one dish that stands out is the Crispy Duck. While dining with a glass wall separating you from lions may not come near to the authentic experience of dining in a safari camp in the open-air African savannah, it surely is a great experience for everyone.
Tsavo lion at Bali Safari Marine & Park
Jalan Bypass Prof. Dr. Ida Bagus Mantra, Gianyar
+62 361 950000
www.balisafarimarinepark.com
WAKA BAR & RESTAURANT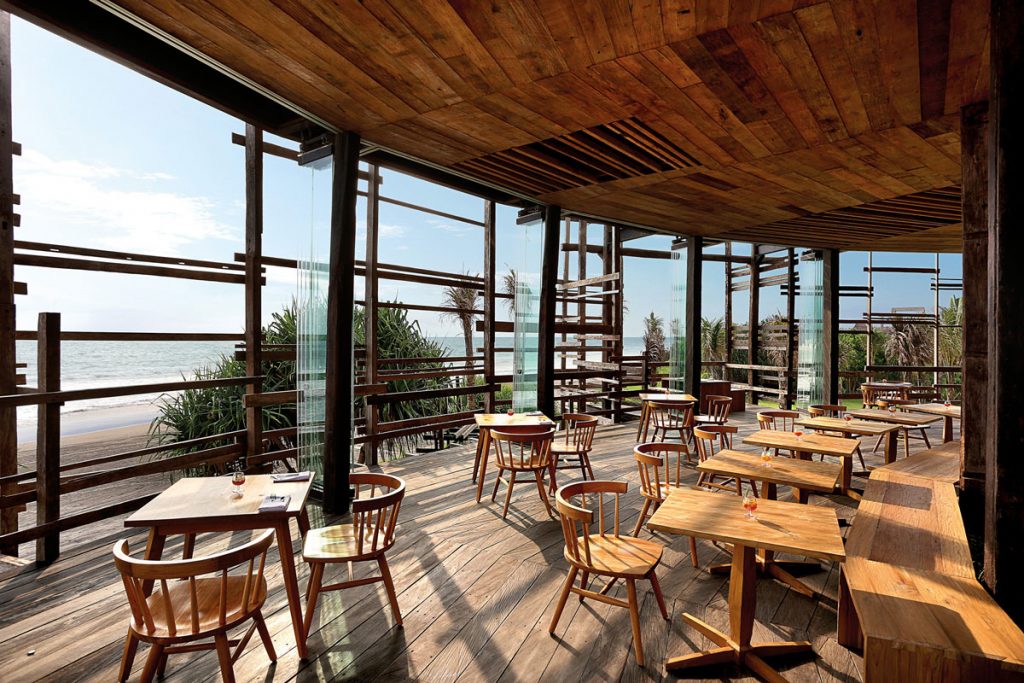 Perched on the edge of a hill and encircled by a black sand beach, deep blue ocean as well as rice paddy fields, dining at Waka Bar & Restaurant will surely take your breath away with its stunningly scenic natural and unspoiled landscape. As you tuck into delicious Indonesian and Western dishes, you are bound to experience an inner peace – something that is hard to describe in words as you engage your senses with your surroundings. With your eyes taking in panoramic views, your ears hearing the waves crash onto the shore, your face and body feeling the freshness of the ocean air, your nose and tongue smelling and tasting all the mouth-watering food, dining there is simply magical – a multisensory experience!
If you plan to come at dinner time, consider having a live lobster candle-lit dinner specially prepared by the Corporate Executive Chef, PutuYudana, which you need to reserve one day in advance. The restaurant also provides a extended list of vegetarian items as well as an exclusive wine menu to choose from. To make your night more special, the mouth-watering food is served along with live music. Waka Bar & Restaurant will tantalise your taste buds and captivates you with nature's beauty as you engage your five senses while dining in the peaceful environment.
Waka Bar & Restaurant at WakaGangga
Jalan Yeh Gangga, Sudimara Village, Tanah Lot, Tabanan
+62 361 484085
www.wakahotelsandresorts.com
THE VIEW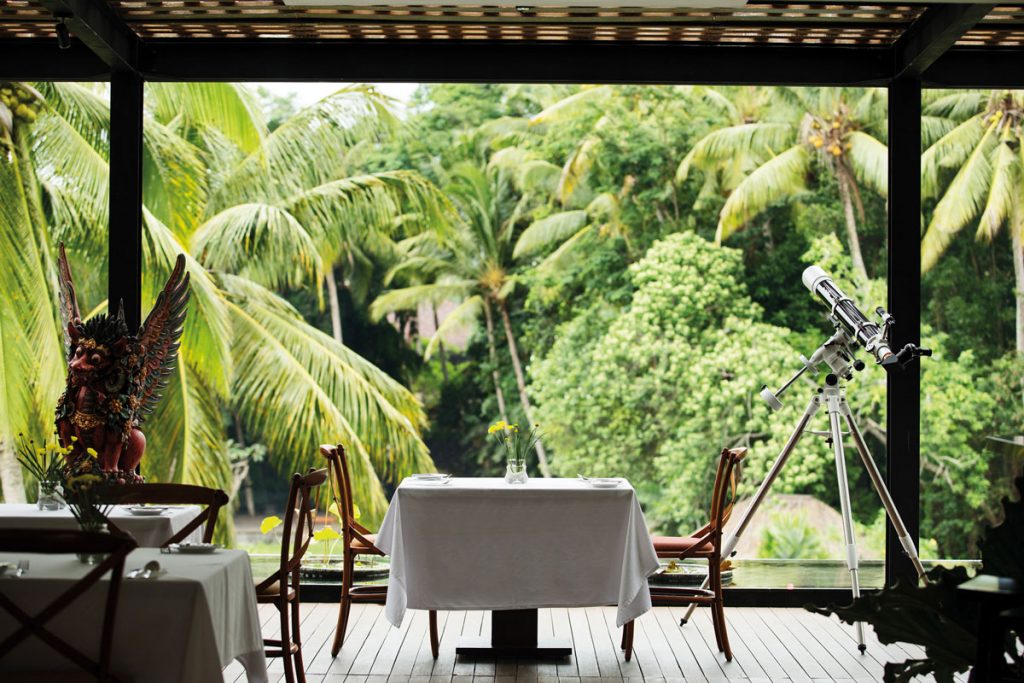 Nothing can be more enchanting than a view of dense forests, rice paddies and manicured gardens right under your nose. Roosted in the picturesque and tranquil valley of Pengosekan, overlooking lush rice paddies, The View Restaurant offers a picturesque dining experience that allows you to immerse yourself in the beauty of nature. The ambience instantly brings a sense of tranquility and peace, away from the hustle bustle of 'modern life'. The venue is designed to make you feel like an integral part of nature. This signature restaurant of PlataranUbud Hotel & Spa has made its mark as a creative culinary experience in Ubud, and offers excellent local Balinese as well as international cuisine. You can choose to dine at the outdoor wooden deck for a more relaxed and warm ambience – we say get out there and get close to nature! Embellished with beautiful gardens, you can soak in the serene atmosphere as you dine.
The location of the venue will also provide an experience that is somewhat the best of both worlds: to experience the calmness of the back deck with its spectacular views, and simultaneously, the excitement of central Ubud. The View in PlataranUbud Hotel & Spa promises a dining experience that you will want to come back for, particularly with its congenial surroundings and its noteworthy food. After all, that is why the restaurant is aptly named "The View", as it is primarily the spectacular view that draws diners to this place.
The View at PlataranUbud Hotel & Spa
Jalan Hanoman Pengosekan, Ubud
+62 361 978340,
www.plataran.com
THE L'ALTITUDE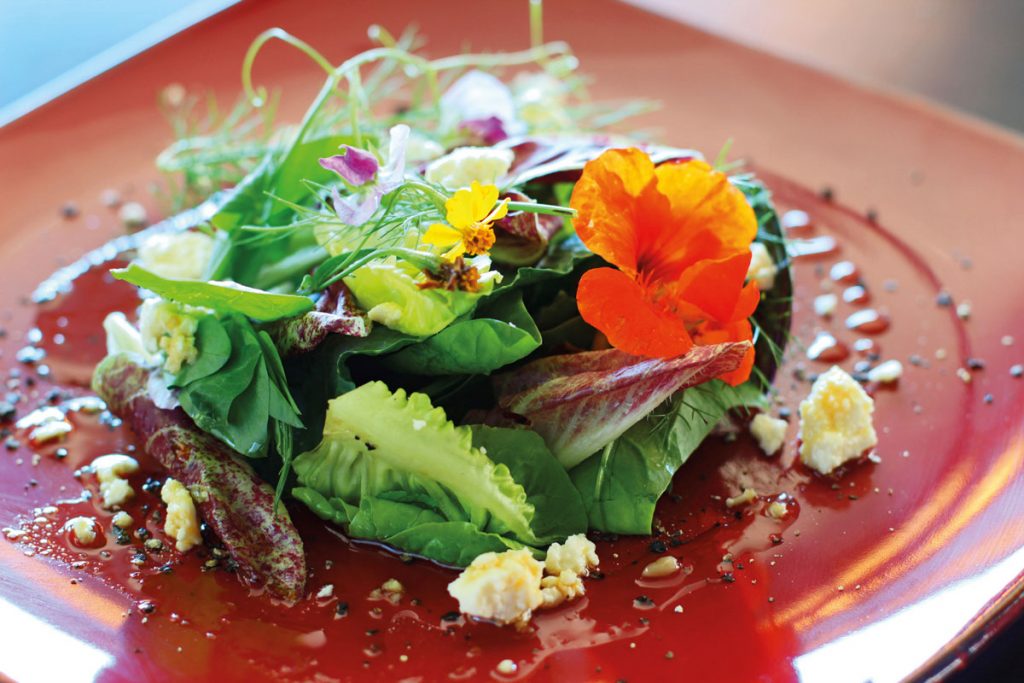 If you love dining while getting to view nature's ethereal beauty, you may want to consider heading to L'Altitude Restaurant in Tabanan. Just recently opened its door to the public, The L'Altitude serves both local and international cuisine using in-house grown herbs and spices from the on-site rooftop garden, and locally sourced vegetables, presented in a market style display so diners can observe the preparation in the open kitchen. The restaurant combines exemplary service with fresh and organic produce sourced daily to deliver a quality and pleasant dining journey.
The theme of sustainability is emphasised in the restaurant's goal to minimise harm to the environment and benefit local communities. The professional kitchen team is led by Executive Chef Michael Deutsch, a Canadian who has had vast experience in working with and using organic and sustainable produce to cook. The health-conscious will also delight in knowing that most foods here are gluten-free and low in fats, so the true essence of the flavours are naturally pure and not hidden by the use of commercial salts or refined sugar. Rice fields, mountains, natural spring pools, Balinese villages and Hindu temples encircle you, as you are greeted with gorgeous and picturesque views all around.
The L'Altitude at Royal Tulip Saranam Resort & Spa
Jalan Raya Baturiti, Pacung, Tabanan
+62 368 21038,
www.royaltulipsaranam.com
BALI ASLI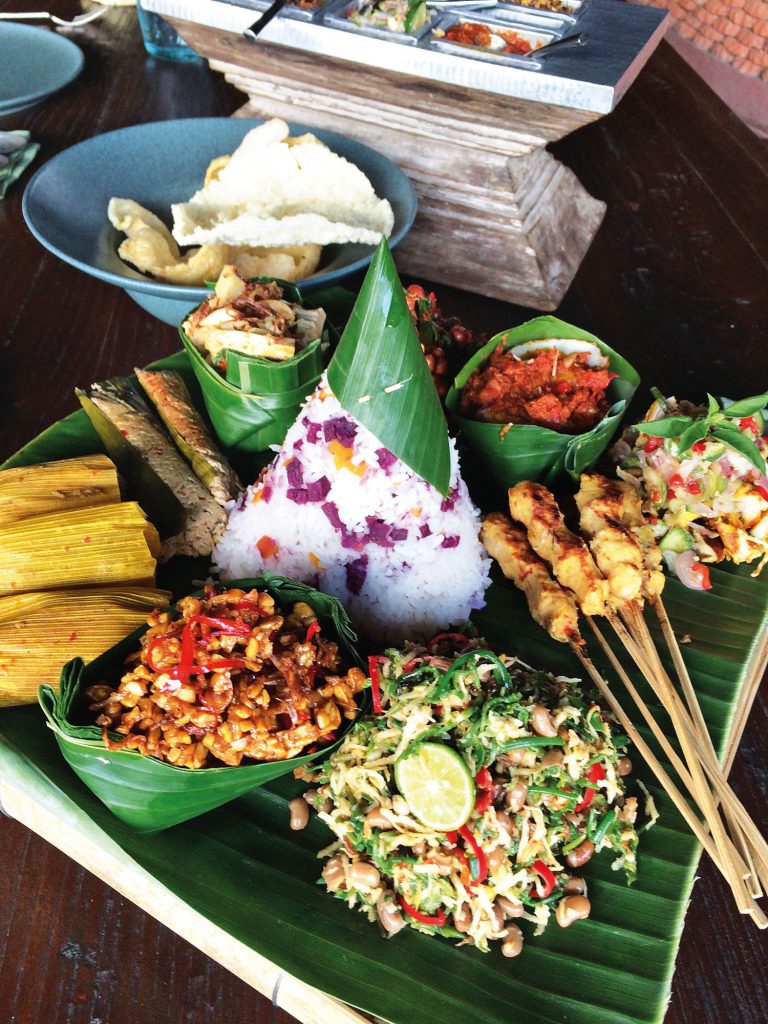 Located in a secluded spot in the northeastern part of the island, Bali Asli Restaurant offers majestic views of Mount Agung. Surrounded by rice fields, the setting is idyllic and one that is imbued with a sense of serenity. Bali Asli serves authentic Balinese home-style cuisine with traditional methods of cooking, using old mortar and pestles, and wood-fired mud brick stoves. The freshest ingredients are only sourced from their own garden or the local market, bringing classic Balinese delicacies to satiate the taste buds of even the most discerning foodies.
The exterior of the restaurant is a stone wall with a carving of Saraswati, the goddess of knowledge and art. Then, a set of stairs leads you to a conventional Balinese doorway with intricately carved wooden doors, where you will find a traditional open-concept kitchen with polished wooden floors. If you would like to opt for a set lunch, you get to choose from a four-course or six-course tasting menu with every dish freshly made from scratch. These dishes are carefully prepared by Executive Chef Penelope Williams, who apprenticed at world-renowned The Savoy in London. With stunning views of the holy Mount Agung, Bali Asli promises a divine Balinese culinary experience!
Bali Asli
Jalan Raya Tengading, Gelumpang Village, Amlapura
+62 8223 6909215
www.baliasli.com.au