Chaîne members and guests escaped busy, balmy downtown Bali to enjoy the coolness and tranquilly in the highlands of Ubud. Through full length glass windows of the restaurant at the new luxury property, Padma Resort Ubud, the view overlooking over the lush valley and jungle beyond was spectacular.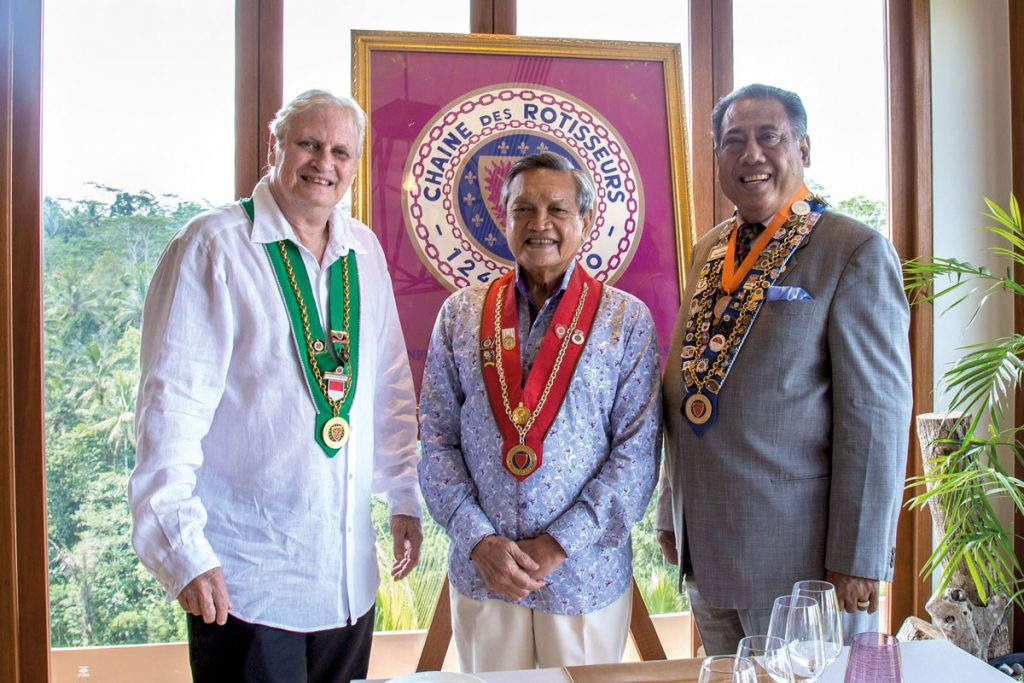 Guests mingled savoring mouthwatering hors d'oeuvres included Foie Gras Mousse Stuffed Smoked Salmon Roll, Smoked Duck breast on parmesan Cookies, warm duo of Oxtail and chicken liver Pate and the writer's personal favorite, deep fried crispy Brie cheese with red onion jam which were superb with the NV Chandon Brut Chardonnay Pinot Noir from Victoria, Australia.
All guests were seated at one long, colorfully decorated table, and greeted by Bailli Anthony Syrowatka. BailliDelegueFirdausSiddik made special welcome to the esteemed guest from New York, MrWidjiono (Yono) Purnomo, Vice Conseillier Culinaire, a chef originally from Jakarta, in 1991 his famous New York restaurant YONO'S was nominated as one of the Best of the Best Restaurants in America. We were most fortunate that Yono included Bali as part of his visit to Indonesia where he founded a Scholarship Programfor NHI Hospitality School in Bandung in 2008. His story is fascinating and can be viewed at www.yonos.com.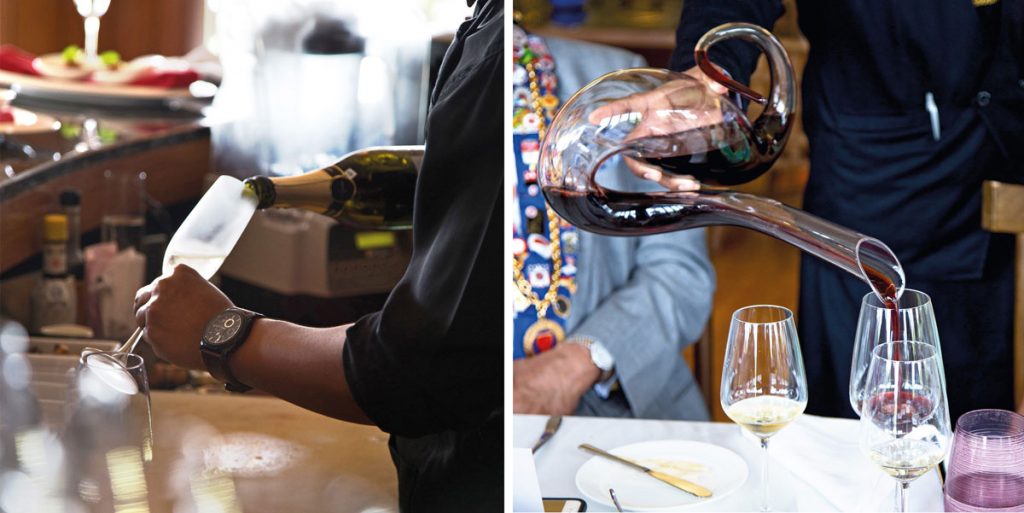 Our first course was then served; torch ginger infused blue fin tuna with fresh seaweed salad. This colorful and sculpturally finished dish was accompanied again by the sparkling Pinot Noir.
Second course very creative mango cannelloni filled with Alaskan King Crab mousse with pomelo relish and cilantro lime dressing and a generous slab of king crab. This once again aesthetically presented dish was delightfully complemented by 2014 MateticCorralillo Sauvignon Blanc from San Antonio Valley, Chile.
Fennel poached John Dory on cauliflower mousseline came next, which was paired with 2014 KleineZalzeChenin Blanc from Stellenbosch South Africa, most refreshing!
The sour sop sorbet was also an aesthetic, creative masterpiece, served in a carved fruit cup on a bed of ice and surrounded by star anise and strawberries.

We returned to be dazzled by Kobe beef brochette with Yorkshire pudding stuffed with foiegras and a delectable red wine sauce. Again the presentation of this dish was accented by delicately placed miniature leaves and sculpted vegetables. The wine, 2005 Brunello di Montalcin DOCG, San Polo, Allegrini-Lo Cascio, Sangiovese was poured theatrically from an oversized swan like decanter which added to the atmosphere.
Finally Huguenot Torte with pumpkin puree, whipped buttermilk and apple delicately placed in a woven sugar basket. 2013 Domaine Du Tariquet, Les Premiere Grives – GrosManseng from Gascogne France was the perfect accompaniment.
Sincere thanks and certificates were award to our host, General Manager Mr. Reza Sunardi, Head of Culinary team Chef KetutSumerta who did a spectacular job of incorporating fresh local produce into the menu, and last but not least Head of Service team Mr. RiozaDarusman.
Vive la Chaîne!