What can you do in Bali to connect to nature, de-stress, and get some fresh air? Lots! From exploring the jungles to tubing down a hidden canyon, you'll learn that there's more to the beautiful nature of Bali than just simple sightseeing.
CYCLING UBUD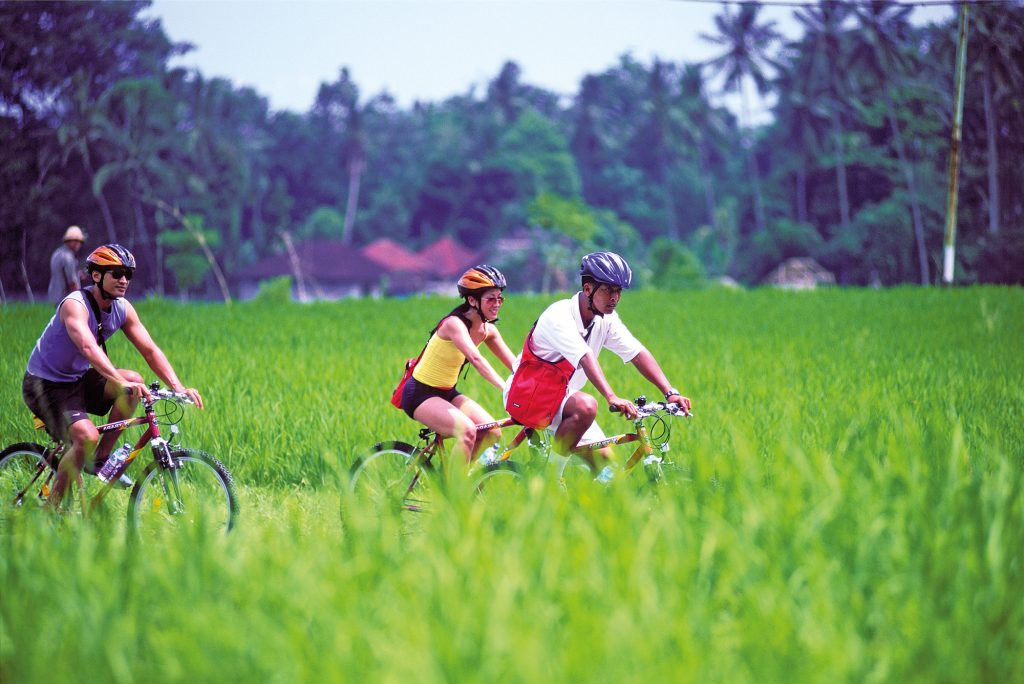 This is the kind of adventure that takes you to some of the most inspiring places in Bali – and certainly will make you sweat! Whether you are a regular or infrequent cyclist, cycling is a great way to explore the island. Of course, we recommend that you go on a guided cycling tour to enjoy the experience to the fullest. Maya Ubud Resort & Spa provides a healthy getaway for those who enjoy cycling along the quiet country lanes of Ubud. They take care of everything, kitting you out with a good quality bike and providing detailed, well thought-out itineraries. We're sure you'll unwind as you turn the pedals. A qualified resort guide will lead you off to discover amazing historical sites, visit ancient temples or simply enjoy the natural beauty of the rice terraces, distant mountains, turbulent rivers and natural springs. You will also get to enjoy a short walk into the rice fields where you can experience firsthand what it is like to grow, harvest and process the rice.
Maya Ubud Resort & Spa
Jalan Gunung Sari, Peliatan, Ubud
+62 361 977 888
www.mayaresorts.com
RAFTING THE AYUNG
Ayung River, notably the most scenic river on the island, is a place where you can feel relaxed, surrounded by serene nature yet, at the same time, can rush your adrenaline as you hurtle down frothing rapids on a raft. Grab your oars and get ready to rage with this exhilarating adventure on the spectacular Ayung River. Whether you are 5 or 65, a natural or a novice, white water rafting in Bali is safe, fun and a breathtaking experience to be enjoyed with the whole family – especially if you do it with Bali Adventure Rafting by Bali Adventure Tours. That's right, your safety is Bali Adventure Rafting's first priority, and your enjoyment comes in a very close second.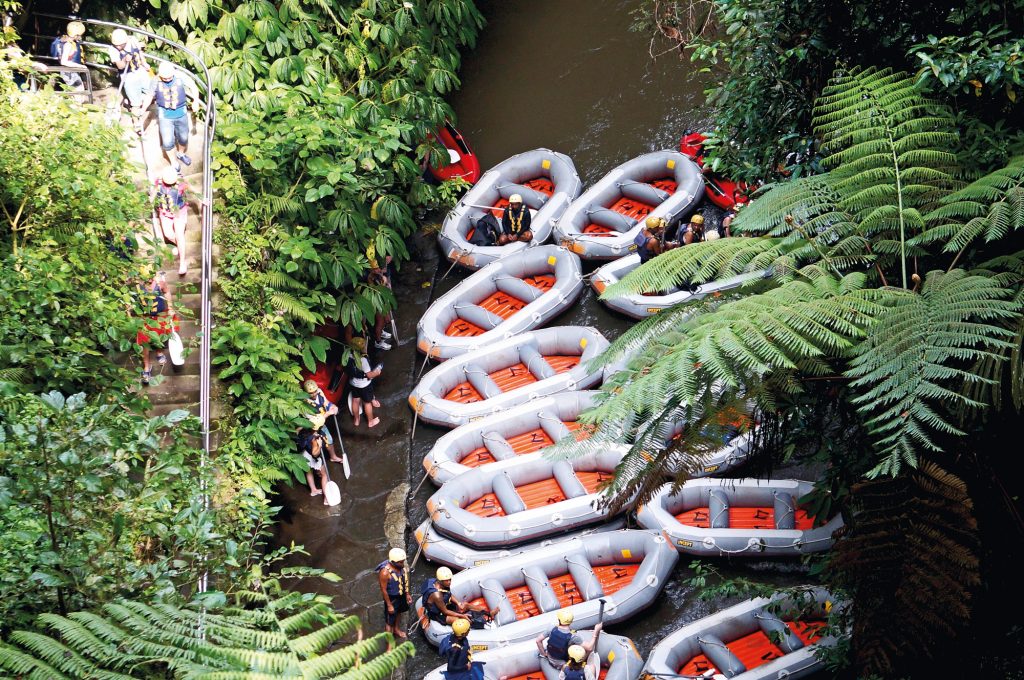 With Bali Adventure Rafting, the action starts when you launch into a 9.6 km river stretch, navigating through 35 class II and III rapids set to a backdrop of wild unspoiled rainforest, towering gorges and magnificent rice paddy terraces. Professionally trained and experienced guides pilot safety-equipped rafts through the best river runs, dramatic drops and spectacular waterfalls to make your rafting ride a fun and awesome experience.
Bali Adventure Rafting uses only Incepts and AVON rafts with foot cups and hand ropes fitted to all, as recommended by the World White Water Rafting Association. With seven sizes of jackets available, correct fitting is assured for every person. Aside from that, providing you a 5-star service from the start to finish, Bali Adventure Rafting offers a fully computerised reception centre coupled with fast walk-through equipment outfitting and easy access to the river via safe, engineered steps, complete with hand rails and scenic viewing platforms.
Bali Adventure Tours
+62 361 721 480
www.baliadventuretours.com
ATV-ING KERTA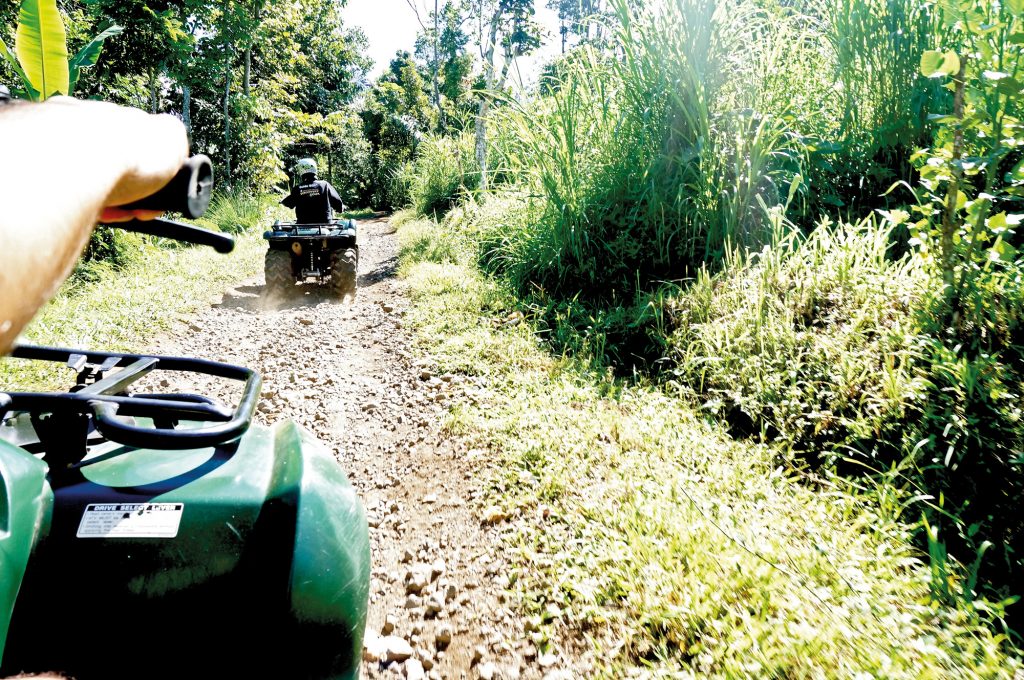 Now this is not your typical "pony-ride" tour, for you'll experience and explore the beauty and thrills of ATVing (All Terrain Vehicle) through the rugged terrain of Kerta village in Payangan. The adventure offers a great experience of driving your own off-road vehicle (or enjoying the ride as a co pilot) with the opportunity to learn about the way the local people live. The Bali Quad Discovery Tours' experienced guides are extremely knowledgeable in local history as well as geography. The ATVs and Buggies are the easiest and safest to operate that even riders with no prior experience can operate; this provides you a safe and enjoyable experience while navigating through your adventure. You'll be guided to some of the most stunning spots on the island through small tracks, where you'll encounter the friendly locals. There will be a practice session prior to the adventure, when you can familiarise navigation by trying out your preferred vehicle on a training circuit. And after driving some test tracks on the practice route, you will be able to operate it yourself and start your 2 hour, adventurous sightseeing tour.
Bali Quad Discovery Tours
Jalan Wirasatya VI No. 4X, Denpasar
+62 361 720 766
www.baliquad.com
TUBING THE CANYON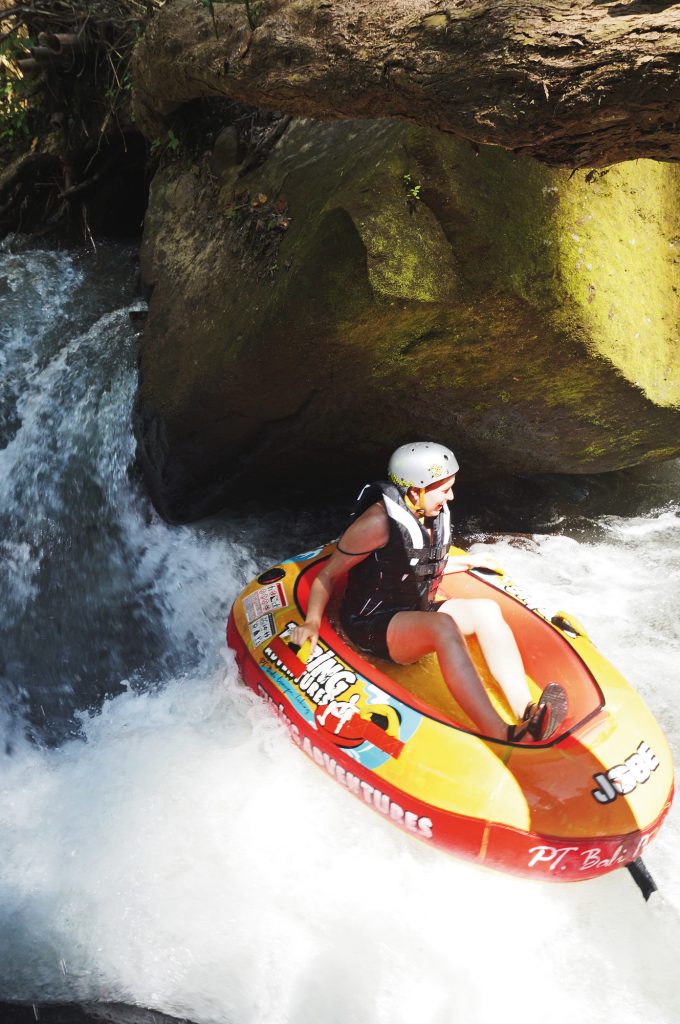 Let's go for some canyon tubing! Navigating rushing waters with breathtaking views of towering river gorges provides an experience you can't find on the island's south. Your journey will take place at a village near Ubud, and it begins when you go deep into an off beaten path, down the slopes of the canyon, and passing gorgeous views, going down man-made steps cut into the terrain and suspension bridges overlooking beautiful cliffs with cascading waterfalls and a running stream below. You will experience this tremendous adventure by floating down the canyon, and have the chance to discover different species of plants and animals along the way. There are, however, several spots where the stream makes it a bit challenging for you to stay in your tube, so you must use the wooden footpaths to safely pass the obstacles. Professional instructors and guides will always be around to assist you with your needs, so there's no reason for you to miss this remarkable adventure.
Bali Canyon Tubing
Jalan Wirasatya VI No. 4X, Denpasar
+62 361 720 766
www.baliquad.com
EXPLORING NIGHT SAFARI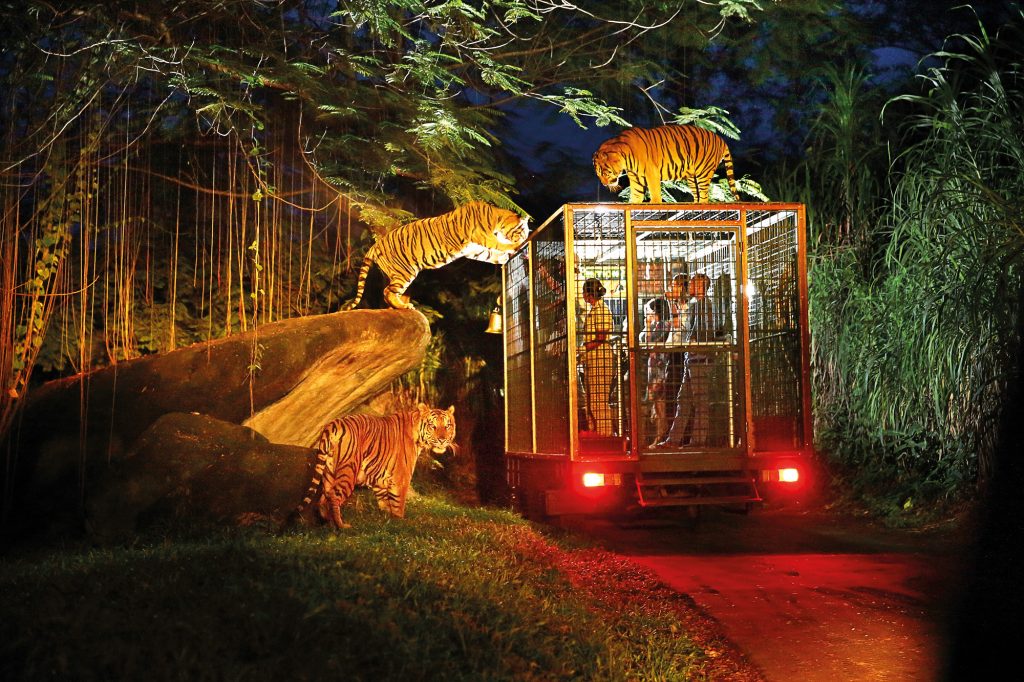 Bali Safari & Marine Park, home to more than 60 different species of animals, is where you can hop on a customised vehicle and have a journey through the wildlife at night. The Night Safari has become one of the signature activities at the park, where you can hear insider tales about the nocturnal animals and learn facts you probably never knew. Plus, get all your questions about the park, its residents and wildlife conservation answered personally by your knowledgeable and experienced guide. Of course, the main attractions are the preying predators such as the tigers and lions, who will definitely set their eyes on you as you enter their dwellings. The tigers are a highlight, as they circle, jump on top of and peer down into your vehicle, as if you are their prey! A feeding session adds to the fun of the exploration, when you will be given food to feed the animals from the tram. Your safari ends at the park's Nkuchiro Bar, where you get to watch a fire dance, drumming, and puppet show named Afrika while enjoying a delicious barbecue!
Bali Safari & Marine Park
Jalan By Pass Prof. Dr. Ida Bagus Mantra
Km 19.8, Gianyar
+62 361 950 000
www.balisafarimarinepark.com
HORSE RIDING THE COAST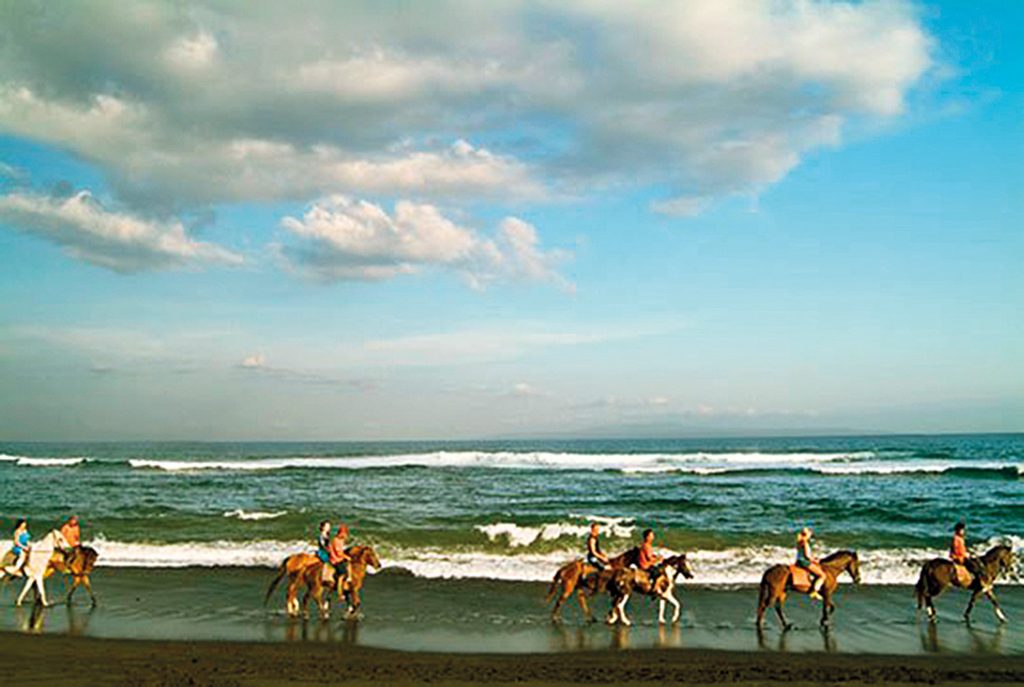 A 1.5-hour horseback ride on the island's coast with a sea breeze blowing in your hair is something that needs to be on your Bali must-do list. With stables set in the coastal side of Saba near Tanah Lot, Eco Bali Tours takes you to the beautiful black sandy beach of the area on horseback, with strolls for as long as 10 kilometres. But before that, arriving at Saba Bay Stable, you will receive a full safety briefing from professional and experienced guides before embarking on this memorable horse riding adventure. The trail has been set out on the beautiful black sandy beach with the sound of thundering waves crashing nearby, overlooking Bali's Nusa Penida island. Your journey will also take you to the unique Segara Wilis Temple at a seaside village, and pass through bamboo and alang-alang plantations.
Eco Bali Tours
Jalan Raya Ketewel No. 54, Gianyar
+6285 1006 88 730
www.ecobalitours.com
SWINGING BEDUGUL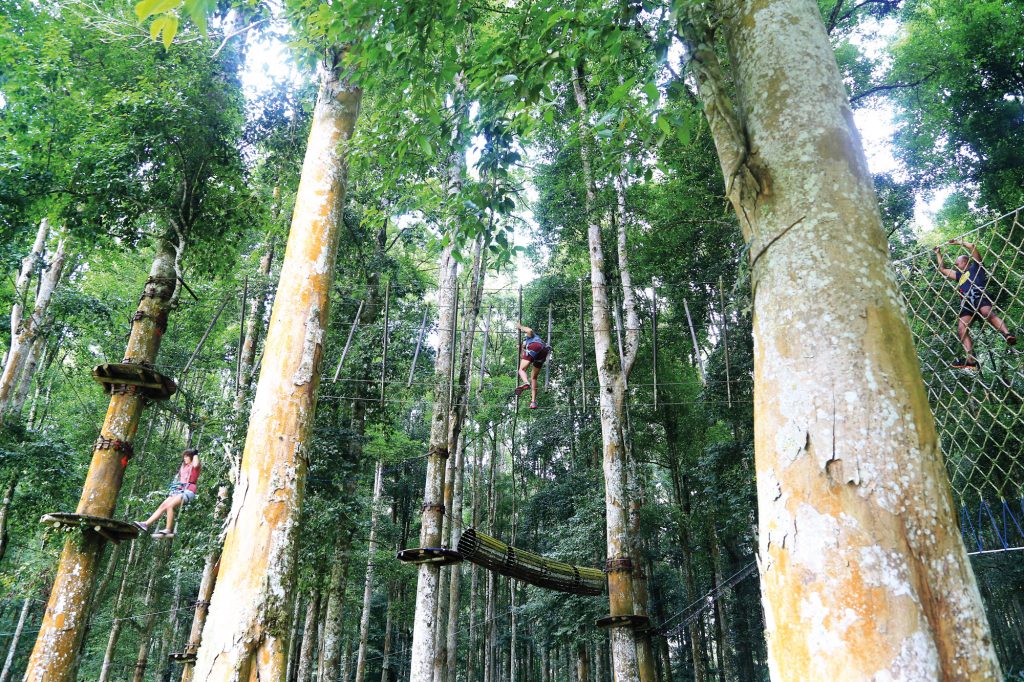 Kids just love role-playing. And what is a better role to play than Tarzan? Bali Treetop Adventure Park allows children and parents to swing like the king of the jungle. With different circuits, you and your family can find the right challenge for your level and age. Suitable for those aged 4 to 60 with a maximum weight of 120kg, the challenges offered at the park are set amongst towering trees amidst the cool breeze of Bedugul. But don't worry, throughout the course you will remain attached to a life-line support. Patrol guides will also be situated along the circuits, ready to advise from below and assist as needed. There are seven levels of circuit with 72 challenges; Squirrel Yellow circuits (for kids aged 4 to 6, 95cm minimum), Green circuits (over 8 years old, 120cm minimum), Red circuits (over 10 years old, 130cm minimum), and Black circuits (over 12 years old, 140cm minimum). As long you respect the minimum height requirements for each circuit, you are free to try as many circuits as you please in two and a half hours.
Bali Treetop Adventure Park at Kebun Raya Eka Karya Bali
Baturiti, Bedugul
+62 361 852 0680
www.balitreetop.com
BIRD WATCHING PETULU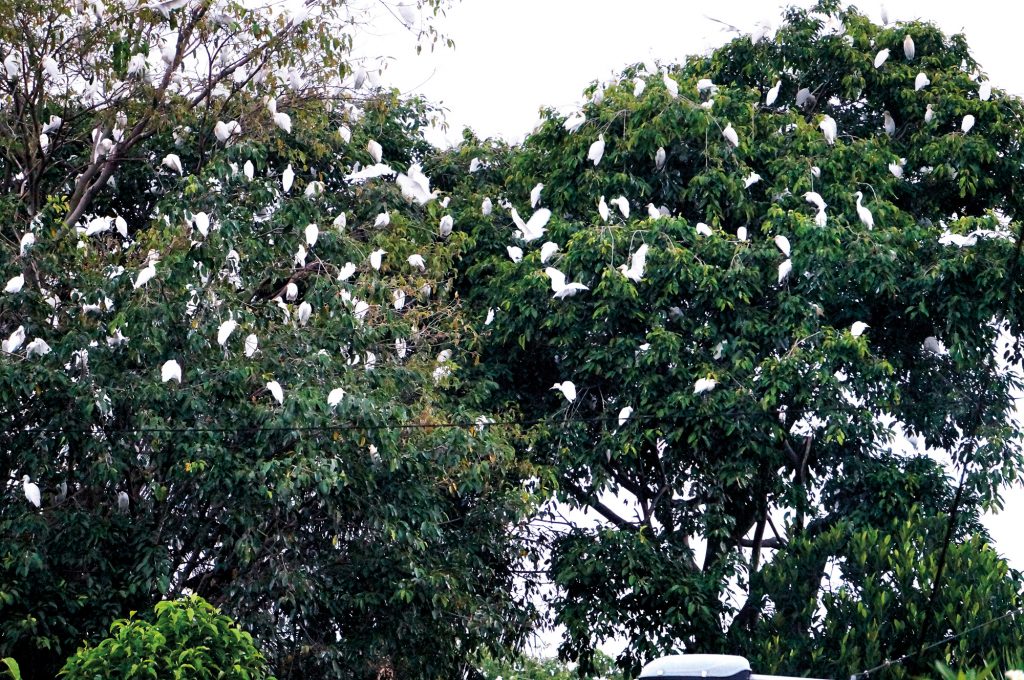 Being a part of Ubud district, Petulu is a village famed for its artists, dancers and carvers. And what not many know is that the village is also home to hundreds, if not thousands, of white herons. There is a belief that these herons are the reincarnation of thousands of Balinese who were slaughtered in a massacre during the Indonesian Communist Party regime in the 60s, when an anti-communist witch hunt swept over the nation. According to the villagers, these 'souls of the slaughtered' appeared in the village exactly one week after an attempted communist coup led to failure in 30 September 1965. No herons had been seen in the village before then. Surely, Petulu will leave an unforgettable afternoon for everyone visiting the area; especially when flows of the herons are flocking the village to roost there. Standing on the rim of the rice fields with your head looking up straight observing the sky provides a magical vision – the blue sky above turns crimson with little white dots of the herons from a distant that will gradually grow bigger as they are approaching and flying low before finally hopping onto their nests.
TREKKING TARO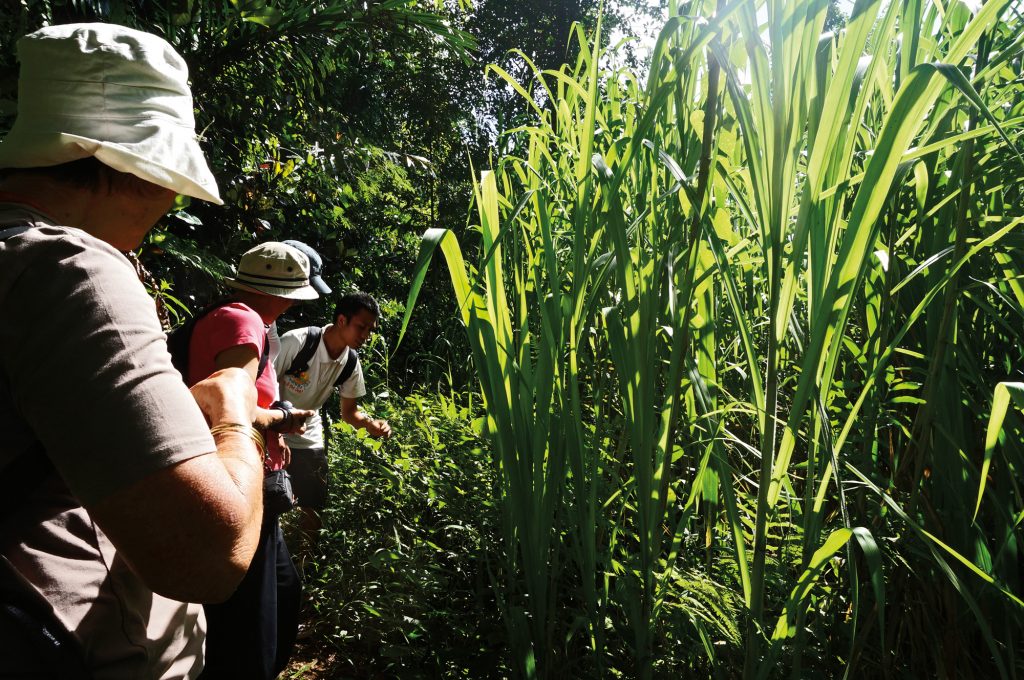 Taro village in Ubud is characterised by its terraced rice fields, dense forests, and dramatic, rolling landscapes. One way to explore the area properly is by going on a guided trek organised by Bali Adventure Tours through the hills of Boenjaka in the village. This will give you a chance to wander through a bamboo forest and see the timeless routine of planting and harvesting rice from the endless stretches of emerald green rice fields that unfold before you. Your trek guides will introduce the flora and fauna you pass throughout the tour, including king and queen palm trees, ferns, wild orchids, hanging liana and a variety of birds such as the Java Kingfisher, and Black Bali Starling. You will also be taken to a traditional Balinese family compound on the hill, and see firsthand how the locals do their daily routines. En route agricultural plantations of coffee, coconut, and palm can be seen, and tropical fruits such as the snake skin fruit (salak), durian, jackfruit, papaya, oranges, mandarin, mangoes, and mangosteen. In addition, you can sample spices such as cinnamon, ginger, and turmeric direct from their natural source.
Bali Adventure Tours
+62 361 721 480
www.baliadventuretours.com