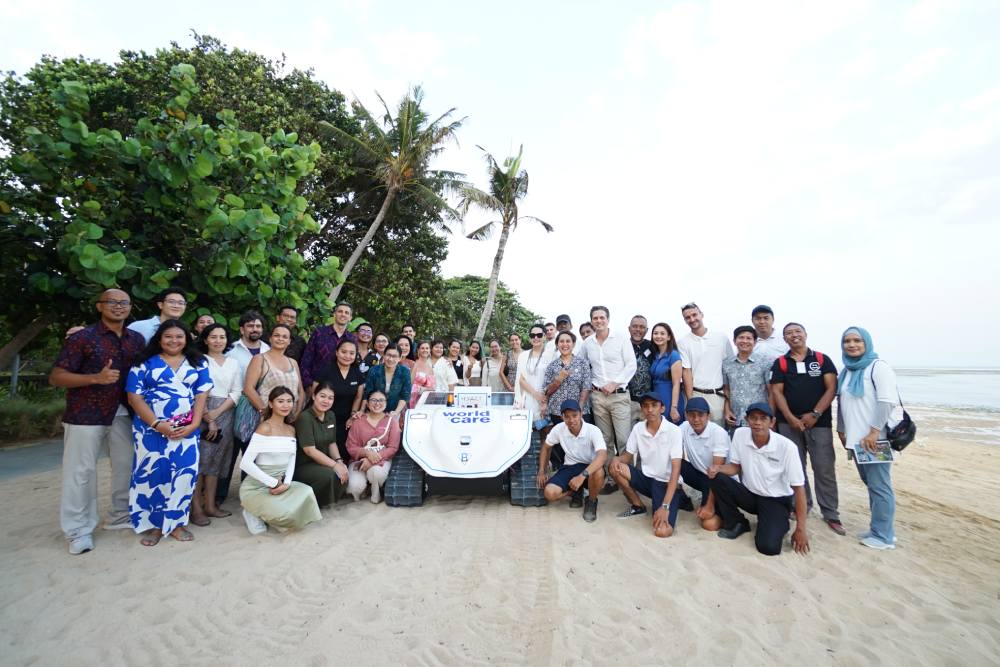 In a groundbreaking move towards environmental sustainability, Hyatt Regency Bali and Andaz Bali have proudly unveiled their latest innovation – The Hyatt Bebot, a cutting-edge beach cleaning robot developed by the forward-thinking company, The SearialCleaners by Poralu Marine. This announcement not only signifies a major leap in the resorts' ongoing commitment to sustainability but also marks a significant milestone for Bali and Indonesia as the inaugural locations to deploy this revolutionary Beach Cleaning Robot.
The Hyatt Bebot, an electrically powered, remotely operated robot, is set to redefine eco-friendly beach cleaning practices. Its primary focus is on efficiently removing plastics and debris from the beach while meticulously safeguarding the local flora and fauna. This move underscores the resorts' dedication to environmental stewardship, making them pioneers in adopting innovative solutions to address the challenges posed by marine pollution.
Officially unveiled on Tuesday, 31 October 2023, the Hyatt Bebot promises to leave behind cleaner shores without disrupting the delicate beach ecosystem.
What makes Hyatt Bebot remarkable is its precision in operation, ensuring a thorough cleaning process while emitting zero emissions due to its 100% electric design. The robot's mechanism cleans up to 10cm beneath the surface of the sand, picking up any buried litter that manual cleaning efforts would not be able to clear away, allowing for a much deeper clean.
Also, the robot was designed specifically for the Sanur shores, with tracks that expand its contact surface area, minimising the robot's weight. This ensures no damage is done to the fragile eggs of sea turtles who still use lay on this coastline.

The robot will be used along the Sanur coastline in front of Hyatt Regency Bali and Andaz Bali as well as at Grand Hyatt Bali, Nusa Dua.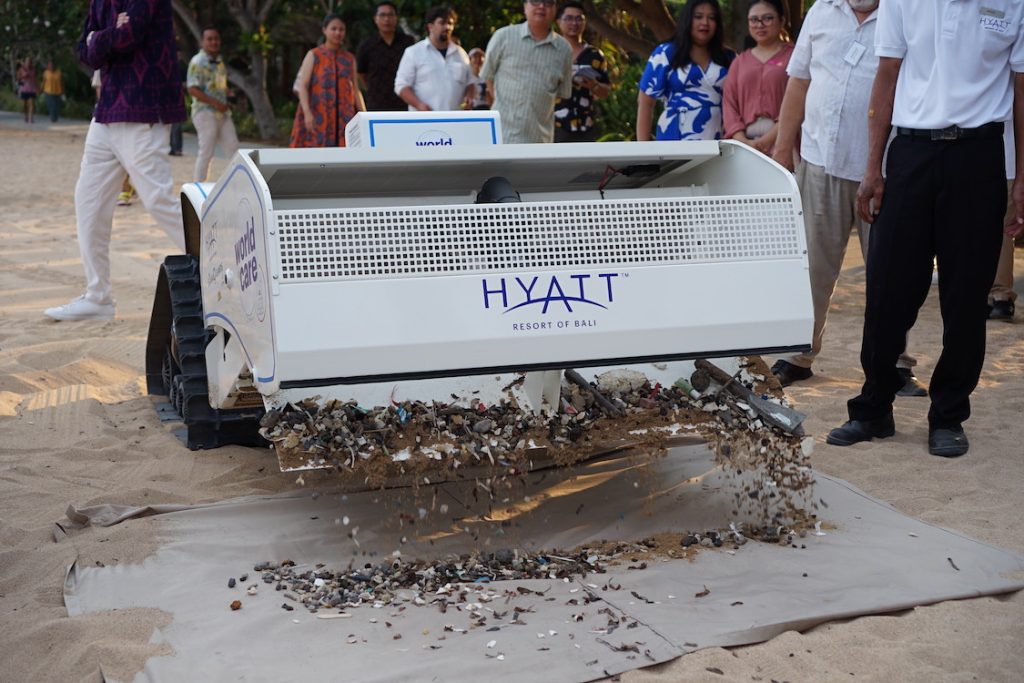 Hyatt Bebot is poised to contribute significantly to a greener future, harnessing the power of technology to efficiently clean beaches and preserve their natural beauty. Guests can anticipate a cleaner, more sustainable coastal experience, reinforcing the resorts' dedication to both hotel and environmental stewardship.
The deployment of this technology reflects a broader dedication to a cleaner and more sustainable Bali. Together, the resorts are paving the way towards a brighter future, one beach at a time, with the introduction of the Hyatt Bebot – an eco-warrior committed to leaving Bali's beaches pristine and protected for generations to come.