The weather in Ubud was cool, with a soft breeze flowing through the town, it was perfect weather for a night in the enchanting Ubud Palace. I sat quietly in the courtyard, surrounded by a dozen or so people; all of us longing for the next performance – we had already watched two stunning fable dances. Next was a dance titled LencanaAgung. I was excited as it was one I had never heard of before.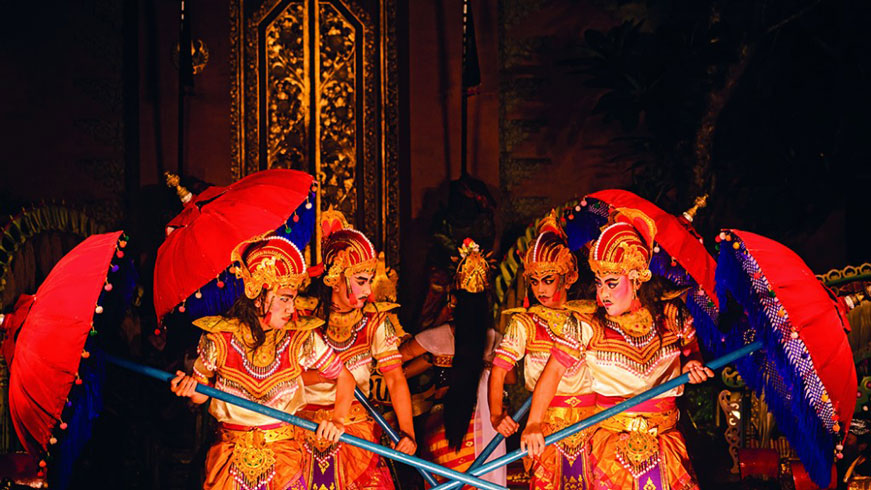 The distinct sounds of the gamelan orchestra began to fill the air; the tuneful rhythms a sign that the dance was about to begin. A group of male and female dancers walked towards the stage, emerging out of a gateway rich with Balinese style carvings. Each man held a bright-red, wooden umbrella, and they walked with firm steps to emphasise masculinity and strength. Whilst the ladies strolled and swayed down the stairs, depicting female grace and elegance. They were all dressed in traditional Balinese attire, with authentic fabric and accessories, but influences of modern fashion could be seen too.
The LencanaAgung dance depicts the everyday life in the village of Ubud, portraying it as a hub for culture and tradition. With the use of the Balinese 'Ulu Chandra' symbol, which represents harmony, life in Ubud was shown to have an artistic charm, and peaceful 'soul'. The routines are basically modifications of classic Balinese dance routines, but, as with many newer choreographies, improvisations are added to fit the theme. The result of which was a dance with energy motion and a seamless flow, it was certainly enough to stun the audience from beginning to end.
The whole performance was truly remarkable; the dancers and the musicians were in perfect harmony. The gold accessories worn by the dancers gleamed under the stage lighting, adding to the magical aura of the palace. The routines were completed with a gentle flow, like the rivers surrounding Ubud. Man and woman, strength and elegance, coming together to create a wonderful Balinese show.