The location of Hotel Tugu Lombok is undeniably magical, on the pristine white sand beach of Sire, facing the open ocean, providing crystal clear waters and breathtaking views of Mount Rinjani. It was built as a testament of the harmony of pluralism in Lombok in the past, based on the ancient manuscript of Negara Kertagama, which was found in Lombok in 1894.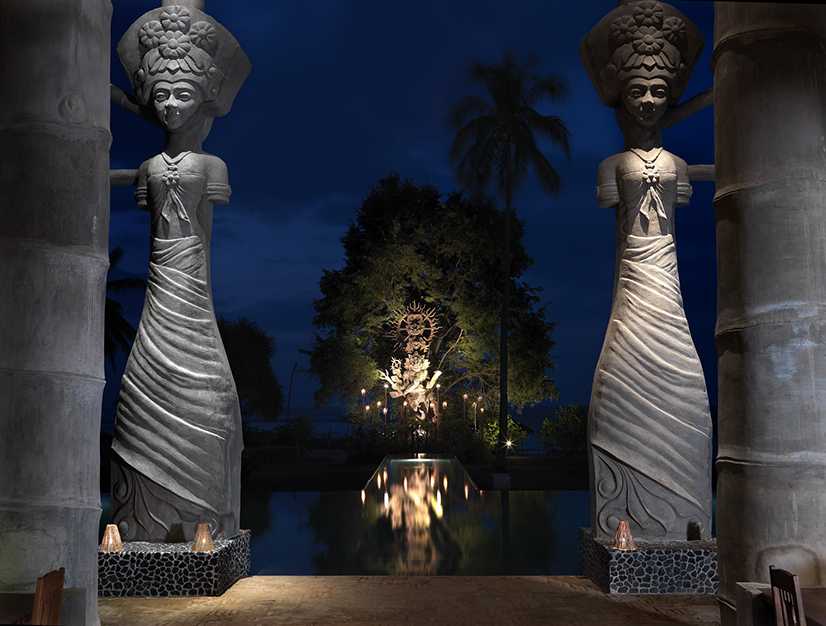 The island today is a home to Sasak people who were believed to have migrated from Java around three thousand years ago. The island soon became a melting pot, composed of Sasak origins, Balinese, Javanese, Chinese Indonesian, and others.
Tugu Lombok is built upon the passion and long-life affair of bringing back to life the ancient Hindu times in Lombok. Stepping into the hotel premises means leaving reality behind and surrounding yourself with chapter by chapter of the romantic epic of the Mahabharata.
Unlike any other hotel in Lombok, Tugu is beyond a place to stay, it is a destination, where time stops and moments are created. Nothing is standard in Hotel Tugu Lombok, and nothing is like anywhere else on the island or in the world. Spectacularly designed and beautifully grand, with colourful traces of Dutch colonialism, Hotel Tugu Lombok features ancient statues of Hindu gods scattered among the sun loungers, and the sea is clear enough to see blue fish swimming past your knees.
Be prepared to be woken by birdsong and pad into the outside bathroom with huge river-rock boulders and oversized rain shower – redefining shower in the nature – at the Bhagavad Gita, suites of the "Song of Heaven".
Hotel Tugu Lombok
Sire Beach, Sigar Penjaling village, Lombok
Phone: 0370 612 04444