Feeling adventurous? Here's a restaurant that has gone a step beyond the usual by using unique themed décor to offer diners a one of kind dining experience.
Nothing is exaggerated at Safari Chic; this means no flame torches or animals climbing on trees. But the stylish animal printed furniture and walls that are lined with murals of African savannah complete with vibrant colors, animal statues and tribal artefacts are enough to make dining at this restaurant an adventurous affair!
The restaurant's décor is ethnic, and the offerings listed on the menu treat your taste buds to exotic spices and herbs, with a diverse selection of vegetarian, meat, and seafood options. So, if you feel like sinking your teeth into some of Bali's best carne-centric dishes, or simply want to taste the scrumptious non-meat creations, the attentive staff, dressed in safari attire, will recommend you a satisfying option.
Anyway, the Safari Chic's meat dishes such as the Braised Rabbit Casserole will easily impress any carnivore on the island. The rabbit, cooked with white wine and served with lardons, sautéed potatoes and grilled vegetables, is a favourite at the restaurant. Of course, the restaurant's Wagyu Beef Burger doesn't disappoint either.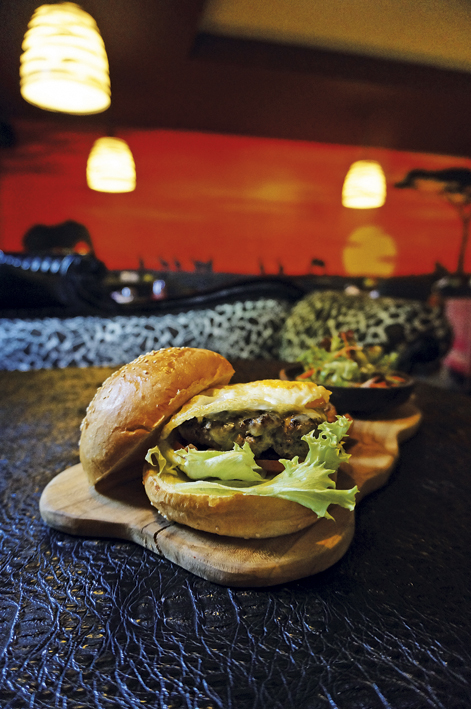 But before you get to the rabbit, you might want to pick something from what the restaurant calls "Before the Safari Begins" such as the Potato Croquettes and Baked Clams (with Parma ham and parmesan). Under the "Trip in the Green Savannah" you will find, among others, Vegan Salad (cold ratatouille, baby potato, mushroom, mesclun, with olive oil and herb dressing), King Prawn Salad, and the spicy Thai Beef Salad.
JalanOberoi No.86, Seminyak| Phone: 474 1023