In a place where restaurants open with the regularity of rain showers, Ubud's newest restaurant is called Hujan Locale, 'hujan' meaning rain in Indonesian– an evocative name that evokes images of rich, rain-washed pastures and growing rice. This latest addition to the creations of super chef Will Meyrick of Sarong and Mamasan fame is placing him firmly on Ubud's great food map.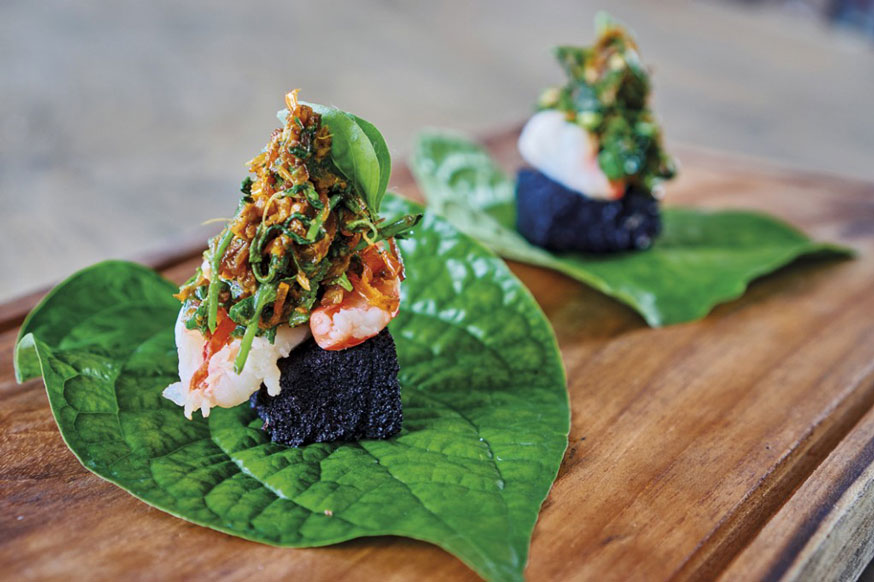 The cuisine reflects Wills increasingly involved forays into all things Asian. He is often seen traipsing through back streets of some remote village in Java talking with an old granny, or visiting a local market to see what new things he can discover.
Hence, while the menu has Asian inspired offerings it is by no means Asian
. While you may find an excellent Pad Thai on the lunch menu or a South Indian Seafood curry written up for dinner, many of the dishes are Asian inspired rather than faithfully followed.
You will find things like the Wood Roasted Bone Marrow with parsley, lemon, garlic, capers and breadcrumbs with gentlemen's relish and a brioche. It just sounds too intriguing to pass up. It all comes served on a wooden platter, with a cute little jar of relish and the big marrowbone, whose content has been transformed in to a tasty treat, beyond what you could imagine.
It is really exciting to eat in a restaurant where the chef takes his food seriously, and Ubud is starting to get a few serious chefs.
The menu seems to be under constant change, as it no doubt settles into favourites and new additions. The bone marrow is sure to remain on the menu along with the surprisingly popular Chili and Fennel Crispy Pig's Ear served with roasted chilli and a garlic aoli. Almost every table seems to have a cute wooden platter of this delicacy delivered by the present and prescient smiling waiting staff.
There are more dishes, too many to mention, but some of the other must-trys would have to include the very authentic Lao inspired Chicken Larb which is so authenic you could be sitting on the banks of the Mekong in one of those cute little local eateries. The lunch menu offers Vietnamese spring rolls complete with a serve of the fresh greens that accompany every dish in that gorgeous country. I swear for a moment I was back in Vietnam! Light and flavourful, it makes for a great starter or a little lunch for the weight conscious.
One night my friend tried the Braised Beef Cheek served with a gorgeous jus and creamy green pea wasabi risotto and green pea shoots. While she exclaimed, " there are twice as any cheeks here as you would get in a similar dish in Europe" I was privately thinking a side of wasabi mashed potato would serve as a pleasing accompaniment to the rich meat.
One dish I am dying to try on a particularly hungry night, is the "Tengkleng" Jogya style lamb shank curry with potatoes, tomatoes, cloves, cinnamon, turmeric, and crispy shallot or the Hujan's spice rubbed, seared rib eye steak, with wood roasted garlic, confit tomato, and a mint gribiche. Hmm an accompaniment of mashed potato would look good here as well! Of course you can always order the French Style mashed potatoes as an extra!
Hujan's ethos is to source food locally as much as possible. More concerned farmers and produce growers are coming up with ethically produced chickens, pigs and a "found and foraged" philosophy. Embracing the ethos of the Slow Food Movement, guests will find that many of the dishes are slow cooked – the way to tenderize as well as to allow flavours to merge and soften.
As for desserts, well if anyone can pass by the Bread and butter pudding – an individual portion served with Tia Maria ice cream – they will be missing a treat.
The wine selection, special clever cocktails as well as the popular classics, makes Hujan close to perfect. Try it before the prices escalate.

Hujan Locale
A : Jl. Sri Wedari No.5, Ubud, Gianyar, Kabupaten Gianyar, Bali
T : 0361 894 3092
W : www.hujanlocale.com