The Chaine des Rotisseurs is the oldest and largest food and wine appreciation society in the world. Their events bring chefs, connoisseurs and devotees of the culinary worldtogether under one roof, to enjoy not only the rich flavours of a fine wine and a fabulously prepared dish, but also the company of their fellow members. On January 31st, 2015, 100 dignitaries of the Chaine's Bali Bailliage gathered in The Sofitel Bali, Nusa Dua for a very special induction event and lavish eight-course gala dinner.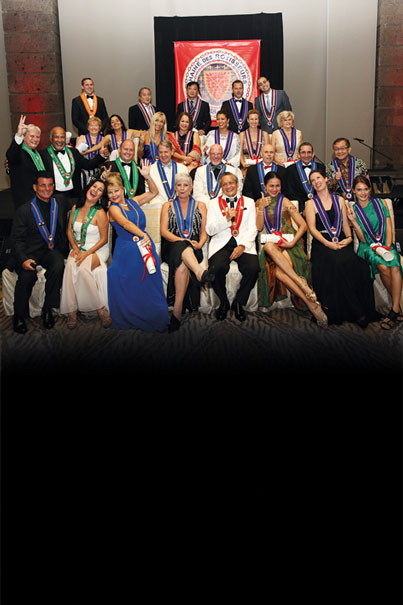 The grand event began with the men, sharply dressed in black-tie, and women in gorgeous evening dresses converging in the welcome foyer. Here, they sipped on Kir Royals and savoured the circulating canapés, before entering Sofitel's opulent Gamelan Ballroom.
Guests took their places, sitting before rows of various wine glasses and cutlery, a teaser for the extensive dinner to come. But, before any indulgence, all were formally welcomed by FirdausSiddik, the BailliDelegueetMembre de Magistral. He then continued with the induction of 18 new members to the Bali Bailliage, along with the promotion of 7 existing members. Following tradition, with sword in hand and the Chaine de Rotisseurs emblem in the background, all swore an oath of their membership to this premier culinary group. Recognition was also made to Michael Burchett, whose 10 plus years of service awarded him with the MedailleD'Argent.
When formalities ended, with impeccable timing, an army of immaculately dressed waiting staff poured into the ballroom presenting the first dish of the evening. This signalled the long-anticipated beginning to an eight course gastronomic journey into the creations of Sofitel's Executive Chef, Daine Gilbert, and his passionate team.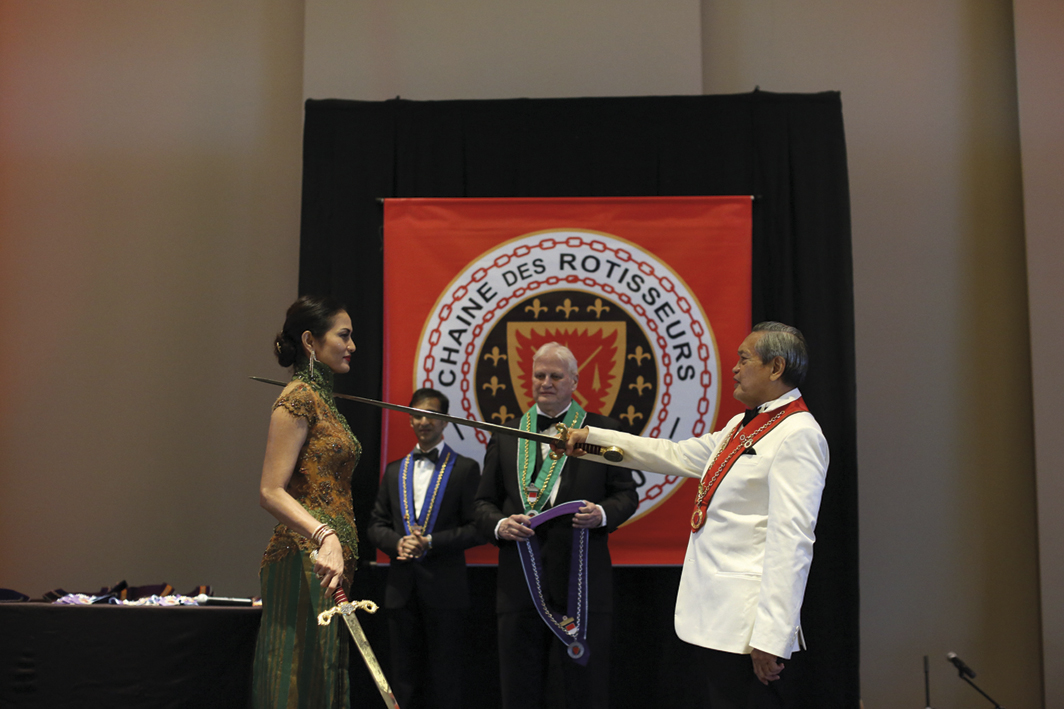 Each delicately prepared course was paired with a fabulous wine. Some highlights include the Coquille; sautéed scallops embellished with a bed of shaved crisp smoked potato, swimming in rich green pea veloute. Coupled with a Henry Bourgeois, Sancerre Les Baronnes Loire Valley 2012, the combination left a taste in your mouth you wish would never leave. Another was the Boeuf dish; a rich cut of tenderloin, accompanied by an adorable ensemble of petite vegetables, all adorned with a line of mushroom puree, set upon a perfectly manicured stone slate. A divine 2009 Chateau Cissac, Haute Medoc, made a fitting partner to the indulgent dish. Naturally, the evening closed with a selection of cheeses and a dark chocolate dessert, moving the drinks onto the sweeter dessert wines, ending with the divine Cockburns Fine Twany Port of the Douro Valley.
The Chaine des Rotisseurs is the epitome of 'dinner party', with an added layer of elegance and tastefulness with their choice of food and drink. In 2015, the Bali Chaine aims to sample the island's best kitchens and wine cellars. To find out more about the Chaine visit their website at www.chainedesrotisseurs.com.