After finishing a photo shoot on the outskirts of Ubud one afternoon, I decided to pay a visit to the heart of the town. It was dark when I arrived and I was lacking in ideas for what to do apart from dinner when a boy approached me selling tickets to dance performances. Out of several options he offered me, the ones which interested me were the performances at Pura Dalem Ubud, the village temple near Campuhan Bridge.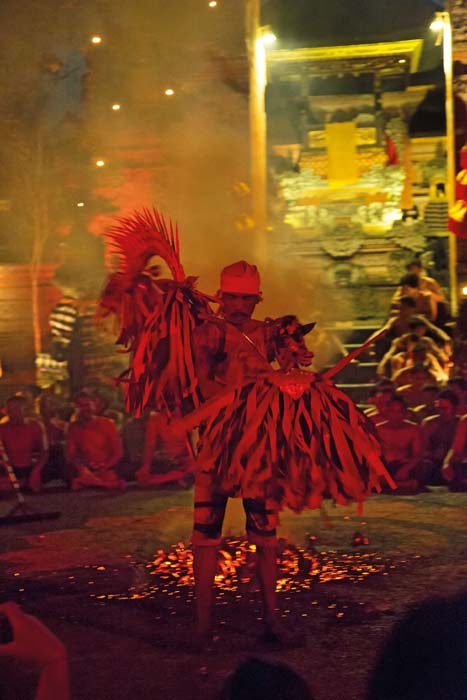 The entrance to the temple was decorated with bamboo torches and candles. The flickering light illuminated the trees on the sides of the staircase to the middle of the compound where the performance was about to take place.
An old lady stood by the staircase selling beers – it seemed slightly odd to see alcohol being sold at a temple. I passed her and went straight to the open theatre. As I relished in my front row seat, I couldn't stop admiring the full moon onto which the silhouettes of a shrine and an old banyan tree were cast.
The first performance, a Kecak dance, began at 7:30pm. A bare chested men's choir wearing black and white sarongs appeared on stage after a priest had first made an offering in the centre of the stage.
"Cak..cak..cak" echoed in the area. A traditional Kecak dance involves many dancers, in fact, it may be the Balinese dance which has most dancers on stage at the same time. The choir consists of 50 or more male dancers who perform very few routines. The main dancers – who play a significant role and conduct numerous dance routines – are made up of about 10 to 15 dancers.
The dance narrates the story of Asia's most famous epic, the Ramayana. The epic is originally from India but has spread to every corner of Asia especially South East Asia through the same channel as the Hindu and Buddhist teachings.
In Bali, the Ramayana story has become part of cultural life and religious and moral teachings since the Hindu teachings came to the island around 100 BC.
The second and last performance was Sanghyang Jaran, a trance dance featuring a male trance dancer, a hobby horse, and a choir of 20 singers or more. Before the performance began, two men came on stage to light a bonfire.
Then the choir entered the stage and sat on the ground chanting a ballad in Balinese.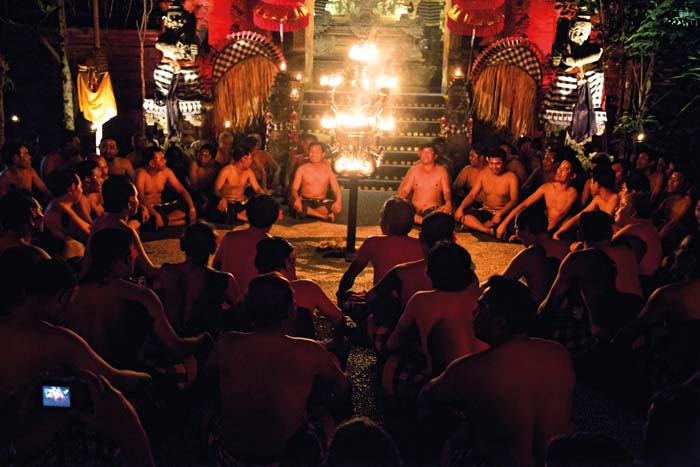 Amidst the quiet atmosphere and transcendental chant (which is believed to call down spirits from heaven), a man riding a hobby horse made from coconut leaf midrib rode onto the stage. Barefoot and with his eyes closed, the man ran into the fire and danced wildly amongst the flaming hot embers. It is believed that the man is possessed by the spirit of God's saddle horse that has come down from heaven – a spectacle indeed!
Photos by Kartika D. Suardana