From the village that birthed the double ikat woven cloth to teakwood craftsmanship made with soul, delve into the many sides of Bali that mark the island as a top destination for bespoke arts, crafts and artisanal discoveries.
Ikat Bali
In a quaint desa (village) on the southeast coast of Bali lies a piece of history in the form of rare, ethnic textiles, housed under thatched roofs. Desa Tenganan in Karangasem, legend has it, birthed the double ikat traditional woven cloth. Whilst the village natives tell us that the origin itself is blurred over the centuries, Tenganan Pengringsingan is on the map as the only place in Indonesia where this particular double ikat is made; they are also known to be fine makers of baskets and calendars written on palm lontar leaves. Double ikat weaving is a long, elaborate process that could take up to a year to finish, sometimes involving five or six weavers. It is rare because of the intensive skilled labour required to produce them. Unlike single ikat in which only the weft or the warp is dyed, double ikat is a technique in which both the warp and weft yarns are tied and dyed before being woven into a single textile.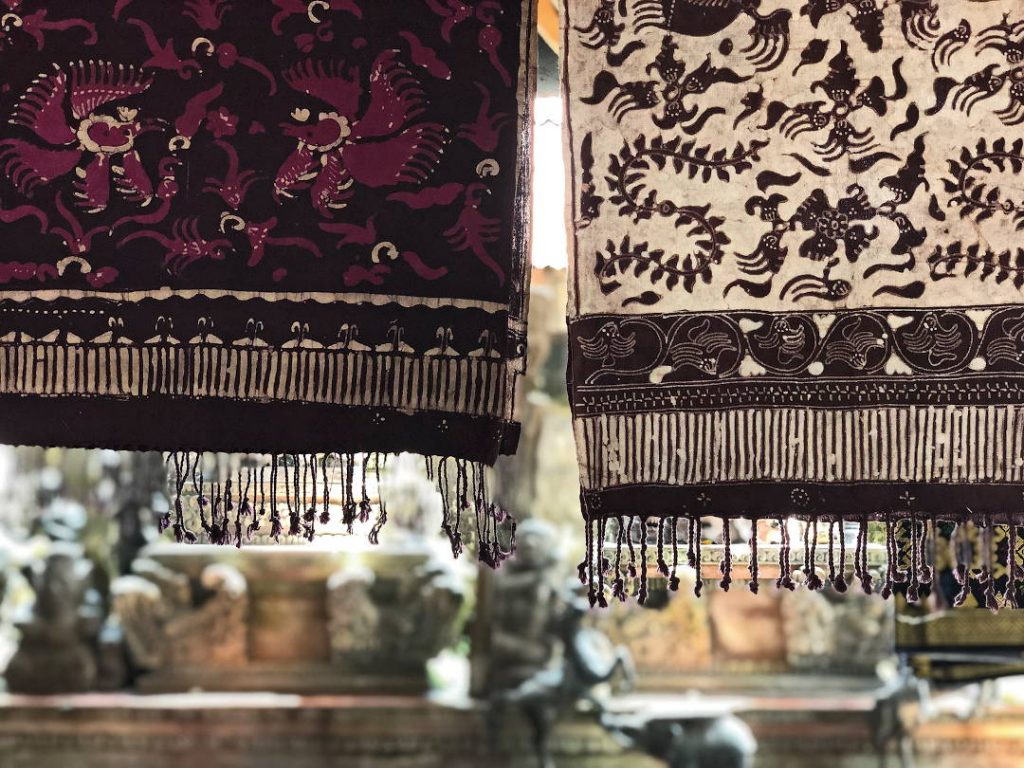 The weaving takes places within the houses of Tenganan residents, which you can visit during the day, have a stroll around, and take home one-of-a-kind masterpieces. The collection ranges from new to vintage, with prices varying from IDR 200,000 to IDR 3,000,000 or more. The double ikat process is 100% handmade using all natural ingredients from the fabric to the dye! The cloth is made from Balinese cotton flower, known to be more durable and elastic than those used for cosmetic cotton pads. Prior to spinning, the cotton is picked and cleared out of any impurities such as seeds. To colour in the fabrics, the weavers would concoct a variety of home-made plant dyes extracted from leaves and flowers they encounter in nature. When these plants are pressed with rainwater, they reveal a colour. Minyak buah kemiri (candlenut) for yellow dye, daun tarum releases a deep indigo hue, luwak coffee gives out a pink tint, and so on. Other than Tenganan, the only ones in the world that practice the double ikat are the people of Okinawa, Japan, and the villages in Telangana, India.
Whilst driving east to Tenganan village is a precious experience in itself, you can find high quality traditional ikat Bali textiles in south Bali. IKAT BATIK is a shop in Monkey Forest, Ubud offering Ikat and contemporary Batik line of hand-spun, hand dyed, all natural batik from the island.
Ikat Batik
Jalan Monkey Forest, Ubud
+62 361 975622
www.ikatbatik.com
Arts & Crafts
Set on an 8-hectare stretch, Bali Collection is a one-stop shopping experience within walking distance to Bali's star-studded resorts in Nusa Dua. The shopping, dining, and entertainment complex can be found within the Indonesia Tourism Development Corporation (ITDC), boasting an open-layout concept. It houses prominent brands, from the likes of Nike, Levi's, The North Face; a variety of dining and spa experiences; to a plethora of exotic art boutiques and souvenir shops, such as Padi Art Market, Wikowi Art & Craft, and Bali Bagus. It's a mecca for authentic island-made handicrafts from numerous styles of rattan bags and sandals, batik fashion, traditional jewellery, wooden homewares and figurines, shadow puppets, to natural skincare products and more. With a million to choose from, you're bound to leave with a basket full of Bali gems.
Bali Collection
Komplek ITDC Nusa Dua, Benoa
+62 361 771662
www.bali-collection.com
---
If you're one to seek more authentic experiences, visiting Bali's many 'Pasar Seni' or art markets is a perfect alternative to the conventional shopping centres. Generally set in sprawling semi-outdoor complexes, the stalls are in profusion; all lined up adjacently and plastered with kitschy souvenirs, clothing, and mementos to take home. The top ones are always buzzing, such as Ubud Art Market, Sukawati Art Market, and Kumbasari Art Market in Denpasar which are teeming with tourists and locals doing their daily shop. You'll discover a treasure trove of artwork, handicraft, unique knick-knacks, intricate Balinese carvings, and clothing items created by talented local craftsmen at bargain prices; as well as food, items for offerings, and more. Visiting Bali's Pasar Seni gives you a glimpse into the island's dynamic world of artistry – and the daily hustle and bustle of local life.
Ubud Art Market
Jalan Raya Ubud, Ubud
Sukawati Art Market
Jalan Raya Sukawati, Gianyar
Kumbasari Art Market
Jalan Gajah Mada, Denpasar
---
Art is Bali's second nature; running in the veins of the Balinese. It comes as no surprise that the tropical paradise is home to many talented minds and hands. Art markets, too, offer authentic yet affordable artwork of great variety, but the island is abundant with notable art galleries offering exceptional works unique to each gallery. Ubud is an art-hunter magnet – even different parts of greater Ubud boast a character or genre of their own, such as Keliki and its style of amazingly intricate sketching and colouring. There's plenty of art waiting to be discovered, from fine to contemporary collections.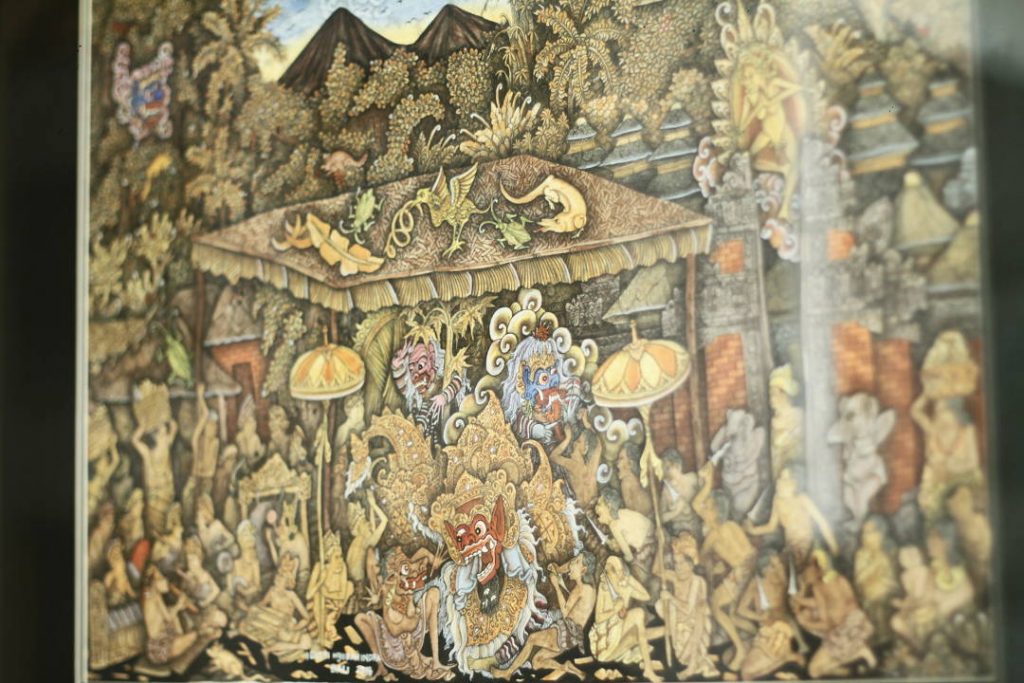 The history of this Ubud gallery dates back to the 1970s, making it one of the oldest galleries on the island. I Nyoman Purpa, the man behind Purpa Art Gallery, was one of the most eminent curators and collectors in Indonesia with tremendous fine art expertise. Purpa Fine Art Gallery exhibits the work of legendary artists from Indonesia and international artists who resided or have spent some time on the island, such as Walter Spies, Antonio Blanco, I Gusti Nyoman Lempad, Miguel Covarrubias, Krijono, Bramasto and many others. They have branched out to Seminyak, where art lovers can find more contemporary pieces and the likes of mix media, fun portrayals, and striking colours – away from Ubud's traditional character.
Ubud is peppered with marvellous art galleries sitting on main roads and back streets, that are also valued for its rich cultural history. Take the time to stroll around the area, perhaps in Peliatan, Keliki, or Kedewatan. Some honourable galleries worth visiting include: Agung Rai Museum of Art, Komaneka Art Gallery, Museum Rudana, Museum Puri Lukisan, Blanco Renaissance Museum.
Purpa Art Gallery Ubud
Jalan Wenara Wana, Ubud
+62 361 975 234
Purpa Art Gallery Seminyak
Jalan Mertanadi No. 22B, Kerobokan
+62 819 9940 8804
www.purpagallerybali.com
The hauntingly beautiful Balinese masks and puppets have even spookier backstories yet hold sacred ritualistic meanings. The act and art of masks are omnipresent in Bali, rooted from the culture's animism and dynamism, as they believe the gods are present in all things. Traditionally, the mask is treated as a medium for ancestral spirits to reside or visit the physical world, representing energies in a physical form, therefore used in processions in temple rituals and ceremonies alike. In a social or entertainment context, the masks represent characters in a story to showcase Bali's culturally-rich past; namely, Barong and Rangda, two mythical characters from the Calonarang legend that depicts the forces of good and evil. Today, you can find masks that are crafted for decorative purposes – for you to take home.
Celebrating cultures and traditions, by housing over 1,300 masks and 5,700 puppets from Indonesia and the world, Setia Darma House of Masks and Puppets is a unique attraction located in a quaint village in Sukawati. Setia Darma preserves some of the world's most colourful pieces of art with each house displaying different collections of masks and puppets, from the contemporary to the ancient and sacred. If you're curious to learn about the detailed history of each mask and the characters they represent in the culture's great Hindu tales, the museum will deliver just that. Have a gander in the art shop to take home a collection of decorative masks!
The village of Mas, south of Ubud town and also near to the House of Masks and Puppets, is actually the village of mask carvers. Driving through you'll find many studios and workshops that you can step into.
Setia Darma House of Masks and Puppets
Jalan Tegal Bingin, Banjar Tengkulak Tengah, Kemenuh, Sukawati
+62 361 898 7493
www.maskandpuppets.com
Homewares
A mecca for interior aficionados, Bungalow Living has been a steady favourite for residents and 'interior warriors' on the search for beautiful homewares, accessories, and more. The Scandi Boho luxury designs and home collections are inspired by the owner's travels as a photographer in India, Burma, Myanmar, and Ethiopia. Their own brand of Bungalow cushions are 100% cotton and linen cushions designed and produced in Bali, which includes bold and vibrant prints to spice up your tropical home, as well as monochrome colours. The throws and blankets on offer are beautifully handcrafted crochet, with the making of all products directly support the women cottage industry. Bungalow Living also has a Journal and Cards collection that is designed and produced by locals on recycled paper. Whilst not 'authentically Bali', the wares at Bungalow Living are very much in mode for the tropical homes found around the island.
Bungalow Living Bali
Jalan Pantai Berawa No. 35A, Canggu
+62 361 844 6567
www.bungalowlivingbali.com
---
Warisan has been in the solid wood industry in Bali for the last three decades. Offering fine wood furnitures dedicated to the hospitality and residential industry, Warisan also prides itself on providing complete services for customers from design, technical advice, quality control, to shipment logistics. After more than 25 years of experience, the Warisan team continues to value handmade craftsmanship than modern machines, in order to preserve desirable artisan quality. It is one of the many sought-after custom furniture manufacturer in Asia, producing solid teak wood for interior and outdoor hotel, resorts, and villa projects.
Warisan LIVING (Furniture Showroom)
Jalan Raya Kerobokan, Br. Taman No.38, Kerobokan
+62 361 730048
www.warisan.com