Well really, it's about time! On a beach destination like Bali, it seems strange that not many bars fully embraced a cocktail menu that exudes a true island feel and lifestyle. That's why the good folks at Azul Beach Club have recently released a whole menu of island-inspired Tiki Cocktails that will have you sipping under the sun in no time.
If you aren't familiar with Azul Beach Club you'll find it overlooking Legian Beach; a 3 story, fully-bamboo structure that circles it's way up towards the swaying palm trees. With its contemporary-rustic fusion style interiors, Azul is a modern, comfortably furnished 'beach shack' – and a lot larger and nicer than your average beach shack of course. On the second floor sits an adult-only infinity pool that looks out over The Bali Mandira Resort, of which Azul is a part of.
The venue certainly is a game-changer for the Legian area; traditionally associated with the typical boisterous party-crowds, Azul (amongst a few select other venues in the area) hopes to lift the image of the area by offering somewhere that remains casual but retains a certain standard of quality and class.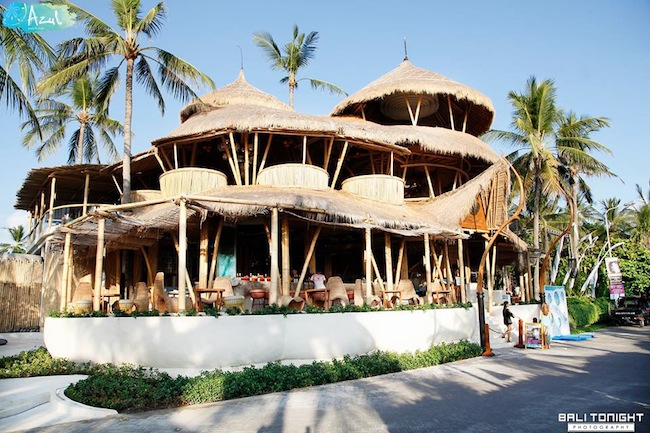 So, what's shaking behind the bar?
Well, with its obviously tropical setting of thatched roof, bamboo, pool and palm trees – not to mention a beautiful view of Legian Beach – it only makes sense that a full flung Tiki drinks menu has emerged from out of the cocktail shaker into the eager glasses of sunshine sippers.
Mixologist Helmut Roessler has hand-picked local ingredients and premium rum to create a new range of tropical delights, from adapted classics – think Mai Tai's and Mojitos with a Balinese twist – to brand new concotions inspired by the flavours of paradise. Each drink is served in amazing Tiki-style glasses to emphasize the tropical wonders these drinks really are. Here are a few of our favourites:-
The Tama Tiki, a blend of 8 ingredients that come together to create a truly fresh and fruity concoction. Both dark and white rum, amaretto, orgeat and Bali's tropical fruit juice.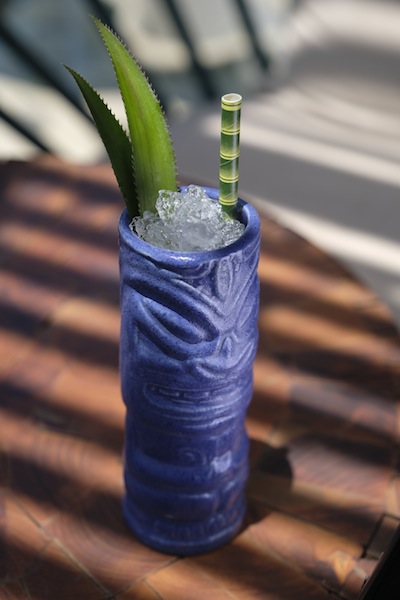 The Island Nectar, one of the favourites at Azul Beach Club but the ingredients remain a secret. All you need to know is that this tropical brew will have you dreaming of paradise islands for days to come; incredibly refreshing and exotic: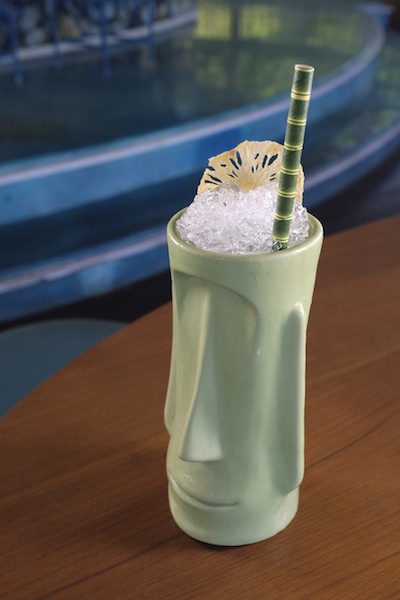 From their cocktails to share, The Treasure Box, perfect for 4 pirates to share – better than a pot of gold don't you think? This delightful – and dramatically served – sharing cocktail punch consists of local ginger, Azul hibiscus grenadine and 3 types of rum. Yo-ho-ho-ho!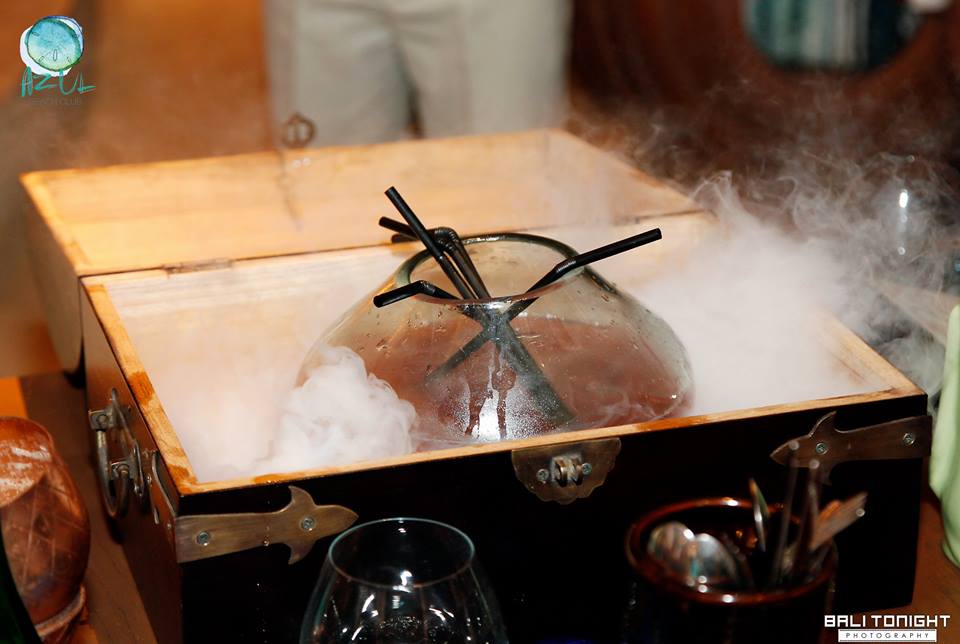 Every Friday, Azul Beach Club Bali holds their The Islanders event, which is the ultimate Island Lifestyle Experience. Tiki cocktails will be flowing, but even better is the live music playing featuring some of the best local bands playing modern island grooves through the night!
Check their Facebook for most updated events: www.facebook.com/AzulBeachClubBali/
www.azulbali.com 
Are you a cocktail lover? Looking for a new place in Bali? Check out our articles from our Bali Watering Holes issue!