An evening of cultural appreciation should leave a memorable experience on your Bali travel diary. And doing so is like a picnic, for there are countless nightly traditional Balinese dance performances held on many corners of the island for you to come and watch. 
So much more than just a form of art, traditional dances in Bali are a welcoming rituals, performed to mark the start of religious ceremonies or rituals that take place in the temples, to welcome the deities and ancestors that come down to the earth whenever the ceremonies take place and also to show gratitude to the gods for their blessings. In addition to the religious purpose, traditional Balinese dances traditionally also serves as entertainment, performed in the homes of the Balinese people, especially when they're inviting neighbours and relatives for a celebration.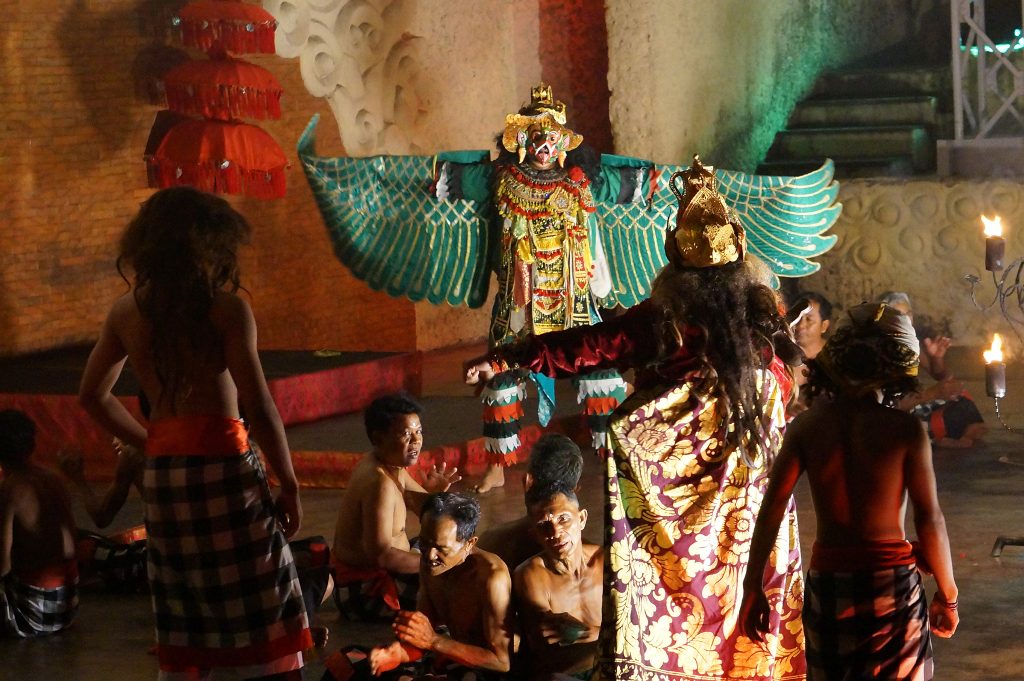 Now that Bali has become one of the top holiday destinations in the world, Balinese dances have also become not only entertainment for the vacationers, but also a performing art that serves as an introduction to the island's rich culture and history.
If you haven't watched a nightly Balinese dance performance, here's some of the best places to go:
ULUWATU TEMPLE
The Kecak show at Uluwatu Temple starts at sunset time. The show here is made more dramatic with a colourful gradients of the famous Uluwatu sunset. Come here early so you enjoy the breathtaking bird's eye view of the Indian Ocean, and tour the temple's premises.
GWK CULTURAL PARK
The Garuda Wisnu Kencana in Ungasan is currently in the spotlight with the recent completion of the Garuda Wisnu Kencana statue, the biggest and third tallest statue in the world. In addition to the statue, the cultural park also hosts nightly captivating Balinese dance and traditional music at the park's amphitheater.
GWK Cultural Park
Jalan Raya Uluwatu, Ungasan
+62 361 700 808
www.gwkbali.com
BATU BULAN
Nightly Kecak and Fire Dance performances also takes place at Sahadewa in Batubulan near Sukawati. The Kecak starts at 6.30pm and ends at 7.30pm.
Sahadewa Barong Dance
Jalan SMKI No. 25 Batu Bulan,
+62 361 298 607
www.sahadewabarongdance.com
TAMAN KAJA VILLAGE
In Ubud, Kecak Dance is best observed at the village temple of Taman Kaja. The temple, Pura Dalem Taman Kaja, has recently been renovated, going through a series of two-week long big ceremonies to complete the whole renovation process. The Kecak Fire and Trance Dance at the temple is held on Wednesday and Saturday nights at 7.30pm.
Pura Dalem Taman Kaja
Taman Kaja Village, Ubud
+62 361 970 508
www.kecakdance.com
UBUD PALACE
Nestled on a corner at the intersection in downtown Ubud, the Ubud Royal Palace is one of the most renowned places of interest in Bali. Here the Legong of Mahabharata traditional dance performance starts nightly at 7pm, with a backdrop of ornate angkul-angkul traditional Balinese gate and guardian statues.