There's no doubt that Bali is a very romantic destination. Hundreds, if not thousands, from around the world have chosen Bali for their wedding ceremonies. The paradise island, with its lovely beaches, swaying palms, rice terraces, temples, and highly spiritual atmosphere, indeed evokes a powerful ambiance of romance. And if you plan to tie the knot on the island, here are some ideas to add that authentic Balinese touch to your special celebration of love.
ELEPHANT CULTURAL WEDDING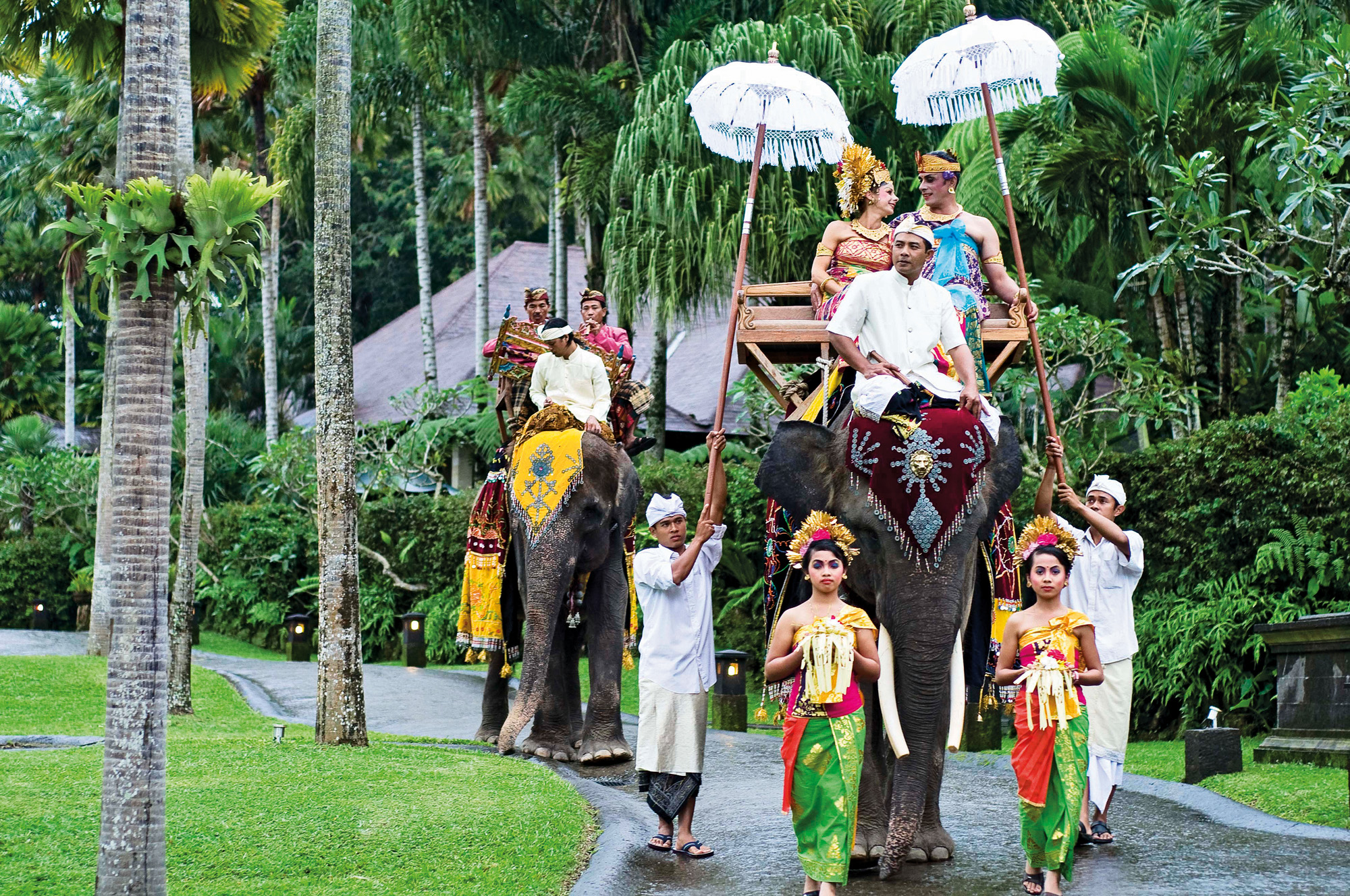 Couples looking to combine romance and mystery with the thrill of the wild for their wedding can exchange vows against a magnificent morning or sunset setting with a pride of pachyderms as their witness. Weddings at the Elephant Safari Park are celebrated at the resplendent granite and stone purpose built wedding pavilion with an elephant-inspired altar and antique four-post Javanese ceremonial gazebo. From atop a Sumatran elephant, couples can opt for a symbolic Balinese blessing ceremony wearing elaborate Balinese wedding regalia, or a traditional white wedding with all the classic trimmings, including a cake and reception of 2 to 250 guests.
Elephant Safari Park by Bali Adventure Tours
Jalan Elephant Park Taro, Taro Village, Tegallalang
+62 361 721 480
www.baliadventuretours.com
VILLAGE MATRIMONIES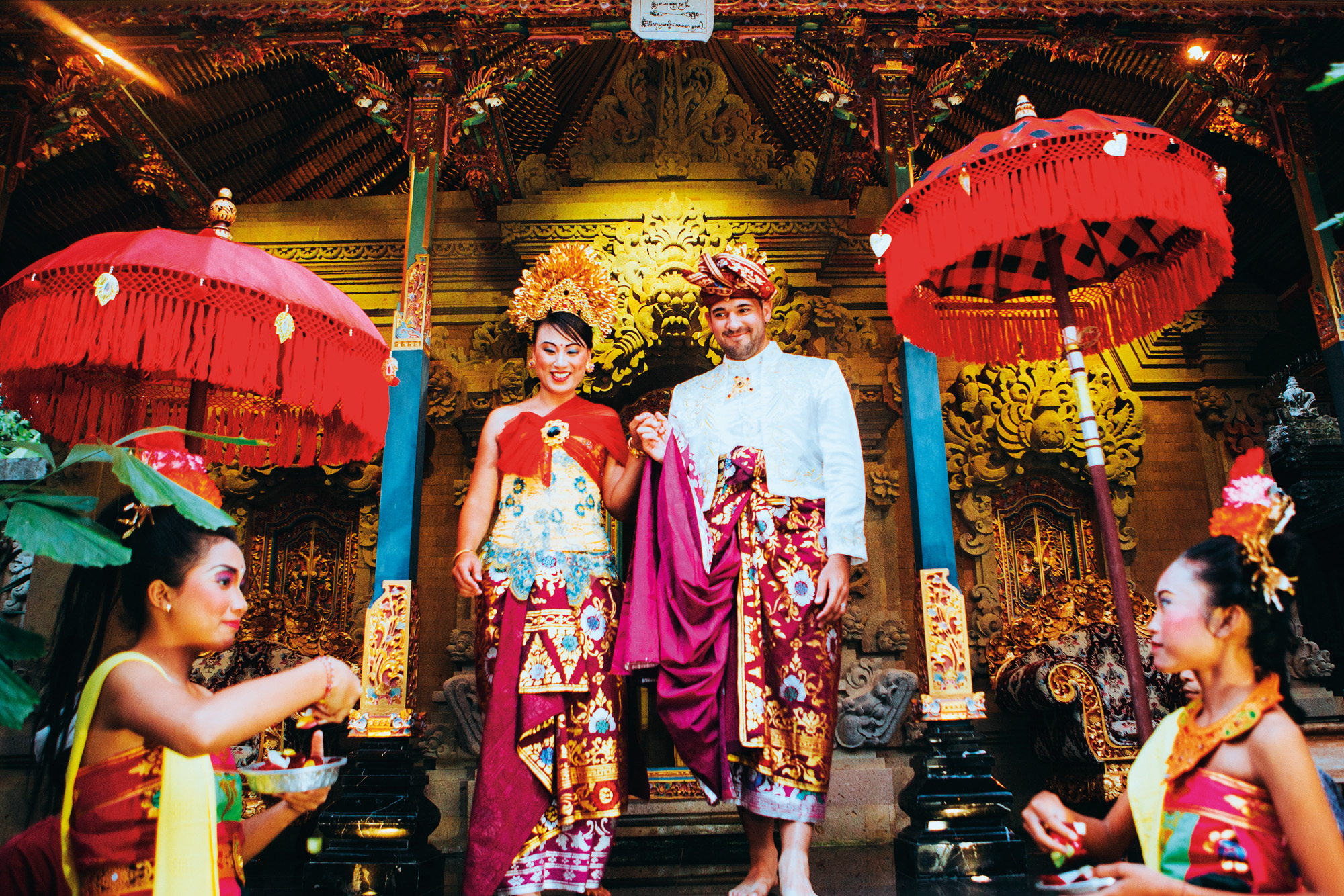 Like all Balinese ceremonies, traditional weddings on the island are truly gorgeous spectacles. Vibrant traditional costumes, colourful flowers galore, high flying Balinese umbrellas, beautifully carved structures, all of course complete with offerings and blessings. Really, it's a wonderful way to begin a happy marriage. In Undisan village deep in Bangli Regency, you'll find De Umah Bali, a unique getaway far from civilization that has fashioned itself into a village escape. With carved 'bale' houses to stay in, and a traditional village compound set up, it's as about as authentic you can get whilst still feeling a sense of luxury. Here, in this traditional setting, you are able to organize an intimate Balinese wedding. Bride and groom fully dressed in Balinese attire and make up, Balinese ceremony led by a pemangku (priest), Balinese dancers and music and a local feast to finish – it's the complete set up that will fully immerse you in the culture for this very special day!
De Umah Bali – Eco Tradi Home
Banjar Lokasari, Desa Undisan Klod, Bangli
+62 81 238 11161
www.deumahbali.com
THE FRANGIPANI WEDDING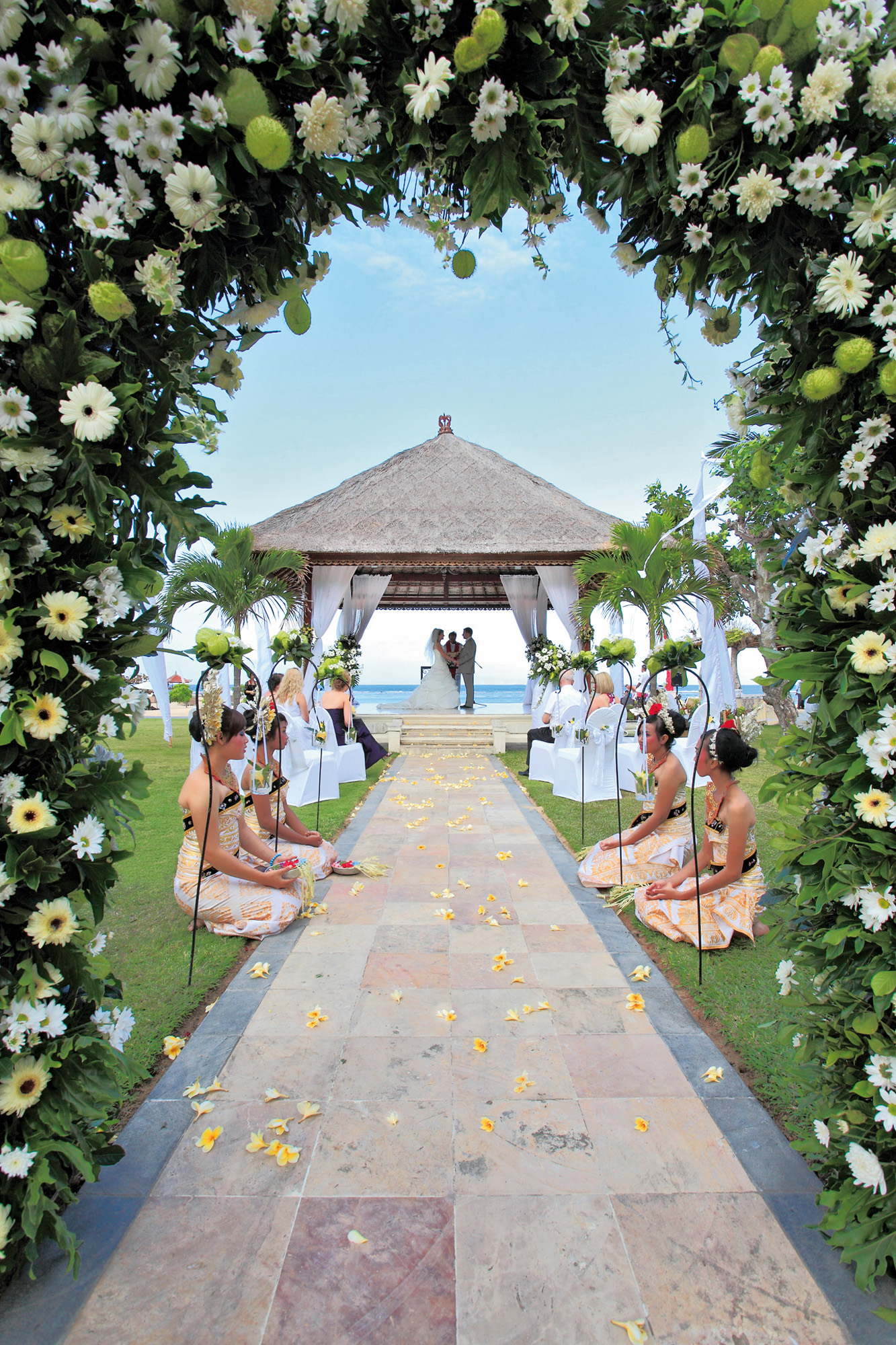 Nusa Dua is truly a magical place to hold a wedding. Known for its white sand beaches and crystal clear waters that sparkle in the sun, it makes for a stunning backdrop. Of course on your special day, you simply can't do 'ordinary', and the Nusa Dua Beach Hotel & Spa knows this. This classic resort will easily captivate you with an unforgettable wedding celebration in romantic Bali with their 'Frangipani Wedding'. This special ceremony comes complete with a Balinese procession of four bridesmaids, traditional Balinese bamboo percussion during the wedding, which then continues into a romantic four-course candlelit dinner with a royal Balinese menu, and a bottle of sparkling wine for the two of you. A 60-minute relaxing Balinese massage eases the evening down. You will also receive a posh, professional wedding album of 60 – 80 prints, so that you will always remember your special Balinese wedding.
Nusa Dua Beach Hotel & Spa
BTDC Complex Lot North 4, Nusa Dua
+62 361 771 210
www.nusaduahotel.com