Once a regency of sleepy fishing villages with empty white sand beaches and bay islands, Manggarai on the island of Flores in East Nusa Tenggara is now on the verge of becoming the next "it" tourism destination in Indonesia. Its extraordinary marine life is definitely an attraction, but more so are its unspoiled, off-the-beaten-track natural gems that draw travellers from around the globe to its shores for quality downtime and to unwind.
One developing area in Manggarai is Labuan Bajo, located on the northwestern tip of Flores Island in East Nusa Tenggara. The capital of West Manggarai district, Labuan Bajo is home to breathtaking sunsets, and is also the launching point for trips to Komodo Island and a number of other surroundings with great opportunities for diving and snorkelling, as well as nature exploration.
This tropical jewel box remained a secret for years, only explored by those willing to go off the popular travel map to discover hidden gems away from the tourist masses. Now that infrastructure has been improved and the tourism industry is maturing, Labuan Bajo has gained a reputation as a must-visit destination with many predicting it to shake off the shadow of the ever popular Island of the Gods.
The harbour town of Labuan Bajo, surrounded by a skyline of gorgeously shaped hills, has doubled in size. Convenience stores and homey guesthouses, in addition to restaurants and dive centres, have lined the downtown streets, giving the sleepy area a wake up call and inviting the young locals from the surrounding inland areas to test their luck and make a living here.
Bajo's coastal areas provide the quintessential summer getaway, the kind where afternoons are measured in strolls on pristine beaches and fishing villages, or plates of the freshest of seafood as you nibble through the sunset.
Away from the coasts, traditional villages have barely changed over the last few centuries. You'll notice water buffalo horns displayed on the traditional wooden houses with thatched roofs as a symbol of the home owner's status and wealth. Buffalos are still sacrificed on wedding days and funerals. The traditional markets buzz with life, oozing the old world charm.
Of course, Bajo's main attraction remains offshore; and this explains the growing number of Phinisi boats and yachts decorating the town's harbour. From day cruises and live-a-boards to sun bathing, diving and snorkelling, the waters and island that surround Labuan Bajo provide ample opportunities for those looking to escape the rat race that is metropolitan life.
These vessels will take you to any of the dozen islands off the Labuan Bajo coast of your choosing. One of these islands, Rinca Island, is home to the famous, mighty Komodo dragons. In fact, last year's census stated that Rinca has a bigger Komodo population than the Komodo National Park on Komodo Island. Anyway, sailing off to Rinca from Bajo will take you on a journey through the calm waters of the Flores Sea, passing small islands that glow in the distance, against the blue sky. For many, including myself, this journey alone is the dream of a tropical paradise getaway coming to reality.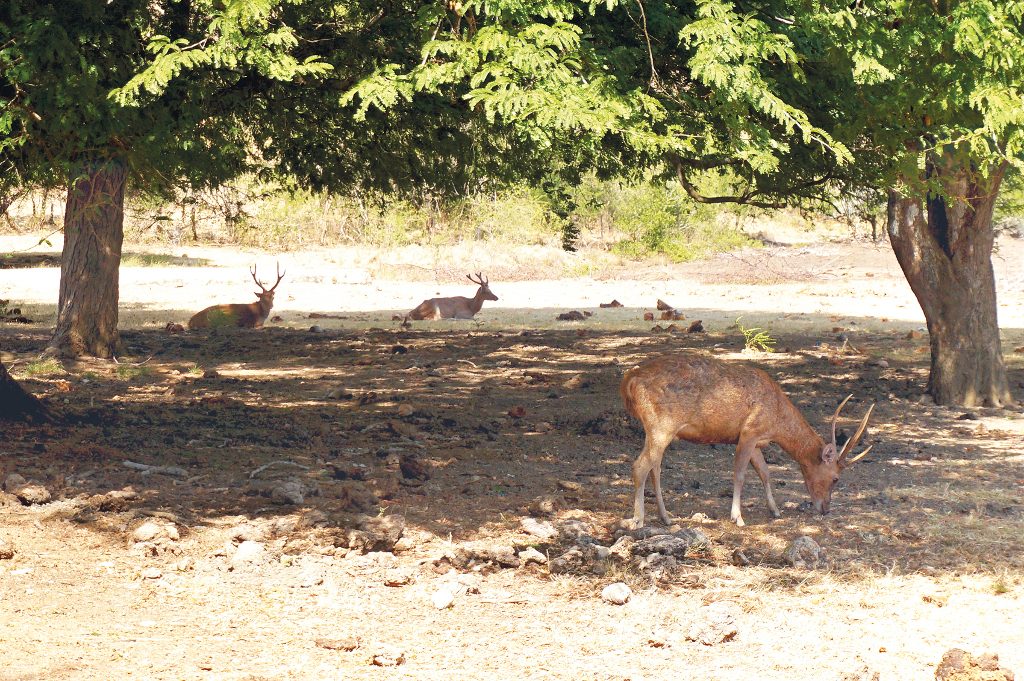 Mooring on the hidden dock of Rinca Island, Koh Kima, you will walk on foot through Low Buaya Walking Trails. Don't be surprised, for you'll be greeted by shouting monkeys behind the bushes just off the trail before the gate. But before you explore further, you'll first have to make a stop at the island's "front office", where you'll be briefed by a ranger (who will also be your guide) about the island as a protected area, and what you can expected to encounter during your trek; you can choose the short, medium, or long trek. Even on this very spot, which is around a five-minute walk from the dock, you can already spot a herd of deer lounging under the trees – when they're not munching on the grass. Baby Komodos are often spotted wandering around here, too.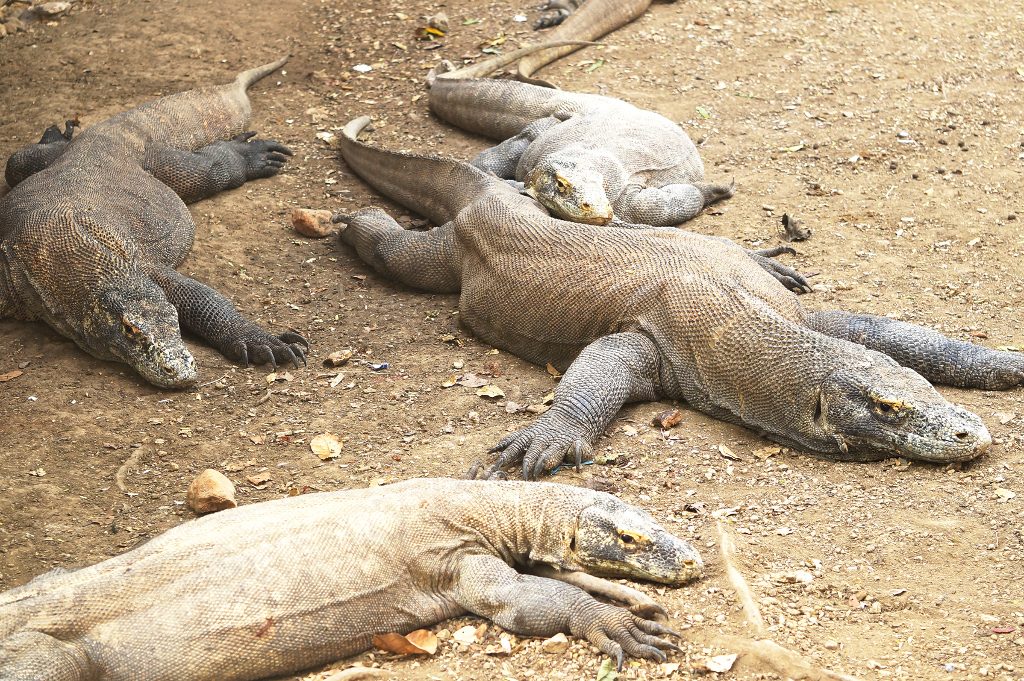 After a short walk from the front office, you'll arrive at the "kitchen area". Here you can spot a number of Komodos lounging around and/or taking a nap. Visitors normally take this as an opportunity to snap some photos of and "with" the giant lizards. Your guide, of course, will help you.
The resting Komodos, though in their most relaxed state, can still look scary for some – and scary indeed the giant lizards are. A Komodo can reach a whooping length of three metres and weigh up to more than 170 kilograms. They feed on buffalos, deers, goats, monkeys, and boars that are also the inhabitants of the island. As predators, the giant lizards do their job properly. They will patiently hide to ambush their prey, and they will wait for their prey to die after they inject their bacteria-infested saliva into it. And while the Komodos are dangerous 'owners' of the island, the monkeys are also the ones you need to be aware of, for they're so cheeky that they'll try and steal your belongings. Just don't get too close to them.
Moving on with the Rinca journey, you'll be guided to the forests to see the Komodo nests where the giant lizards hatch their eggs. A Komodo buries its eggs (the number of the eggs can reach 30) inside a hole that can reach two metres in depth and width. The holes used by the Komodos as their nests are initially dug by native birds known locally as "Burung Gosong" (megapodius reinwardt), also residents of the island, as their own nest. Of course the Komodos being the 'boss' will later still the holes when it's time to lay their eggs.
Along the trek in the forests you'll encounter the Burung Gosong digging their holes, along with more deers and monkeys, buffalos and green snakes. The snakes usually hide in between green leaves and are often difficult to spot due its ability to camouflage itself. But the guides at Rinca have eagle eyes, and they will point one out if you're about to walk past one.
To conclude the journey you'll be taken to a trek through the vast Rinca savannah, and a hike to the top of the hill that offers the best 360-degree, bird's eye view of the surrounding landscape – rolling hills and the sparkling ocean with a scattering of islands. This is where I was in complete awe of the view making it a tough task for the guide to finally convince me to leave and go back to the base camp.
My next tropical paradise getaway took me to Kelor Island. Approaching the island and fixing my eyes on the beach, I knew I was in for some fun in the sun. Kelor is made up of rolling hills, but what allured me the most were the island's pristine, white sandy beach and the calm waters. Any beach person or sun worshipper will appreciate it. Of course it didn't take long for me to find myself lying down on the beach, before putting my goggles and fins on for a Kelor underwater exploration. There are trees for you to seek refuge under, when the heat of the sun finally gets to you; or you can easily jump into the water to cool off. The locals sell cold drinks, even fish to barbecue right on the beach just in case you feel like nibbling on fresh seafood and wash it down with something refreshing.
GET THERE
Daily flights from I Gusti Ngurah Rai International Airport in Bali to Komodo Airport in Labuan Bajo are offered by Garuda Indonesia, Nam Air, and Wings Air. The Komodo Airport is located some two kilometres from Jalan Soekarno Hatta, the main street of downtown Labuan Bajo. For a convenient travel, make sure to arrange airport transfer prior to your arrival when one is not provided by your hotel.
EXPLORE
If you're really clueless and feel like taking it easy, you can always have your tour and leisure time organised by a trusted and recommended tour and activity organisers such as Flores XP. Leisure activities offered by Flores XP range from diving, snorkelling, trekking, Land Rover tours, ATV, sea tours, camping, and bird watching, in addition to the tours to the Komodo National and Marine Park, Sano Nggoang crater lake, Cunca Wulang canyon, Cunca Rami waterfall, Batu Cermin Cave, Rangko Water Cave, and Warloka Monolites.
Alternatively, you can have your island excursion arranged in style and in total comfort and luxury by Plataran Komodo Resort & Spa. Your Bajo exploration will begin with the "Romantic Sunrise Picnic", where you'll be taken to a trek to a hill nearby the resort to witness one the most breathtaking views on the island, the sun gracefully rising from behind a distant hill, and how it mirrors on the calm sea. Once the magical moment has passed, and it's the beginning of a bright new day, a sumptuous breakfast spread awaits you, ready to energise you before the adventure begins.
Your pastries, traditional Indonesian snacks, fruits, fresh juices, and coffees will be served against the ocean with docking boats and scattering islands on the background. The resort's kitchen team will be on standby in case you need your fix of morning omelette and/or pancake prepared a la minute.
Once you're well fed and freshened up, you're ready for a luxury Plataran cruise and expedition to the nearby islands. My incredible journey crossing the Flores Sea to Rinca and Kelor was onboard Plataran Phinisi Felicia, the largest in the fleet of Plataran's phinisis and yachts. Felicia is 27 metres long and seven metres wide, and she houses two master cabins, two double cabins, and two bunk bed cabins, offering unsurpassed luxury and space to laze while touring the islands and bays of Flores.
Felicia can accommodate up to 12 guests, and the vessel is completed with 35 life jackets, two life-rafts, and five lifebuoys. In addition to the safety equipments, Felicia also comes with a large outdoor dining table, indoor dining and lounge area with bar, flat screen TV, home cinema system, and two large, partially shaded sundecks with spacious sunbeds and sofas for you to luxuriate and lounge on during the voyage. A massage table, too, can be arranged on the upper deck in case you need to ease your tensed up muscles from a day of exploration. Just be sure to let them know earlier, and they'll prepare it for you. From diving expeditions, island hopping, and the live-a-board combination, Plataran Private Cruises allow you to experience a private, intimate and unforgettable journey aboard a fully equipped phinisis.
Plataran will take very good care of you whether you are onboard the vessel or on dry land. Once you arrive on the shore of your desired island, the attentive Plataran boat crew will make sure that your needs on the island will be catered to; this includes water, outdoor gears such as snorkelling equipments, and entrance tickets to national parks.
Flores XP
Jalan Soekarno Hatta, Labuan Bajo, Flores, East Nusa Tenggara
+62 385 41423
www.floresxp.com
Plataran Phinisis & Yachts
Jalan Soekarno Hatta, Labuan Bajo, Flores, East Nusa Tenggara
+62 385 41019
www.plataran.com
EAT & DRINK
The dining and nightlife scenes in Labuan Bajo are burgeoning thanks to places like Atlantis on the Rock and Atlantis Beach Club. A hidden dining gem on Waecicu Beach, Atlantis on the Rock is where you can have a bite of specialty dishes amid cool ocean breezes. Whether it's lunch, dinner, or just a few drinks, this venue has become a part of Bajo tropical life that visitors must put on their bucket list.
Set out on the rocks, against the backdrop of Plataran rock hill, Atlantis on the Rock offers a premium selection of local and international cuisine, alongside a varied menu of wines, cocktails and other beverages. Amongst the items on the menu that you must try are the restaurant's signature Nasi Tibu (rice with turmeric paste, orange leave, and shredded chicken wrapped in banana leaves and smoked inside a bamboo), Lobster Waecicu (steamed lobster with chilli and tomato paste, served with yellow rice and sautéed cassava leaves), and Udang Ramayana (wok-fried butterfly prawns with red paste). To beat the heat of the Bajo sun, you can cool off with Pink Churchill (rum, egg whites, lime) for the ladies or Elegant Lagoon (rum, lime, orange juice, and Flores smoked palm sugar – created by Maxi) for the gents.
Away from Waecicu, the first and only beach club in Labuan Bajo, Atlantis Beach Club brings hedonism to the harbour town with live music and DJ performances. When the sun out, this is where you can order a frosty beverage, kick off your flip-flops, and enjoy the view! In the heat, those who flock to this establishment plunge themselves into the beach or the cooling waters of the beach club's two waterfront pools. Come meal time, discover a great variety on the beach club's menu, with dishes that range from traditional Indonesian to casual western fares.
Acknowledged as the place to hang out in Labuan Bajo, Atlantis makes a splash with its distinctive architecture – a sunken phinisi boat that has been refurbished into a restaurant and beach club. A complimentary, scheduled hotel pick-up service is available.
Atlantis on the Rock
Waecicu Beach, Labuan Bajo, Flores, East Nusa Tenggara
+62 812 4614 4348
www.plataran.com
Atlantis Beach Club
Jalan Gorontalo, Pede Beach, Labuan Bajo, Flores, Nusa Tenggara Timur
+62 811 382 1177
www.plataran.com
SLEEP
There are quite a number of homey guesthouses and mid-range hotels to choose from in and around Jalan Soekarno Hatta in downtown Labuan Bajo. But if you're after hospitality, comfort, service, and accommodations that are also destinations, then you should make your way to Bajo's coastlines. I'd recommend Plataran Komodo Resort & Spa, a sanctuary for those looking to escape and indulge in luxuries at the same time. Se in a quiet secluded cove on Waecicu Beach, this resort is a true tropical paradise, a luxurious base for indulging in sun-kissed days of relaxation and adventure in one of Indonesia's most beautiful and untouched regions.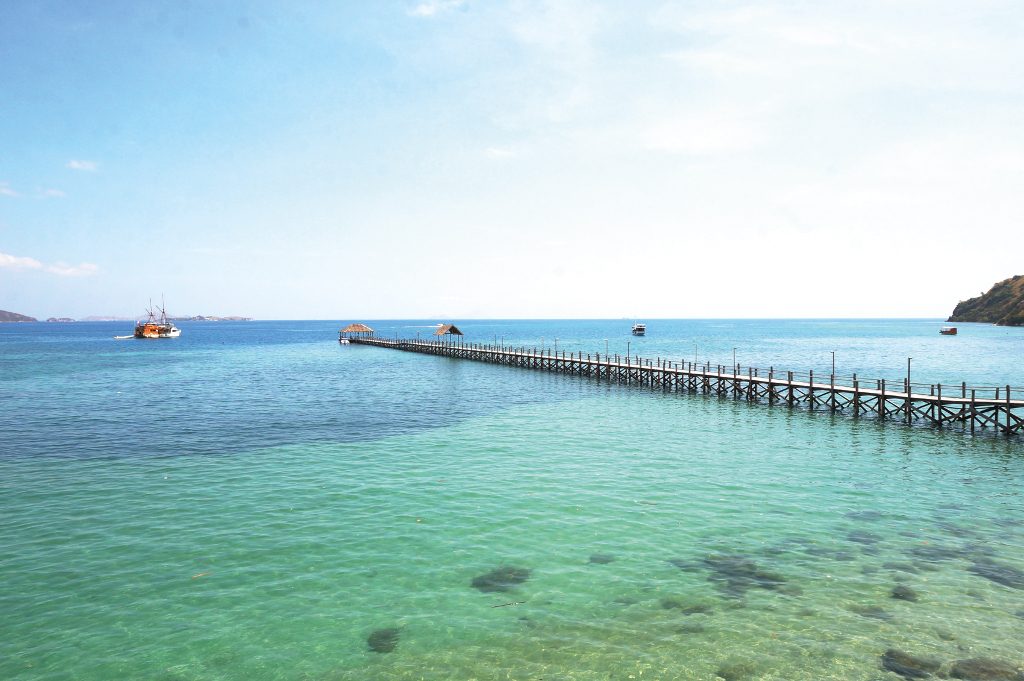 Away from the tourist masses, you can unwind in the privacy of the resort's intimate yet spacious villa abodes that are a charming blend of opulent comforts and Javanese style. You can choose from the Deluxe Beach Front Villa, Executive Ocean Front Villa, Exclusive Beach Front Villa, Limasan Beach Front Villa, Grand Pool Villa, or Duplex Pool Villa, all equipped with spacious bathroom, private verandah, flatscreen TV, WiFi, and the best feature of all – only a few steps away from the beach and private sunbeds.
Activities are abound at the resort. From kayaking, stand up paddle boarding, snorkelling, or just taking it easy by the pool side, you can be outdoor, enjoying a tropical paradise without having to travel far. The resort is also home to a 250-metre wooden jetty, a spot that provides ample photo opportunities for that perfect instagram moment. The jetty area is where your Plataran snorkelling takes place.
Then again, great hospitality and impeccable service are two important aspects that leisure travellers seek when choosing a holiday retreat. It's not a secret that resorts in remote areas often fail to satisfy due to uncongenial human resources that result in poor services. And this why Plataran Komodo stands out, for the resort manages to train its staff members and maintain the service level the hospitality brand is renowned for.
The attentive service was apparent when I dined at the resort's Xanadu restaurant, reserved for in-house guests only. It didn't take long for the server to notice my empty glass, he came to my table and asked if I needed a refill; I didn't have to raise my hand or call out the server to have my glass refilled. It's the small details like this that makes a resort a great one, not the size of the flatscreen TV they put in your room.
Anyway, Xanadu has a lively ambience that is set in an open-air restaurant and bar. The restaurant serves up an enticing array of Indonesian and Asian cuisines, a gesture to celebrate the diversity of flavours from across the Indonesian archipelago, as well as superb seafood prepared from the freshest catch, and signature dining experiences that include beachfront barbecues and candlelit dinners under the stars.
A sanctuary within a sanctuary, Padma Spa at Plataran Komodo celebrates wellbeing in treatment rooms that soak in the surrounding tropical atmosphere. Here you can relinquish all tension while enjoying the spa's signature treatments that range from relaxing massages and rejuvenating facials to intensive detox programmes – all harnessing the benefits of local herbs and natural ingredients.
All in all, Plataran Komodo Resort & Spa provides an ideal stay for your Bajo escape. The resort's location also makes it an ideal base for exploring other nearby islands.
Plataran Komodo Resort & Spa
Waecicu Beach, Labuan Bajo, Flores, East Nusa Tenggara
+62 812 4614 4348
www.plataran.com