It is no question that Bali is a truly photogenic destination; landscapes and seascapes, culture and commercialism, modern and traditional come together to create an environment perfect for the lens to capture. Many of us snap the sights whilst we travel the island, but one photographer seemed unsatisfied with the angles that lay ahead of him. So, to capture a unique perspective of the island he set to the skies to capture a bir's eye view with amazing drone footage of Bali. 
Thomas Duncan, otherwise known as Tommy Twig, a New Zealand based creative, goes beyond a simple image. He sets out to frame a space and place that not only explains what you're looking at but creates a strong desire in you to go there. The results are truly vivid, bringing us to a perspective of Bali hard to fathom. From our favourite cultural sites to some of the island's coolest destinations, he captures their essence in a single frame.
Here are a few photos from his Bali collection that we have chosen:
Uluwatu Temple 
One of Bali's most visited temples, Pura Luhur Uluwatu sits on the edge of the cliff. Whilst many of us look out from afar, Tommy goes above and grabs this amazing angle over the temple, capturing crashing waves below that gives the scene a totally different depth.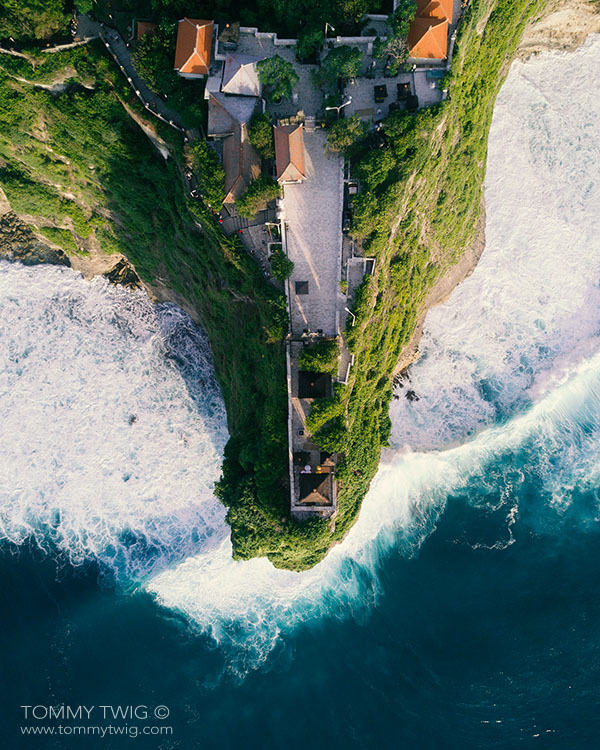 Finns Beach Club 
From cultural to commercial, Tommy flies above one of Bali's most happening beach clubs in Bali found along Berawa Beach, Canggu. Finns, with its fully bamboo structure, infinity pool and swim-up bar has pulled it many of the area's sun seekers and night loungers.
Tegallalang Rice Fields
Just north of Ubud, you'll find what is perhaps Bali's most visited terraced rice fields. Tegallalang has been made famous by its deep valleys that create a simply stunning view and environment. Tommy captures it from above, revealing the patterns of the terraces.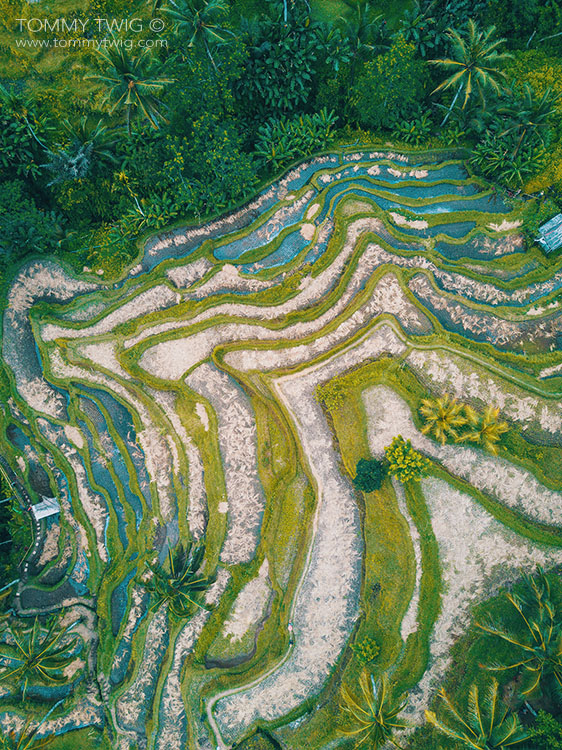 W Retreat and Spa, Bali
Along the shores of Seminyak, W Bali shows its majesty. This chic, stylish resort destination set the bench mark high for luxury getaways ever since it opened in 2011. From this photo, you can see its terraced pool cascading down towards the beach.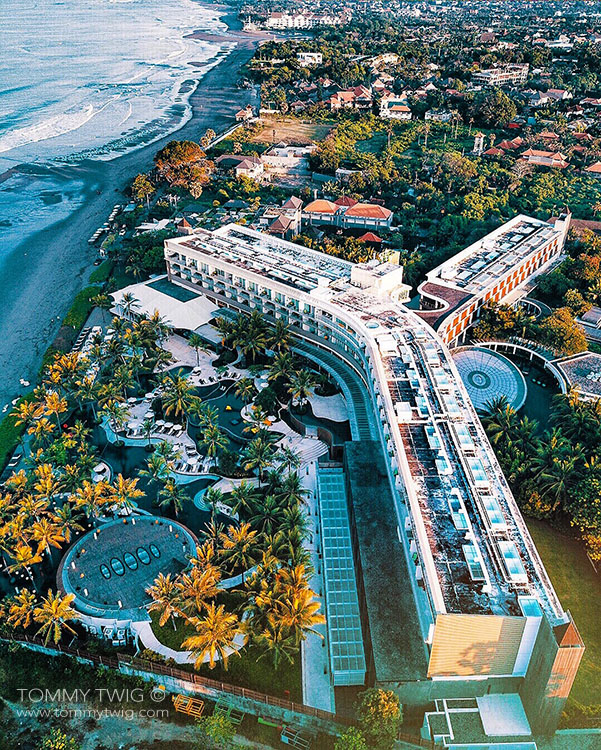 Bloo Lagoon, Nusa Ceningan
Further out at Nusa Ceningan, an island escape from an island escape, you'll find Bloo Lagoon. This used to be the cliff jumping site for many years, before rough waters and some accidents has meant no more dare devil stunts may take place (though some still try their luck…). Nevertheless, the blue beauty of the place is captured in this photo.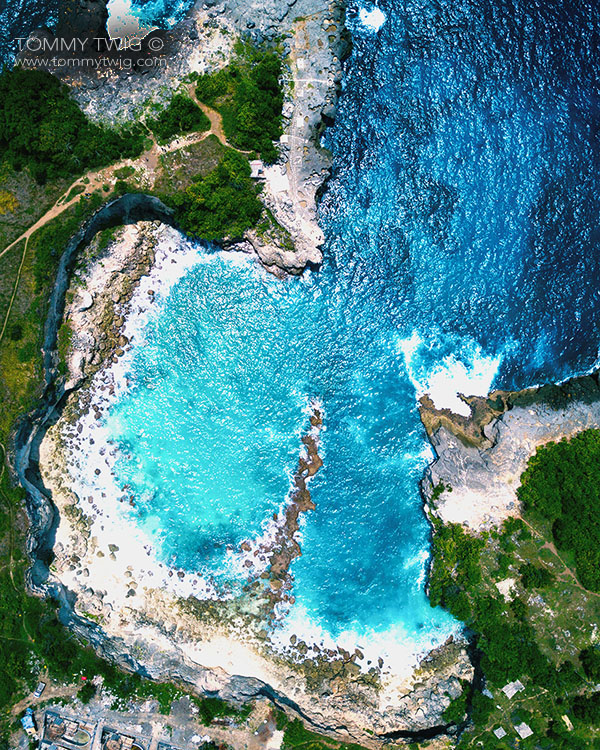 The Canggu Club
Back on the main island, Tommy captures the sports and recreation centre Canggu Club. In the afternoon light, the sports club exudes its very own ambience.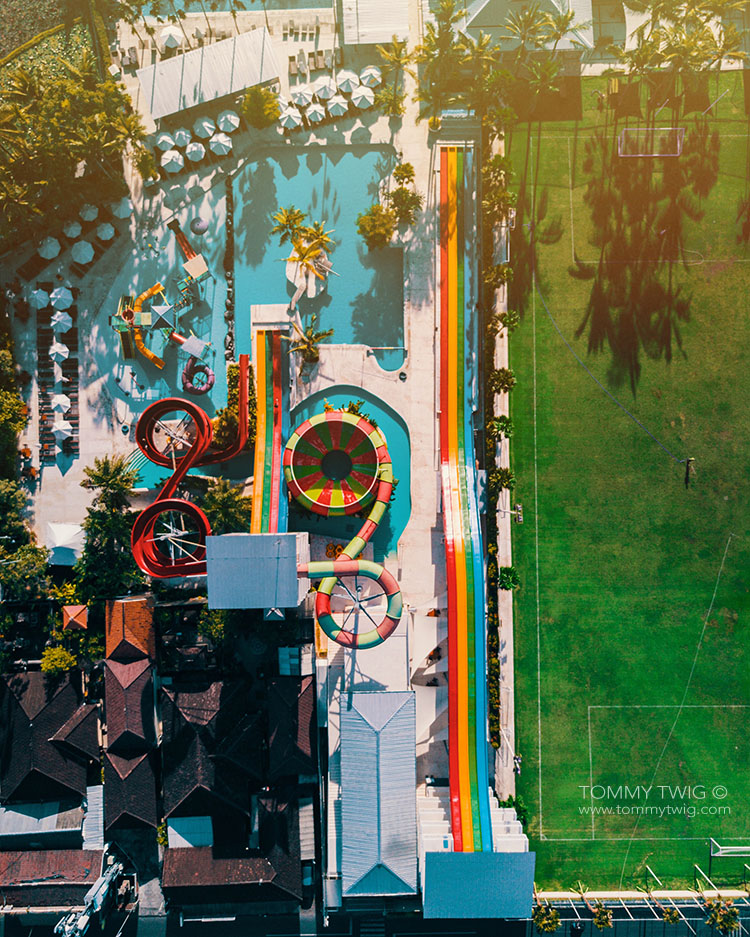 Bali
Last, but certainly not least, Bali. Yes, just a scene of the island and what it's known for. Majestic landscapes from the beach to the mountain, the blending of blue and green.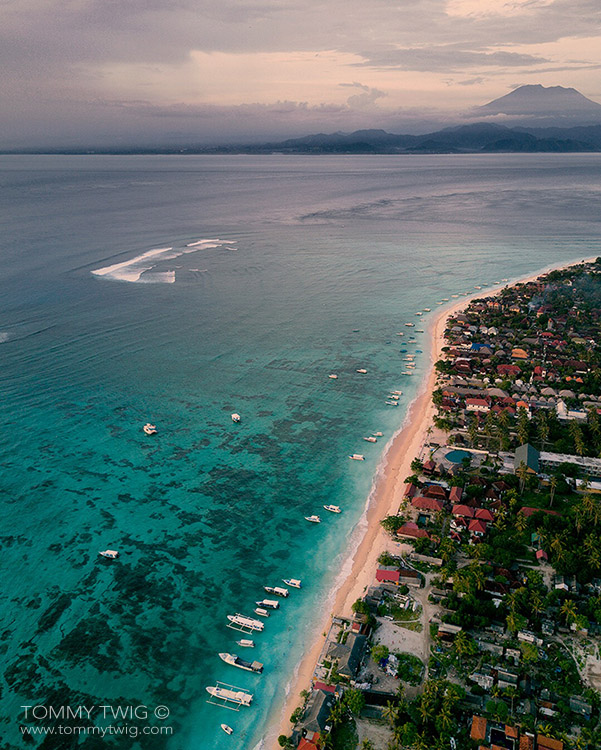 Seeing Bali from above really makes you fall in love with it more. As with anything, when we focus too much on the little things – the traffic, or bad dish at a restaurant, the potholes in the road, a rude vendor – we lose sight of where we are and why its wonderful. With these photos we are reminded of  what a magical place Bali is, just the way it is.
Tommy Twig has more photos of Bali, more very cool drone shots from other destinations and more on his Instagram and Facebook account. For more information about him or his work, or even to make an inquiry feel free to visit his website at www.tommytwig.com .
Want to see some other photos of Bali from the sky? Read this article by our contributor, New Life in the Familiar. Don't forget to follow NOW! Bali on Instagram and Facebook, or subscribe to the magazine or E-newsletter (only every 2-weeks).