Luxurious Uluwatu clifftop haven, Anantara Uluwatu Bali Resort, has undergone a major facelift after a large-scale renovation project and has now revealed a refined look of its brand-new signature restaurant, Botol Biru Bar & Grill.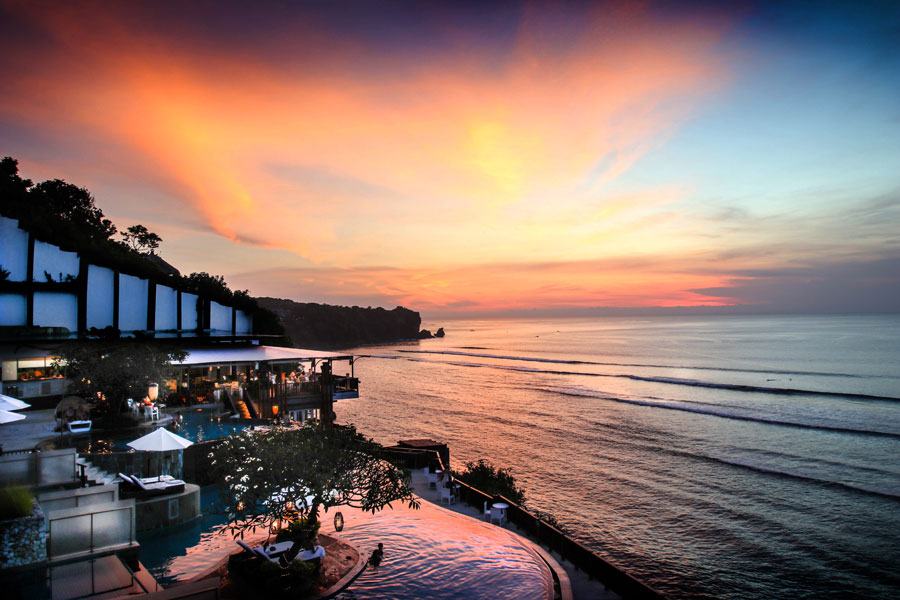 Botol Biru Bar & Grill (which translates to blue bottle), is the newly unveiled signature dining at Anantara Uluwatu Bali Resort. The stunning alfresco dining venue takes its name after the bluebottle jellyfish and pays tribute to coastal cuisines from across the Indian Ocean and the Mediterranean.
Majestically perched atop the limestone cliffs of Uluwatu, the bar's breezy decor draws inspiration upon Bali's surf culture, evidently seen on the surf-themed mural created by a local artist and the unique light installation featuring an armada of surfboards hanging mid-air, capturing the imagery of wave breaks.
The captivating setting provides guests with views overlooking the vast azure waters below as they indulge in the modern fusion-style menu served.
Some of the must-try favourites include: perfectly flame-grilled seafood fresh from the ocean, innovative salads, classic pizzas, and rich Balinese flavours such as the Balinese-style barbecue pork spare ribs coated in sweetly fragrant black sauce, infused with layers of intricate flavours. The bar area is decorated with a billiard table where guests can unwind with a game of pool post-meal.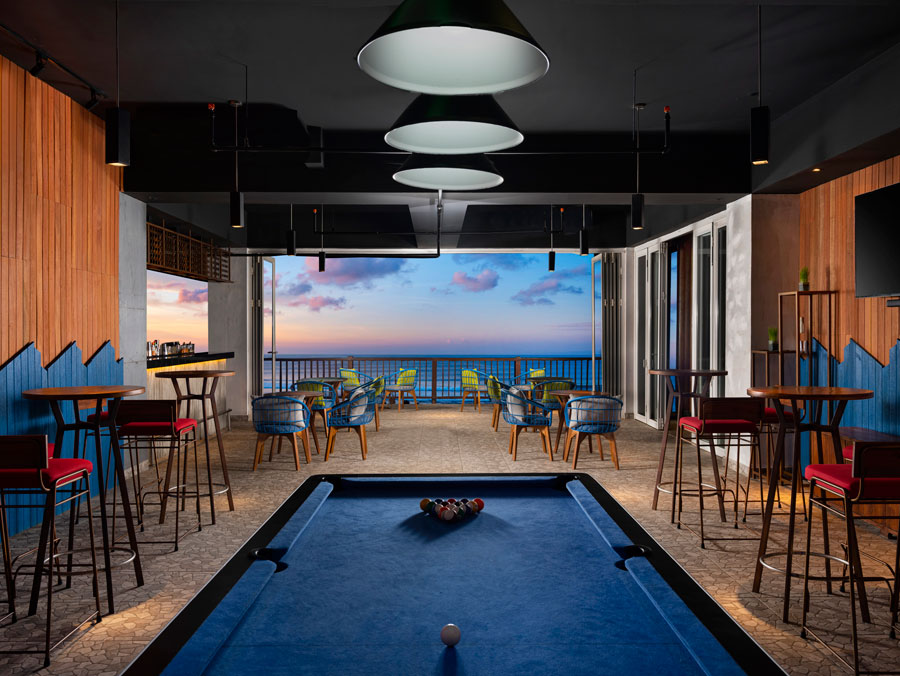 Featuring an extensive list of wine and champagne menu, as well as an eclectic selection of signature cocktails, Botol Biru welcomes guests to a laidback evening and enjoy front-row seats to Bali's iconic sunset after a bustling day. A live band will set the perfect ambience and serenade guests as they soak in the unparalleled vista of the Indian Ocean and catch the sky change from yellow to orange as the sun sets in the distance.
Celebrated as a surfer's paradise, the cliffs and beaches of Uluwatu constantly emanate vibrant energy, from the ocean waves to the surfers lined up across the water, and just like Bali's surf spots, Botol Biru maintains an exhilarating yet laidback ambience in its scenic venue.
For more information or reservations on Botol Biru Bar & Grill please call +62 361 895 7555 or email uluwatu@anantara.com
Botol Biru Bar & Grill
at Anantara Uluwatu Bali Resort
Jalan Pemutih, Labuan Sait, Uluwatu
+62 361 895 7555
uluwatu@anantara.com
anantara.com