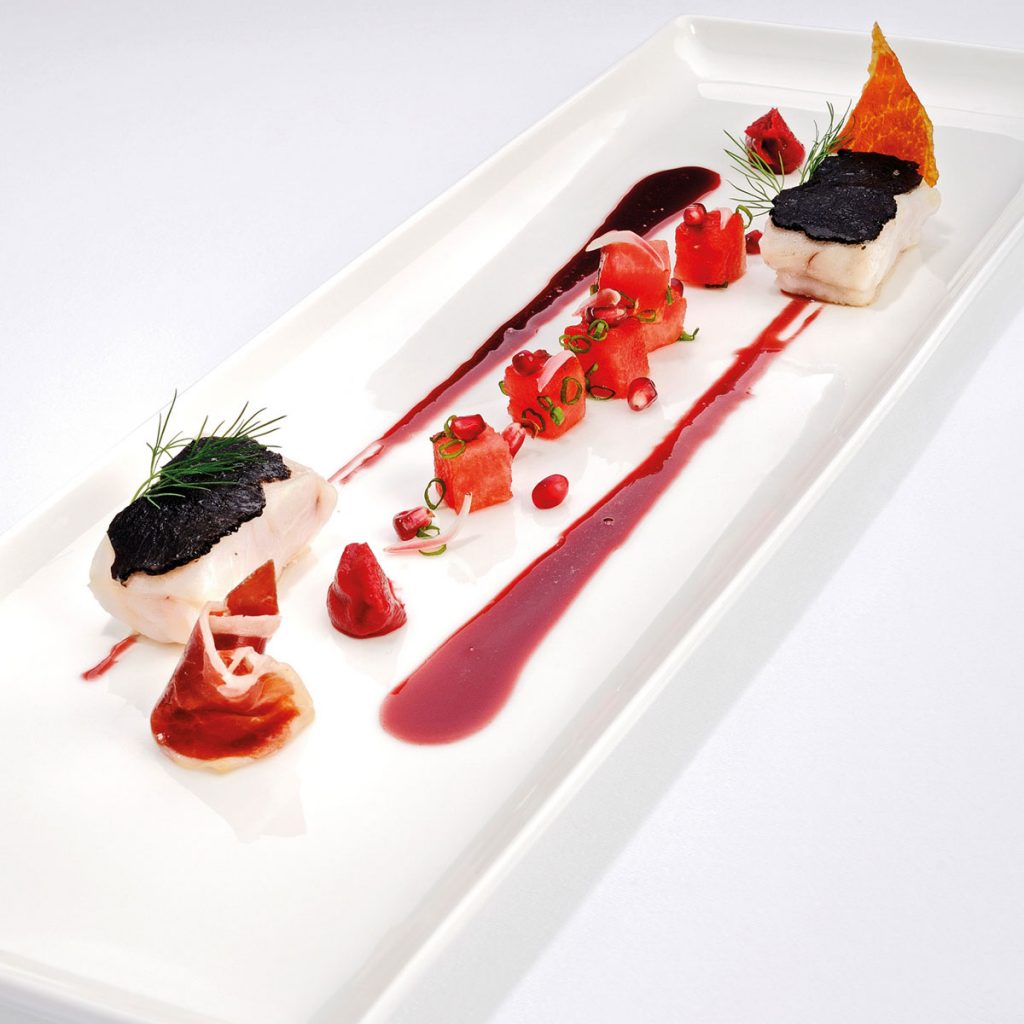 American born and French raised, Chris began his training at Le Cordon Bleu in Paris before taking internships in France at Michelin Starred restaurants such as L'Oustau de Baumaniere and Lucas Carton. But it is in Mozaic that Chris developed and mastered his own style of cuisine – marrying the techniques of Western modern cooking and presentation, with the native ingredients and amazing flavours of Indonesia – such as the Truffle-steamed Coral Trout with grilled watermelon salad, purple carrot purée and pomegranate-torch ginger coulis.
"This menu is unique because it is a reflection of my environment, my techniques, my palate, my eyes, my likes and dislikes. The inspiration comes from the products which arrive daily at Mozaic, my walks through the night markets, my trips through the wilderness of Bali or just from eating out at local eateries where Indonesian flavours are most genuine – mostly, my inspiration comes from Bali's best and freshest ingredients." – Chris Salans.
Ingredients :
8 slices of pata negra ham, thinly sliced.
320 g coral trout fillet (8 x 40 g or 4 x 80 g pieces).
2 tbsp truffle oil.
Salt and white pepper to taste.
16 slices black truffle.
Sea salt to taste :
Watermelon Salad (200 g watermelon, skin on, cut into 1½ cm slices, 40 pomegranate seeds, 2 tbsp truffle oil, 2 tsp chives, chopped salt, and white pepper to taste).
Purple Carrot Purée (80 g purple carrots, peeled and chopped, 80 ml fresh pomegranate juice, 15 g butter, salt and white pepper to taste).
Coulis (500 ml fresh pomegranate juice, 1 torch ginger flower, finely chopped Garnish, 4 fresh herb sprigs of your choice).
Method :
For the pata negra, preheat the oven to 160°C. Set aside 4 slices for later use. The remaining 4 slices are to be made into crispy pata negra. Line a baking tray with a silicone mat or baking paper and place the ham slices on it. Lay another silicone mat on top of the ham. Bake for 15–18 minutes, or until dry and crisp. Allow to cool to room temperature and store in an airtight container.
To marinate the fish, season the pieces of coral trout with half the truffle oil, salt and pepper. Place 2 black truffle slices on top of each piece of fish and wrap them individually with cling film. Refrigerate.
For the salad, char-grill one side of the watermelon on a very hot grill for few seconds, or until there are dark, criss-cross grill marks on the fruit (don't grill the other side). Chill immediately in the refrigerator to stop the cooking process (the watermelon must remain crunchy). When cold, cut it into cubes and set aside at room temperature.
To make the purple carrot purée, simmer the carrots in pomegranate juice with the butter and a little salt, until the carrots are tender. Blend everything into a smooth purée in a processor and strain. Adjust the texture of the purée with a little pomegranate juice, so it's nice and smooth. Season to taste with salt and pepper, then set aside.
For the coulis, boil the pomegranate juice and the ginger flower until it has reduced to approximately 60 ml, and its consistency is suitable for plate decorating. Strain and set aside.
To cook the fish, steam the trout in the cling film until it's cooked rare (approximately 4–5 minutes for 40 g pieces and 7–8 minutes for 80 g pieces). Meanwhile, assemble the watermelon salad by tossing the grilled watermelon cubes and pomegranate seeds with the truffle oil, chives, salt and pepper to taste. Drizzle each plate with the coulis, and arrange the salad and 2 small scoops, or quenelles, of purple carrot purée on each plate. Remove the cling film from the fish, then season it with sea salt and the remaining truffle oil.
Arrange 2 pieces of fish on each plate. Garnish with 1 slice of fresh and 1 slice of crispy pata negra ham, and fresh herb spring.
This dish is also available at:
Mozaic
A : Jalan Raya Sanggingan, Ubud
T : +62 361 975 768
W : www.mozaic-bali.com
---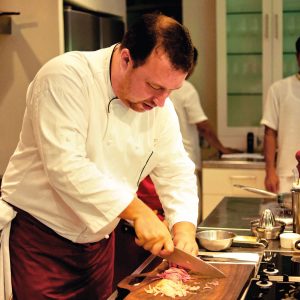 For more info about Chris Salans go to
www.mozaic-bali.com/media/biography.