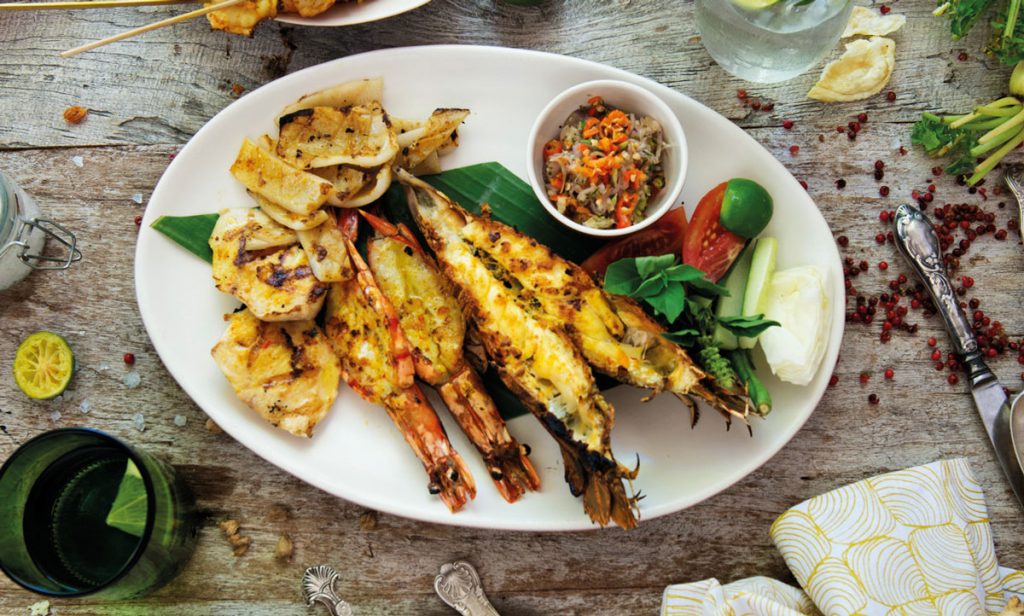 Born in Indonesia, Petty Elliott regards Britain as her 'second home', with Italy as another European country that she travels most often to. While Europe offers wonderful choices, traveling around Indonesia to discover the many hidden treasures in the category of Indonesian cuisine is her deepest passion. Raised in the North Sulawesi's Manado, an area packed with the sights and aromas of brilliant traditional dishes, and influenced by the magic that happened in her grandmother's kitchen, Petty started to develop her passion in Manadonese cuisine such as Udang Woku Blanga.
"The uniqueness of Udang Woku Blanga lies in the woku paste – a mixture of herbs and root spices originally from Manado, the place where I wasborn. It is a mixture of shallots, garlic, ginger turmeric, galangal, chilies, candle nuts infused with lime leaves, lemon grass, turmeric leaves, kemangi, local basil, spring onion, pandan leaves, and tomatoes. Sometimes I add much more tomatoes to make a pasta sauce. The dish has delicious layers of flavours, making it fresh, tangy, spicy and very fragrant. It is originally a fish stew dish and is super spicy. I toned the fiery taste down a little bit and it is perfectly acceptable to replace the fish with prawn, lobster, mixed seafood or tofu for vegetarians." Petty Elliott.
Ingredients :
(For four persons)
– 16 large prawns, shell removed, tail remained intact (4 pieces of prawn for one person).
– 2 tbsplimejuice.
– 1/2 tsp salt.
– 2 lemongrass stalks, crushed.
– 2 spring onions, roughly chopped.
– 1 pandan leaf and turmeric leaves (optional).
– 500gr red tomatoes, chopped finely.
– 2 lime leaves.
– A handful of kemangi, Indonesian basil but may be replaced with Italian basil, roughly chopped.
– Salt to taste.
– 3 tbsp olive oil or any vegetable oil.
– 1 tbsplime juice.
– Salt and black pepper to Taste.
For the paste :
– 8 birds eye chillies, roughly chopped (use more chillies for a more spicy taste).
– 5gr fresh turmeric, roughly chopped (or 1 tsp turmeric powder).
– 10gr fresh ginger, roughly chopped (or 1 tbsp ginger powder).
– 5gr fresh galangal, roughly chopped (or 1 tsp galangal powder).
– 100gr shallots, roughly chopped.
– 3 garlic cloves.
– 2 candlenuts or 30gr macadamia nuts (optional).
Method :
Put the chillies, ginger, shallots, garlic, galangal, candlenuts and turmeric into a food processor and process until the mixture becomes a fine paste.
Heat the olive oil in a large thick-bottomed pan. When hot, add the paste and cook for 5-7 minutes or until fragrant and keep stirring.
Add the lemon grass, spring onions, tomatoes, pandan leaf and half of the basil to the paste.
Cook for 3 minutes and add 200ml water and cook on low-medium heat. Stir from time to time. Season with salt.
While the sauce is cooking, season the fish and prawns (not the squid) with salt and lime juice.
Add the fish and prawns, cook and simmer for 2-3 minutes. Cover with a lid during the cooking process. Then add the squid and cook for 1-2 minutes. Add basil and lime juice.
Check the final seasoning. Add a touch of salt and lime juice if necessary. Discard the lemon grass stalks, lime leaves, pandan and turmeric leaves.
Serve with steamed rice or add cooked pasta to make a pasta dish, garnish with plenty of basil and serve while it's hot.
This dish is also available at:
The Warung at Alila Villas Uluwatu
Jalan Belimbing Sari, Banjar Tambiyak, Desa Pecatu, Uluwatu
+62 361 8482166
www.alilahotels.com/uluwatu
---
For more about Petty Elliott go to www.pettyelliott.com