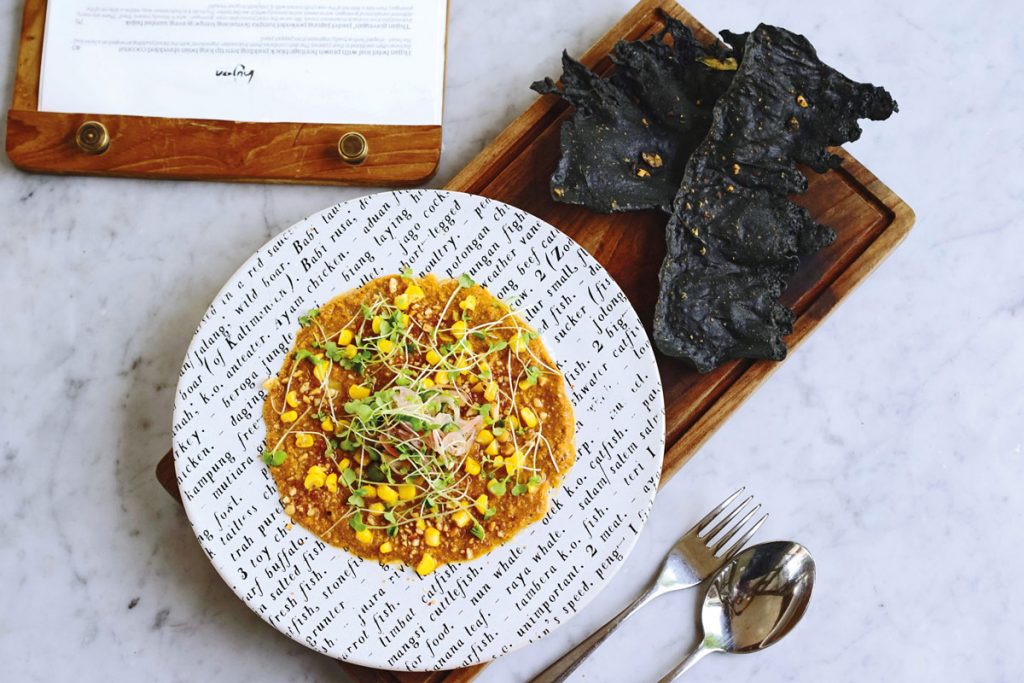 Will's stellar career path has led him from London to Sydney and extensively through South East Asia, where he fell in love with the exotic spices, flavours and textures that make the cuisine and its culture so unique. Currently residing in Indonesia, he explores many of the local spices and cooking styles from across the country to be presented and served in his restaurants, such as the Lake Toba Snapper Ceviche marinated in kaffir lime juice, andaliman, peanut, chilli, ginger flowers, and served with krupuk peyek.
"This is a traditional recipe from the northern area of Medan, home to the Batak people whose food cuisine is rich and resourceful. For this recipe I use snapper; its firm white flesh lends itself to the ceviche style of 'cold' cooking. Although these days we see it more as a recent trend, the Bataks have been using this style of preparation for generations. This is the sort of discovery I love to make and what I think makes this dish particularly unique is the use of the native ingredients. The ginger flowers are so unusual, they lend a distinct flavour and texture to the dish as a whole and the artful balance of the citrus in revealing the taste of the fish indicates a deeply intelligent understanding of culinary arts." – Will Meyrick.
Main ingredients :
1. 100 grams snapper fillet.
2. 1 kaffir lime, juiced (1 tablespoon kaffir lime juice).
3. Salt to season the snapper fillet.
4. 1 tablespoon Lake Toba paste.
5. 1 tablespoon mix micro herbs.
6. ½ cup sweet corn kernels, boiled.
7. 1 tablespoon crushed fried peanut.
8. 2 tablespoons sambalmatah (see pantry).
9. 2 pieces black peyek (see pantry).
Method :
Prepare the paste first by charring all the ingredients on a grill until soft, except andaliman and peanuts. Then peel off outer layer and pound to a fine paste with the andaliman and peanuts. Season the paste with salt and kaffir lime juice. Set to one side. You can also use a blender if you like. Thinly slice the snapper fillet and arrange neatly in a circle on a plate, squeeze kaffir lime juice onto the fish and cure for 5 minutes, season with salt and keep in the chiller. Take a tablespoon of the paste and spread it evenly over the cured fish, then sprinkle with micro herbs, sweet corn kernels, crushed peanuts and sambalmatah. Serve with black peyek.
PANTRY
Sambal Matah
Ingredients :
1. 4 piecesshallots.
2. 1 stalklemongrass.
3. 2 piecesredbird'seyechilli.
4. ½ teaspoonroastedshrimppaste.
5. 2 piecesBalinese lime (lemo), juiced.
6. 2 tablespoonscoconutoil.
7. Salt to taste.
Method :
– Finely slice shallots, lemongrass and chillies. Combine withroastedshrimppaste and lemomjuice.
– Heat up coconutoiluntil smoking and pour over the sambal. Mix all ingredients and seasonwithsalt.
BLACK PEYEK
(For 50 pieces)
Ingredients :
1. 4 ½ cupsriceflour
2. ½cup dry roastedpeanut, roughly pound
3. 1 duckegg
4. ¾ cupscoconutmilk
5. 1 ¼ cups water
6. ½ tablespooncorianderpowder
7. ½ tablespoonsalt
8. ¼ cupturmeric, peeled
9. ½ cupkencur
10. 9 clovesgarlic, peeled
11. 5 pieces lime leaves, julienned
12. 1 tablespoonnaturalactivatedcharcoal
13. ½ tablespoonchickenpowder
Method :
Blendturmeric, kencur and garlicinto fine paste and add in julienned lime leafinto the paste. Mix riceflour, paste, peanutchunk, egg, coconutmilk, water and seasoning. Take 1 smallladle of riceflour mixture and layer on the wok side, fryuntilcrispy.
This dish is also available at:
Hujan Locale
Jalan Sri Wedari No.5, Ubud
+62 813 3972 0306
www.hujanlocale.com
---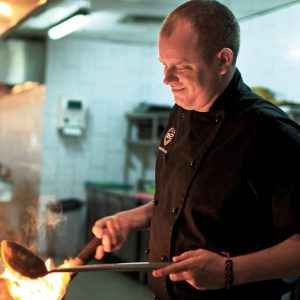 For more about Will Meyrick go to www.willmeyrick.com