Apart from weight loss, and a great shift in well being, other benefits include a clarity of mind that has probably not been experienced since youth.
Ayurveda is no crank health system. This Sanskrit word stems from the vedas – a body of knowledge that was handed down to the sages in India some five thousand years ago. It has had plenty of time to prove its effectiveness. Therapies are created with herbal compounds and minerals and are designed to cure many illnesses. Unlike allopathic medicines, (think drug companies and strong chemicals that may or may not do you good) Ayurveda is a natural healing system using roots, leaves, fruits, bark and seeds like cardamom to cure the causes, rather than mask the effects of an illness or imbalance in the body. Herbs are infused into coconut oil for use as massage oils and other more exotic treatments that work with the body.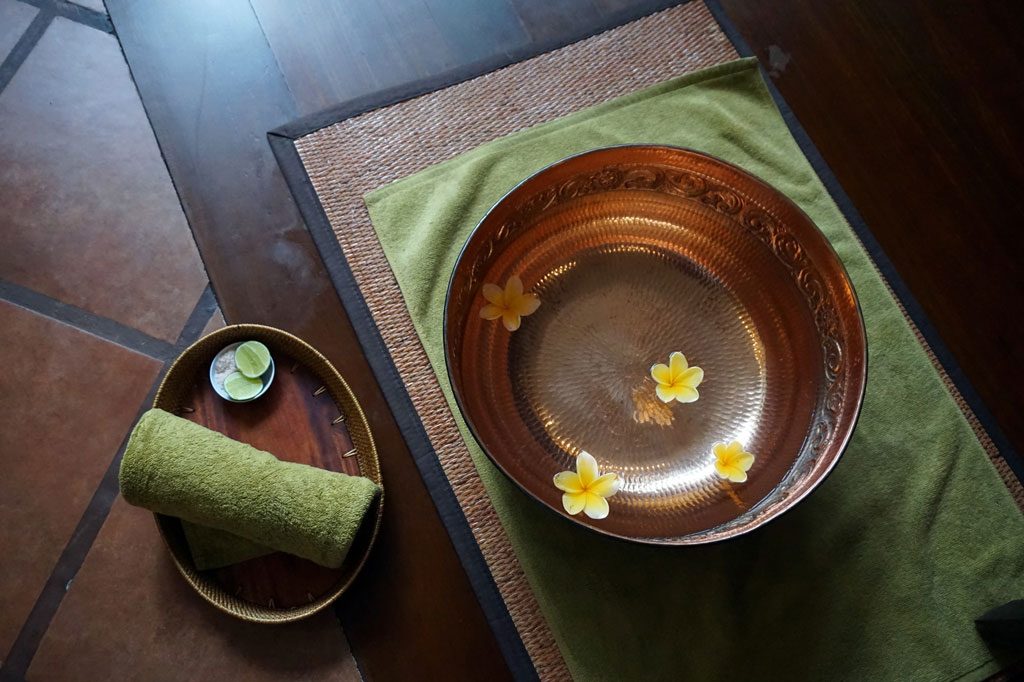 The Panca Karma healing system is best followed for 28 days, but even after the minimum ten days required at the retreat, guests will feel great benefits. One of the most easy to recognise effects is a groundedness and sense of calm that happens quite soon after treatments begin. Other effects take a little longer, as healing is a process, rather than the almost instant effects of chemical medicines.
At One World, each guest is expected to follow the mandatory regimens prescribed. It is a healing retreat after all, rather than a wellness spa on a luxe holiday. Everyone must be involved and be serious in their aims. Minimum time to stay is a week, although some choose to stay for up to four weeks.
We went there and met with Claude of Bridges fame who has been following the program for three weeks. But this was a new Claude, ten kilos lighter in both body and spirit. Even his energy was lighter and an aura of peace surrounded him and the white clothes that are provided by the retreat. His health has improved ten fold he said, and as well as feeling lighter, his energy levels have increased so much that he will follow the program a little longer.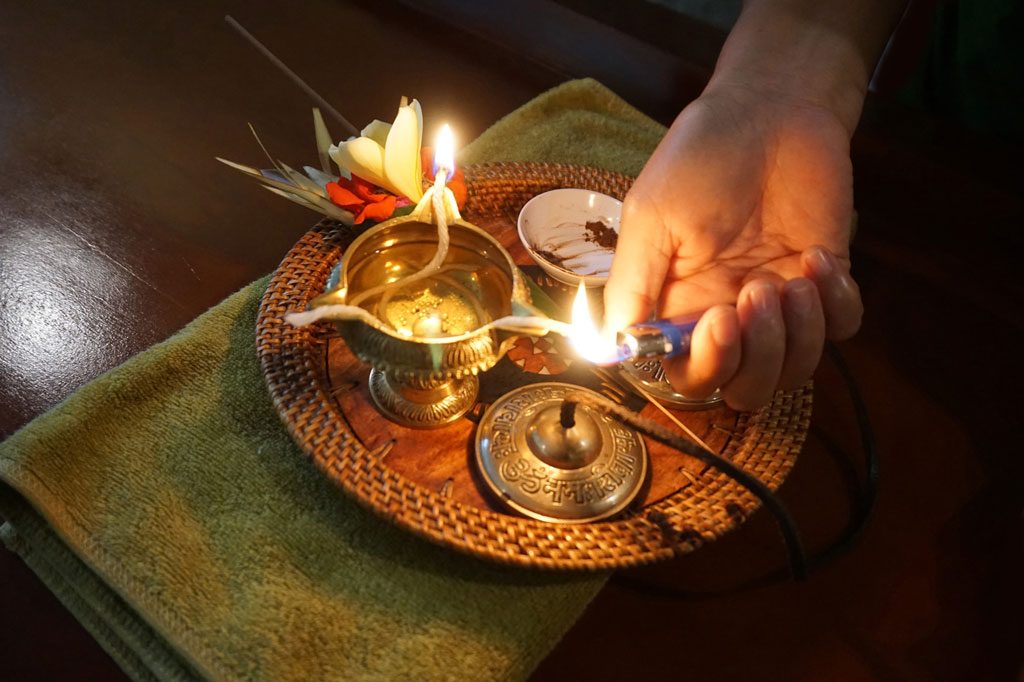 While I didn't stay for the requisite ten days, I did stay for lunch – an offering of Ayurvedic based dishes that were both light and nourishing. Each dish had flavour, without being cloyingly spicy. Claude has introduced Italian flavours into the Ayurvedic diet as well, so that there is a change from just taking the Indian based food at each meal..
Apart from meals that include a semi formal dining setting each evening, guests spend time quietly as their bodies become well. Massage is of course important, and although there is a pool, it is mostly decorative, as you don't swim after the first day. Light walks into the nearby village, meditation and walks in the beautiful herb gardens are recommended activities, as after the body starts to detox, you really don't feel like doing too much. Quiet conversation is more the speed.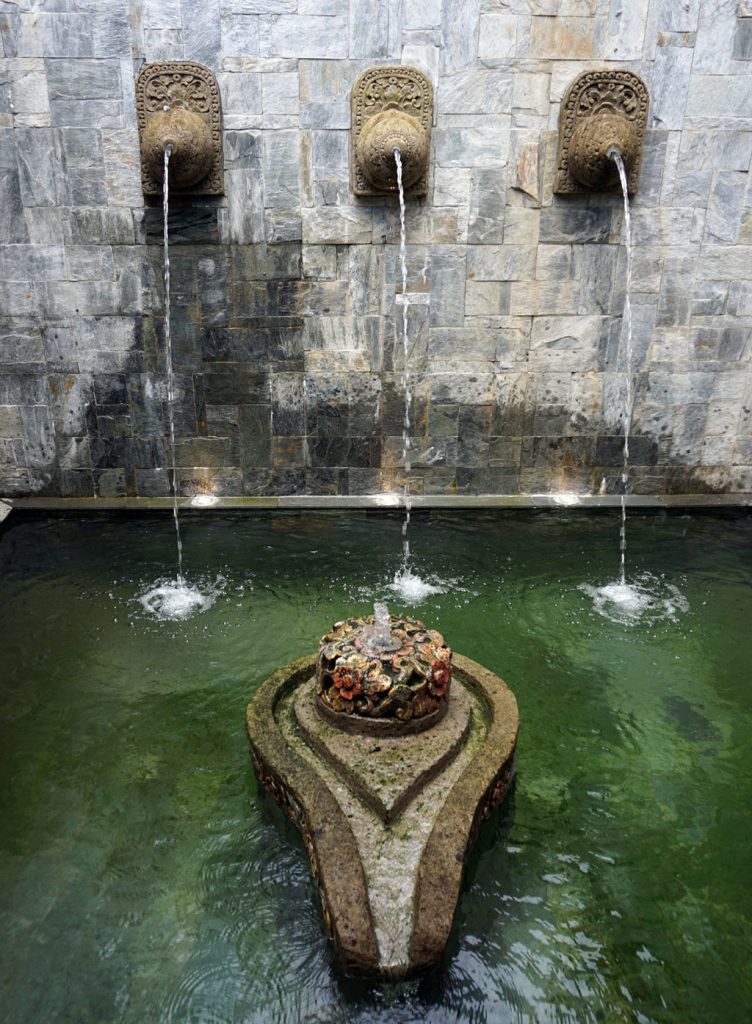 After lunch I had the Abyanga Massage – where two trained therapists give a syncronised massage using the lovely herbal oils. It is at once soothing and relaxing and the feel good factors kicks in quite quickly. The massage ended all too quickly and feeling a little wonky I made my way to the beautiful lounge area where guests sit and gaze upon the verdant rice fields beyond. It is very calming and soothing.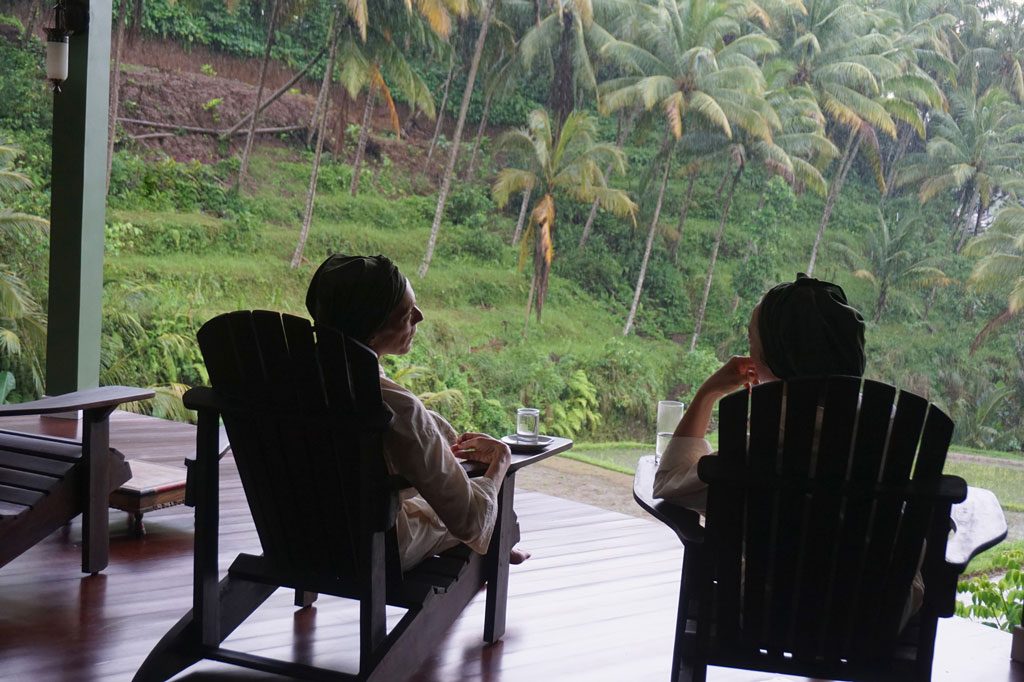 The resident Ayurvedic doctor is on hand to check everyones doshas and pulses before starting each guest on their prescribed treatment. Special diets are recommended individually for guests, so that each has their own special menu, depending on their condition so that their cleanse will be maximised. At lunch downstairs I spied on the guests – all looking happy and very calm in the tranquil surroundings of the retreat.
One World Retreats Tegallalang
Web: www.oneworldayurveda.com